If you're currently promoting your brand on Instagram, you might have come across the term "Instagram automation."
Automating your Instagram profile can help your streamline your social media tasks and overall drive better results for your business. On the other hand, without using your automation tools the right way, you could potentially generate unauthentic audience engagement on your profile.
On this page, we'll dive into the ins and outs of automated Instagram marketing and evaluate whether it's the right fit for your business. So, keep reading to learn more!
And if you want to learn more about how to successfully market your brand on Instagram, sign up for our newsletter, Revenue Weekly! Our subscribers get the latest Instagram marketing advice and much more sent to their inboxes for free!
What is Instagram automation?
Instagram automation involves using third-party software to carry out tasks, manage an account or interact with other users without any human input.
These processes aim to help you save time and improve efficiency. In a perfect world, it allows you to spend more time thinking about your Instagram strategy instead of tedious tasks like publishing and generating statistics manually.
How does Instagram automation work?
Instagram automation involves using software that takes over completing specific social media marketing tasks for you.
Depending on the type of tool or software you use, you can automate various tasks on your Instagram marketing to-do list.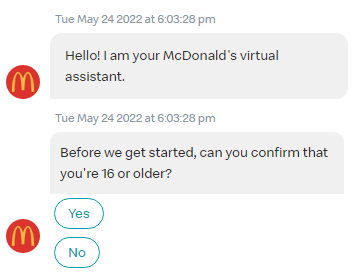 Here are just a few examples of tasks you can automate on Instagram:
Scheduling posts and stories: Continuously opening and closing an app throughout the day to create and post new content can consume a significant amount of time. You can use tools to publish your stories in advance whenever you choose.
Story captions: Because many users watch Instagram videos without sound, including captions for your stories can make your content much more accessible. Using automation to create your captions saves significant time over transcribing them manually.
Data collection and analysis: Instagram generates a ton of data from its insights feature that can be burdensome when trying to sift through all of it manually. Automation tools allow you to customize data and format reports tailored to your specific needs.
Managing direct messages: Incoming direct messages can be overwhelming, especially if you have a large following. Automatic tools allow you to store all your notifications in one place and even break them down and respond efficiently.
Hashtag tracking: Automation lets you efficiently track your chosen hashtags, whether they're brand hashtags, community hashtags, industry hashtags, or something else. Tools like these save you the time of tapping on a specific hashtag when you want to monitor it.
Ad management: Instagram automation tools allow you to streamline various ad campaign elements, from performance to creating variations to budget optimization.
Whether you want to automatically publish your posts or research the best hashtags to use in your posts, automation with Instagram marketing tools or features can help you implement an effective Instagram marketing strategy that boosts revenue for your company.
Pros and cons of Instagram automation
Automating your Instagram marketing strategy is an excellent way to free up your to-do list so you can focus on other business tasks while driving revenue with your campaign at the same time.
However, not using your automation software effectively can potentially make it challenging for you to drive the best results with your Instagram campaign.
Take a look at more pros and cons of Instagram automation below:
Pros
Some pros of using Instagram automation include:
Saving time on smaller, time-consuming tasks: Efficiency is the primary reason most account owners decide to use automation. Using tools for post scheduling, account analysis, and ad management can save significant time over performing them manually.
Increasing followers: Because automation eliminates your most tedious tasks, it makes sense that your follower base will increase as you devote more time to the duties that matter most, like following other accounts and posting insightful comments.
Targeting a specific audience: Many Instagram automation tools can filter users to engage only with those you want to target. That means you can use demographics like age, location, language, gender, and other factors to focus on groups of people you think are likely to interact with your content.
When used effectively, Instagram automation helps you streamline your social media marketing processes, create more personalized, targeted content, and increase brand awareness and conversions.
Cons
Depending on how you use it, automation can have drawbacks, including:
Poor automation looks spammy: Most experienced users who use Instagram daily are highly savvy and can sometimes spot a bot miles away. If you use automation to reply to your audience's comments, you might use the same replies for each message. This can lack personalization and seem repetitive to your followers.
Missing out on personal interactions: The more you use Instagram automation, the fewer opportunities you have to interact with your followers personally. That means many of your comments will lack the authenticity that might have persuaded someone to follow you in the first place.
Ineffective automation can hinder your brand: If you let automation completely take over and control your profile, you could potentially harm your brand's reputation. For example, your account might seem spammy to users. In addition, some automation tools go against Instagram's guidelines. If you use them, you could risk having your account closed.
It's essential to note that with an effective Instagram automation strategy, you can mitigate these cons and use automation to successfully drive impressive results for your business without having to worry about being spammy.
Want to learn about the best Instagram automation tools that can help you increase your awareness, leads, and conversions? Then check out our blog post below!
READ: 4 Essential Social Media Automation Tools
Is Instagram automation the right fit for your business?
So, now that you know more about Instagram automation and how it works, you might be wondering if it's the right fit for your business.
The short answer is: yes!
Automating your Instagram marketing campaign enables you to save tons of time and resources managing your social media strategy. With the right tools, you can successfully automate your tasks, like posting content and responding to comments, without being spammy.
In addition, automation software can help you identify areas of your campaign that you can optimize to drive even better results for your company.
So, if you want to save time, implement a data-driven social media campaign, and drive more revenue with your profile, investing in Instagram automation is for you!
Growing your social presence with WebFX is a walk in the park.
"WebFX allows growing your social media platforms to be stress-free! They are knowledgeable and adapt to your company needs!"
Learn More About Our Social Media Services

Need help with your Instagram marketing strategy?
If you're interested in learning more about using Instagram successfully for your business, WebFX can help. Our social media management team has years of experience developing successful solutions across various platforms, including Instagram.
Learn more about Instagram marketing services by calling us at 888-601-5359 or contacting us online today!
WebFX Careers
Join our mission to provide industry-leading digital marketing services to businesses around the globe - all while building your personal knowledge and growing as an individual.