Top 5 Instagram Analytics Tools (And How to Use IG Analytics)
Instagram analytics tools give you an in-depth look at your Instagram efforts and help you stay on track to reach your goals. These tools share which of your posts get the biggest reaction, who your most engaged followers are, what the best times to post are, and more. Which are the best tools, though, and how can you make the most of IG analytics? Keep reading to find out!
You can use analytics from Instagram to track your campaigns, as well as keep an eye on what your competitors are doing. This gives you insight on what others in your industry are doing and whether it's effective.
Analytics are important for helping you effectively plan and manage your marketing strategies. And they're so important for social media, specifically, that the social media analytics market space is expected to reach $9.5 billion by 2022!
On this page, we'll go over the benefits of Instagram analytics, which metrics you can track, and the tools you can use to get the data you need.
Need help with making sense of Instagram analytics for business?
At WebFX, we're a leader in the social media marketing industry. Our team of social media experts has years of experience helping our clients achieve the results they want, so we know what it takes to succeed.
Call 888-601-5359. to speak with a strategist about your company's social media strategy, or keep reading to learn how you can improve your IG analytics today!
Contact us to learn more about Instagram analytics!
5 best Instagram analytics tools
There are tons of Instagram analytics tools out there that you can use. Here are a few we recommend:
1. Sprout Social
Sprout Social combines analytics with content creation and management tools. You can track post performance, trends in hashtag usage, audience engagement, and even competitor data.
You can use Sprout Social to identify your posts that receive the most engagement in order to create the most effective content strategies. This tool allows you to track comments and likes with the Sent Messages Report. You can then easily sort through metrics and export to CSV for convenience.
Compare hashtags and determine which are most widely used, as well as which receive the most attention. You can analyze how branded hashtags perform in comparison to topical hashtags to further fine tune your strategy.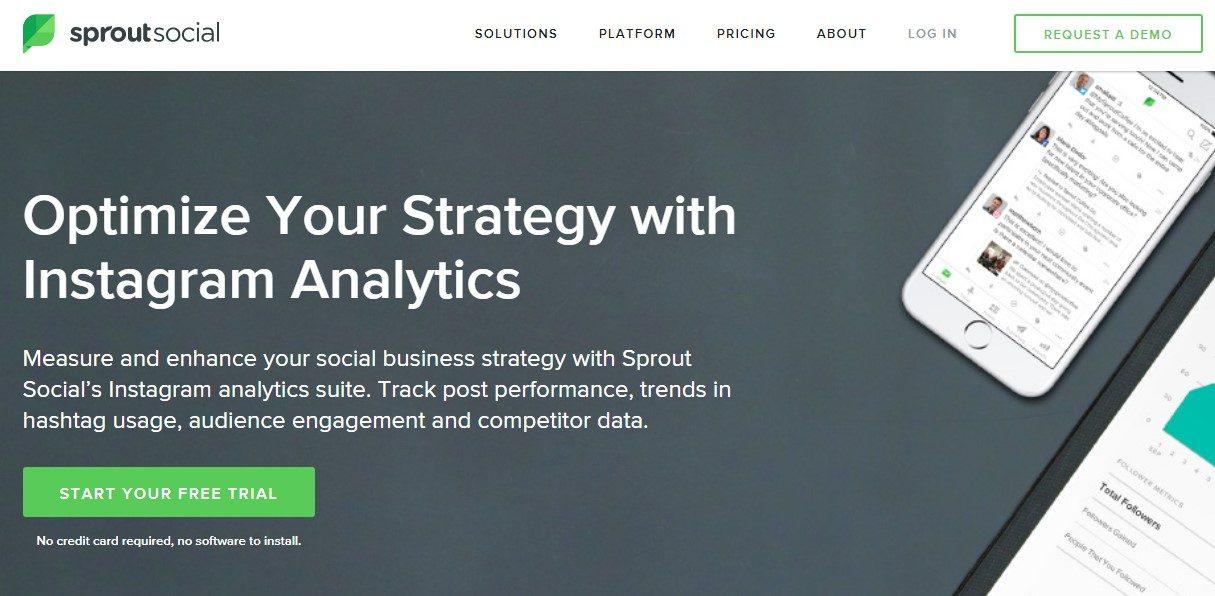 Sprout Social provides tools for analyzing your audience as well. You can view likes and comments over a period of time to learn how and when your followers engage with your account in order to maximize results. This tool measures engagement trends with various analytics based on the report period so that you can identify performance trends.
Another great feature of Sprout Social is access to competitor activity and industry averages. You can view competitors most frequently used hashtags in order to monitor their campaigns and product launches.
2. Agorapulse
Agorapulse is a dashboard that displays analytics for your social media platforms, like Instagram.
One of the things you can track with Agorapulse is your lifetime follower growth and daily new followers. A line chart indicates the growth trend for your followers, as well as the number of followers you gain and/or lose each day.

You can also track your post engagement. You're able to select a period of time and then view how many posts you published during that time and the amount of engagement they received through a bar chart.
With Agorapulse, you can also view your top content. The tool gives you your four top posts based on number of likes and comments. With this information, you can determine if there's a pattern in your most popular content. If so, it's a great opportunity to create similar posts. And if not, you can attempt to dig deeper to learn why that content performed so well.
Your top hashtags are also trackable with Agorapulse. You can see the hashtags you've used and have earned the most engagement. You may notice that certain kinds of hashtags perform better than others. Additionally, you can track hashtags associated with your brand to determine how many people are using them.
One of the coolest features of Agorapulse is the ability to not only track how users engage with you, but how you are engaging with them! You can track how you respond to comments and how much you interact with those on your account.
3. Iconosquare
Iconosquare lets you select a custom time period to receive information about all of your displayed data.
One of the best features Iconosquare offers is the media library. The library is filled with content you can pull from at any time. And with the editorial calendar view, you can schedule posts ahead of time.
You can also use Iconosquare to keep up with the number of followers you gain or lose over time. This gives you insight about which types of content your audience enjoys, and which they don't. For example, if you gain a lot of followers after a particular post, then you should consider posting more of that kind of content.

Iconosquare will tell you were your followers are from in the world. This will give you a great idea of where a majority of your followers are from. The more you know about your audience, the more you can optimize your campaign.
Similar to other Instagram analytics tools, Iconosquare allows you to view data that communicates which times and days you receive the most interactions. This prevents you from wasting your time posting manually and instead, gives you the time when your content is most successful. Then, you can schedule your posts ahead of time.
Another feature of Iconosquare is engagement rate tracking. This shows you how well your content is performing as a whole and what content your followers find most interesting.
These are just a few of the metrics you can track with Iconosquare.
4. Socialbakers
Socialbakers gives you a free reports on your most popular photos, filters, hashtags, and interactions with followers.
You can view public metrics such as follower growth, total followers, interactions received, number of posts, most engaging post, top content, etc. Any of the data can be compared against competitors' pages.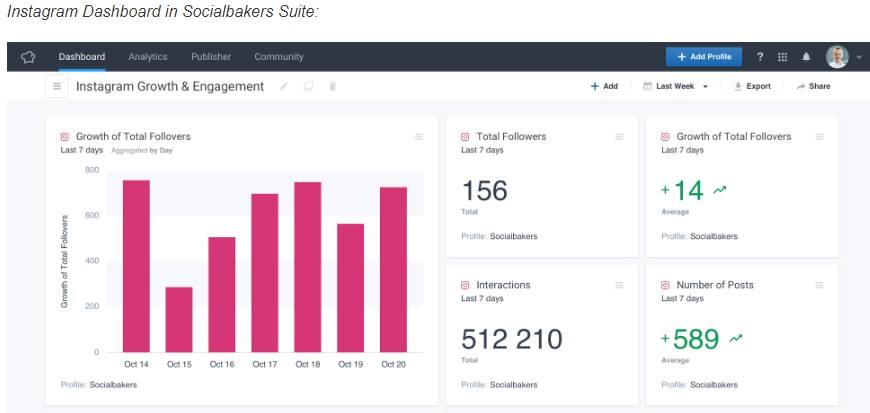 In addition to public metrics, you also have access to private metrics. Private metrics consist of the total number of times users viewed your posts, number of impressions from unique accounts, overall number of clicks you receive from the link in your profile description, and overall number of unique accounts who visited your profile.
Each of these key pieces of data provides you with detailed information so you can make the most of your Instagram analytics.
5. Squarelovin
Squarelovin is a free tool you can use to view Instagram analytics like growth, engagement, and the number of followers you have.
Just like the tools listed above, squarelovin allows you to track the most successful time to post your content. However, it also lets you track when not to post. This is helpful so you don't waste your time sharing content when users aren't online.
You can also find information about your overall posting history and top posts. You can filter this information based on year, month, day, and time. squarelovin shows data about likes and comments as well.
You can keep an eye on data related to the filters and hashtags you use too. You can track how different filters perform on your photos and view reports on the hashtags you're using.
What can you measure with Instagram analytics?
Much like with every other digital marketing channel, there are many different metrics you can track on Instagram. If you're just getting started, these are a few you should be using to measure the success of your Instagram campaigns.
1. Comments received
Comments communicate something very important – how engaging followers find your content.
Yes, you can look at the number of likes you get on photos – but analyzing comments takes things a step further.
It's a much simpler task for someone to quickly scroll past your photo and hit the like button, without giving it a second thought. Commenting requires more time and attention. It also indicates that a user felt enough of a connection to the content to engage with it.
To put into perspective just how many people like photos versus comment on them, TrackMaven discovered that brands get around 18.54 likes per photo for every 1,000 followers, but only 0.63 comments. Analyzing photos with comments can help you to understand your users better, so that you can publish more content that's similar to generate action.
2. Popular hashtags
Understanding which hashtags receive the most engagement gives you an idea of what users are interested in and searching for.
Instagram users often search for content through hashtags, so using the most engaging hashtags can make your content more discoverable and, as a result, increase your follower base.
And since hashtags function on Instagram the way keywords do for search engines, this is the best way to optimize your content. Pay attention to which hashtags have the highest engagement and apply them to relevant posts.
Using Instagram analytics to determine which hashtags are searched for most often helps you to post content that will receive the most attention.
For example, if you're an interior designer and you post a photo of a kitchen you designed you might use hashtags like #dreamkitchen and #kitchengoals. Then, you can track which one received more engagement so you can post more photos using that hashtag.
3. Engagement per follower
Not every business on Instagram has the same follower size, which means you have to look at your engagement in relation to your individual audience size. If an account with 1,000 followers got 20 comments on a photo that would be much more significant than an account with 5,000 followers that gets the same number of comments on a photo.
Using the engagements per follower metric allows you to view and understand how many likes and comments your photos and videos receive per individual follower. This is important because it breaks down the data for your specific account.
If you compare your account to others with varying numbers of followers, you won't get a fair or accurate understanding of whether your content is successful.
4. New followers
The number of followers your account gains over time is a good indication of the total reach of your posts.
If you track your followers gained on a daily basis, there won't be enough data to make decisions about optimizing your campaign. Instead, use Instagram analytics to track the followers you gain over a period of time. Then you can get a better idea of whether or not you are reaching your online marketing goals.
By measuring your follower growth over several months you can see valuable information such as a random spike in followers. Then, you can look at the content you posted during that time and replicate it.
5. Reach percentage
Your reach percentage gives you the ability to determine how many of your followers viewed your content.
Discovering your reach percentage is simple – divide your total impressions by the total number of followers your account has. If only a small percentage has viewed your content, you can consider reposting your content for more users to see.
If you consistently notice a low reach percentage, this is a good indication to revamp your strategy.
How to use IG analytics to improve your campaigns
The data you collect is only useful if you know what to do with it. So if you're unsure of how to use the data you're collecting, here are five ways to make your Instagram analytics data work in your favor.
1. Keep up with competitors
Instagram analytics help you determine things like which posts your followers interact with most, which demographics are most interested in your content, which times of the day your followers are most active, and more. If you aren't tracking this information but your competitors are, you're giving them the advantage.
For example, if your competitor uses Instagram analytics and discovers that their followers are most active on Wednesdays at 5:00 p.m., but you don't use analytics and simply post at random times, they could receive more engagement simply because they took the time to check that metric.
Using Instagram analytics allows you to stay up to date on the best ways to connect with your target audience, and gives you the competitive edge over those who aren't doing so.
2. Get to know your followers
Instagram analytics allows you to look at data by various demographics. You can analyze interactions based on gender, age, location, and language. This gives you the ability to tailor your content to best target a specific audience.
You can also track your followers' interests and online purchasing behavior.
Learning about your audience is a huge advantage because the more you know, the more effectively you can create and publish content that they find engaging.
3. Improve your Instagram strategy
When you measure your success over time, you can determine patterns, growth periods, and times when activity on your account peaks. You can also compare various time periods, determine the best time each day to post, and learn what type of content generates the most activity.
With access to these numbers, you can make adjustments and improve your campaigns. This will help you continue improving your overall strategy for the best possible results.
4. Save time
If you don't know why your content performs the way it does or understand the data behind it, you can't efficiently optimize your campaign strategy.
In other words, if you aren't aware of the metrics behind each post then you have to divide your time and resources among every aspect of the account.
However, if you use Instagram analytics tools you can cut down on giving your attention to areas that don't need as much and direct your attention more toward those which do. And when you're running a business you want to distribute your time and resources as wisely as possible.
5. Plan your campaigns
Without the data Instagram analytics provides, every campaign you initiate is like taking a shot in the dark. You might come up with something that works – but you won't know why, and it will be difficult to replicate in the future.
Using Instagram analytics gives you access to information like which hashtags will attract the most attention, who the top influencers in your industry currently are, and what time of day to set your content to be posted at.
Rather than just taking a guess and hoping for the best, you're creating a well-thought out formula for each campaign.
Get more value from analytics for Instagram with WebFX
Our team of dedicated social media experts has years of experience driving Instagram results for our clients. We know how to create effective campaigns and which metrics to use to help you succeed and reach your online marketing goals.
With multiple social media plans to choose from, you can customize your package to work best for your company's needs. When you partner with us, we'll work as an extension of your company to develop a strong online presence and loyal following.
Our social media management services are priced to give you the most value for your investment. We'll ensure that you reach your target audience at the right place and the right time.
Let us help with your Instagram analytics
Determining which data to analyze and what to do with the metrics you discover can be challenging. Fortunately, WebFX is a top Instagram marketing agency that has the experience necessary to lead you to success.
With our systematic approach, we are one of the top social media companies for businesses looking to improve their online presence.
Contact us today to learn more about Instagram analytics or to get started! We can't wait to hear from you!