You've seen the explosion of TikTok, the viral videos, and the trends that appear in TV commercials, shows, and stores. With one billion monthly users, it's no surprise that TikTok has made an incredible impact globally.
With this impact, businesses see the platform's excellent marketing potential. But if your company uses TikTok, you might be wondering how to increase engagement and land on the coveted "For You" Page.
TikTok is a platform with a unique set of content formats and features, so succeeding on it requires a slight learning curve. Fortunately, I've compiled 21 TikTok tips and tricks to elevate your content and help your brand make a splash on the good ol' clock app.
Ready to learn how to harness the best TikTok tips to grow your business? Keep reading! And if you want more digital marketing advice like this, subscribe to Revenue Weekly for tips delivered straight to your inbox!
Top 8 TikTok tips
We're kicking off our TikTok tips and tricks with the foundational tactics you need to set yourself up for success. When you follow these eight tips for TikTok, you'll be ready to create content worthy of your audience's For You Pages:
1. Know your target audience
To create content that makes an impact, you need to know who the end user is. You might already have a target audience in mind for your business, so you need to translate that audience to TikTok.
The platform is full of specific niches — TikTok is known for how targeted the For You Page gets. Determine which niches most closely align with your target audience and business. What types of content does this TikTok niche like to see?
The more you tailor your content to the right niche, the better success you'll see.
2. Familiarize yourself with trends
Perhaps more than any other social platform, TikTok relies on trends. When a sound, dance, or filter gains popularity, you'll see creators across the platform using it and putting their spin on it.
One of the most vital keys to TikTok success is knowing the trends and getting creative with them.
But the trends are also excellent sources of TikTok content ideas for beginners. Instead of starting from scratch, you have a framework to inspire your content. You can even use trends to inspire any TikTok ads you might run!
The only catch? You must use the platform regularly to familiarize yourself with these trends and discover them before they fade. Spend time interacting with users in your niche (which is another tip on this list!) and consuming content to understand the types of trending audios, videos, and more.
3. Research the best hashtags to use
Most social platforms use hashtags to contextualize content and help users find posts they might enjoy. On TikTok, you'll want to research the right hashtags to use for your niche to let the TikTok algorithm know when to show your videos to people.
To help you get started, we've compiled a list of trending TikTok hashtags. You'll also want to get involved in your niche. The more you see relevant content, the better you'll understand the types of hashtags successful creators use.
Another way to find relevant hashtags is through the Discover page. To find hashtags this way:
On your Home page, tap the magnifying glass in the top right corner.
TikTok will give you a list of suggested topics to browse. Tap on one.
You'll see a page with suggested videos, users, sounds, and hashtags about that topic. To research potential hashtags, go to the Hashtags tab.
Here, you'll find the hashtags' popularity, and you can tap a hashtag to browse videos that use it.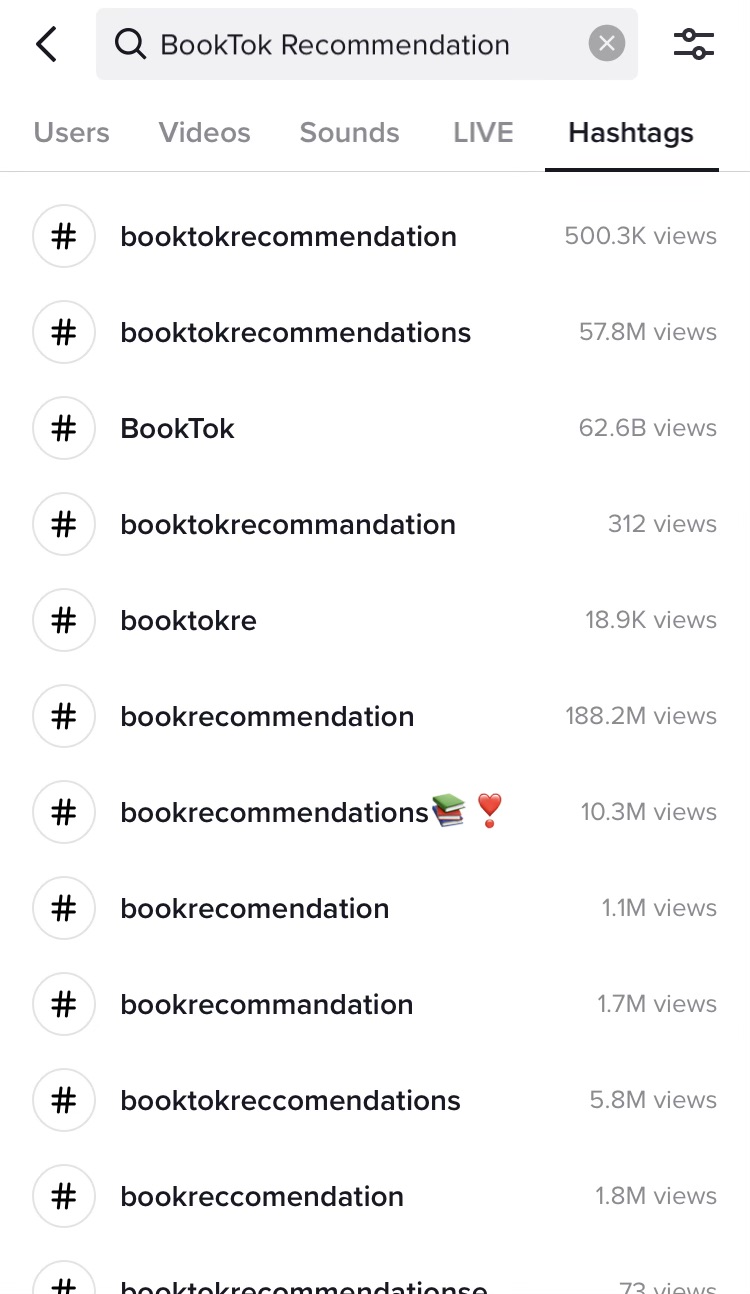 4. Post consistently and frequently
To succeed on any social media platform, you must post consistently. On TikTok, the most active accounts post daily, often multiple times. Find a posting schedule that aligns with users' expectations and works for your team's capabilities.
It's better to stick to posting once a day and staying consistent than to try posting a few times a day but running out of content halfway through the week.
Bonus tip: Determine the best times to post based on when your audience uses the platform.
Not sure where to begin with creating and editing TikTok videos? Check out our beginner-friendly post on how to edit TikTok videos!
Learn how to edit TikTok videos
5. Interact with other creators
Scroll through TikTok for a few minutes, and you're bound to find a mix of wholly original content and creators posting videos in response to other users. TikTok thrives off interactivity, so ensure you spend time watching others' videos, commenting, and responding.
To learn how to create reaction or response videos, jump to the TikTok tricks section of this post!
6. Add closed captions
Closed captions are vital to ensure everyone can enjoy your content. When you include closed captions on your videos, you make your content accessible to disabled people and people who have their sound off.
This accessibility also affects your views — closed captions can lead to 56% more impressions on your videos.
If you speak in your videos, you can have TikTok auto-generate captions by tapping the "Captions" button in the video editing menu on the right.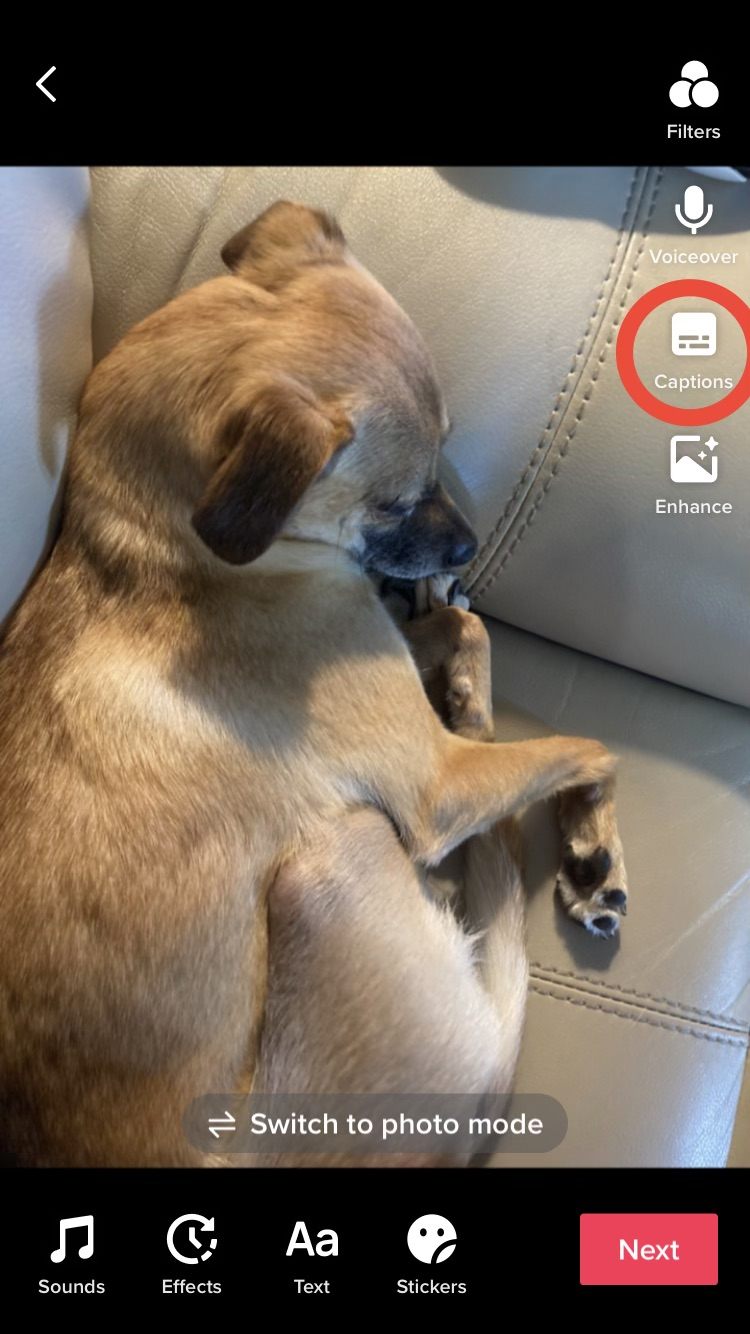 This option won't work for music, so to add closed captions for non-voice audio, follow these steps:
In the main video editor, tap the "Text" button at the bottom of your screen.
Write your closed captions and select the font type, color, and alignment. When you're finished, tap "Done" in the top right corner.
You'll see your captions overlayed on the video. You can move them where you'd like.
To align your captions with certain parts of your video, tap the text and select "Set duration."
Drag the duration bar to the section of the video you want this caption to appear.
Repeat these steps for additional captions you want to include.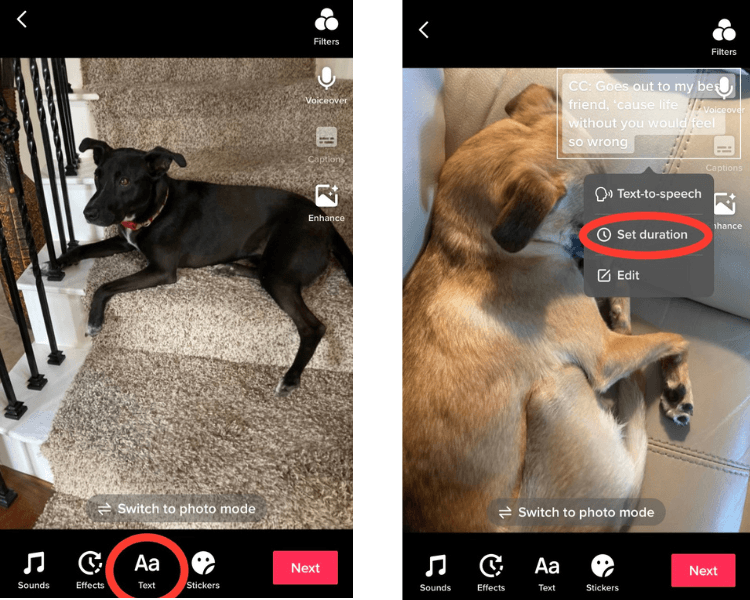 Pro tip: If you include other types of on-screen text alongside your closed captions, consider labeling the closed captions with "CC" so users can easily distinguish between them.
7. Measure your results
To know what performs well and how you can improve, measure your results! As you begin marketing on TikTok, set measurable goals for the platform. Do you want to increase brand awareness? Drive engagement?
Your goals determine the most strategic metrics to track, but a great starting point is engagement metrics such as:
Views
Likes
Comments
Shares
Follows
Watch time
Social media is for engagement, and these metrics provide insight into how users interact with your content. Plus, the more users engage with your posts, the more likely the TikTok algorithm will be to show them to more people.
8. Optimize your content with TikTok features
No list of tips for TikTok would be complete without mentioning the platform's many creative features.
TikTok's video creation and editing features allow you to elevate your content and make it more engaging for your followers. For best results, familiarize yourself with these features, and incorporate them into your posting strategy.
13 TikTok tricks
The eight tips listed above set a strategic foundation for your TikTok plan, but you need to understand the platform's features to put them into practice. Between trending sounds, Duets, and transitions, how do TikTok's features work?
To get you started with the TikTok features you need to know, I've included 13 of them on this list of TikTok tricks. The previous section offered a list of overarching TikTok strategies, but this list will dive into specific features you can harness. Once you reach the end of the list, you'll be a TikTok pro in no time!
Jump straight to the trick you most want to learn, or read them all for extra TikTok inspiration!
1. Use a trending audio
To start with the most foundational trick, use trending audio for your videos. If you spend a few minutes scrolling through your For You Page, you'll find that TikTok thrives off people putting their spin on trends.
Additionally, music is paramount to the TikTok experience for 88% of users. To make your audience happy, use a trending song!
You can choose audio to add to your videos in two ways. To use a sound you come across while scrolling:
Tap the spinning circle in the bottom right corner of the video.
The app will take you to a page listing videos that use the sound. If you want to save the sound for later, tap "Add to favorites" at the top. If you're going to make a video with it now, tap "Use this sound" at the bottom.
The latter will take you to the video creation screen, where you can either film your video or upload existing photos and videos using your selected audio.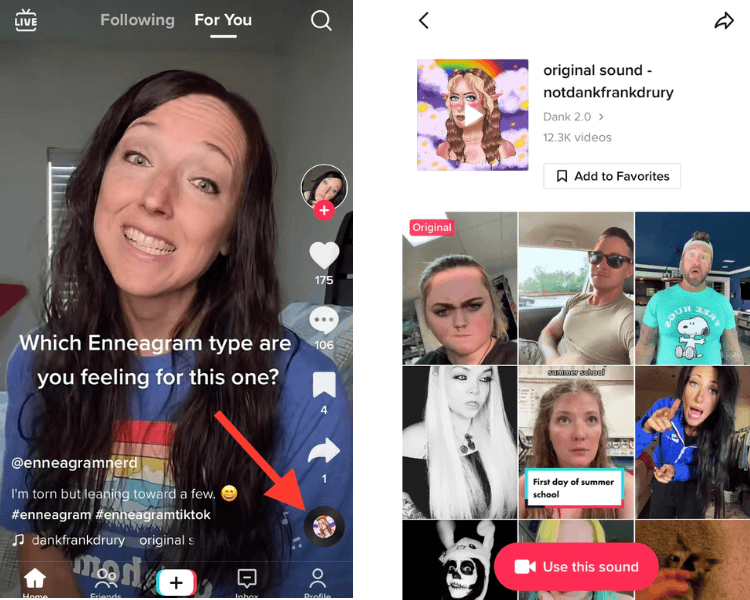 If you need inspiration or want to see how people use the trend, take a few minutes to scroll through the videos that use the sound in step 2. This content is a great way to gain fresh TikTok ideas for beginners and seasoned posters alike.
To use a sound you've saved or find a sound to add while creating a video:
On your home page, tap the plus sign at the bottom of your screen to go to the video creation window.
Tap "Add sound" at the top.
You'll see two tabs — Discover and Favorites. You can use the Discover tab to find new sounds or the Favorites tab to find sounds you've previously saved.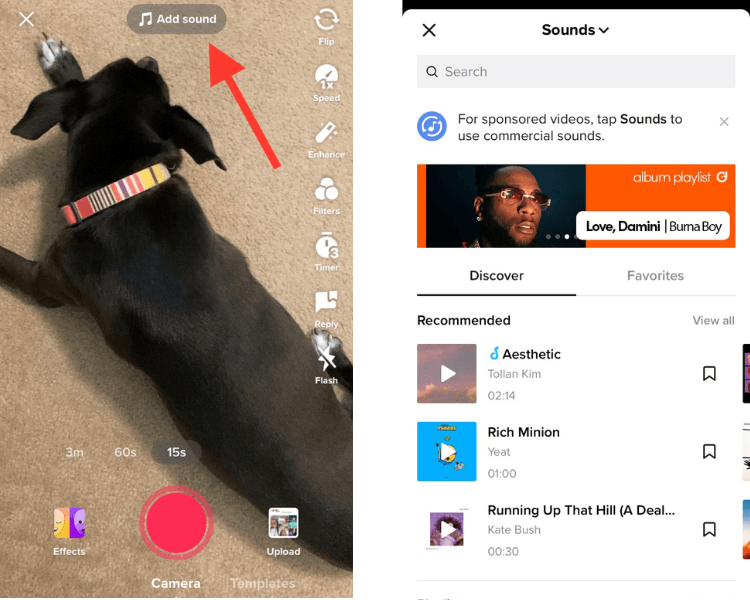 Pro tip: Since you're using your TikTok account as a business for marketing, you'll want to familiarize yourself with the Commercial sounds library. You can find this library by tapping "Sounds" on the "Add sounds" page and switching to "Commercial sounds."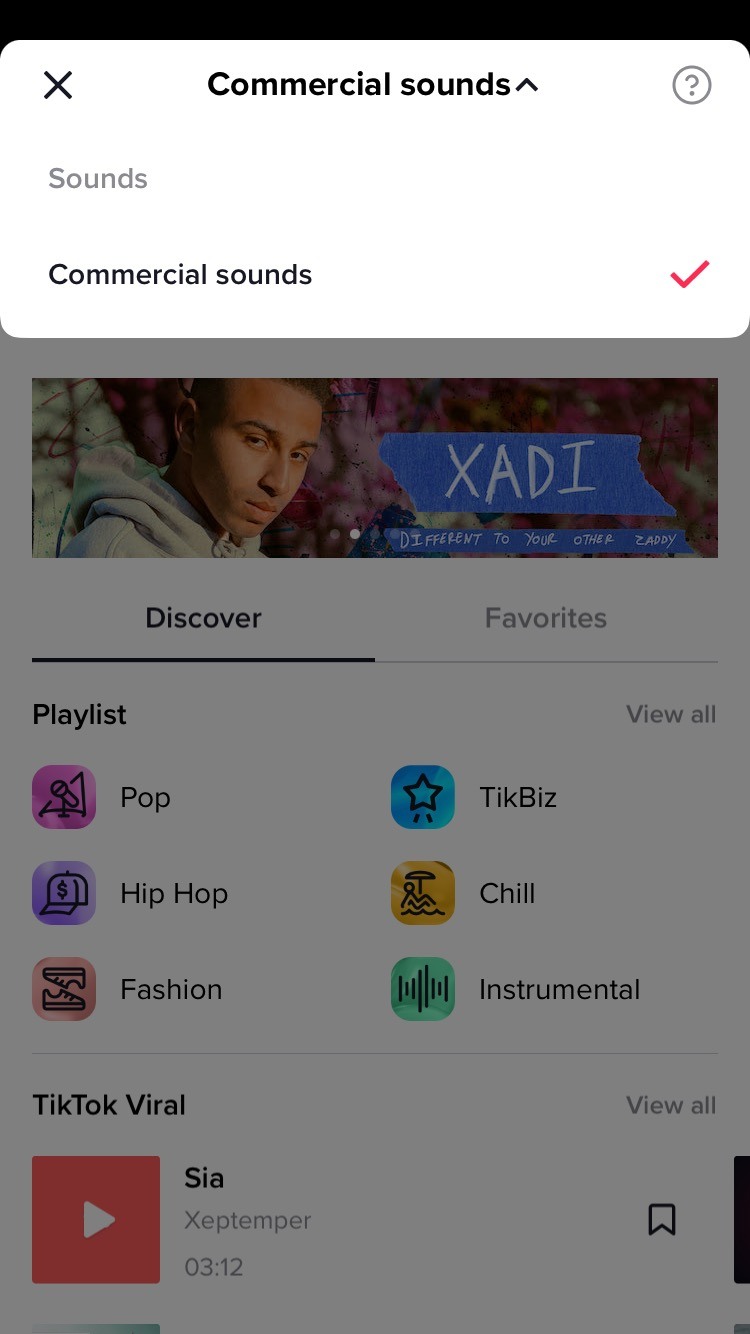 2. Make videos from photos or include photos in your videos
While videos are great, you might want to include pictures in your TikTok posts. To turn photos into videos or incorporate them into your videos:
From the home page, tap the plus sign at the bottom.
Tap "Upload."
You'll see a screen showing what you have saved to your camera roll. From here, you can select any combination of photos or videos.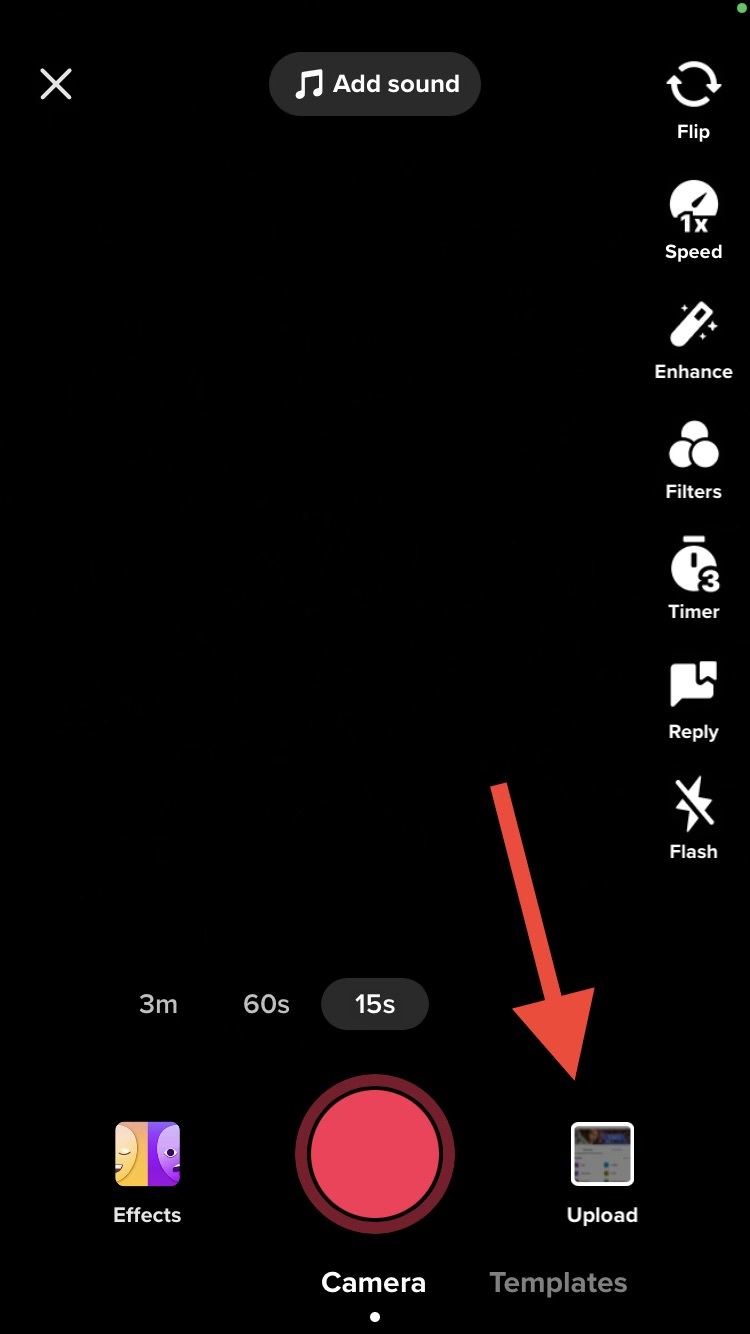 Bonus tip: You can also select "Templates" on the bottom of the video creation screen and upload photos there to use premade video edits and effects for your photos.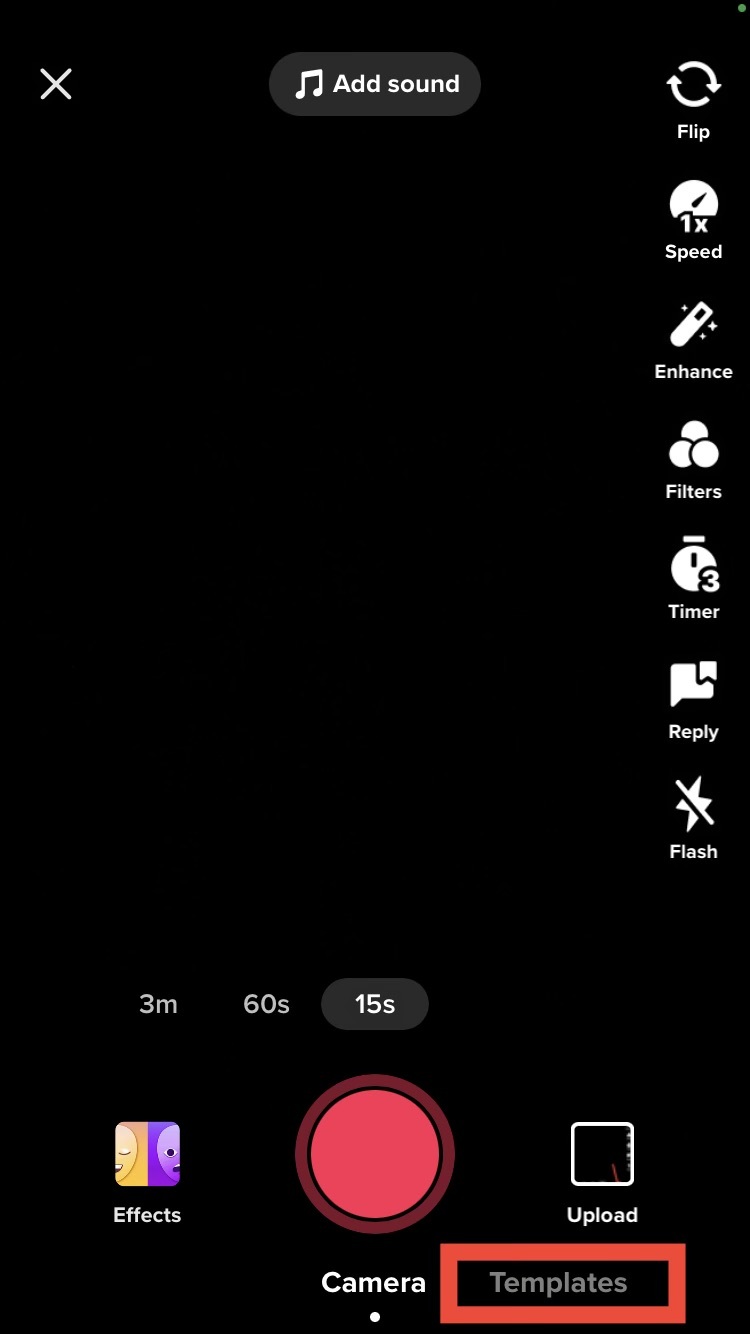 3. Use transitions in your videos
Many of the best TikTok videos include multiple clips — with creative transitions between them. To level up your TikTok videos, you can add built-in transitions from the video editor or use creative transitions while filming.
To add built-in transitions from the video editor:
Add your photos/videos or film your clips.
Tap the checkmark in the bottom right corner to move to the video editing screen.
Tap "Effects" and find "Transition" in the bottom menu.
You'll see a horizontal roll of your video with a white bar indicating where you are in the video. Make sure this white bar is where you want to add the transition.
Select your chosen transition to add it to the video in the spot you chose in step 4.
You can add the transition to multiple places in the video by repeating steps 4 and 5.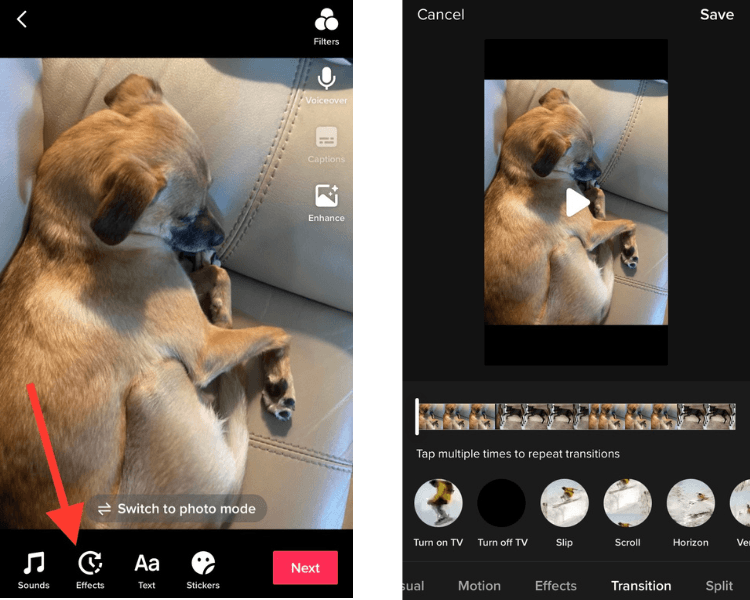 Using creative transitions while filming is an excellent way to elevate your videos further. To find some ideas, scroll through your feed and see what types of transitions creators in your niche use.
Once you know the transition you want to use, start creating your video! The most vital step to ensure a smooth transition between clips is to begin your following clip in the same position you ended the previous clip.
4. Add stickers to your videos
A simple way to make your videos more engaging and add on-screen context is to use stickers. Even better — the process of using them is incredibly simple!
To add stickers to your videos:
In the video editing screen, tap the "Stickers" button in the bottom menu.
You'll find standard stickers covering various topics, plus interactive stickers like polls and questions. Choose the ones you want to add.
Back on the main video editing screen, you can place your stickers where desired.
5. Save a draft for later
Sometimes, you might want to create content in advance. Or maybe you've started creating and editing a video but don't have time to finish it. That's where saving the drafts comes to the rescue!
To save a draft for later:
Once you've created and edited your video, tap "Next" in the bottom right corner. If you're not finished making your edits, that's okay! Go ahead and tap "Next" — you can revisit this draft later and continue editing.
The app will take you to the posting screen, where you can choose your cover image, write your caption, and more. If you're not ready to post, tap the "Drafts" button on the bottom left instead of "Post."
When you're ready to finish editing and post your video, navigate to your profile. You'll find a folder for your drafts that only you can see. Find the video you want to post or edit, and continue where you left off!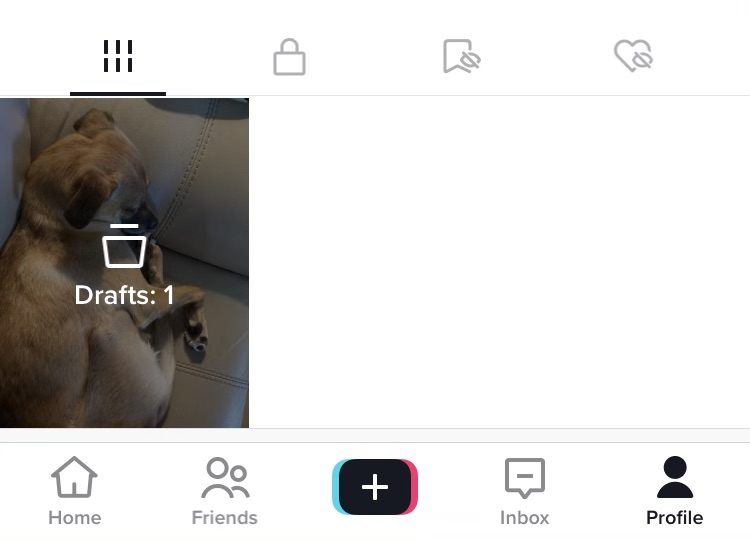 6. Get creative with the green screen feature
Have you seen creators talking in front of a photo or video like a digital green screen? TikTok has a built-in green screen effect for creators to get extra inventive with their content. If you want to use that effect too, follow these steps:
In the video editor, tap "Effects."
Tap the search icon and type "Green screen."
Choose the option named "Green screen." The icon will be green, with a white arrow pointing down from a photo symbol.
A horizontal bar showing photos from your camera roll will appear. Select the image you want for your background.
Film your video with the photo as your background. If you want to resize or move yourself, tap and drag your silhouette or use two fingers to pinch or expand the size.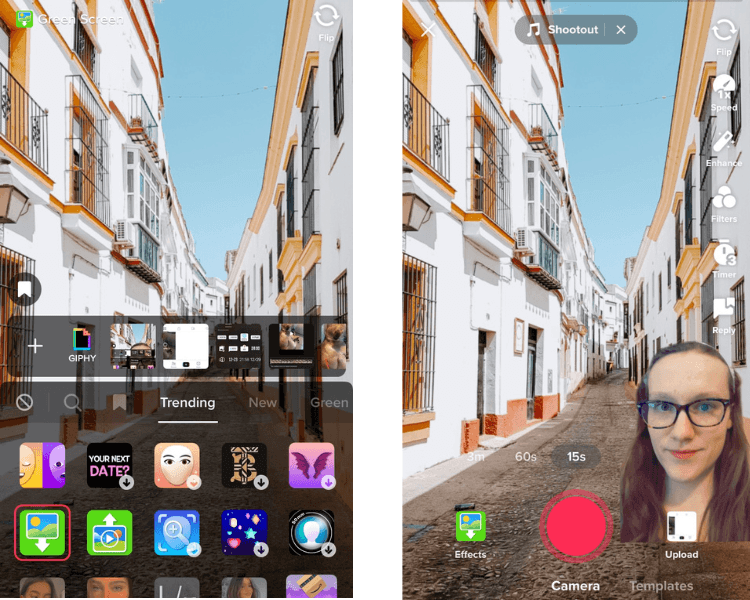 7. Add a filter to your videos
Another way to spruce up your videos is to add a filter or visual effect. TikTok includes many engaging filters that add a layer of fun to your content.
To add a visual effect to a video clip once you've filmed it:
Go to the Effects window in the video editor.
Navigate to the Visual tab.
Choose the visual effect you want to add to that clip.
Tap and hold for the duration of the clip you want the visual effect to appear.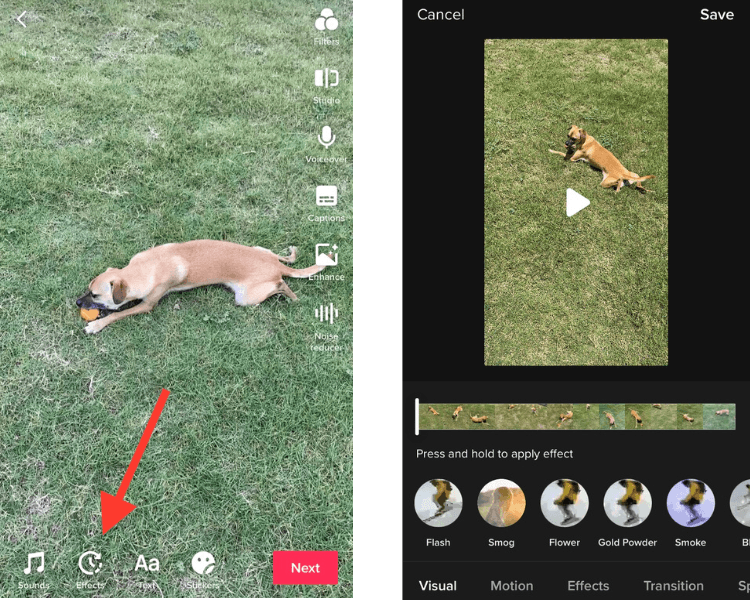 To add a filter to the whole video:
From the video editing screen, choose the "Filters" button on the right-hand vertical menu.
Select the filter you want to add.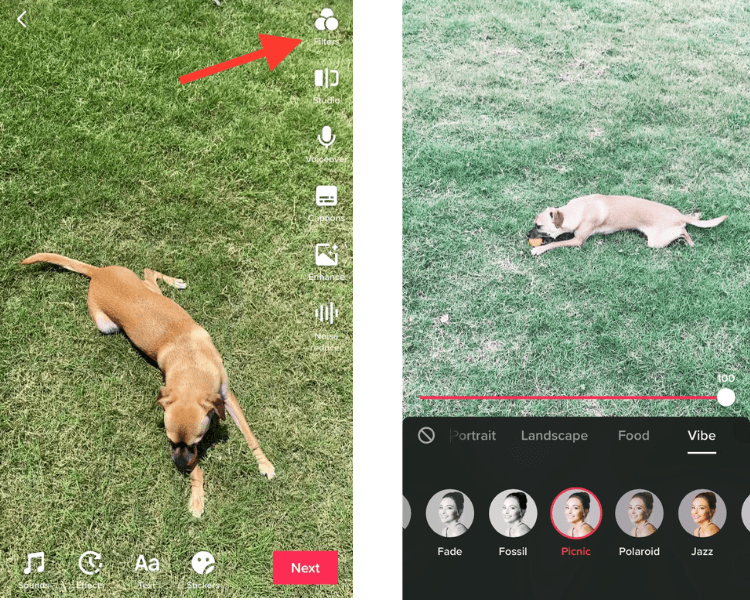 You can also reuse an effect you've seen someone else use. On the existing video, you'll find the effect's name above the creator's username. Tap the effect's name, then tap "Use this effect" or add it to your favorites for later.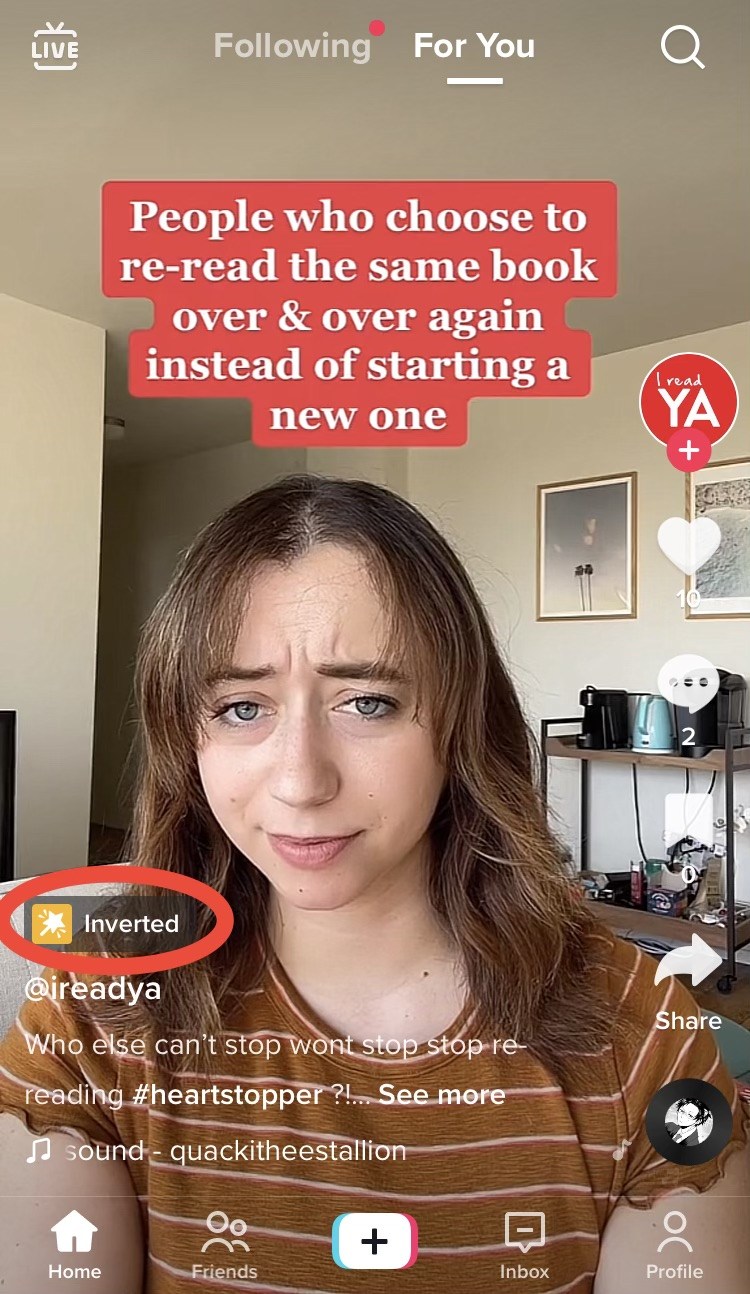 8. Add timing effects to your videos
Another way to add creativity to your videos is by adding timing effects. In the TikTok video editor, you can make portions of the video slow-mo, repeat parts of your video, or play the whole video in reverse.
To add these timing effects:
Go to the Effects window in the video editing screen.
Scroll to the end of the horizontal menu on the bottom and select "Time."
Choose the effect you want to apply.
Select the part of your video you want to apply the effect. This step only applies to the Repeat and Slow-mo effects. The Reverse effect alters the whole video.
Bonus tip: Scroll through the various tabs under the effects window to see what other fun effects you might want to use for your videos.
9. Change your video's speed
Besides the slow-mo effect, you can also change the speed of your video in the Studio. To access this option:
On the editing screen, tap "Studio" from the right-hand vertical menu.
Tap "Edit."
Tap "Speed" and adjust as desired.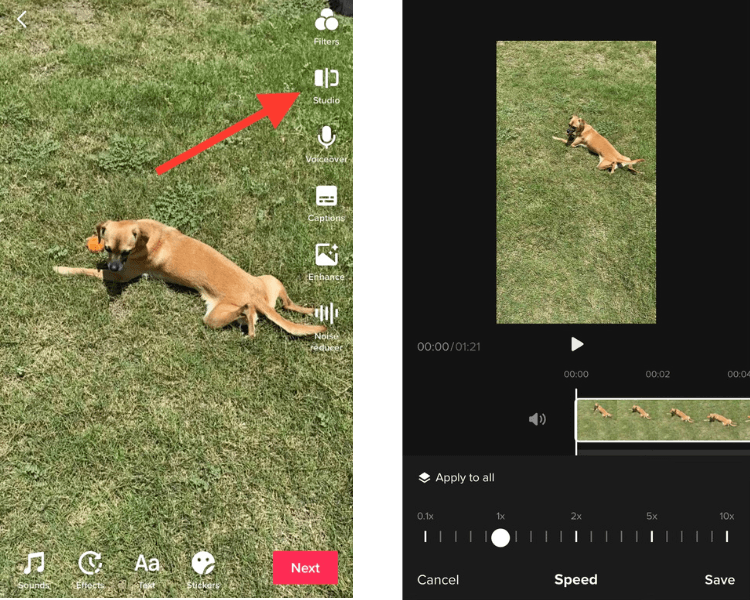 To adjust the speed for a portion of your video, use the "Split" option. To use this feature:
In the Studio, Tap "Edit."
You'll see a horizontal roll of your video with a white bar indicating your current place in the video. Slide this bar to the position where you want to split the clip.
Tap "Split."
Select your split clip and choose the "Speed" option.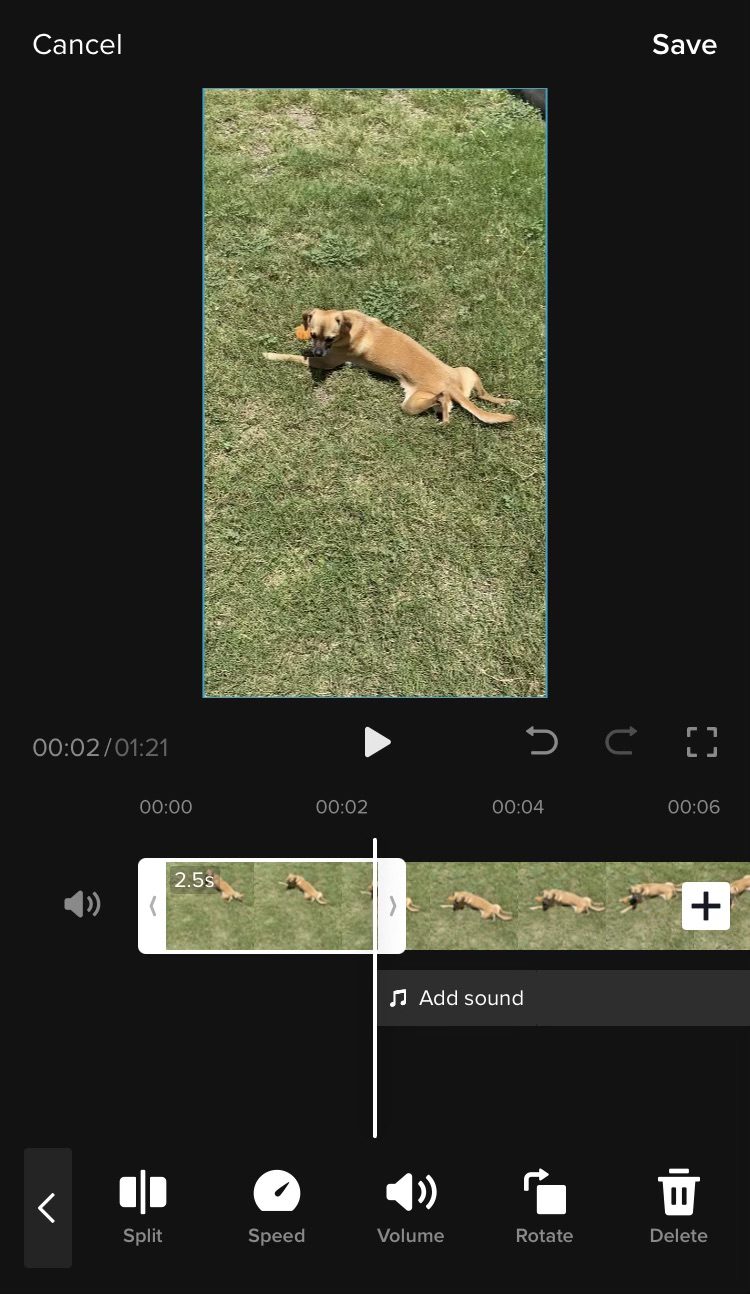 10. Add a voice effect to your video
What if you want to add a creative spark to your spoken words in the video? You can do that by adding a voice effect!
To add a voice effect:
Tap "Voice effects" from the right-hand vertical menu in the video editor.
Choose the voice effect you want.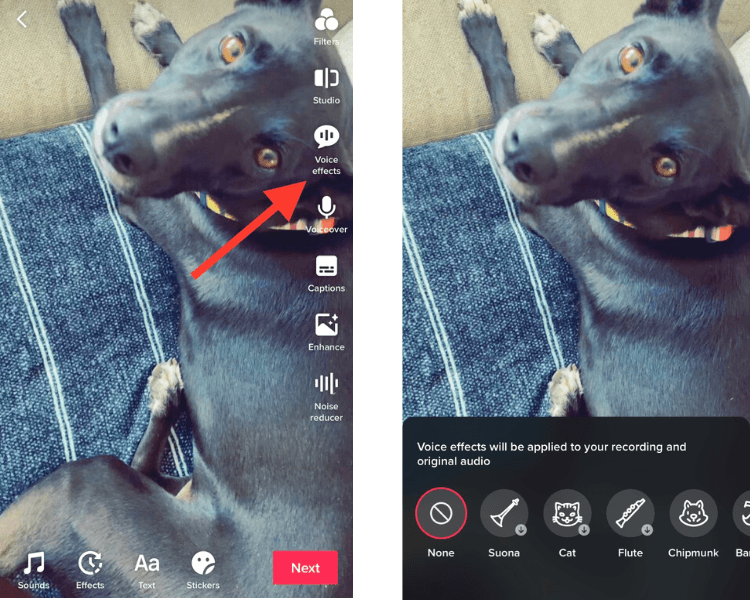 That's it! Your video officially has a fun effect added to your voice!
11. Duet and react to other creators' videos
Like all social media platforms, TikTok thrives on engagement. Two unique ways to engage with your audience on TikTok are Duetting and reacting to others' videos.
To film a Duet:
Find the video you want to Duet.
Tap the Send button.
Choose "Duet."
You'll see the standard video recording screen and options — with a few changes. The video you're Duetting will appear next to yours. For Duets, you can't upload an existing video, so you must record your Duet in the app.
Begin filming as usual. As you record your video, the creator's video will play, and you can film your reaction.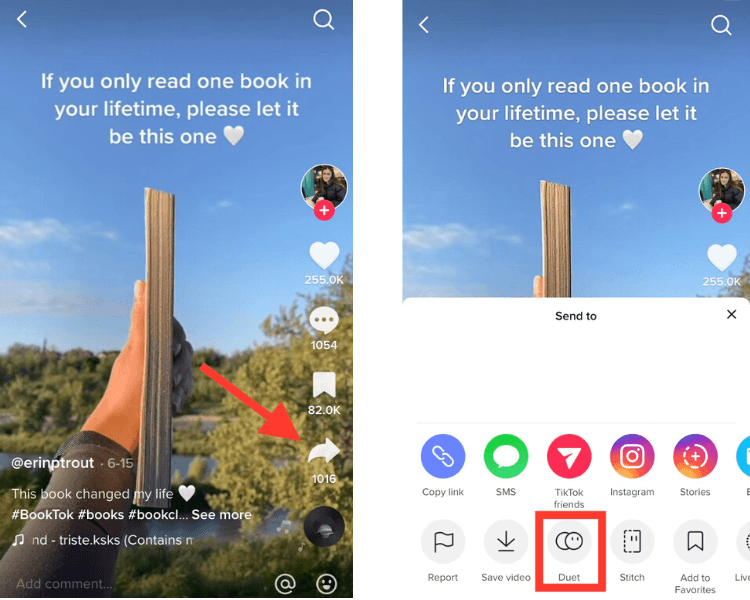 A couple of notes:
If you want to respond verbally, you'll need to tap the mic button before filming to toggle it on and off.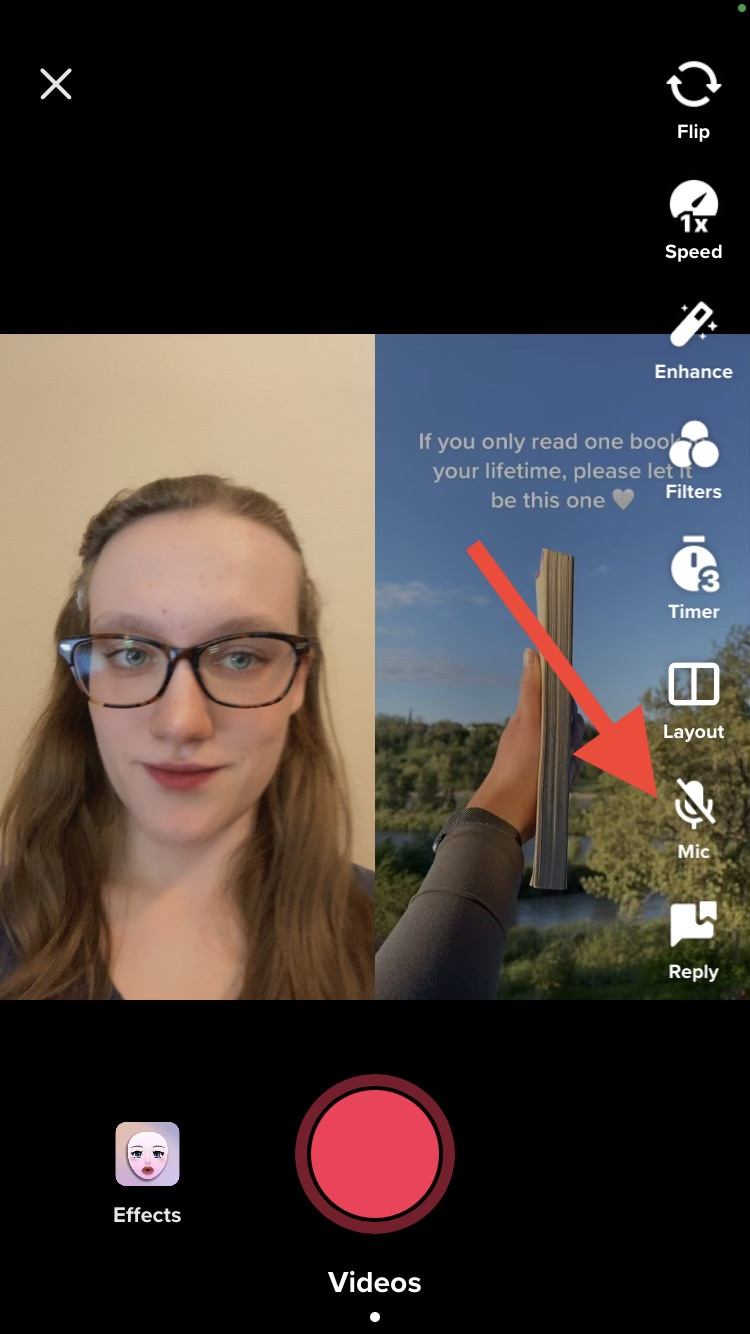 If you verbally respond, you can adjust the volume of your recording and the original video on the editing screen. To do so, tap "Volume" and change the sliders accordingly.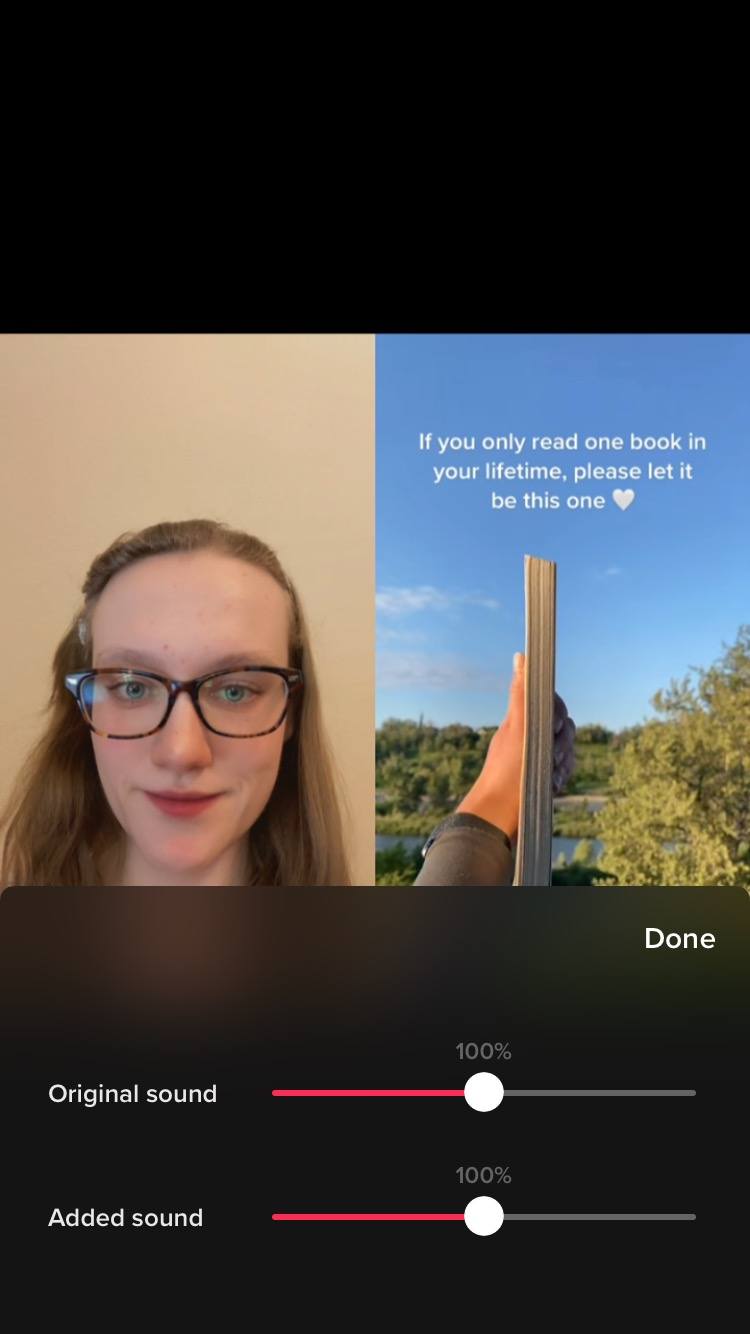 You can also adjust the layout of the Duet from the right-hand menu, but you'll need to make this adjustment before you begin recording.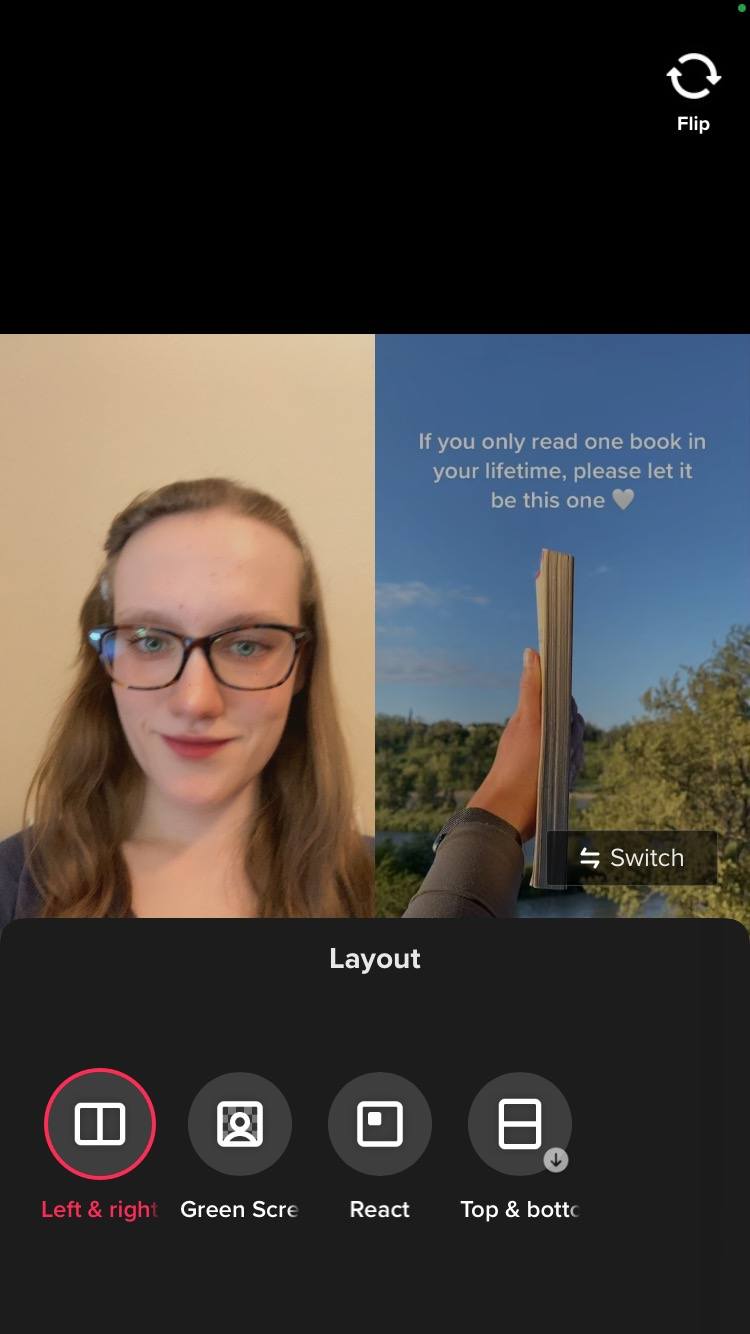 Filming a reaction follows the same process as a Duet — in TikTok, a reaction is an alternate Duet layout option. So, to film a reaction, follow the steps for creating a Duet.
When TikTok takes you to the video creation screen, tap "Layout" before you begin recording. Choose "React."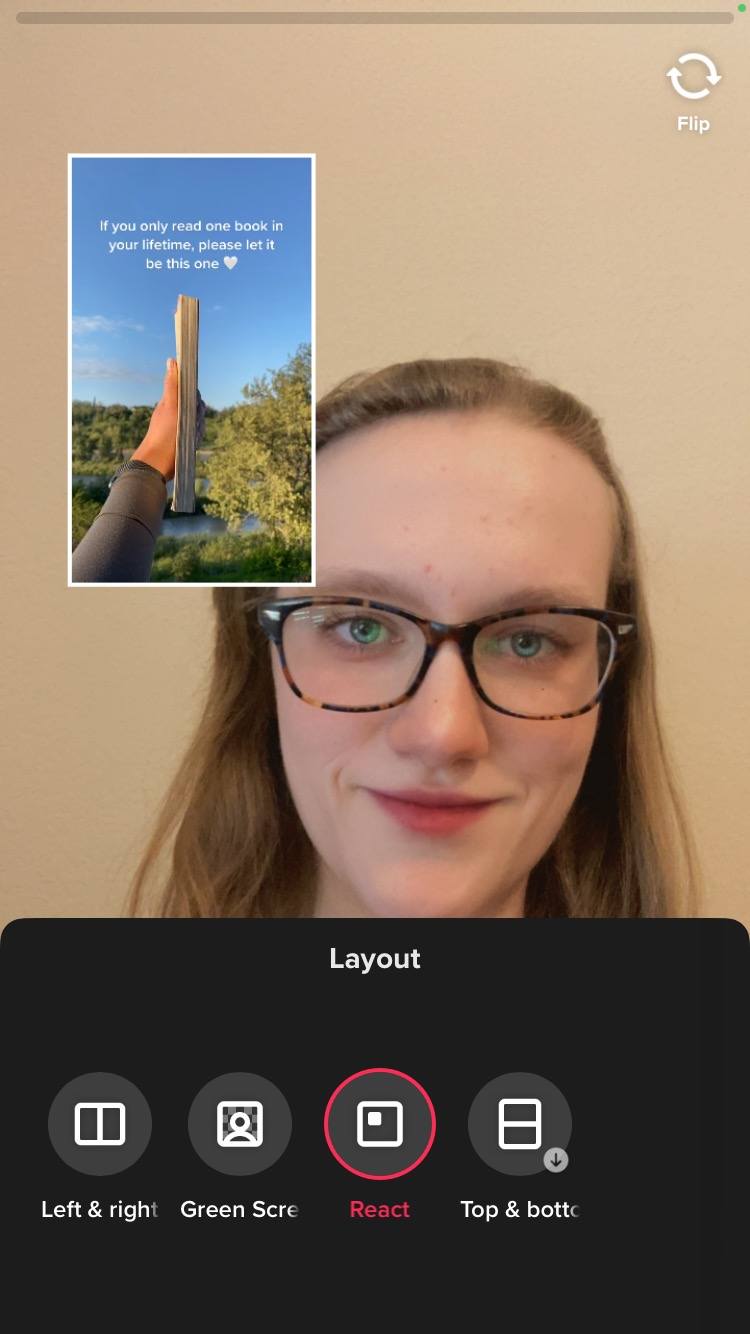 The original video will appear like a sticker, which you can move as needed.
Bonus tip: Another option in the Duet layouts is "Green Screen." This choice will use the original video as the background so that you can record your reaction in front of it.
12. Stitch other creators' videos
While Duets and reactions show your response in tandem with the original video, you can also interact with other creators' content by stitching it. With a Stitch, you'll show part of the original video before cutting in with your response.
To film a Stich:
Begin with the same process you followed for a Duet. Find the video you want to respond to and tap the Send button.
Choose "Stitch."
You'll see a horizontal bar appear at the bottom of the video. Adjust the pink border to select the portion of the video you want to play at the beginning of your Stitch.
Once you've made your selection, tap Next.
The app will take you to the video recording screen. Film your video response as usual.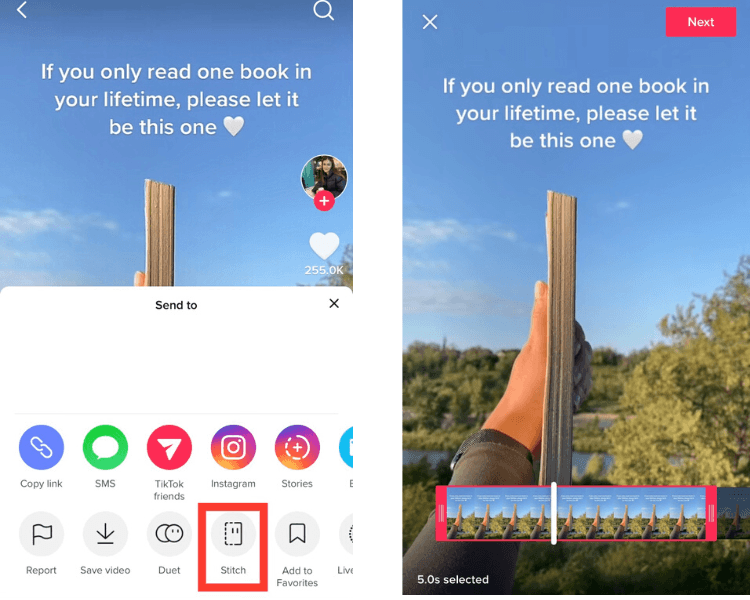 13. Respond to comments with a video
Who says you have to stick to a regular text reply to comments? On TikTok, you can reply to comments with a video!
This feature is an excellent way to further engage with your audience, give them a creative reply, or provide a more in-depth answer than a text response would allow.
You can video reply to comments in three ways.
Option 1
Navigate to the comment you want to reply to.
Tap "Reply."
You'll see a video icon on the left. Tap it, and create your video reply as usual.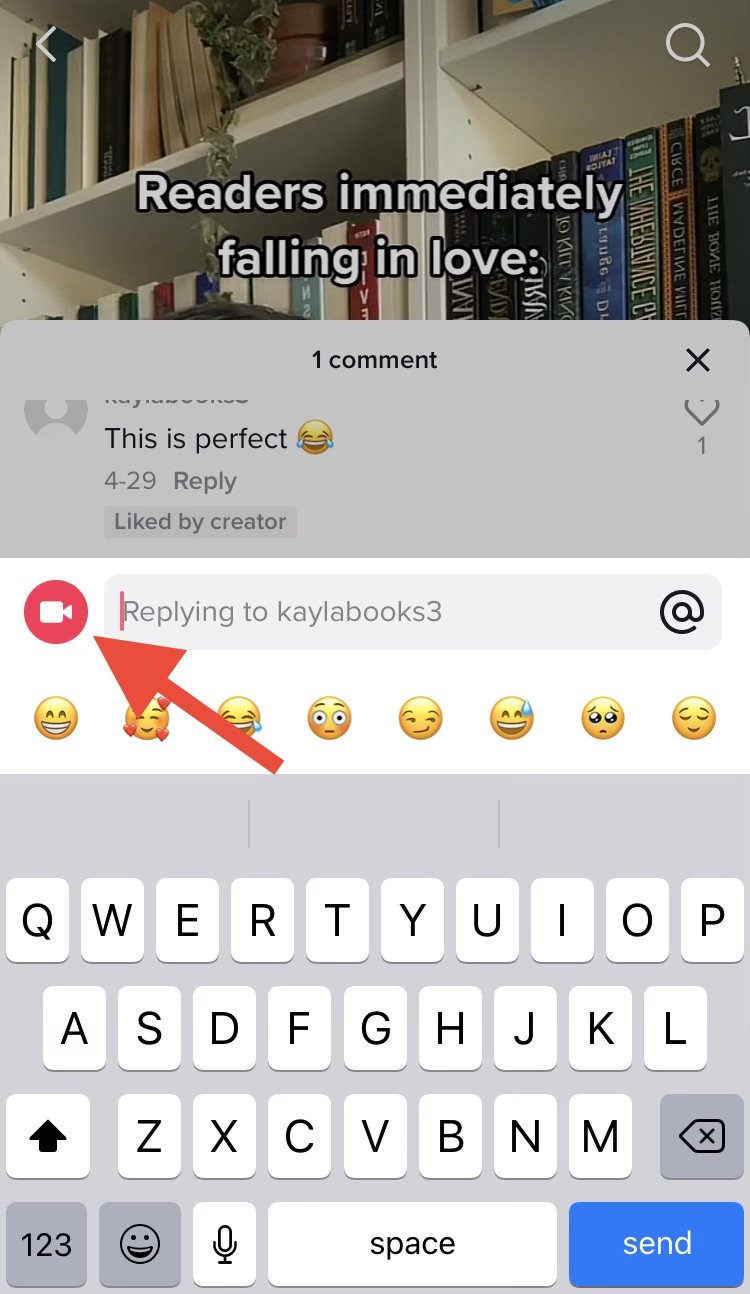 The comment will appear in the video as a sticker. After recording your video and continuing to the editing screen, you can move the comment sticker, resize it, or set the duration so it only appears in a portion of the video.
Option 2
Navigate to the comment you want to reply to.
Tap and hold the comment.
A menu will appear — you'll see an option to "Reply with video." Tapping this option will take you to the video recording screen, where you can create your video and edit the comment sticker as you did in the first method.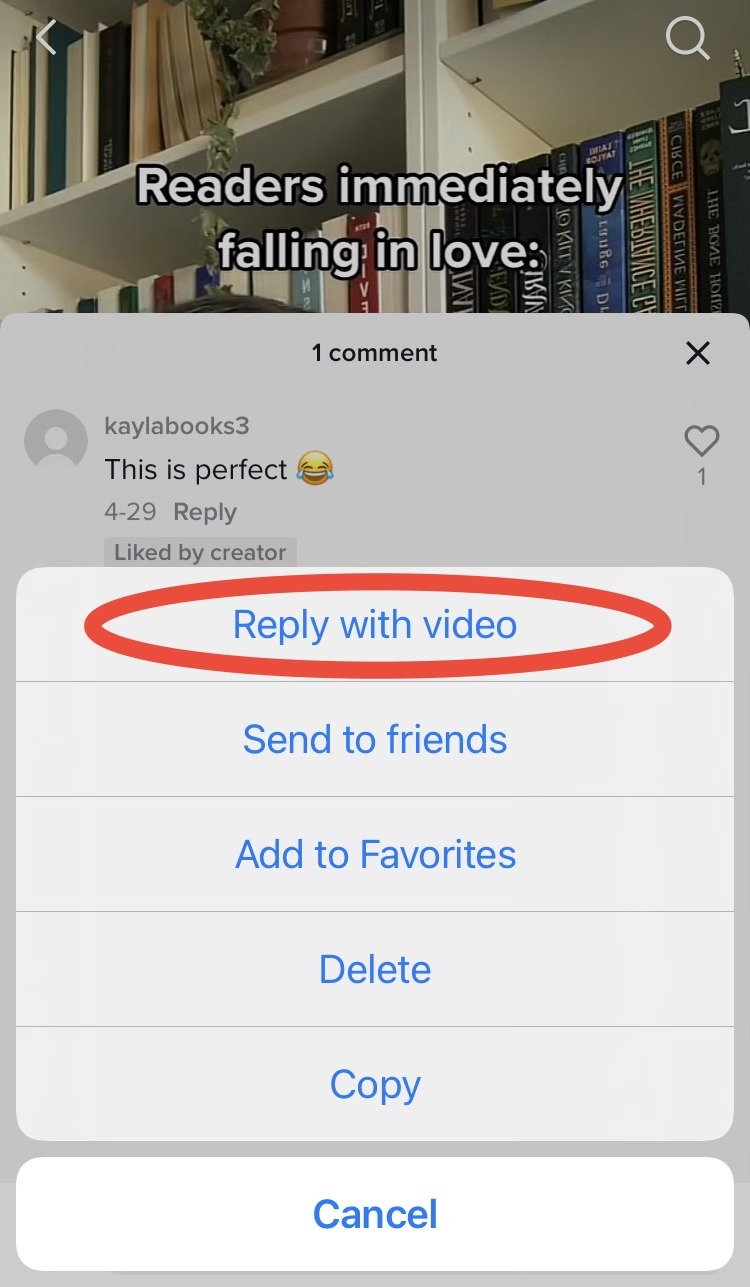 Option 3
When you tapped and held your chosen comment, you might have noticed another option in the menu to "Add to Favorites." This option saves the comment for later.
To reply to these favorite comments:
Tap the plus sign on the bottom of the home screen as though you're creating a regular video.
Tap "Reply" in the right-hand menu on the video creation screen.
Navigate to the Favorites tab, which shows any comments you've added to your favorites.
Tap the one you want to reply to, and follow the same steps above.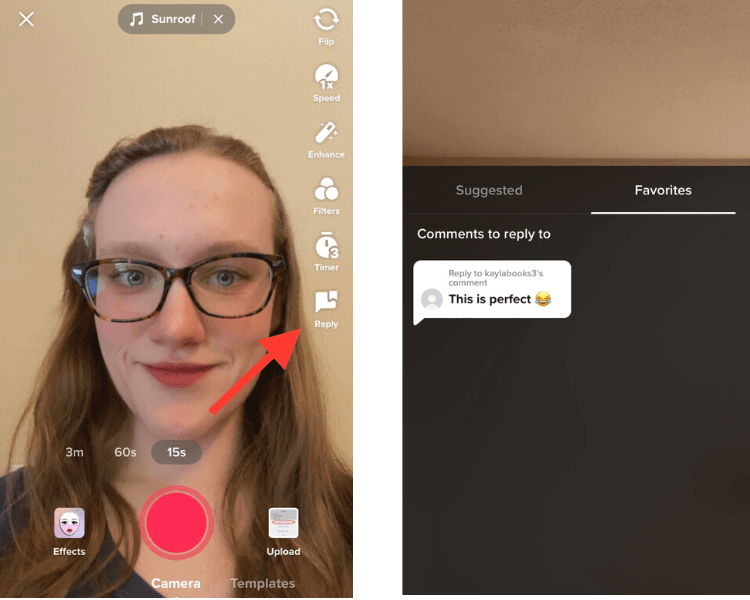 We've made it to the end of this massive list of TikTok tips and tricks! Put these tips into practice, and you'll see more profitable results roll in from the platform.
Growing your social presence with WebFX is a walk in the park.
"WebFX allows growing your social media platforms to be stress-free! They are knowledgeable and adapt to your company needs!"
Learn More About Our Social Media Services

Count on the social media team at WebFX to skyrocket your TikTok content
TikTok is a profitable platform for many businesses, but mastering its complexities takes time. If you don't have the time to invest right now, consider partnering with the TikTok pros at WebFX.
Our social media experts will create a tailored plan to find and engage your niche on TikTok. With our do-it-for-me services, you can sit back and watch as your content shows up on more people's For You Pages and drives incredible results for your business.
Ready to learn more about what our TikTok services can do for your business? Call us at 888-601-5359 or request a free proposal online today!
Get posts by email
Join 200,000 marketing managers and subscribe to Revenue Weekly!
"*" indicates required fields
WebFX Careers
Join our mission to provide industry-leading digital marketing services to businesses around the globe - all while building your personal knowledge and growing as an individual.