Turn more visitors into leads with WebFX
Driving manufacturing leads for
25+ years
91%
RETENTION RATE
Industry average: 50%
Why is our retention rate so high?
We leverage our expertise to delight your customers and keep your clients coming back.
93%
CLIENT SATISFACTION SCORE
Industry average: 72%
why is our satisfaction score so high?
Project management
ROI tracking
Diverse skillsets
"We are getting more traffic and spending less money, which is always a great thing. Our SEO results have gone way up."
Heavy Equipment Dealer
420%
NPS SCORE
Industry average: 16
why is our NPS so high?
Turn-key solutions
Real business results
Consistent communication
Best social networks for industrial companies in 2023
Social network #1. LinkedIn
LinkedIn connects more industrial and manufacturing companies with B2B clients than any other social network. That's because LinkedIn is designed as a professional network, meaning its users are there for business-related information.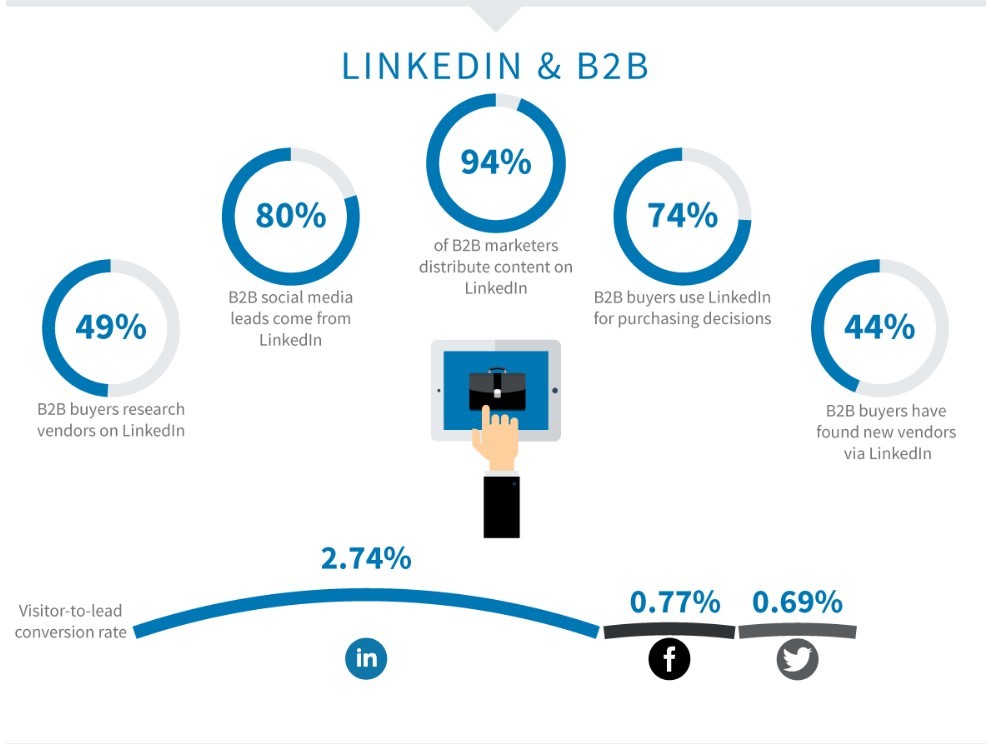 As an industrial company, that gives you the chance to connect with key decision-makers in a variety of industries. You can create profiles for either a high-ranking member of your company or your brand as a whole. Either way, it'll help promote your business.
On LinkedIn, you build "connections" with other users by sending them invitations to connect. You can also "follow" certain industry figures to see their updates and hear the latest thought leadership in your field. That lets you stay up-to-date on your industry while you're searching for new leads.
You can start getting those leads by connecting with decision-makers at companies that you think would be good partners for your brand. Then, you can send them direct messages to talk about their business, share information from your site, discuss other industry news, and more.
A direct message is one of the best ways to earn new leads because it functions just like email. You can demonstrate your professionalism and industry knowledge all in a short message. Once someone responds, you've got the ball rolling, and you can start talking about how your business can help theirs. When used correctly, you can essentially reach out to new leads the same way you would in real life sales situations.
In fact, your brand doesn't even need its own profile on LinkedIn. You can create a profile for your personal use and speak to potential leads on behalf of your company. That'll have (more or less) the same impact as speaking directly from a branded page, and you can still get new leads.

Hear What It's Like to Work With WebFX!

"Working with your team has been amazing! Creating a new website with SEO and starting a SEM campaign is intimidating but you have made each step completely manageable and even easy! The regular reports and personal contact during and after the project was complete has been greatly appreciated – above and beyond. It's hard to find that level of service with other companies. From start to finish, the management of the project was a very organized, well-thought process that was seamless for our company."
Manufacturer In Pennsylvania
Social network #2. YouTube
YouTube is the world's largest video-sharing social network and community. It may seem odd to see YouTube listed as a social media option for industrial companies. After all, YouTube is probably best known for its many videos of cats jumping in and out of boxes.
But despite its reputation as a time-wasting website, YouTube offers a lot of potential value to industrial companies like yours. That value lies in how-to videos and demonstrations. This is where you get the chance to show your potential clients exactly what you can do with all of your industrial equipment and manufacturing products.
Better yet, you can establish a reputation for yourself as one of the leading authorities in your industry. You're showing people how your equipment works, why it's important, and how you help your clients. For anyone who's still in the research process, those videos are worth their weight in gold.
Plus, it's always nice to see that a potential business partner knows what they're doing. That's what you're demonstrating when you post these videos on YouTube. After you post them, you can promote the videos by linking to them on your other social media accounts — especially LinkedIn.
Then, you can also add the video to pages on your site (called "embedding") so your visitors can see it while reading relevant information. That'll also give your page a big SEO bump since Google loves to see videos on your site. All in all, that means YouTube gives you another social option, a great way to demonstrate your expertise, and SEO power all at the same time.
Just like with LinkedIn, you can start today with a free account.
Social network #3. Facebook
Facebook is the single largest social network in the world, with more than 1 billion active daily users. That means any business — even industrial businesses — can find potential leads on this social network.
Facebook users mostly log into their accounts during free time, though, which means your approach to earning new leads on Facebook should be different from earning leads on LinkedIn.
To start, you can create an account for yourself and then a page for your business. After that, you can fill in all the information Facebook requires, including profile and header photos. The photos may not seem important, but they're a great way to reinforce your brand and show customers that you're an active presence online.
The alternative is to keep Facebook's default images, but those make it look like you don't know what you're doing online. And as we mentioned above, it's critical that you inspire confidence in your brand when you use social media. That means using unique photos, regularly posting updates to your business page, and even occasionally sharing your business's updates on your personal page. But the beauty of Facebook is how easily you can reach thousands of people at one time.
To start, post something to your page about your industry. That could be a blog post from your site, a video from YouTube, or even just a thought that your followers would find interesting. Then, users who follow your business's page will see your update. That could be anywhere from a few dozen to a few hundred people. But once they start sharing or commenting on your post, your followers can make your post more visible. It'll show up in the feeds of your followers' friends, meaning your post doesn't just reach your initial audience — it can reach hundreds or thousands of others.
This snowball effect is the biggest benefit of marketing on Facebook. Everything you say has the potential to echo to thousands of other people because of how Facebook designed its algorithm.
So regardless of your industrial company's specialty, you can almost certainly find at least one person who would be interested in your services.
That person might be an entry-level team member at a business, or they could be a key decision-maker that could sign a contract with you. Either way, you're making progress when you expose your brand to a new audience. It builds brand awareness at the very least, and it has the potential to bring new people to your site to learn more about you.
Best of all, you can post links to your other social media profiles to build cross-platform synergy. That lets you reach the same people in multiple places online, increasing the chances that they'll eventually convert into a new lead.
With all of that, you have three powerful marketing methods that you can start today — and they're all free!
74% of people use social media when making a purchasing decision.
Make their decision easy with a stellar social media presence. See how your brand can level up by requesting a no-obligation proposal today.
One of our experts will be in touch within 24 hours!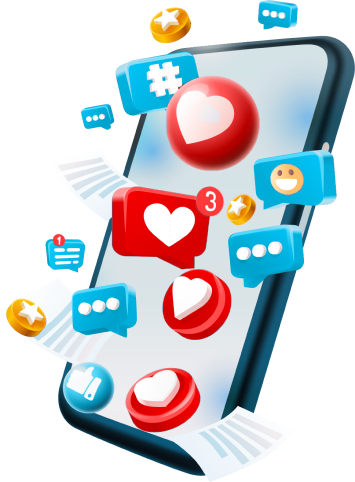 WebFX is an expert social media agency
At WebFX, we understand that every social network offers something unique to industrial companies like yours, and we have a team of social media experts who regularly earn outstanding results for our clients with various types of social media marketing strategies.
In fact, several of our team members are industry thought leaders and regularly experiment with new ways to earn value for our clients by increasing product sales and earning the highest possible return on investment (ROI).
Now, they'll pass that value to you.
Contact us today to set up a social media plan for your industrial company!
Solving key challenges for manufacturing companies
Our website isn't driving enough traffic
When buyers search for your products online, your website needs to be one of the first results to increase your traffic and product sales. Our digital marketing services help you increase your rankings so you can drive more traffic, sales, and revenue.
We're not selling enough products
Are your product sales not as high as you hoped? Our range of digital marketing services help optimize your website, landing pages, advertising campaigns, and marketing strategies so you can maximize your conversions and product sales.
We don't know how to get ahead of our biggest competitors
You'll need to stay ahead of your biggest competitors if you want to sell more products and grow market share. The team at WebFX can conduct in-depth competitor research to identify and implement strategies that help you stay one step ahead of the market.
Our marketing efforts aren't providing a high return
It's critical your marketing efforts provide the highest return on investment (ROI) for your efforts to grow your manufacturing business. Our knowledgeable digital marketing specialists use data to ensure your marketing budget goes toward the channels that drive the most revenue.