5 Free Online Photo Editors for Your Photos
I've looked at most of the options out there (there's a ton of them) and chose the top 5 online free photo editors I'd gladly recommend to anyone who needs to perform simple photo-editing work.
Pixlr Editor is a very robustly-featured free online photo editor that reminds me of Photoshop.
It has layers, the capability to work on multiple photos at once, built-in trendy photography effects like Mimic HDR, Infared, and Tilt shift, the ability to directly save your photos onto Flickr, Facebook, Picasa, useful tools similar to Photoshop like the Magic Wand tool, and more!
It's fast and responsive, which is remarkable given the intricacy and amount of features this web app has (at least on Google Chrome, the browser I used to test these online photo editors).
For most of us, Pixlr is the only photo editor we'll need.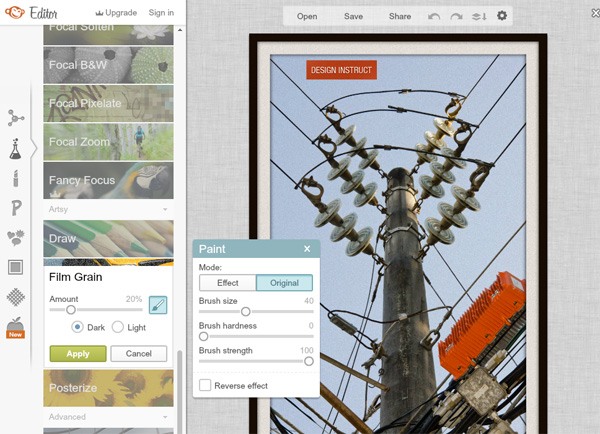 PicMonkey is an amusing tool for spicing up your photos. With this photo-editing web app, you can apply preset photo effects (like Film Grain and Black & White), give your photo a fancy border, touch up photos of people to remove blemishes and wrinkles, and add in graphics like hearts and speech bubbles.
If you're looking for a professional-level photo-editing tool, it won't quite help you get the job done, but if you just want to add fun effects and perform easy photo corrections that can make your Facebook photos look better, cool, and interesting, try out this free online photo editor.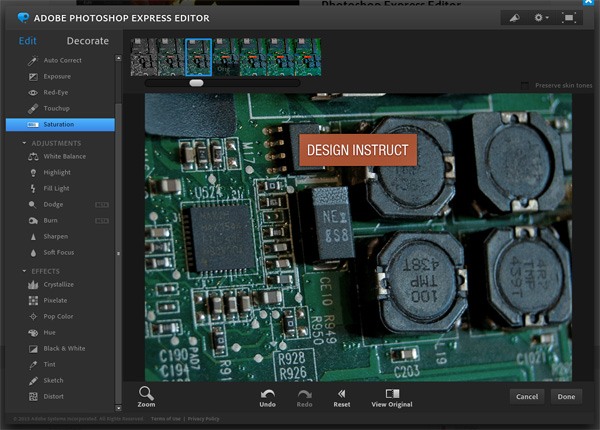 Photoshop Express Editor is a free online photo editor by Adobe. Don't expect the same features and user interface that its big brother, Adobe Photoshop, has — it's not an online version of Photoshop. Photoshop Express Editor is just a simple and fun tool for basic photo-editing.
Photoshop Express Editor has features that you've come to expect from a photo editor such as cropping, resizing, red eye, exposure and color correction, and a handful of charming photo effects like Crystalize and Pop Color.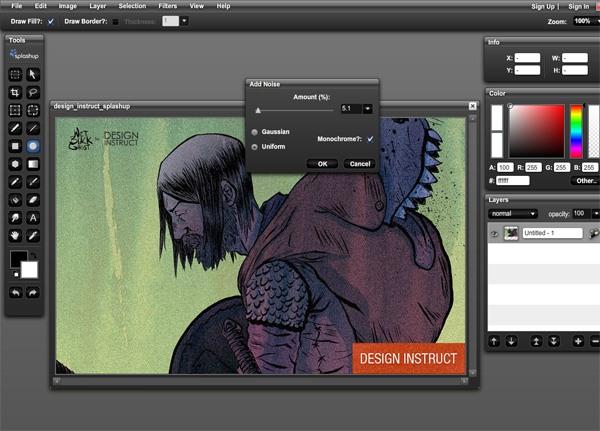 Splashup is another free photo-editing tool that's reminiscent of the Photoshop UI. It's packed with useful features you don't typically see in free online photo editors: layers, layer effects, the ability to draw shapes on your images, and more.
What works in Splashup's favor is that you can open the images you want to edit directly off of popular web services like Facebook and Flickr — a tremendously handy option.
The web app is speedy — it really feels like desktop software when you're using it.
What's a deal-breaker for me — which might not be a big deal for you — is the lack of keyboard shortcuts (like the Ctrl+V shortcut for Undo, which I use a lot when experimenting with photo edits). Keyboard shortcuts affect my workflow significantly when I'm using creative software.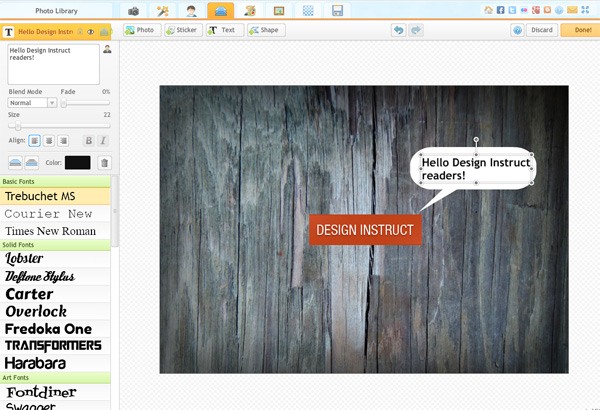 iPiccy is a free online photo editor that's easy and intuitive to use. You can use it to make simple photo corrections, such as adjusting your photo's exposure and sharpening it if it's too blurry. iPiccy also has a bevy of interesting photo effects and filters, like Emboss and Sepia, for you to employ onto your photos.
iPiccy has a tool for creating photo collages, which might be awesome for some of us. And if you want a Photoshop-like interface, you have that option to change the default workspace UI.
iPiccy is a good photo-editing tool with loads of options; spend some time to explore this web app to see what it can offer you.
Some Other Free Online Photo Editors