What's the Difference Between Content Marketing and Copywriting?
Content marketing has sparked a renaissance for production of original content on the Internet. But many people are confused about the term "content marketing." They wonder what exactly it means.
They also wonder if it's the same thing as copywriting. After all, they sound similar, and both involve writing and producing content for a website. But in reality, content marketing and copywriting are two very different strategies.
Call 888-601-5359 to speak with a strategist about content marketing and copywriting services from WebFX, or keep reading to learn more about how these two strategies are different from one another.
What is content marketing?
Content marketing is any new, original content created by your business with the long-term goal of attracting new customers. This content could take any number of forms, including:
Blog posts
Articles (like this one!)
Podcasts
Videos
Whitepapers
Ebooks
Email newsletters
Each one of these represents an opportunity to communicate directly to your audience. Content marketing is designed to bring people who are looking for your products or services right to you when you perform a web search, and gradually convince them that your company is trustworthy and helpful.
What is copywriting?
Like content marketing, copywriting is also a form of content creation. But it's not as dimensional as content marketing, because it consists only of written content. Copywriting refers to the words that fill your site and motivate a visitor to do something immediately.
Here is another way to think about it. Copywriting is essentially your sales pitch, laid out over a number of pages. So your copywriting might include:
An introduction to your business and how it came about
A description of your products or services
Any detailed piece of content written about a specific product
The headlines atop your pages
The welcome email you send to people who subscribe to your list
Basically, any written content you put on your website in an attempt to get someone to do something, read something, or buy something can be considered copywriting.
The differences between content marketing and copywriting
Here's one way to distinguish the difference between copywriting vs. content marketing. Think of copywriting as a square meal. It has all the things you need to nourish your site:
Strong calls to action
Valuable information
Pricing and cost information
Think of content marketing, on the other hand, as an appetizer. It's not necessary for your site to exist, but it can entice people to stick around and consume more. It's also a fantastic introduction to any square meal—that is, your copywriting.
The style of writing for both types of content is also different. Content marketing tends to be more creative and free-flowing, and may be casual in tone. Copywriting is usually more straightforward, since it's designed to convey important information and motivate visitors to take action.
Additionally, copywriting is meant to convince your visitors to take some kind of action right away. The goal of content marketing is to motivate a long-term conversion, not to push people to become customers immediately. Content marketing provides long-term value, while copywriting encourages immediate action.
WebFX is a partner businesses trust.
Hear from HydroWorx, who saw a 236% increase in organic sessions with WebFX services.
Watch the Video Testimonial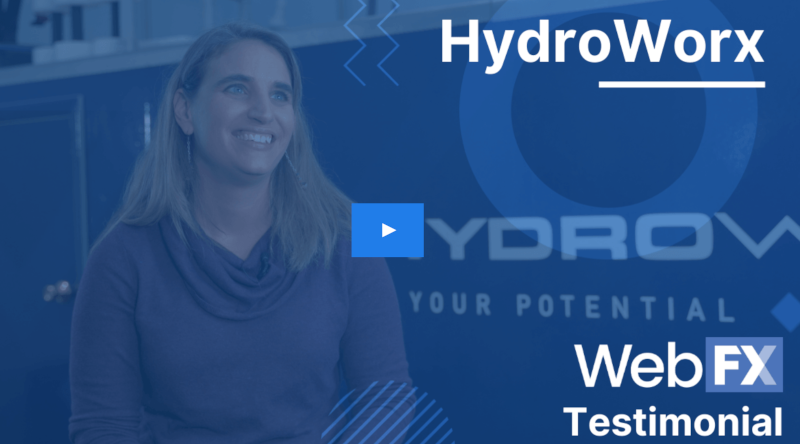 Problems with content marketing and copywriting
Here are a few common problems you can run into with the content on your site. Take a quick look to see if you need to address any of them.
Dull headlines
No calls to action
Lack of consistent voice throughout the site
Low-quality
Keyword-stuffed
Content that's too "salesy," i.e. makes a hard sell rather than conveying information
Content that does not help the potential customer in any way
Whether you're looking at a piece of copywriting or your latest content marketing attempt, you should be very careful to avoid these problems, because they can upset both your visitors and search engines.
The importance of using copywriting and content marketing together
The best approach to using both copywriting and content marketing is to seek a balance between the two. This is because copywriting and content marketing can complement each other well.
For example, if you have a page that lists pricing options for your goods, you can link that from a more generalized blog post about how to find the best price for a certain product. There's a give and take there that pulls your website together, and encourages those who are consuming your helpful content to go on to consume your more sales-oriented copywriting.
Because content marketing relies on a long-term strategy to introduce your visitors to your business and the value you can add to them, it's ideal to utilize content at the top of your sales funnel. You can then link to pages with stronger copywriting that moves these visitors down the funnel to the point at which they will convert.
Without copywriting in the form of calls to action, you're likely to find that your content marketing never results in a conversion. But you must also be careful to not come off too strong in your content, because the people who find it from search engines aren't likely to want to convert until they know more about you.
The ultimate goal of copywriting and content marketing is the same: engaging new customers. Keep that in mind no matter what you are doing, whether it's writing an email call to action or creating a blog post.
Need help creating content?
Are you looking for help creating compelling, unique content or copywriting for your website? Not sure if you have what it takes to craft calls to action that will prove effective? WebFX can help!
Check out our website copywriting service to learn how our dedicated team of writers can produce incredible copy for your website, or view our content marketing packages here to find out how we can create compelling, unique, share-worthy content for your business at an affordable price.
Want to know more about what we can do for you? Just contact one of our expert Internet strategists by phone or online. We'll create a customized quote for your business that shows you exactly how you can reach more people online with compelling content.