Internet Marketing Services for Oil City, PA
If you're a local business looking for professional Internet marketing services, the most important thing is finding an agency that understands you and your business.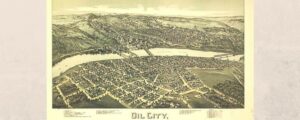 Marketing for local businesses is simply not the same as marketing for large corporations. Unfortunately, many digital marketing agencies don't understand this – they'll try to sell you on neat, one-size-fits-all marketing packages. This is one of the worst approaches to Internet marketing for smaller businesses.
Marketing at the local level demands customized, dynamic strategies that are tailored to the business, industry, and area they operate within.
At WebFX, we understand this. In this article, we'll explain exactly what Internet marketing entails and show exactly how we can help your business flourish. Keep reading if you want to learn more, and give us a call at 888-601-5359.
What is Internet marketing?
Before we get into the benefits of Internet marketing, it helps to define exactly what it is we're talking about.
The term "Internet marketing" simply refers to various methods of online marketing. Just like "traditional marketing" describes things like TV ads, radio ads, billboards, and so on, Internet marketing is a similar umbrella term.
To get a bit more specific, here are the most common channels of Internet marketing, along with a brief description of each:
Web design and web development
You need a website in order to effectively market online. You can think of your website as your business's online home. Most Internet marketing strategies revolve around driving visitors to your company's website.
Contracting professional web design and web development work ensures that you'll have a gorgeous, functional website. Potential customers have many different options when it comes to product and service offerings, so you need to make sure your website is up to par with your competitor's sites, at minimum.
Search engine optimization (SEO)

SEO is the process of organizing your website in a specific way, so that it will show up more prominently in search engine results. SEO creates the foundation for most successful Internet marketing strategies, and can result in exponential, sustained growth when executed correctly.
Pay-per-click advertising (PPC)
PPC advertising is pretty much what it sounds like. You publish ads in places like search engine results and through social media platforms, and you only pay when users click on them. It doesn't matter how many people see your ads – you're only charged when they're actually clicked.
Our digital marketing campaigns impact the metrics that improve your bottom line.
See More Results

WebFX has driven the following results for clients:

$3 billion
In client revenue

7.8 million
Leads for our clients

5.2 million
Client phone calls
This is a great model for smaller businesses, because it allows for highly targeted, cost-effective ad campaigns that can still see incredible returns.
Social media
Social media management and marketing is more necessary than ever for any local businesses.
In 2016, consumers go directly to the Internet for product and service research, recommendations, reviews, and customer service. If your business isn't visible on social media networks, you're losing customers to competitors who are.
We know Oil City
WebFX truly understands Internet marketing for local businesses. After all, we're a PA business too. We've been through all of the same growing pains that you have, and we came out on top!
Effective online marketing is rooted in a deep understanding of what your business does, and how it fits into the community. We take the time to learn your industry inside and out, and strategize truly unique marketing campaigns specifically for your business. No two clients are alike, so why should any two marketing strategies be alike?
Most of our WebFX family was born and raised in PA, with many individuals hailing from Western PA, and even from Venango County itself. We know about Oil City's rich history, and the important part it played in the development of the petroleum industry.
These may sound like minor details, but everything comes into play when marketing effectively for local businesses.
Increase your revenue today
We're a performance-driven digital marketing agency, which means our one goal is improving your bottom line. We don't waste time with things that don't matter, and only make recommendations that will result in your business making more money.
Our expert team of Internet marketers is personally invested in each and every marketing campaign they carry out, and we've helped businesses throughout PA achieve new levels of success. If you're looking for Internet marketing services in the Venango County area, we'd love to help!
Contact us today for more information or a free quote.