How to Create an Opt-In Email Marketing Strategy
Email is one of the quickest and most cost-effective ways to engage existing customers and generate new leads. It's also a popular method for offering exclusive deals and other incentives that increase customer loyalty and engagement.
The challenge for many companies, though, is getting enough email addresses to turn email into a profitable, brand-building marketing channel.
On a typical day, 205 billion emails are sent to consumers and businesses around the world. This means a lot of full inboxes, not to mention a lot of messages that don't get opened. Why, then, would someone sign up for even more emails from your company?
The answer to this question will help set the stage for your opt-in email marketing strategy. Keep reading for tips on how to put an email marketing strategy in place—and start generating new leads and sales.
Call 888-601-5359 to speak with a strategist about email marketing plans from WebFX, or keep reading to learn more about how to create an opt-in strategy.
Our digital marketing campaigns impact the metrics that improve your bottom line.
See More Results

WebFX has driven the following results for clients:

$3 billion
In client revenue

7.8 million
Leads for our clients

5.2 million
Client phone calls
Choose a reliable platform
If you've only ever used email for personal communication (and not marketing purposes), the first thing you'll need to do is select a reliable email marketing platform.
When you communicate through email, you have to think about who you're speaking to, when to send, and what information they need. It's hard enough to do that with one person, and scaling it to thousands of people is virtually impossible with most email providers.
Instead, select a reliable email marketing platform that automates the process. Choose a platform that performs multiple functions, including:
Segmentation and targeting
Campaign tracking and analytics
Personalization
Scheduled messaging and auto-response
Testing and optimization
A platform that does all of these things will ensure your list is up-to-date, and every recipient is getting the most persuasive offers. It also saves hours of your valuable time, so you can focus on other important duties.
Offer something valuable
People get hundreds of emails every day, and many of them find this constant promotion annoying. In order to get potential customers to subscribe, you need to show not only that you won't be annoying, but that you have something of value to offer.
What will your prospects get when they opt in to your email list? Answer this question, and you have your first irresistible offer.
It could be a one-time freebie, such as a free e-book or access to a free online event. It could be an ongoing benefit, such as exclusive discounts or unlimited access to your library of resources. Whatever it is, present it as something they'll really want or need—and make it available only to email subscribers—and you'll pique the interest of both potential subscribers and prospective customers.
Adopt a multichannel approach
We're long past the days when people would wait until they got home to check their emails. Some are still using desktops, but they're also using laptops, tablets and mobile phones. Some are logging into an online server, while others are getting them directly on their devices. Keep this is mind when formatting your initial opt-in invitation—along with subsequent emails to your subscribers.
Focus in particular on mobile, since some studies show people will delete emails if they're not optimized for their screens. Keep the design clean and simple for minimal issues. Replace those long URL links with prominent buttons and calls to action. The less cluttered the email, the more likely recipients are to respond.
Include an unsubscribe button
Considering that most consumers are already subscribed to several promotional newsletters, they're often reluctant to sign up for more. Some are worried about getting on a list and never being able to get off. Others are concerned about getting unwarranted emails from companies they've never heard of because your company sold it to them.
Let potential subscribers know what you will and won't do and give them the confidence to sign up.
Offer an opt-out option to subscribers, even in your opt-in message. Assure them they can unsubscribe at any time, and keep that promise with an opt-out link in every subsequent email.
You may offer the option to receive third-party emails or simply never offer that as an option to other businesses—the right choice depends on your target audience and their security concerns. As long as subscribers have choices, they'll feel safe joining your list.
Track and monitor results
Who do you want to sign up for your emails? What are the best ways to reach them? How many are signing up for your emails or sharing your email with their contacts?
Whatever your assumptions about your campaign before you start, they're just assumptions. You won't know for sure what's working until you start measuring the effectiveness of your email campaigns.
Use your email marketing platform to regularly track and monitor your campaigns. These analytics will tell you which channels are bringing in the most subscribers, which messages are resonating with your target audience, and how many subscribers are staying for the long term. With this information, you can optimize subsequent campaigns and see even better results over time.
Time to Level Up Your Sales
Our long list of services helps you grow every aspect of your business with marketing strategies that are proven to increase bottom-line metrics like revenue and conversions.
In the past 5 years, we've managed more than 12.9 MILLION transactions across our client base.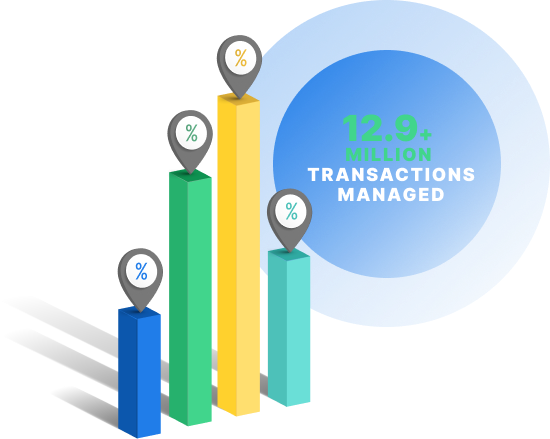 Want to create an opt-in email marketing strategy?
There are many advantages to email marketing, but the success of your strategy is only as effective as the list of recipients. Attract more qualified leads with an opt-in email marketing program that makes it easy for them to keep in contact with your business.
If you'd like assistance choosing the right platform and attracting subscribers, WebFX can help! Contact us today to learn how we've created successful email marketing strategies for clients in a variety of industries.