Marvin recently moved with his family into your area. He has hearing aids and knows he needs to find a new audiologist to help him manage his hearing care. Marvin searches on Google to find an audiologist and clicks on the first listing he sees.
But it's not yours.
Without search engine optimization (SEO), people won't find your practice in search results. But if you implement SEO best practices into your website, you'll have a better chance of ranking in search results and increasing traffic to your site.
So, how do you get started with SEO for audiologists? Here are four tips:
And if you need help getting started with audiology SEO, contact us online or call us today at 888-601-5359 to speak with a strategist about our SEO services!
Independent research from Clutch has named WebFX the
top SEO company

in the United States.

Clutch has personally interviewed more than 250 WebFX clients to discuss their experience partnering with us.

Read More Clutch Reviews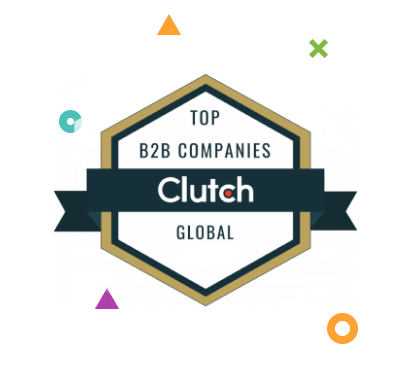 1. Conduct keyword research to find keywords to rank in relevant search results
The first thing you want to do with audiology SEO is to find relevant keywords for your listings. When people search for an audiologist, they're using key terms to help them find the right practice. If you want your practice to appear in front of relevant people, start by finding the right key terms.
To help you find relevant terms, conduct keyword research using keyword research tools. With a keyword tool like KeywordsFX, you can generate a list of applicable long-tail keywords to help you drive qualified traffic to your site.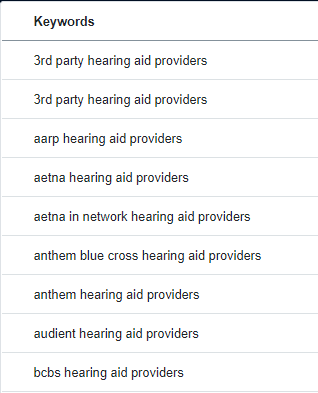 Long-tail keywords are terms that contain three or more words, like "audiologist in Los Angeles." These key terms are best for your website because they have a more specific search intent, making it easier to know what searchers want to find.
For example, a keyword like "hearing" doesn't tell you much about what someone wants to find. On the other hand, a term like "best behind the ear hearing aids" is more specific and tells you that a searcher wants to find the best hearing aid for their needs.
Once you find your relevant terms, you can integrate them into your site. Places like your body text and heading are excellent places to put keywords to help your pages rank.
2. Optimize your title tag and meta description to generate leads
The next part of SEO for audiologists you'll want to focus on is your title tag and meta description. These two components appear in search results when users find your listing.

Your title tag is the clickable link people see in the search results. It gives people a clue as to your page's format, what you'll cover, and more. The meta description serves as a description that can summarize the content of your page.
If you want people to click on your listing in search results, you must optimize these tags to entice people to click on your listing.
To optimize your title tag… Use the 60-character limit to create a title that entices people to click on your listing. Using power words like "free" and "best" can encourage people to click on your website. Make sure you use your core keyword towards the front so users and search engines know your listing is relevant!
To optimize your meta description… Focus on giving your audience a description of your page that summarizes what they can expect to find. Make sure you stay within the 155-character limit and use your keyword in your description to show relevance.
By optimizing these two tags, you'll entice more people to visit your site and drive more traffic as a result.
3. Improve website load time to get users information fast
The next item we'll cover on our list of audiology SEO tips is creating a fast-loading website. Users don't want to wait for your page to load to get information — they want information fast. If your site takes too long to load, your visitors will bounce from your site and visit a competitor instead.
To improve your site load time, start by using a tool like Google PageSpeed Insights. This tool will provide you with your site's current load time on desktop and mobile. You'll also get insight into how to improve your site load time.
Some suggestions for helping your site load faster include:
Reducing redirects
Optimizing image file sizes
Hosting videos on an external platform
Using browser caching
Minimizing HTTP requests
If you don't have experience working with the backend of your site to improve site load time, page speed services may be in your best interest.
By improving your site load time, you'll deliver a better user experience for your visitors and keep potential patients on your site. This increased dwell time sends a positive signal to Google that your site is relevant, so it will rank you higher as a result.
4. Create a mobile-friendly website to deliver a positive user experience
When you do audiology SEO, you'll focus heavily on delivering a positive user experience. Google wants to rank sites that provide users with a great experience, so you must optimize your site to keep potential patients engaged and learning about your practice.
That's why creating a mobile-friendly website is next on our list of audiology SEO tips.
Over 70% of Internet time is spent on mobile — more people are using mobile devices to help them find information, services, and doctors. Google knows this too, hence why mobile-friendliness is now a contributing factor to your rank in search results.
To create a mobile-friendly website, integrate responsive design. Responsive design enables your site to adapt to whatever device a user uses.
Instead of your site's desktop version on a small device, users see your site scaled to their device's screen. Responsive design also adds mobile-friendly elements, like hamburger menus and thumb-friendly buttons, to deliver a better experience.
By delivering a better experience, you'll keep those potential patients on your site longer. As a result, Google will rank your site higher in search results and increase traffic for your audiology practice.
SEO for audiologists is your key to obtaining new patients
With SEO for audiologists, you'll help your practice appear in relevant search results when someone needs a specialist to improve their hearing. SEO can be a big undertaking, so if you're feeling overwhelmed, don't worry — WebFX can take it from here.
With over 25 years of experience, we know how to craft SEO campaigns that enable our clients to thrive online. We're no strangers to driving results — we've driven over $3 billion in revenue and over 7.8 million leads for our clients in the past five years alone.
Ready to get more patients to your practice through audiology SEO? Contact us online or call us today at 888-601-5359 to speak with a strategist about our SEO services!
Earn a 20% greater ROI with WebFX