As a dermatologist, it's your job to diagnose various skin conditions. But you may be having more trouble diagnosing the weak spots in your marketing. If that's the case, you're probably looking for some useful dermatology marketing ideas.
Fortunately, you've come to the right place. Here at WebFX, we're the experts at digital marketing, and we know just what it takes to market your dermatology practice online. Below, we've outlined seven of the best marketing ideas for dermatology.
Keep reading to learn how you can market your practice and attract more patients. Then subscribe to Revenue Weekly — our email newsletter — to receive more digital marketing tips from the agency with over 1020 client testimonials!
7 dermatology marketing ideas
The purpose of your marketing is to draw in new patients, and fortunately, there are several ways you can do that online. Here are some of the best dermatology marketing strategies to help you promote your practice!
1. Make your way into Google rankings with SEO
Easily one of the most effective dermatology marketing ideas is to get your website ranking in Google search results. This strategy is known as search engine optimization (SEO), and it's one your practice should look into launching.
There are several ways you can run a successful SEO campaign, including:
When you follow the above steps to get your site into Google results, people will find your practice more easily, bringing in more patients.
2. Improve the design of your website
When people visit your website, what reaction do you want them to have? Naturally, you want them to like what they see on your website so they stay. If your design isn't modern and clean, you risk people leaving. So, another good dermatology marketing strategy is to improve your web design.
You want to ensure that your site looks attractive and runs smoothly for visitors. If the layout is disorganized or the pages load too slowly, you'll miss out on traffic. Some ways you can improve your web design include:
With each of the above tips at your disposal, you can create a website that's better at retaining traffic, which leads to increased leads for your practice.
3. Craft compelling web content
Good web design can keep users on your site, but how will you get them there in the first place? The answer is, you draw them in with compelling content.
Your content can come in various formats. Written content like blog posts will go a long way, and you can also benefit from creating multimedia like videos. All of it should ultimately be informational, educating users about your practice and your field.
Users will come to your site to learn from your content, and many of them will stick around long enough to complete a conversion-worthy action, like signing up for emails or filling out a form.
4. Earn and maintain reviews
One thing that can make or break a medical practice is reviews. You're probably not the only dermatologist in your area, so when users need help with a skin condition, they'll often do some research to figure out which practice to visit. In particular, they'll read reviews.
If people read glowing reviews of your practice, they'll be very encouraged to visit you. But if the reviews indicate poor service, they'll be inclined to go elsewhere. If you want them to come to you, you need to earn plenty of positive reviews.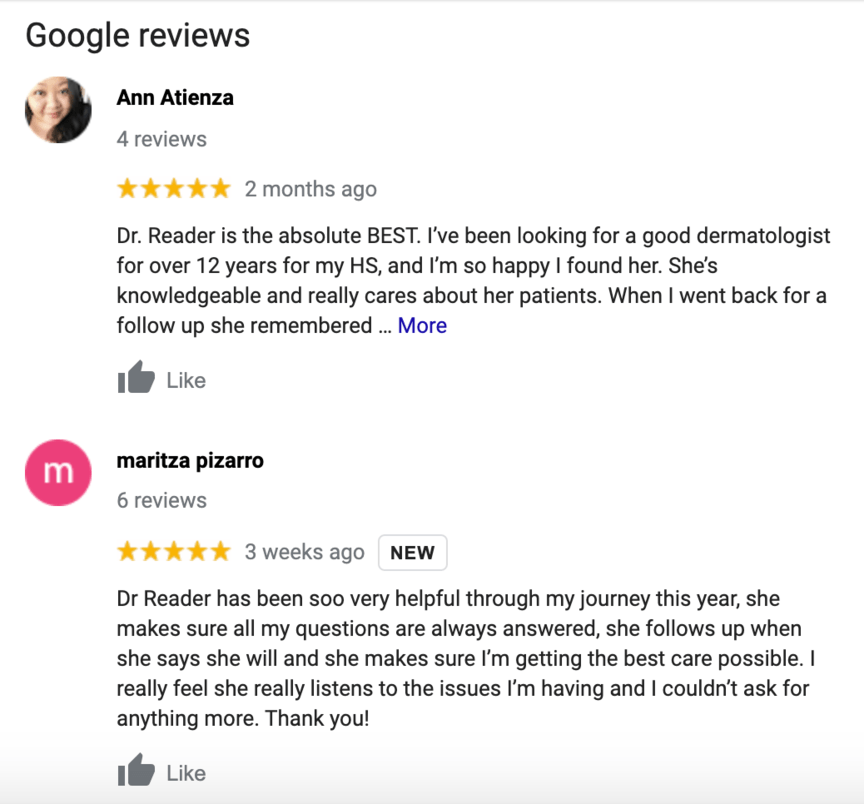 That's why review management is one of the most valuable marketing ideas for dermatology practices.
You can encourage patients to leave reviews for your practice through Google, Yelp, and other local review websites. Sending out emails is a good way to ask for reviews or testimonials. You can then keep an eye out for any negative reviews and do your best to help the people who had a bad experience.
5. Build out an email list
Another of the best marketing ideas for dermatology is to use email. Email marketing is a highly effective way to reach people, because it lets you send things right to their inbox.
You can create an email list by setting up forms on your website where users can sign up for your emails. You might offer to send subscribers specific items, like helpful medical tips that aren't on your website. Whatever the case, people will sign up for your emails voluntarily.
You can then send emails to those users that promote your practice and encourage them to visit you as soon as they start showing signs of a skin condition.
6. Launch paid advertising campaigns
One of the most reliable dermatologist marketing ideas is pay-per-click (PPC) advertising. PPC advertising involves displaying paid ads online. When users click on those ads, they're directed to landing pages that encourage them to convert.

You can set up PPC ads in Google Ads, where you can target specific keywords for your ads. Those ads will then appear above organic results in the searches you targeted.
You can also create display ads, which will show up on third-party websites. You can even hone your targeting to ensure that they only appear on specific types of websites. So, you might want to target medical websites — or, if there's a specific profession that tends to lead to a lot of skin issues, you may want to target sites related to that industry.
7. Market yourself on social media
Social media is one of the most heavily populated areas of the Internet today. People spend so much time there that it's a marketing goldmine — and is therefore a perfect place to promote your practice.
You can set up an account on the platform(s) of your choice, posting on a regular schedule. Your posts can contain informational content like infographics or simply encourage users to visit your office.
Similarly, you can run paid social media ads, which you can display right in users' feeds. You can even target those ads toward specific demographics to help you reach the right audience!
Our digital marketing campaigns impact the metrics that improve your bottom line.
See More Results

WebFX has driven the following results for clients:

$3 billion
In client revenue

7.8 million
Leads for our clients

5.2 million
Client phone calls
Hear What It's Like to Work With WebFX!

"WebFX has completely transformed my practice. With their support, I have expanded my practice significantly and grown exponentially. I could not have expanded to this degree, nor this quickly had it not been for the incredible efforts provided by WebFX and my team."
Healthcare
Let WebFX help you optimize your dermatology marketing strategy
Ready to kick your dermatology marketing strategy into gear? WebFX would love to give you a hand! With over 25 years of experience, we're the experts at digital marketing.
When you partner with us for our digital marketing services, you'll get help putting all the above dermatologist marketing ideas into action. We won't leave you in the dark, either — we'll provide regular reports to update you on how we're boosting your revenue.
To get started with us, just call 888-601-5359 or contact us online today!
Earn a 20% greater ROI with WebFX