As nutritionists and dieticians, you're regularly using food and good nutrition to promote the health and wellness of your clients. But are you setting aside time to promote yourselves as well?
To continue doing what you do best, you need to be able to attract more clients to your business. You can do just that with digital marketing for nutritionists and dieticians. With a solid digital marketing strategy you can increase your online visibility!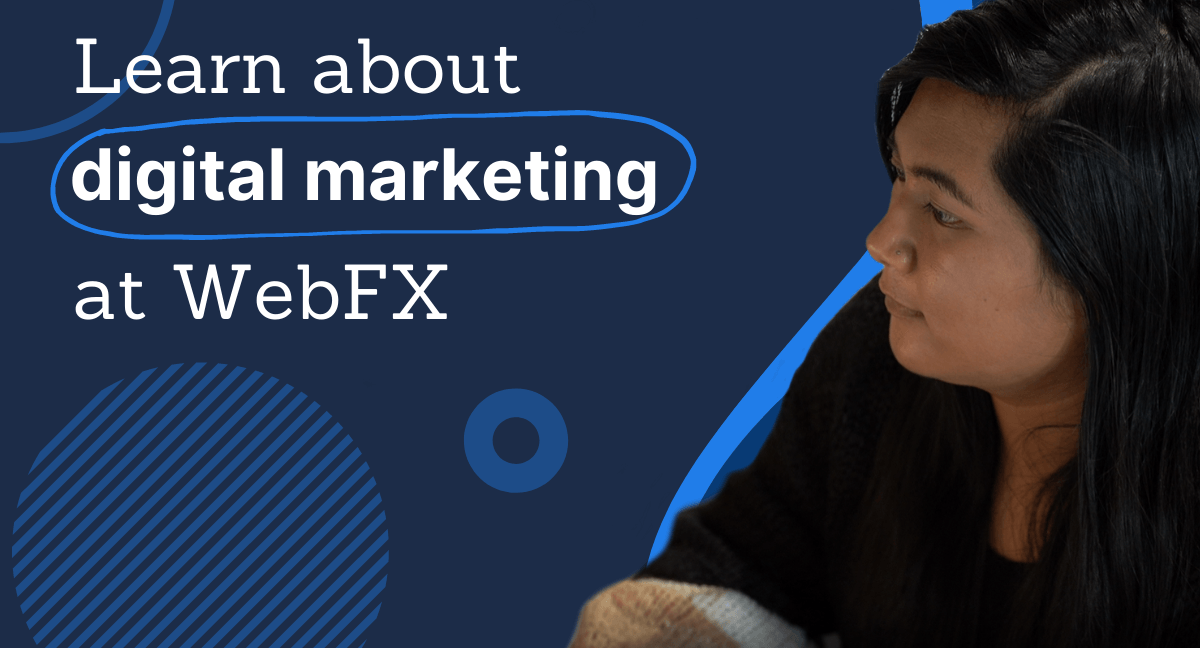 If you're a nutritionist or dietician looking to delve into the digital marketing world to reach more clients, give us a call at 888-601-5359 to start talking to one of our strategists! Or, if you're curious, read on to learn about a few digital marketing strategies that can help you expand your Internet presence.
WebFX helps clients in the healthcare industry grow their practices.
"My practice has grown quickly and improved our accessibility to those we serve or hope to serve within our community. WebFX is directly responsible for our growth and the fact that we have more than doubled our revenue in six months."
— Merrimack Valley Psychological Associates
See Case Study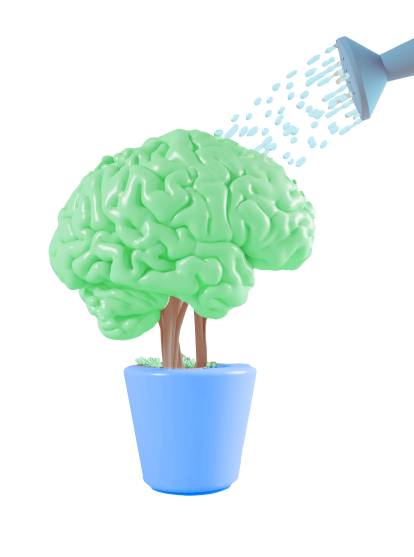 1. Make yourself search engine friendly with SEO
First on our list of tips on digital marketing for nutritionists and dieticians is search engine optimization (SEO). SEO is an effective way to improve your business's visibility on search engines like Google to attract new website visitors. SEO involves optimizing your website through the use of keywords to improve its position on search engine results pages (SERPs).
The last time you searched something on Google, did you click to browse the second page of results? Probably not. A study showed that 75% of users visit the first page of search results only, so if you want to catch the attention of potential new clients, it's vital that you get your site to the first page of search results.
One of the best ways to get on the first page is through keyword optimization.
Keywords tell search engines what your page is about. The more you seamlessly integrate specific keywords into your site's content, the more likely Google will "trust" your site and rank it higher in the SERPs when a user searches that keyword or phrase.
The key to using keywords (pun intended) is to use terms that are relevant to your business, ones that searchers will most likely type into Google's search bar to find you and other dieticians and nutritionists like you.
SEO is a digital marketing strategy for nutritionists and dieticians that shouldn't be ignored! With a strong SEO strategy, you can increase your website's traffic to attract new clients and reach a wider audience to improve site visibility.
These are real SEO results driven for a WebFX client.
You're next.
Learn More About SEO Services


260%
increase in organic revenue

198%
increase in organic transactions
150%
increase in organic traffic

3872%
increase in sessions from SEO
2. Don't forget local SEO
Yes, there are two kinds of SEO. Just like dieticians and nutritionists, traditional SEO and local SEO sound like they're the same thing but differ slightly.
Local SEO operates the same way as traditional SEO — Google scours sites on the Internet for keywords on websites and ranks those pages accordingly when a user enters the indicated search term. The difference is that traditional SEO helps you reach a wide audience while local SEO helps you reach, well, locals!
When you optimize your site for local SEO, you make your business easier for local searchers to find. Common phrases individuals will use when doing a local search include "near me" and "in [city]." By indicating your business's exact or region location on your site, you can appear to those users in local searches.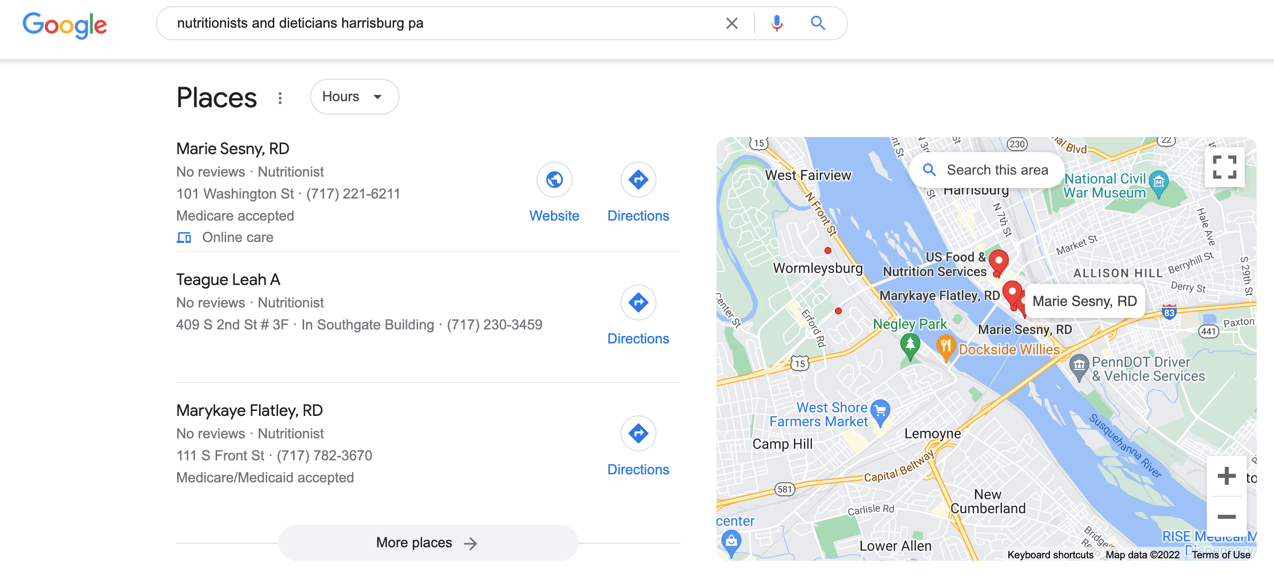 For example, suppose you're a nutritionist or dietician located in Harrisburg, PA. In that case, you'll want to use keywords and phrases like "nutritionist in Harrisburg" or "dietician in Harrisburg" to indicate your location to search engines.
Local SEO is a great way to continue dominating SERPs while making your business known among community members.
3. Cultivate a strong social media presence
Social media gives you the chance to connect with your clients without having met them yet. With many platforms available, like Facebook, Instagram, Twitter, LinkedIn, and Pinterest, you'll have no shortage of opportunities to build relationships with them and showcase your expertise in the health field.
By joining the 91% of businesses that use social media for marketing, you can begin to attract new clients with the content you post to your pages.
To begin reaping the benefits of social media, you'll need to determine your target audience. Your target audience will dictate which social media platforms you use and help you create content that resonates with your audience.
Social media allows you to create an extension of your website that gives valuable information to your current and prospective clients while being personable and friendly.
You can share everything from contact information and office hours with your target audience. At the same time, you can share pictures, videos, and links to content that your followers can share with others, gaining even more exposure for your business.
With an effective social media campaign, you can stay connected with your clients while attracting new ones through the content you share.
Growing your social presence with WebFX is a walk in the park.
"WebFX allows growing your social media platforms to be stress-free! They are knowledgeable and adapt to your company needs!"
Learn More About Our Social Media Services

4. Create informative, original content for social media and your website
Creating original content is a fantastic way to tie all these tips on digital marketing for nutritionists and dieticians together.
By creating original content for your clients, you can show off your knowledge of living a healthy lifestyle full of good nutrition while optimizing the content for SEO and leveraging it as engaging (and shareable!) social media posts.
First and foremost, the content you create should demonstrate your business's credibility and knowledge of solving nutrition issues and healthy eating habits. If someone isn't a client already, they'll want to be when they read all your helpful diet and nutrition content or see all you have to say about your area of expertise.
Create written content for your website that uses keywords to improve your SEO rankings. Search engines will see your effective keyword usage and factor it into your rankings. If people and other businesses use your page as a resource and link to it within their own site, you'll see even more favorable SEO rankings.
Consider creating content like:
Tips on developing diet plans
Explaining health conditions
You can optimize this written content for your social media platforms too. By sharing this content on your social media pages, you can make the information shareable and link it back to your website to promote site traffic.
You'll also increase your business's visibility among audiences and increase post engagement with your followers. This means more likes, comments, shares, and interactions with your content that get your business's name out there!
Digital marketing for nutritionists and dieticians is a breeze with WebFX
At WebFX we're proud to have a dedicated and knowledgeable team of digital marketing strategists who can help you to develop a strategy that drives results for your business. With our help developing and executing a digital marketing plan, you can focus on helping your clients live their healthiest life while we handle the rest.
We make digital marketing for nutritionists and dieticians easy with our wide range of digital marketing services. Ready to get started? Get in touch with us online or give us a call at 888-601-5359 today!
Earn a 20% greater ROI with WebFX