Social media is one of the best ways to share information with friends, family, coworkers, and customers — now more than ever.
This is especially true for businesses like fitness centers and gyms, which thrive on building personal relationships with clients and members. You can use social platforms like Facebook, Twitter, and Instagram to engage with current and potential members, and keep them motivated to keep coming back.
Call 888-601-5359 to speak with a strategist about social media marketing plans from WebFX, or keep reading to learn more about how you can use social channels to grow your gym.
3 social media tips for gyms
A fitness center can't get its audience overnight. While social media marketing is a great way to grow your customer base, it also takes planning, strategy, and active maintenance.
Depending on the size of your audience, this could be a full-time job! But for most fitness centers, it means actively monitoring social media chatter about your brand throughout the day.
So how can you start?
These three tips are the most important steps to establishing your fitness center's social media accounts:
1. Establish your audience
It's important to consider your audience, since different audiences will respond to different kinds of advertising.
For example, if your center focuses on those who want to bulk up, you would approach them differently than individuals looking to lose weight.
It's important to understand your target audience, so you can share their values, address their concerns, and talk about how your fitness center solves their problems.
Even if that solution is for someone to buy a membership at your gym, it's important that you frame that solution differently depending on the content you're creating.
After you've narrowed your niche and how your services relate to them, you can decide what you'll post.
2. Post content that appeals to the group you're targeting
Now that you've determined your target audience, it's time to consider the kinds of content you'll post to appeal to them.
For example, if you're a center that targets individuals looking to lose weight, you can post before / after images of members who have gotten in shape.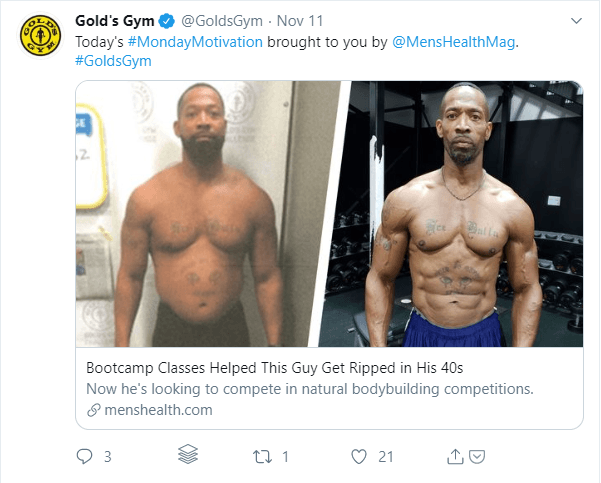 If you're a center that's more focused on serving athletes looking to build muscle, you could post bulking tips from other members who have already bulked up.
And if you own a Pilates center, you could post content about the benefits of Pilates and its results.
No matter who your audience is, it's important to think carefully about the content you post.
How would they perceive it? How would it impact their impression of your business? And most importantly, how could it get them to join your fitness center?
3. Provide beneficial information
Providing beneficial information to your audience is one of the best tactics to social media marketing.
When you post content that helps your audience, you give something valuable to potential members while establishing yourself as a prominent fitness center in your field.
Best of all, you don't ask for anything in return, which shows you're not in the fitness industry for money — you're in it to help your customers!
This is a great tactic for getting users to sign up for your center because users will know that you care about their success more than anything else.
Hear What It's Like to Work With WebFX!

"WebFX gets it done! They've done a great job working with our changing vision and goals, and their turnaround times are wonderful. All staff are professional, timely, and friendly."
Healthcare
What social media channels are best to market my fitness center?
With thousands of gyms in the United States, it's your job to tell users that your center is the best option for them.
However, there are tons of social media channels out there, which makes it difficult to choose where to start.
But for fitness centers, some social networks work better than others for earning the attention of your most valuable customers.
Facebook for gyms
Facebook is one of the best social media platforms for marketing your gym or fitness center.
First, Facebook has more than 1.86 billion monthly active users, giving you a big potential reach. Plus, there are tons of different ways for you to market on the platform.
Post a promotion
By posting a promotion on Facebook, you appeal to potential customers by lowering their first pain point in joining a gym — price.
By lowering the cost of someone's first workout (or making it completely free), you make it easier for someone to get through your doors. As any gym owner will tell you, that's the first big task on earning a new member!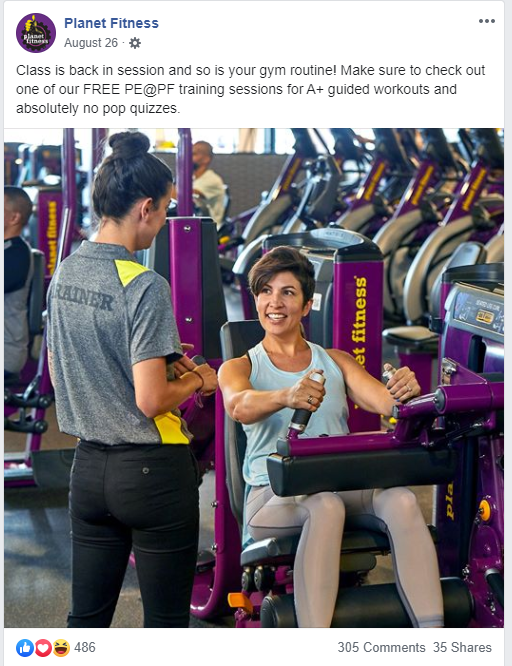 For example, you could post a digital or print-out coupon on your Facebook account for one free admission for someone who's never been to your fitness center before.
When they come in, you can roll out the red carpet for them, give them a facility tour, ask them about their fitness goals, and make a personal connection with them.
Once you've done that, you'll almost certainly have a new member ready to sign up!
Share links to your fitness blog
The main purpose of social media marketing is to get people to sign up for your fitness services. That means you need to get them on your website!
To do so, you can share a link to your blog, which will show your authority and knowledge of your field to build trust. Another perk of sharing links to your blog is that your followers can easily share them on their pages as well, which increases the number of people who see your posts.
Share a weekly recipe
Recipes act as beneficial information that you can share with your followers online.
You may wonder how sharing a recipe can help gain gym memberships, but the idea is fairly simple.
Offering healthy recipes to your followers demonstrates that you care for their well-being, whether they decide to be a member of your center or not.
It will also help them see you as a well-read figure in the fitness industry, which makes them feel more comfortable joining your gym.
Not to mention, Facebook users love to share recipes with their friends!
Instagram for gyms
Since Instagram is a photo-based social media platform, you can use it to show members' results, images of your facility, and how-to videos.
Results
One of the best ways to get somebody to do something is to show them the end result. When you show followers the results they can expect from your gym or fitness center, they're far more likely to become a member.
You're showing your followers that their effort will have its rewards. If they join your gym and make it a priority, their time and money will pay off!
You can share pictures of members' results by sharing photos that they've posted (with their permission). You could also have a "member spotlight" where you focus on the results of one of your members on a monthly basis.
Facility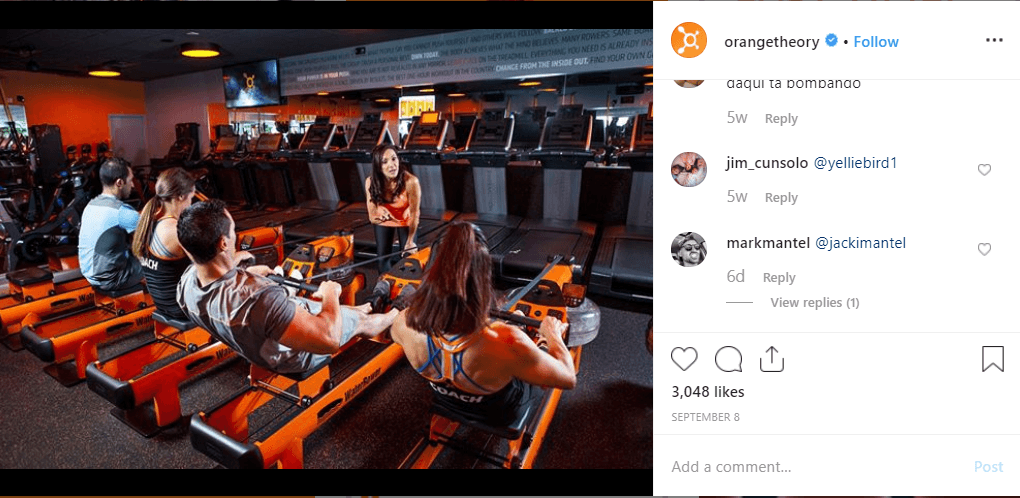 Your facilities and equipment also impact new membership online.
When you post pictures of your facility, you allow potential members to get a sense of where they'll be working out, so they can enjoy a sense of familiarity before visiting.
How-to videos
Though Instagram is primarily an image sharing platform, it also allows you to share short video clips.
Provide your followers with a short tutorial of a specific exercise, giving them steps to safely complete it on their own.
This shows that you are interested in helping your followers become their best and encourages them to try exercises that will help them meet their goals.
Twitter for gyms
Twitter is a unique social media platform in that it sets a limit for how long your posts can be. With only 140 characters, how can you entice potential members to join your center?
Share links
Since you have a limited amount of characters to use on Twitter, sharing links is a great way to promote your gym among followers.
You can share links to your blog, fitness information, healthy living, and more.
Retweet members that tweet about your center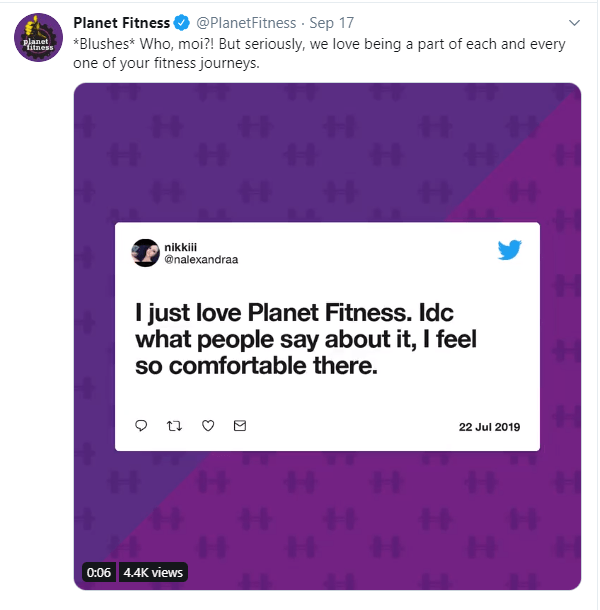 When someone says something good about your center, retweet it!
It not only makes the person feel great that you acknowledged them, but also shows your other followers what other people think of your center.
Start your fitness center social media campaign with WebFX
At WebFX, we have a whole team of social media marketers that can help take your fitness center's online presence to the next level.
If you need help marketing on Facebook, Instagram, or Twitter, we're here to help!
Contact us today to talk to a specialist for your custom social media marketing plan.
Earn a 20% greater ROI with WebFX