In today's digital age, the healthcare industry needs to have a robust marketing strategy to educate its audience, engage with prospects, and nurture relationships with patients.
The onset of the pandemic in 2020 adversely affected the marketing world, but the pharmaceutical and healthcare industries remained stable: US healthcare companies' average marketing budget was consistent at $7.7 million.
Looking for healthcare marketing examples that will serve as your inspiration? Keep reading to learn more. And if you want more marketing campaign examples and advice, sign up for our Revenue Weekly newsletter to get the latest tips straight to your inbox!
5 Healthcare marketing examples
Here are five healthcare marketing examples to inspire your next campaign:
Let's go through each of these healthcare marketing campaigns.

Hear What It's Like to Work With WebFX!

"WebFX has completely transformed my practice. With their support, I have expanded my practice significantly and grown exponentially. I could not have expanded to this degree, nor this quickly had it not been for the incredible efforts provided by WebFX and my team."
Healthcare
1. Content marketing and online community by Mayo Clinic
A healthcare provider with patients from 150 countries worldwide, Mayo Clinic nurtures relationships with its existing customers and prospects through digital marketing.
If you're looking for healthcare content marketing examples, look no further than Mayo Clinic's blog. Called Sharing Mayo Clinic, it tells heartwarming success stories of its patients and their family members, and staff.
By sharing its patients' stories, Mayo Clinic fosters trust among prospects and customers. Sharing Mayo Clinic is also an avenue where it highlights its marketing messages of compassionate healthcare practice, and comprehensive tests and treatments.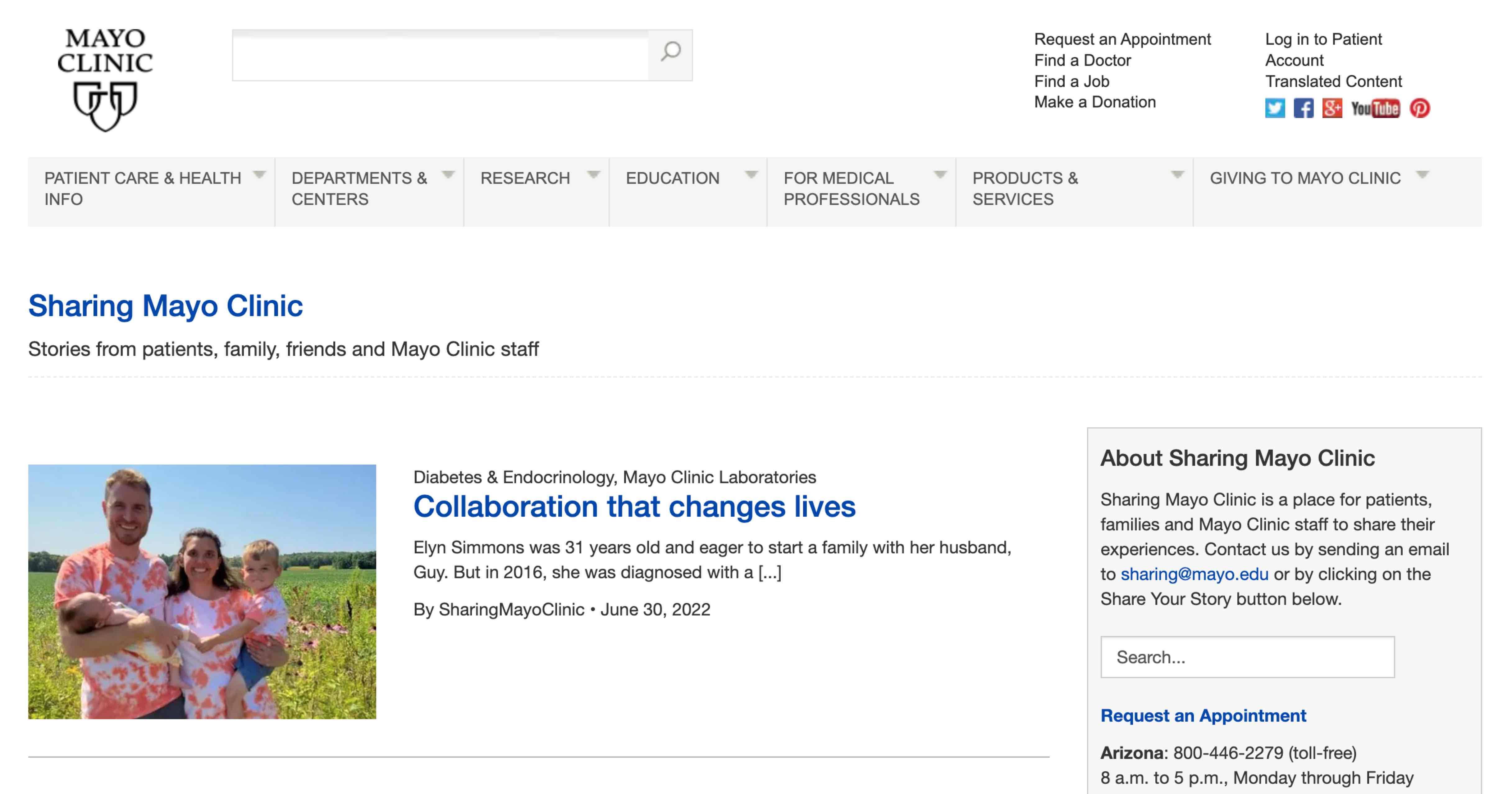 Mayo Clinic also has a digital platform where patients and caregivers can connect with one another. Called Mayo Clinic Connect, the online community lets its members ask questions, give support, and share experiences.
Need help with content marketing? Let WebFX help you. We offer content marketing services that drive revenue.
2. Social media live videos by Arkansas Children's Hospital
Dubbed #100DeadliestDays, Arkansas Children's Hospital's social media campaign aimed to raise awareness about the increased death risk of children and teenagers from Memorial Day to Labor Day.
The hospital used a catchy hashtag, shared safety facts and tips on social media, and published live videos. Live videos engage audiences and let brands interact with their audience in real-time.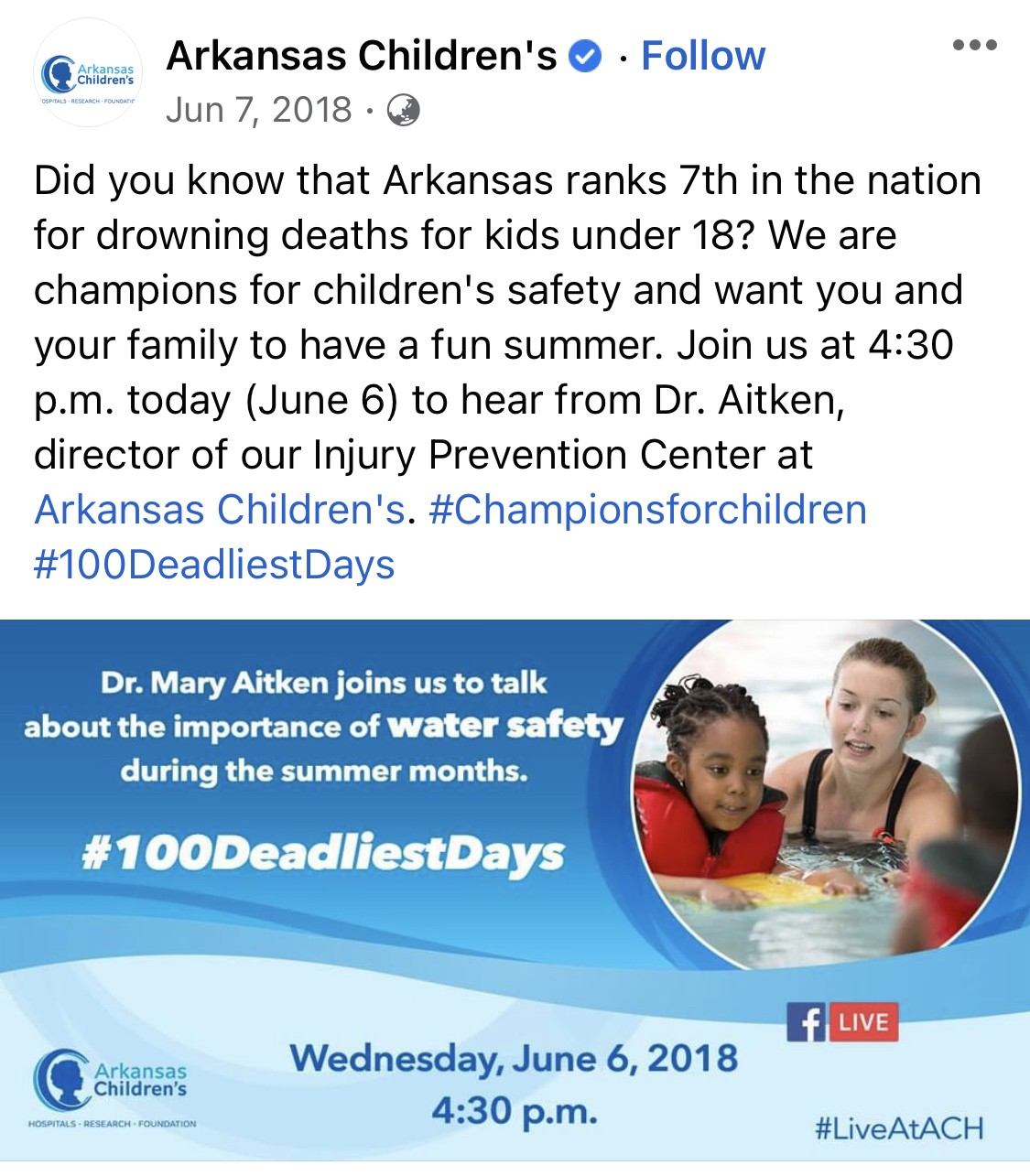 Want to use the power of live videos for your healthcare marketing campaigns? Learn more about our video marketing services.
3. Social media marketing by Carilion Clinic
Carilion Clinic also used social media for a healthcare marketing campaign. Using the hashtag #YesMAMM, which is a contraction of "Yes to mammogram," Carilion Clinic raised awareness about breast cancer and how early detection through mammograms can help fight the disease. The campaign also encouraged the women in Roanoke Valley to get mammograms.
They used the hashtag to answer common breast cancer questions on Twitter. Later, they used the same hashtag on social media posts busting breast health myths. The campaign also encouraged user-generated content, with Carilion Clinic asking its audience to share their stories about breast cancer.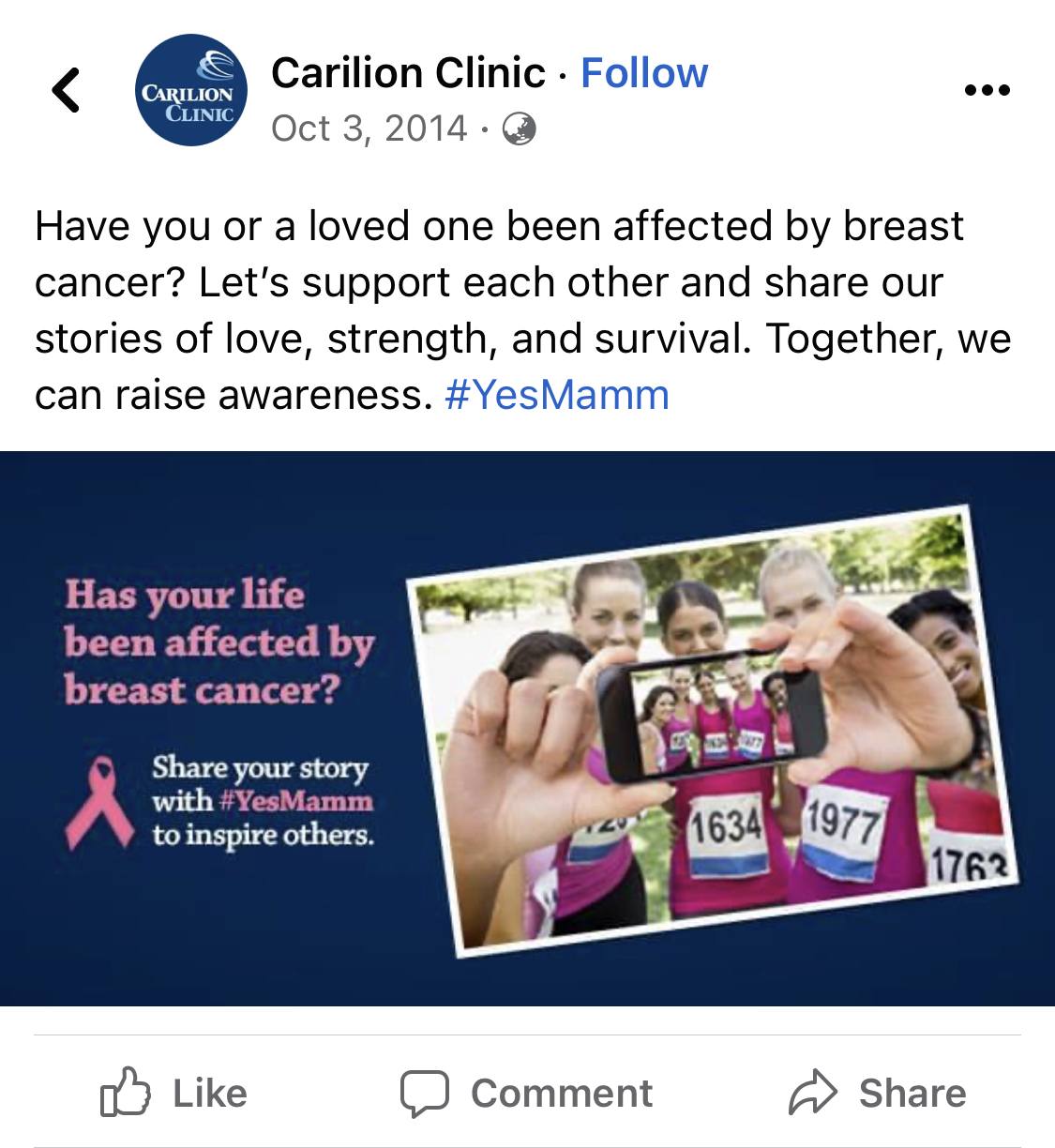 Social media marketing is right up WebFX's alley of expertise. Learn more about our social media marketing services and how we can help you with your healthcare social media marketing campaigns.
4. Thought leadership and podcasting by Cleveland Clinic
Cleveland Clinic's Health Essentials blog provides helpful information to its audience. Aside from having a solid content marketing strategy for its website, the clinic also has a thought leadership marketing strategy, which uses a podcast with the same title.
Its podcast episodes feature the doctors and researchers from its organization, thus establishing its team as experts in their fields. You can stream its podcast through different podcast hosting platforms and its blog, where a transcript of the episode is also available. This is a clever use of multichannel marketing!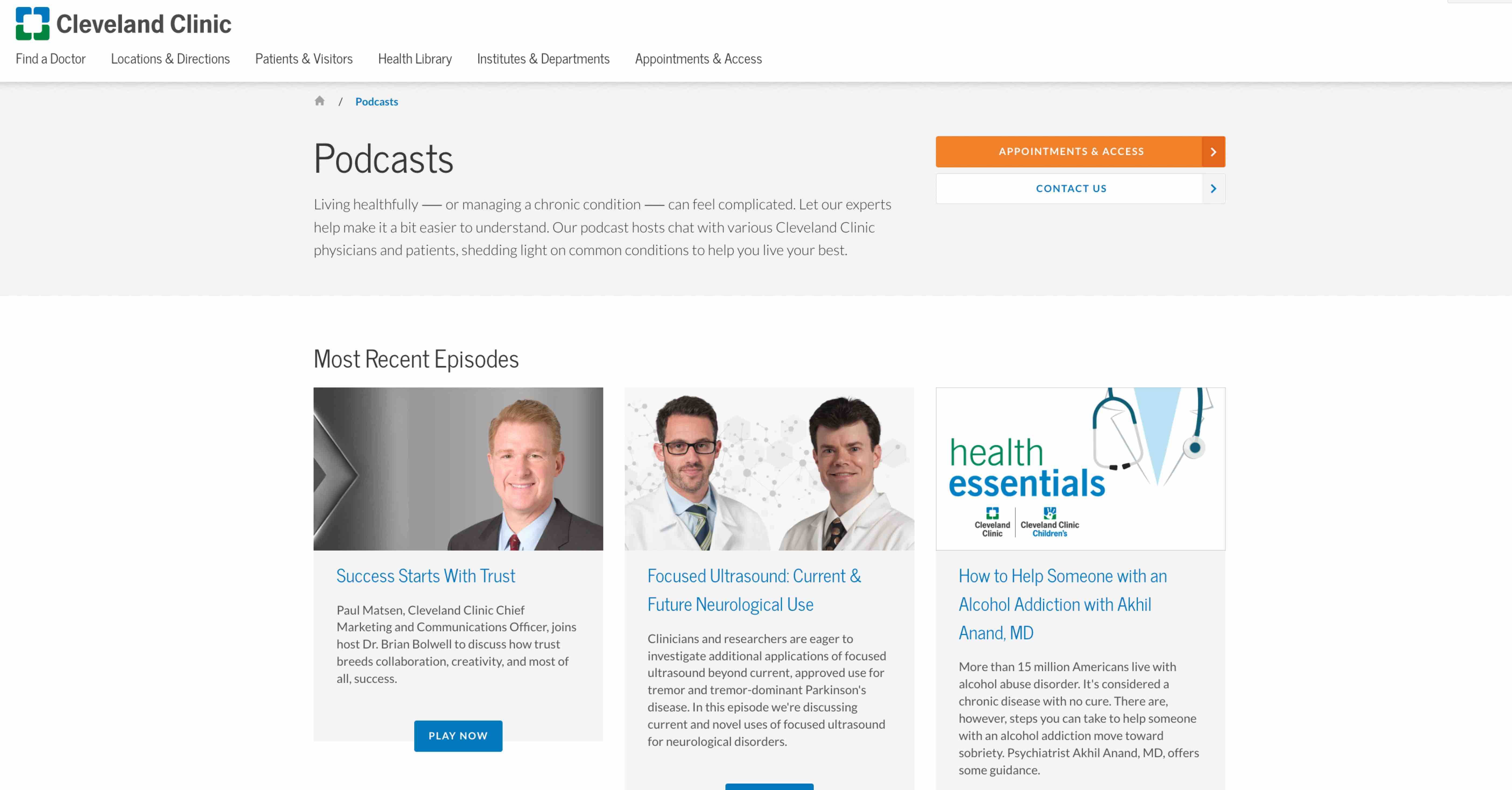 Want to use multiple channels for your healthcare marketing campaigns? Let WebFX help you with you. Read about our digital marketing services.
5. Video marketing by New York-Presbyterian Hospital
Did you know that adults in the U.S. spend an average of 3.5 hours per day watching videos? It makes sense to have a video marketing strategy if you want your audience to retain your messages and engage with your brand.
New York-Presbyterian Hospital used the power of video through its "Amazing Things Are Happening Here" campaign. The videos showcased testimonials of its patients and how the healthcare provider helped them live. Testimonials are powerful and give your business a better image.
Inspired by these healthcare marketing examples?
If you're ready to create your healthcare marketing campaigns but want some assistance, WebFX is here to help.
A full-service digital marketing agency with 25+ years of experience, we have helped healthcare businesses generate over 7.8 million leads. We're excited to deliver results for your business, too.
Contact us online or call 888-601-5359 to speak with a strategist about our healthcare marketing services.
Earn a 20% greater ROI with WebFX