Years ago, word-of-mouth was enough to market cleaning services. While that's still a solid source of revenue, you likely want to reach as many potential customers who need your services as possible. So how can you do that? By making sure you're visible where they're looking: the Internet.
In an age when more than half of all adults turn to search engines to investigate services, marketing online is one of the best ways to connect with potential customers. There are several ways to do so, and below are some of the most effective Internet marketing strategies for cleaning services! If you'd prefer to speak with one of our Internet marketing experts directly, you can reach us at 855-601-5359.
WebFX knows Internet marketing. We can help your cleaning service get more website traffic and more customers.
Contact us
Maintain a thorough, yet straightforward, website
When someone is looking for a cleaning service and you want them to choose yours, you need to give them a few basic pieces of information. You first need to let them know that you offer exactly what they're looking for. For instance, an individual looking for maid services every other week wants a different type of cleaning service than a business looking to outsource to nightly cleaning personnel.
Be very specific about the packages and services you can offer, and talk about them on your website. You can go further in depth about each service on subpages, which interested users will seek out if they're especially interested.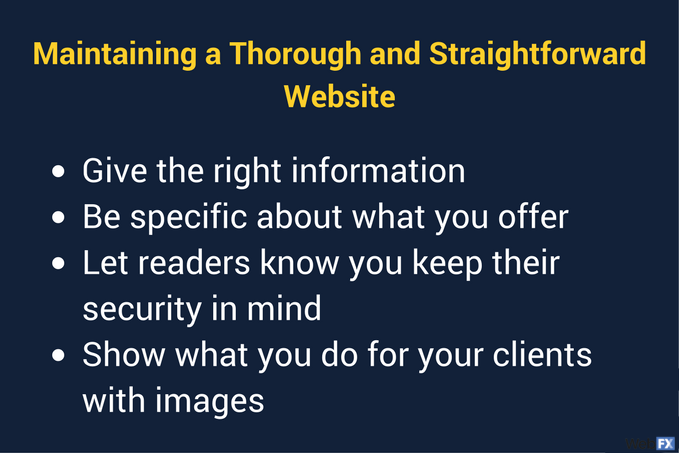 Of equal importance to anyone hiring a cleaning services business is how they screen their employees. Safety is a huge factor for anyone who is allowing people they don't know into their homes or workspaces. Make your readers feel comfortable and confident that you have kept their security in mind. Even if you're a solo cleaner and are doing all the cleaning yourself, write up a description that explains your credentials. If you've been in business for years, add testimonials that speak to your abilities.
Finally, what would your website be without images? Pictures speak volumes about what you can do for clients, so make sure you have ones on your site. Before and after shots are a great way to demonstrate your abilities, as long as you get permission from the homeowners you work with.
Have a social media presence
Chances are good that you or your employees are already on some of the major social media channels, such as Facebook, Twitter, Pinterest, LinkedIn and YouTube. Your cleaning services business should be on at least 1-2 of these social media channels as well.
Start by creating a Facebook business page. This step is essential, because individuals have become accustomed to seeing a Facebook connection for businesses. On your Facebook business page, you should have a mini-description of your services.
Don't leave any of the essential elements out, such as how to reach you, any specials, your services, your years in business, etc. These are differentiators, and will encourage visitors to your Facebook page to read on, and perhaps call you or send an email.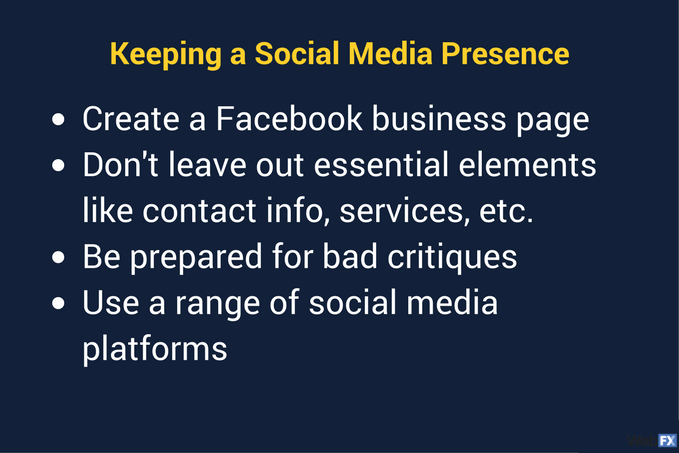 Keep in mind though, when you open up a Facebook business page to the world, you're going to be allowing customers to give you reviews. Some of these reviews may be critiques of your company. Don't take these personally - every business gets positive and negative critiques. It's always a good idea to respond to negative critiques because it shows that you're willing to work with your customer base and that you care about their satisfaction.
In terms of what to post on Facebook, the sky is the limit! For example, a customer may agree to allow you to take "before cleaning" and "after cleaning" pictures. Videos can also be effective if you provide some tips, such as a one-minute video on the recommended ways to scour an oven.
After you've set up your Facebook business page and have committed to writing posts at least a few times per week, you'll probably want to consider opening another social media account. Twitter is good for real-time tweeting, as well as adding hashtags or piggybacking on trending hashtags.
However, if you're focused mainly on commercial cleaning, LinkedIn might be a better place to spend your time. And if you really get into taking pictures of your services, Pinterest is all about images! The most critical aspect of social media? Being present!
Consider buying Google Adwords advertising
Google Adwords is available to help businesses of all sizes get a leg-up on the competition, and there's certainly a lot of competition when it comes to cleaning services providers! Google Adwords is set up to give you the most bang for your buck; you just have to make sure that you optimize your ads so that they:
Target keywords that make sense for your type of cleaning services company. Google can assist you in determining which keywords to choose, so be sure to do your research.
Get right to the point. You won't have a lot of wiggle room in terms of text length. Only highlight one thing that you feel is most important about your business.
Have a strong headline. Your header will be what encourages readers to click through to your website or specialized landing page.
The nice thing about Google Adwords is that you can adjust the budget regularly to determine what works best. Be realistic about what you're able to spend, and discuss it with a professional if you aren't sure what works best for you.
5 takeaway tips on how to market a cleaning service business
Be visible and easy-to-find on the web
Encourage satisfied customers to write reviews about your services
Update your social media consistently
Take pictures of your work
Use paid advertising options for an added punch
If you'd like assistance with your website, social media accounts, paid advertisements, or any other aspects of your Internet marketing strategy, feel free to contact us! We're more than happy to help you start reaching more customers and growing your cleaning services business.
Find out how WebFX can create an effective Internet marketing strategy for your website. Call 888.449.3239 or contact us online today for a free evaluation.