If you run a power or utility company, you depend on a loyal customer base. Social media can help you broaden your audience to reach new and existing customers across several platforms.
Read our top tips for using social media for your power and utility company to see how you can optimize your online presence — or contact one of our specialists to start updating your social media strategy now!
Growing your social presence with WebFX is a walk in the park.
"WebFX allows growing your social media platforms to be stress-free! They are knowledgeable and adapt to your company needs!"
Learn More About Our Social Media Services

Social media tips for power and utility companies
Check out our tips for improving your social media presence below!
1. Choose the right channels
The first step to any social media strategy is deciding which platforms your audience uses the most. Three of the most popular social media channels are Facebook, Instagram, and Twitter. Other options include Pinterest, LinkedIn, and TikTok.
You don't need to use all six of these channels — in fact, it's more effective to stick to a few of them. Choose the platforms your audience uses most, whether that's three of them or only one.
Once you've done that, you can start creating or updating your profiles. Start by choosing usernames that reflect your power or utility company's name. Then, choose a profile picture with your business logo and a cover image that accurately represents what you do.
Make sure you fill out the bio sections of your profiles. Include a brief description of your utility company's services, hours of operation, website link, and contact information.
2. Post visually engaging content
Visual content reigns on social media. While you can include captions, many people prefer to get information from images, infographics, and videos. These visual elements help capture your audience's attention and have the potential to get them to stick around.
Here are some ideas for content you can post:
Promotional images

Behind-the-scenes videos

Video testimonials

Informational videos

Tips and tricks for energy conservation

Interviews with employees or customers

Videos that explain when to contact a professional

Infographics containing energy-related statistics
You could also post photos of a new facility you've completed or a new area you serve.
3. Interact with your audience
Social media is made for interaction. What better way to talk to users than through social media posts and messages?
If someone asks you a question, you can respond directly on your feed or via a direct messages. In either case, social media offers you an opportunity to respond quickly.
Depending on the platform, you can also interact through polls, Q&As, and live streams. These allow you to ask your audience questions or speak directly to you and tell you what they're looking for.
Many people are not energy experts — they may not understand the ins and outs of the industry, their options, or how to make the right decision. By sharing valuable content, you can help your audience gain the knowledge they need to make informed energy and utility decisions.
4. Share valuable posts and updates
Social media platforms work well for sharing crucial information your audience needs to know. You can share content in multiple ways to boost your message.
Start by sharing links to blogs or useful information from your website, like webinars. More traffic to your website means more leads.
Another excellent way to use social media as a power and utility company is to share information about outages. When an outage occurs, many people turn to social media to see if they can find out what happened. An update on social media will let users know that you're aware of the issue and on the case to fix it.
5. Use social media ads
Aside from making regular posts on social media, you can also pay to display your ads on these platforms. Social media ads are unique because they appear on people's feeds and look similar to an average post. The only major difference is a tag telling the user that the post is sponsored or an ad.
Ads on social media let you reach people who may not follow your page or even know anything about your power or utility company. You can use these ads to target specific groups of people, including locals and those with interests in renewable or green energy.
Social media ads also provide data about your target audience's interests and the performance of your campaign. You can use this info to adjust your strategy as needed.
The benefits of using social media
Strategic usage of social media platforms can benefit your power and utility company in numerous ways. Advantages include:
Building your brand:

Posting on social media gives you control over how others see your company. You can convey your motivations and values while improving your industry authority, making your company a trustworthy leader in the power or utility space.

Increasing awareness:

Social media posts and ads can help you

get the word out

about your services. People who may have never heard of your utility company will have a greater insight into your business, especially when you target a local audience.

Improving lead acquisition:

Gathering qualified leads is crucial for utility and power companies. Your standard social media content and paid ads can help you

attract the right prospects

.
74% of people use social media when making a purchasing decision.
Make their decision easy with a stellar social media presence. See how your brand can level up by requesting a no-obligation proposal today.
One of our experts will be in touch within 24 hours!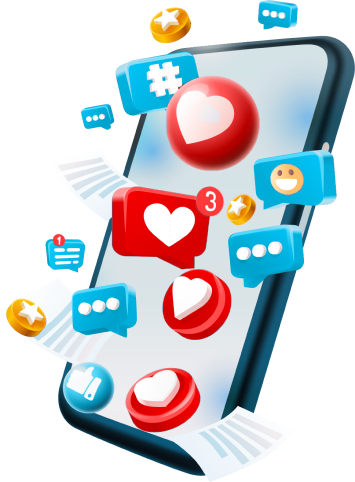 Improve your social media presence with WebFX
Are you ready to improve the social media reach of your power and utility company? Partner with WebFX to get started. We provide social media marketing, design, and advertising services for businesses like yours, whether you want to focus on one platform or multiple.
Call 888-601-5359 or contact our strategists online to discuss your social media strategy!
Increase your leads, sales, and revenue with digital marketing
Find Us Driving Revenue Nationwide