Does your renewable energy marketing plan include social media? If not, it should.
More than 5 billion people use social media, and so do 90% of companies. Why? It's an excellent platform for building your brand and connecting with your audience.
WebFX is a leading digital marketing firm with expertise in online marketing strategies, including social media marketing and management. Give us a call at 888-601-5359 or contact us online to learn more about how we can help grow your renewable energy company with social media.
For tips on how to use social media for renewable energy, keep reading!
1. Provide educational resources
A majority of Americans support expanding renewable energy, according to the Pew Research Center. According to the center's research, 89% support expanding solar farms, and 83% favor more wind farms.
Although renewable energy is popular, most people aren't energy experts. These supporters may not be sure which energy options are best for them, which makes energy-related decisions complicated and overwhelming.
Social media is an excellent place for people to learn about renewable energy, and as a renewable energy company, you can help them do that.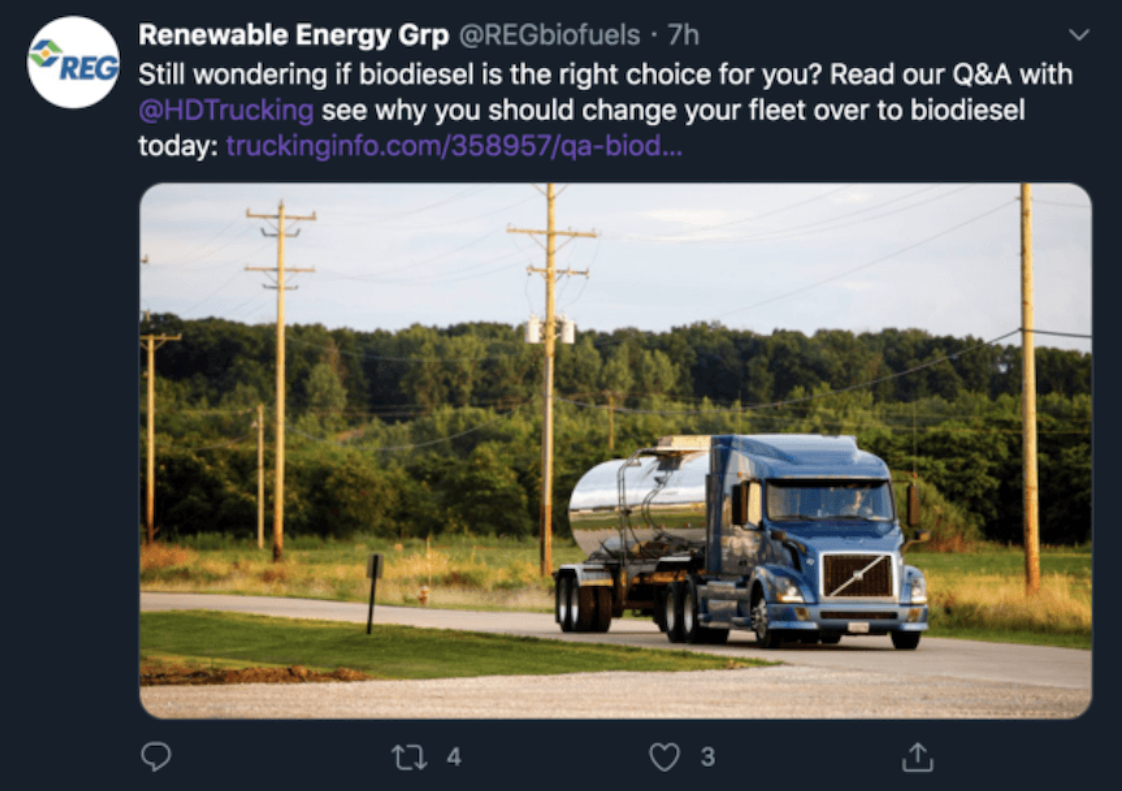 Through your social profiles, you can share news articles, post educational resources, provide tips, and answer questions. You can share both content that you create and content from other reputable sources.
The information you share will educate users about their energy choices and potentially give them the information they need to become customers.
For example, here's a tweet from Renewable Energy Group. The company shared an article that can help trucking companies decide whether biodiesel is the right fuel choice for their fleets.

Hear What It's Like to Work With WebFX!

"We transitioned to WebFX last year and have been extremely pleased with the level of transparency into the processes and the response time to any questions we have. Our account manager does a great job at keep our team informed and talking through our strategy for growth on our website."
Energy Provider
2. Build your brand
Social media marketing for renewable energy is also an exceptional place to build your brand. If you post on a regular schedule and consistently, over time, people will get to know your brand's personality and values.
Sharing educational content can help establish your company as an authority in your field. As you share high-quality information and provide people with answers, they'll come to view you as a valuable resource.
Before you begin posting on social sites, establish your brand persona, so you can create posts that align with your brand. If you use a consistent style and voice, you'll build a persona that people can recognize, which helps you build relationships with your audience.
3. Engage with your audience
Social media is designed to be social, so every social media marketing strategy for renewable energy should involve interaction with followers.
Include questions in your posts to encourage interaction and reply to your followers' comments and messages. Another fun way to encourage engagement is to hold social media contests, such as those that involve user-generated content.
Also, review your past posts to see what received the most engagement. Then, incorporate more content like your most-engaged-with posts into your strategy.
4. Provide speedy customer service
People increasingly use social media as a customer service channel, and when they do, they expect a fast response. Of those who contact companies for help online, 42% expect a reply in an hour or less.
Monitor your social media for new comments, questions, and mentions. You can use social media monitoring tools to help with this.
Then, respond as soon as you can. Even if you can't completely solve the issue or answer the question at the moment, acknowledge the user and let them know when and how you'll reach out to them with more details.
Don't forget to respond to both negative and positive comments. With negative comments, acknowledge the issue and offer to resolve the issue. With positive comments, a simple "thank you" goes a long way!
5. Provide company updates
You can also use social media for solar companies and other renewable energy firms to keep your audience up to date about your company's latest news.
As a renewable energy company, you may have ongoing projects, such as new solar or wind farms or a large rooftop solar installation for a local business.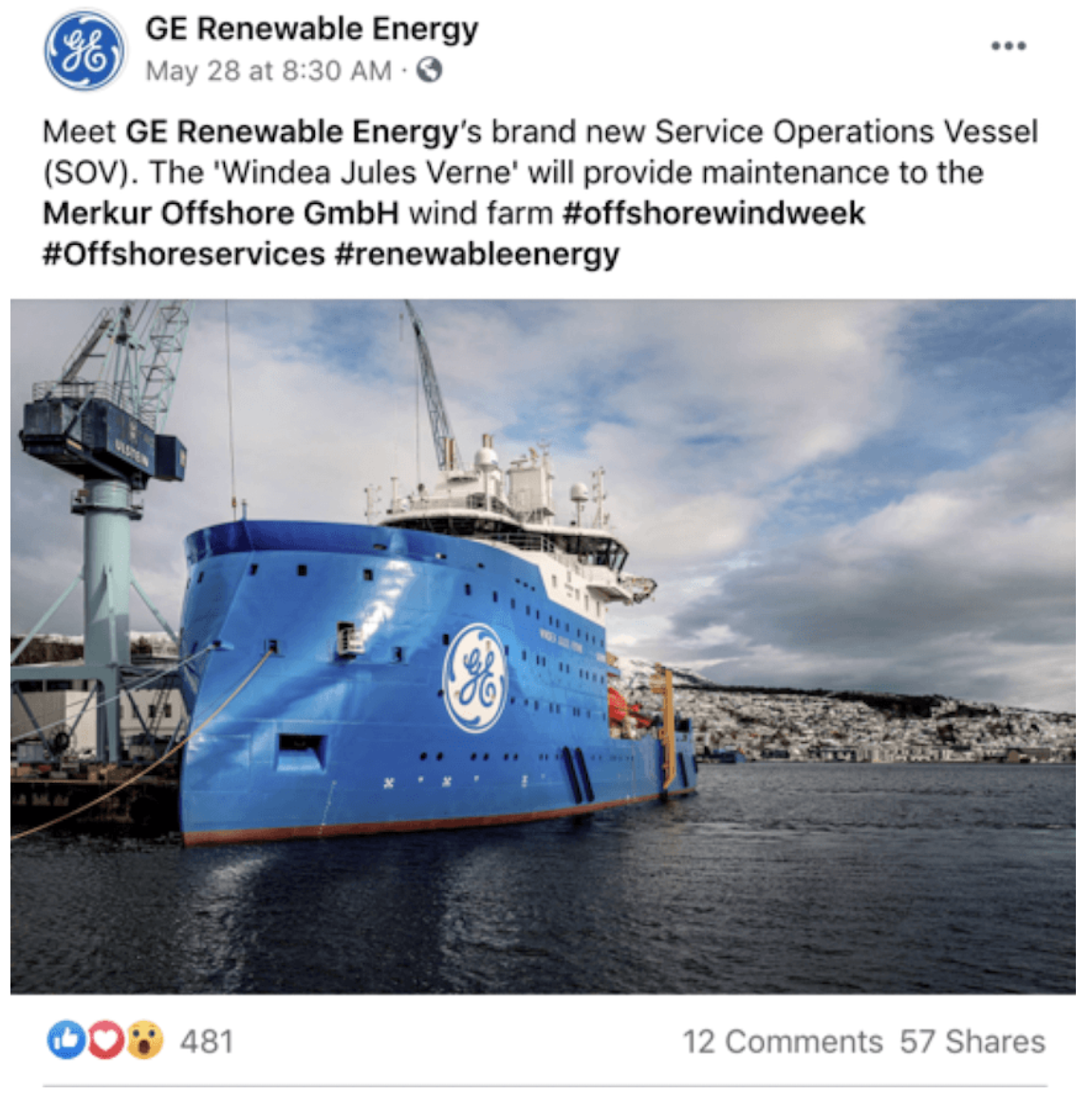 Provide regular updates about those projects to keep customers informed and show off your progress. Include pictures or videos whenever you can. Studies show that tweets with images get 150% more retweets, and Facebook posts with images get 2.3 times more engagement.
Here's a Facebook post, complete with an eye-catching photo, from GE Renewable Energy showing a New Service Operations Vessel that will provide maintenance for an offshore wind farm.
6. Advertise to reach new audiences
Standard social media posts are an excellent way to reach your audience. Adding paid social media ads to your renewable energy marketing strategy can expand your reach even further.
Social media ads typically look similar to standard posts, but include an indication that the post is sponsored.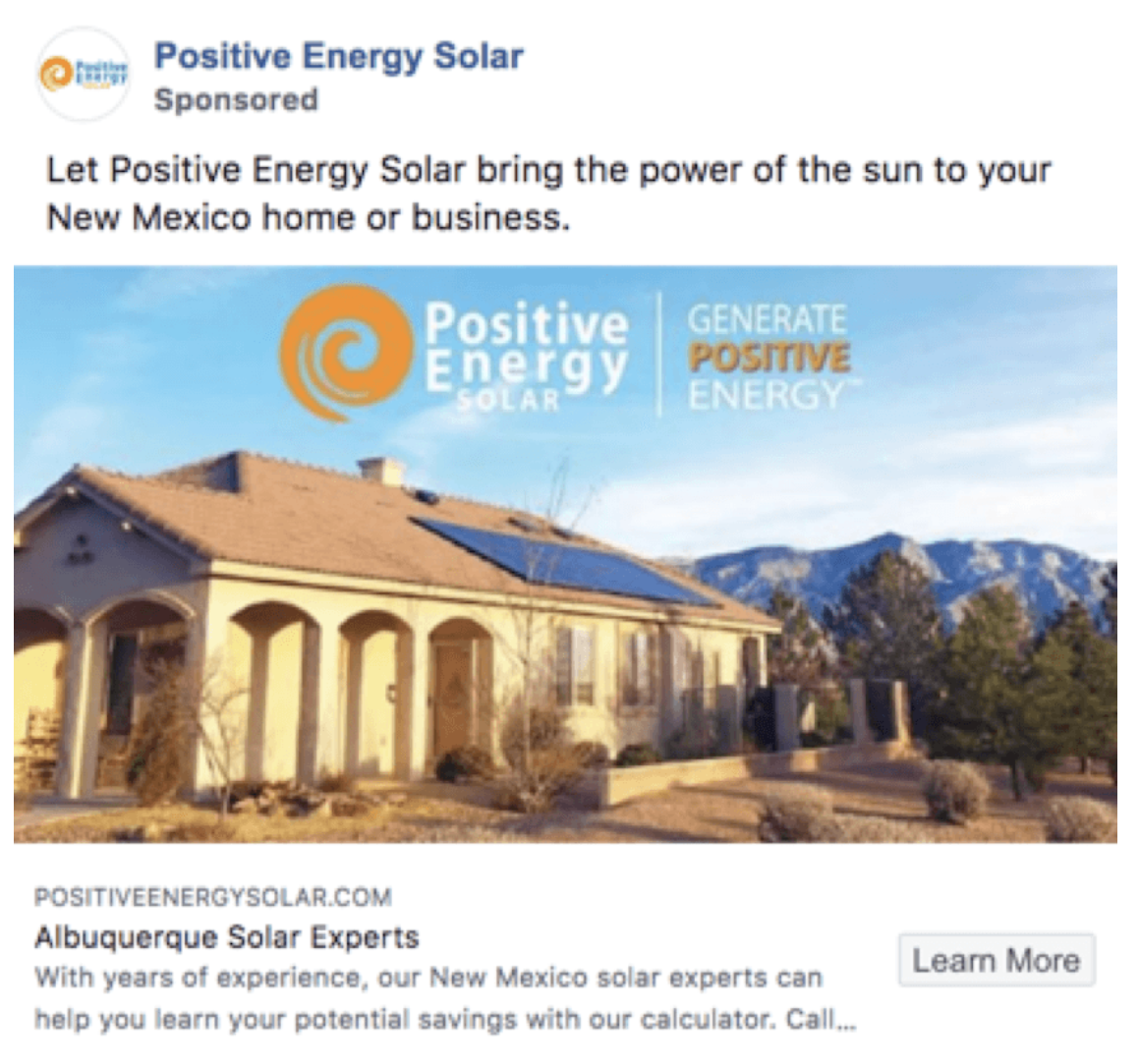 With social ads, you can reach people who don't already follow your page, in addition to those who do. You can target precise audiences based on users' interests, locations, demographics, and more.
Social media for solar companies, for example, might involve targeting users who follow accounts related to solar energy, renewable energy, or green living.
When you run a social media advertising campaigns, you also get valuable data about how people interacted with your ads. You can use this information to improve your campaigns and get improved results in the future.
Bonus Read: PPC for Power and Utility Companies
74% of people use social media when making a purchasing decision.
Make their decision easy with a stellar social media presence. See how your brand can level up by requesting a no-obligation proposal today.
One of our experts will be in touch within 24 hours!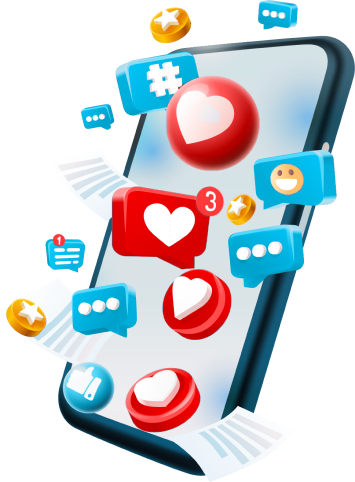 Types of social media for renewable energy companies
There's a huge number of social media sites that renewable energy companies can use to connect with customers online. Here are some of the top types of social media for renewable energy businesses:
Social media for renewable energy with WebFX
At WebFX, we've published more than 165,000 client social posts, and we've driven more than $3 billion in revenue for our clients over the past five years with our digital marketing strategies. We're also a Meta Business Partner.
Our team provides expert social media management and advertising services, as well as various other digital marketing services.
We offer transparent pricing, and we keep you updated on your projects' progress through regular reports and our MarketingCloudFX digital marketing platform.
To learn more about our social media services, contact us online or at 888-601-5359 today!
Earn a 20% greater ROI with WebFX