Why use social media for your Detroit business?
With our award-winning team on your side, your company can:
Increase brand awareness
In today's marketplace, it's important to establish and build your brand. Whether you're a new business or established company, social media can help you curate your brand and generate awareness for it. As you build it, you can use its value to expand your consumer base and retain your customers.
In fact, more than 50 percent of Americans that follow brands on social media are loyal to them. With so few companies utilizing social media in their marketing campaigns, it's an area you can capitalize on in your business strategy.
Improve customer satisfaction
A dissatisfied customer not only impacts your five-star rating, but also influences potential clients. In a recent survey, 80 percent of consumers admitted that online reviews had changed their minds about buying a product or service.
With more than 65 percent of shoppers using social media for customer service, it's essential to maintain an active social media presence. Otherwise, you risk losing valuable business and gaining negative reviews.
That has a ripple effect that you want to avoid.
For many companies, it's a challenge to manage a slew of social media accounts, plus launch new digital marketing initiatives, such as fresh website content. That's why we offer online review management services — in addition to social media management.
Our team will manage and respond to questions, feedback, and reviews. We'll work as an extension of your marketing team, ensuring we match the tone and brand of your company. That way, you can focus on what you need to, but without risking the satisfaction of your customers.
Boost website traffic
In digital marketing, there are several goals — including increased website traffic. Whether you're a business-to-business (B2B) or business-to-consumer (B2C) operation, social media can help you boost your website traffic.
By incorporating content marketing into your Detroit company's social media plan, you can direct your followers to your website. In most cases, you'll want to forward traffic from your social media pages to your blog by sharing your newest posts on your preferred platform, such as Facebook.
With content marketing, it's essential to develop and publish content that's compelling and original. If it's identical to articles already available — and from popular websites or publishers — your audience won't have the motivation or reason to click yours.
In addition to writing blog posts, you may also develop whitepapers or ebooks for your followers to download. These materials are excellent for potential clients further along in the buying funnel, as well as for supporting your email marketing campaign.
If you're unsure about email marketing, it offers an immense return on investment (ROI). In fact, for every $1 you spend on email marketing, you can earn $44 back.
Grow industry leadership
With trillions of Google searches each year, it's evident that people want information. That's why establishing yourself as a leader in your industry — and its niche — provides immense long-term value. It builds your authority and trust with consumers, which encourages them to choose your products and services.
It's important to remember that becoming an industry leader doesn't happen overnight. It takes time, which is why it's critical to build and maintain a content calendar that leads to engaging content on a routine basis.
In some ways, it's a full-time job. That's why we offer all the services you need, from content marketing to influencer marketing to copywriting. We also partner you with a dedicated account manager, which ensures that you're always working with a familiar face.
74% of people use social media when making a purchasing decision.
Make their decision easy with a stellar social media presence. See how your brand can level up by requesting a no-obligation proposal today.
One of our experts will be in touch within 24 hours!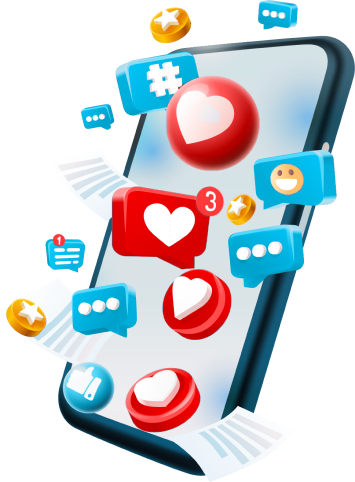 Detroit social media services from WebFX
If starting a social media strategy seems daunting, don't worry. That's normal.
Our social media strategists can help, though. With our customized social media plans, as well as expertise across industries, we can develop and suggest a strategy that'll work for your company and its goals.
As a full-service digital marketing agency, we can also help with other areas you're looking to improve. Whether you're looking for a trusted Detroit social media marketing company for search engine optimization (SEO), pay-per-click (PPC) advertising, or additional services, you can count on WebFX.