B2C SEO Agency: The Agency That Turns Traffic into Revenue
If you don't want to risk your business-to-consumer (B2C) company falling behind the competition, you need to invest in search engine optimization (SEO). SEO helps your business rank higher in search results so that you can drive more qualified traffic to your website. With the help of a B2C SEO agency like WebFX, you can turn that traffic into revenue.
WebFX is a B2C SEO company with over 25 years of experience creating campaigns that help businesses grow by earning qualified traffic. Keep reading to learn more about how a B2C SEO firm benefits your business and why WebFX is the best option for helping you market your business through search engines.
If you don't want your competition to get ahead, it's time to invest in SEO services. Contact us online or call us today at 888-601-5359 to speak with a strategist to find out how we can help you boost your ranking in search results!
Why is SEO important for B2C companies?
When people are looking for a product or service or just an answer to a question, they often turn to search engines. In fact, more than 90% of Internet sessions begin with a search engine.
A B2C SEO agency can help you rank well for the keywords that your potential customers are searching, increasing brand awareness, website traffic, leads, and sales.
How does a B2C SEO agency benefit my business?
If you're on the fence about hiring a B2C SEO company, you want to know the benefits of choosing to outsource your SEO rather than keeping it in-house.
There are multiple benefits to hiring a B2C SEO firm for your business. Here are a few:
1. You don't have to find time to do SEO
Time is a valuable commodity that's in short supply. You have critical business matters to worry about, so SEO isn't cracking your top 10. Instead of trying to find time to squeeze it into your schedule, you can let an SEO agency for B2C businesses handle it.
Since B2C SEO firms do marketing every day, they can dedicate time to run your strategy. That means you reap the benefits of having an SEO strategy without having to lift a finger.
2. You drive the results you desire
When you invest in SEO, you want to see results from it. If you don't have experience doing SEO, you may not end up with the results you desire. It can leave you feeling discouraged and disappointed with your marketing.
Instead, you can partner with an SEO agency to get your desired results. Since a B2C SEO company knows how to craft SEO campaigns that work for your business, you'll experience better results that help you grow your business.
3. You don't have to search for resources
If you want to see success with SEO, you need resources. SEO requires resources like people to work on your campaigns and tools to manage your strategies. When you handle SEO yourself, you must find these resources on your own, which is a time-consuming process.
Instead, you can partner with a B2C SEO company and receive all the resources you need to launch a successful SEO campaign. You'll have access to a team of experts and their SEO monitoring tools, so you don't have to search for the best resources to help you run and manage your SEO campaigns.
4. You can maintain your SEO for the long term
SEO is not a set-it-and-forget-it strategy. It requires long-term maintenance to ensure you keep a continuous flow of relevant traffic coming to your website and maintain your rankings.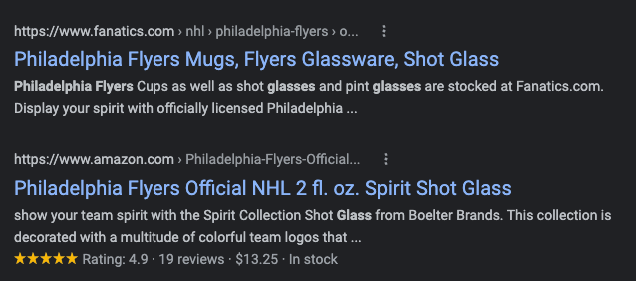 An SEO agency for B2C businesses can maintain your SEO campaign for the long haul. They'll continually monitor your SEO campaigns and adjust to ensure you're driving the best results with your SEO.
Why choose WebFX as your B2C SEO agency
If you're ready to partner with a B2C SEO firm, look no further than WebFX. With over 20 years of experience in SEO, you can feel confident that we'll craft an SEO campaign that drives the results you desire.
Here's why you'll want to partner with us:
We offer SEO plans that fit your needs
When it comes to SEO, there's no one-size-fits-all plan. Every business has unique needs, and your B2C company is no exception. That's why, at WebFX, we create custom SEO campaigns for all our clients.
All our packages include the features you need to have a successful SEO campaign, including:

We can adjust our packages to help meet your needs and ensure your SEO campaign is built for success.
We offer more than SEO
After you invest in an SEO strategy, you may find you want to expand your marketing beyond SEO. If you partner with a SEO company for B2C businesses that only offers search engine optimization, you'll have to hire additional companies to handle other marketing campaigns for you.
As a result, you have to spend your days relaying messages between companies to try and make sure your campaigns are cohesive.
Sounds exhausting, doesn't it?
Forget the hassle and partner with WebFX, a full-service digital marketing agency that offers everything you need to expand your marketing. We offer services like:
Our team will help you expand your marketing as your business grows and reaches new heights.
We keep you in the loop
When you entrust your SEO strategy to someone else, you want to keep tabs on the progress of your campaigns. You don't want to waste time sitting on hold and waiting to talk to someone about your campaigns.
At WebFX, we provide you with a dedicated account representative to contact with any questions or concerns. You'll always have a direct line of contact with your account manager, so you always know who to contact.
Your dedicated manager will also provide you with monthly reporting to keep you up-to-date on the latest with your SEO campaigns. Your representative will help uncover actionable insights to improve your campaigns to get more traffic, leads, and revenue for your business.
We make our clients happy
When you choose a B2C SEO agency, you want to partner with one that will make you happy. A strong SEO campaign starts with a solid partnership, so you must choose an SEO company for B2C that puts your business first and focuses on your success.
At WebFX, we take a client-first approach to all our marketing. That's why we have a client retention rate of 91% and a client recommendation score 488% higher than the nationwide average. We make our clients happy by creating custom campaigns to help them succeed.
Don't believe us? Just ask our clients. Check out our 1000+ client testimonials that attest to the excellent work we do for them!
We drive results that help B2C companies grow
When you partner with a B2C SEO company, you want to partner with one that helps your business grow. At WebFX, we have a rich history of helping our clients experience growth through our marketing services.
Here's what our team's accomplished for our clients in the past five years:
Driven over 7.8 million leads
Acquired over $3 billion in sales
Processed over 12.9 million transactions
Managed over 5.2 million calls
If you want to drive results with your marketing, our team at WebFX can help you do it.
Our digital marketing campaigns impact the metrics that improve your bottom line.
See More Results

WebFX has driven the following results for clients:

$3 billion
In client revenue

7.8 million
Leads for our clients

5.2 million
Client phone calls
We offer transparent pricing
SEO is an investment, and you want to know how much it costs to invest in this strategy. The only problem is that many companies don't share their pricing or packages online. It makes it challenging for you to know who fits your budget and offers the best services for the price.
At WebFX, we make it easy for you to know what you're getting and how much it costs. We publish all our pricing and packages online for you to browse. You get all the information you need to help you make the best decision for your business.
Partner with our results-driven B2C SEO company today
If you're looking for a B2C SEO firm that will help you improve your website's ranking in search results and drive more qualified traffic, look no further than WebFX. With over 25 years of experience in the digital marketing industry, we know what it takes to build SEO campaigns that help you grow.
Our team of 500+ marketing experts has over 1.6 million hours of expertise, so you can feel confident you'll receive an expertly crafted SEO strategy.
If you're ready to drive more revenue for your B2C business, contact us online or call us today at 888-601-5359 to speak with a strategist about our SEO services!
How Is Your Website's SEO?
Use our free tool to get your score calculated in under 60 seconds.