9 Popular Social Messaging Apps for Your Business
Looking for new ways to connect with your audience on social media? Check these Social Messaging for Businesses.
The development of social messaging apps has become an effective way to engage customers. Billions of people access messaging apps every day, so it's increasingly important that your business takes advantage of them too.
On this page, we'll share nine popular social messaging apps your business can use. If you need help choosing the right app for your business, call us today at 888-601-5359 to speak with a strategist.
Not happy with your social media engagement?
We've got just the blog post for you.
Read the Blog Post & Watch the Video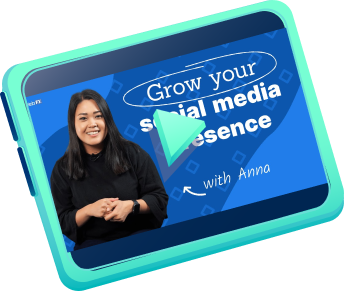 Why do social messaging apps matter?
Apps are taking over as the most popular way to connect with friends, family, and businesses.
Many of these apps are free to use. Users can make voice calls, video calls, and send chats to others. It's become an easy and cost-effective way for people to communicate, especially in countries where there aren't unlimited text message plans.
It's crucial that your business takes advantage of these social messaging apps because it's one of the best ways for you to connect with your audience. Since millions of people use them, it's an easy way for you to reach valuable leads.
Social apps allow you to send personalized messages to your audience. Users want to feel important to your business. The one-on-one interaction through messaging apps makes the interaction feel personalized.
Your audience also expects your business to maintain a presence on messaging apps. The days of calling businesses to find information are slowly fading. Everyone is busy and on-the-go, so they don't always have time to make a phone call.
Messaging is a quick and easy way to interact with your business. It makes it easier to contact your business with questions or concerns. This is a great opportunity for your business to respond and build a relationship with your audience.
74% of people use social media when making a purchasing decision.
Make their decision easy with a stellar social media presence. See how your brand can level up by requesting a no-obligation proposal today.
One of our experts will be in touch within 24 hours!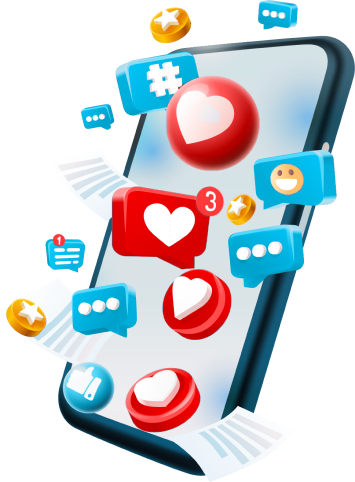 9 social media messaging apps
Social messaging apps are a great addition to your marketing plan, but how do you find the right one? Here are nine options available to your business.
1. Messenger
Messenger is a social messaging app attached to Facebook. It currently has 1.3 billion users and is one of the most popular messaging apps.
Originally, Messenger started out as a feature that was included as part of Facebook's interface. You needed to be in the Facebook app to access your messages. As it grew in popularity, Facebook made a separate app to make messaging even easier.
You can download Messenger to any smart phone. All you need is a Facebook account to use this app and messaging with your audience's Facebook users.
This platform is simple and easy to use. You can send text, photos, emojis, GIFs, and stickers. It offers numerous features to create a fun interaction between your business and your audience.
Messenger also enables you to integrate chatbots. Chatbots are becoming increasingly popular among businesses because they provide a way to give customer service without someone needing to be present. It's also great for sending automated reminders and order confirmations.
If you have a Facebook business profile, Messenger is already included. It's a great, free tool that allows you to provide better service to your customers.
2. Snapchat
Snapchat has grown to be one of the most popular apps to communicate with others. The communication in this app is different than most messaging apps. Snapchat focuses on sending photos and videos between friends and family.
Users communicate by sending these photos and videos to one another. Snapchatters can add text, Bitmoji images, and emojis to their content.
One of the most prominent features of snapchat is that the content disappears after sending and opening. Receivers can't save image or video files from the app (unless they screenshot a photo).
In addition, users can also message one another through this app. The conversations disappear, like the photos and videos, as each person replies. Snapchat does give users the option to save chats, but otherwise they disappear.
Snapchat is a great way to post content and get your audience to interact with it. It offers the ability to post content to your Story, which everyone that follows your Snapchat account can see. You can share photos and videos on your story and invite your audience to interact and communicate with your business.
3. WhatsApp
WhatsApp, also owned by Facebook, has surpassed Messenger as the most popular social messaging app. With over 1.5 billion users, it's extremely popular with mobile users.
This app is downloadable on any device. It allows you to send videos, photos, files, shares location, text messages, audio messages and make calls from smart phones and tablets. This app is very user-friendly and free to use.
Unlike Facebook messenger, this app is based on phone numbers. It was designed to replace SMS texting to help users with limited texting plans.
This messaging app for business offers numerous features. It enables up to 250 people in a group chat, which makes it a viable option for businesses to use with customers and in house.
WhatsApp can also send files as big as 100 megabytes. It has end to end encryption to keep information safe too. The most beloved feature is that this app is ad free.
If you want an app that's free and easy to use, WhatsApp is a great option. You can easily connect with your audience and send them valuable information.
4. Viber
Viber is a free social chatting app for your business with over 260 million users. This service allows you to make voice calls and send messages. It works with phones, tablets, and computers, making it a great way to connect with individuals in your audience who use various devices.
This app allows you to share photos, stickers, and GIFs with friends. You can send short video messages, too. It also enables you to like and reply to certain messages in group conversations.
Viber is more complex than other traditional messaging apps and offers more features. If you're looking for something with more capabilities, Viber is a great option.
5. Skype
Skype is one of the most professional messaging apps. It is a great option for the everyday person or a business. This video calling app makes it easy to send messages, make calls, and host video chats.
Many businesses use Skype because it's a simple and professional way to connect with people. It enables companies to easily transfer files but keeps it fun by offering emojis. Skype provides a great balance between fun and functional.
6. Telegram
Telegram has over 200 million users that enjoy this app. People can use the app on laptops, tablets, and mobile devices. It runs on a cloud-based messaging service.
With Telegram, you can make an audio call or send messages. This app also has a Secret Chat feature that lets you send timed messages. After they're sent, the message will expire when the designated time is up.
Telegram offers numerous great features such as the ability to integrate bots, stickers, and free downloads. It also enables you to choose a theme so you can make your message more personal and reflective of your business.
7. Kik
If your business wants to reach the younger generation of users, Kik is a great social messaging app . This app does not require users to set up with a phone number. Instead, users set up usernames to chat with one another.
This app appeals predominantly to teenagers. It has fun features like GIFs, stickers, and emojis to appeal to the younger crowd. You can also share photos and videos.
Kik is a free option for social messaging for businesses that want to reach a younger audience. It's a great tool to use if you want to connect with and send leads engaging information to get them to interact with your business.
8. WeChat
WeChat is a social chatting app that works on any mobile device. This service has over 1 billion users, with many of the users residing in Asian countries. This free app makes it easy to connect with others.
One great feature of WeChat is that you can call landlines and mobile numbers from the app. This makes it a flexible option if other people don't have the app. This also opens the opportunity for people to call your business from the app if they have questions or concerns.
9. Line
Line has more than 203 million users that make free calls and send messages. This social messaging app offers line groups, video calls, and voice calls. It offers one-on-one chats to keep conversations personal with your audience.
This social messaging app offers a few more features than most messaging apps especially if you are looking for a social messaging for business. Users can send and receive money, network, or play games. It offers a few more upgraded features to make it interesting and engaging for audiences.
WebFX will help you leverage social messaging apps
Messaging apps are the fastest growing way to connect with your audience and promote brand recognition. You can use these apps to build a better relationship with your audience and engage with them more. At WebFX, we have a team of 500+ skilled experts that will help you make the most of your app options.
We're a full-service digital marketing company that specializes in social media marketing. Our team of experts are knowledgeable and keep up with social messaging app trends. With more than 25 years of experience in digital marketing, we have the knowledge and skills to help you create a plan that brings your business success.
If you want to partner with a digital marketing company that drives results, look no further than WebFX. To date, we've driven over $3 billion in sales and over 7.8 million leads for our clients. Our team takes the time to develop a plan that works for your business.
Want to know what it's like to partner with a social messaging app expert like WebFX? Just ask our clients! Check out our 1000+ client testimonials that attest to the great work we do for them!
Get started today
If you're ready to start leveraging messaging apps to help you connect better with your audience, contact us online or call us today at 888-601-5359 to speak with a strategist.
We look forward to hearing from you!