December 25th is just around the corner. It's the big wintry holiday of giving gifts, enjoying pine trees, and spending time with your loved ones. And a huge part of that time is spent watching Christmas movies.
Christmas movies play a major role in Christmas celebrations throughout America. Every year, families across the country sit down to watch their favorite holiday classics. But what are those favorites?
And where are they the most popular? That's what we wanted to know when Google released its annual trends report this year. This is what we found.
The most popular Christmas movies by state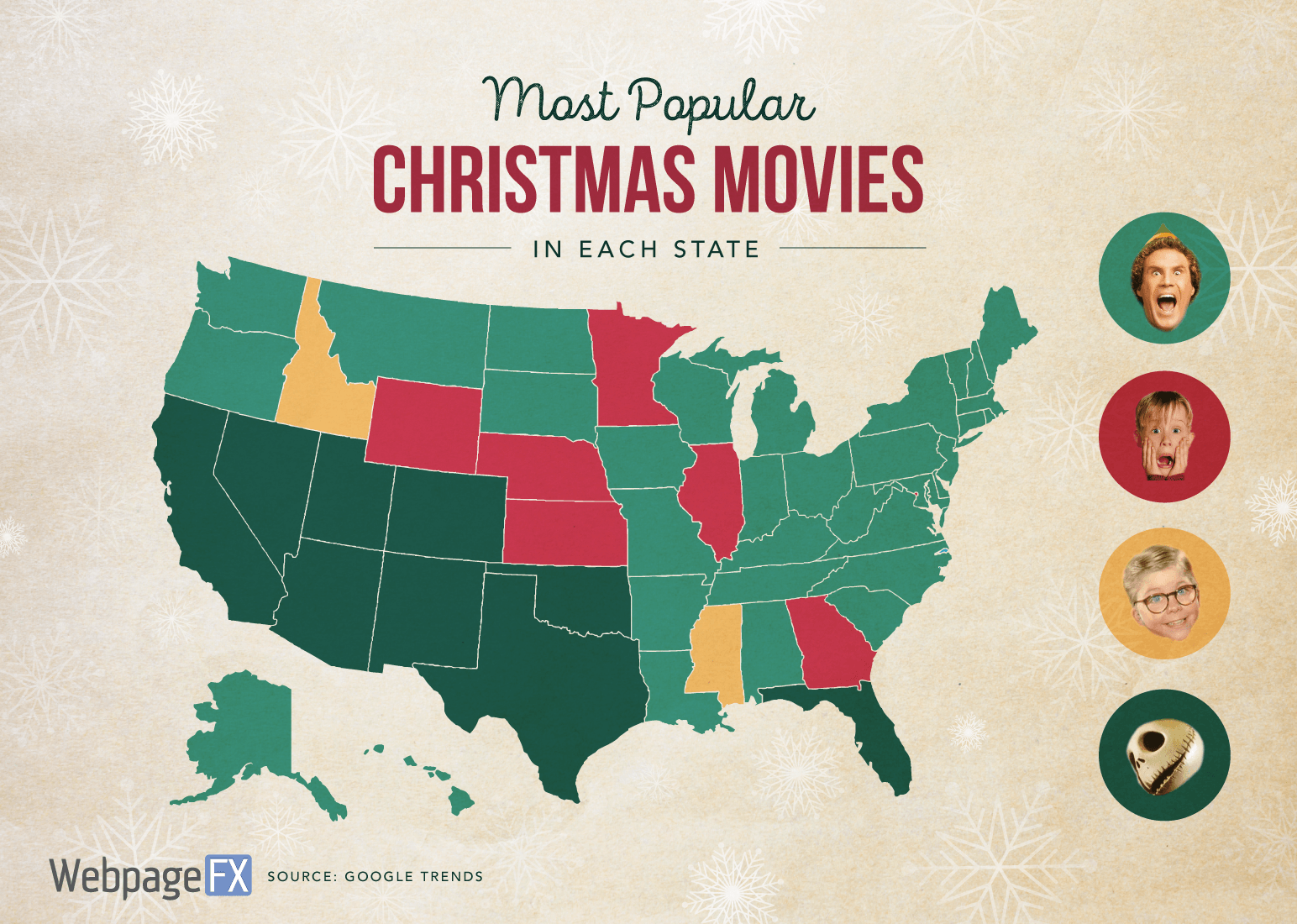 So let's talk about how we got our data.
Our data acquisition process
All of the data we used comes from Google Trends, Google's annual release of search data. We checked searches for a list of more than 100 Christmas movies across all 50 states to see which ones were the most popular since 2004. We chose to use a timeframe of 11 years since that's the extent of Google's trend data. And we didn't narrow our searches to just December because you can technically watch Christmas movies whenever you want. (If you've never watched a Christmas movie on June 25, you're missing out.) So if you're like me, you're already kind of sad that this map doesn't include Die Hard.
But, in the absence of John McClane, let's break down what this graphic tells us.
Lesson #1: Only the strong survive
Much like the world of business or Nakatomi Plaza, the world of holiday classics can be harsh and unforgiving. We know that much from the fact that we started our list with more than 100 titles stretching over almost 100 years of cinema and ending with four movies from the same 20 years.
That 96% percent reduction in diversity cut out some big-name classics, like It's a Wonderful Life, Miracle on 34th Street, A Muppet Christmas Carol, and National Lampoon's Christmas Vacation. So right away, it's clear that Americans have their favorites pretty much set in stone. The most popular films by state are:
Elf
The Nightmare Before Christmas
Home Alone
A Christmas Story
But you probably just noticed the same thing we did when we saw this data — there's one movie on that list that doesn't quite fit with the rest.
Lesson #2: Sunny states like dark movies (except Hawaii)
One of the most surprising trends we noticed in our data set is the incredible popularity of The Nightmare Before Christmas. Granted, it can't hold a claymation torch to Elf's holiday dominance, but it's kind of incredible that the states that prefer it also enjoy a lot of sun. Maybe there's some backlash against all that vitamin D, and the American Southwest (and Florida) wants to collectively jump into the metaphorical shade.
That makes even more sense when you consider how hot it can get in places like Texas, Florida, and California even in December, and especially compared to the Midwest or Northeast. So if you're in one of the nine states that thoroughly embraces Tim Burton's 1993 stop-motion masterpiece, enjoy your time away from the sun literally and metaphorically.
Lesson #3: The Nightmare Before Christmas is a Christmas and Halloween movie (according to fans)
Because we don't want to mix and match holidays, we wanted to make sure that The Nightmare Before Christmas actually is a Christmas movie and not a Halloween movie.
After all, our data said it's popular — but does it actually fit the mold of a Christmas movie? As we discovered, yes. MTV — probably one of the best authorities on pop culture controversies — ran a user poll asking visitors if Jack and Sally are merry or scary.
The results (at time of publication) give us a conclusive answer.

Almost 75% of people polled agree that Nightmare is a Christmas movie or a Christmas-Halloween hybrid, and that's after the director said it's a Halloween movie. But, like we've said on this blog before, just because you make something doesn't mean you get to define it.
Ultimately, it's up to your fans and customers how they use your creation. And by that thinking, The Nightmare Before Christmas is equal parts nightmare and Christmas.
Lesson #4: Christmas movies are traditions
Last, you'll notice all of these Christmas movies have — like fine wine — aged a few years.
The newest one is Elf, and that was released in 2003. The oldest is A Christmas Story, which came 20 years earlier in 1983. That means people like the films that they like, and they don't change often. Or ever, potentially. Some traditions are just too good to ever break!
Enjoy your holiday season!
Do you like the same Christmas movie as the majority of your state? Do you agree that The Nightmare Before Christmas is a Christmas movie? Regardless of your opinion — and whether you celebrate Christmas — you can still enjoy some of the heartwarming-est classics to come out of cinema in the past 30-some years.
Like Die Hard. Before you go, feel free to check out and use the Google Trends settings that gave us our data.* Happy holidays! * Note: Data may be slightly different from time of access.
WebFX Careers
Join our mission to provide industry-leading digital marketing services to businesses around the globe - all while building your personal knowledge and growing as an individual.