Did you know that content marketing generates three times more leads than traditional marketing?
If you haven't started creating content for your small-to-midsized business (SMB), you're missing an excellent opportunity to drive more qualified leads for your business. One of the best mediums for driving leads as a small business is blogging. Blogging enables you to share valuable information that drives traffic to your site, captures more leads, and increases your business revenue.
But how do you start driving revenue from your blog? With these nine blog best practices for SMBs:
Focus on industry-related topics
Target specific keywords
Make content that's informative and high-quality
Publish content regularly
Use a content calendar
Focus on evergreen content
Make text easy to read
Add visuals to your posts
Share your posts
Keep reading to learn more!
1. Focus on industry-related topics
First on our list of blogging best practices for small businesses is to focus on industry-related topics.
When you craft blog posts for your business, you aim to drive valuable and qualified traffic to your site. If you want to drive traffic interested in your business, you must focus on topics that drive people interested in your industry.
For example, if you own a bakery and start blogging about fashion, you're going to drive people to your blog interested in fashion, not baked goods. While some people are interested in your bakery, the majority won't have an interest in it. To ensure you drive traffic interested in your business, focus on blogging about the information your audience wants to know in your industry.
2. Target specific keywords
Another essential part of blogging for SMBs is to target specific keywords.
If you want your blog posts to appear in search results where people search for information, you must incorporate keywords into your posts to help them rank in search. You can find relevant key terms for your blog posts by conducting keyword research.
You can use keyword research tools, like KeywordsFX, to help you find terms for your blog posts. For example, if you're creating a blog post on how to knead dough, you can pop that term into a keyword tool and find dozens of relevant terms for your blog post.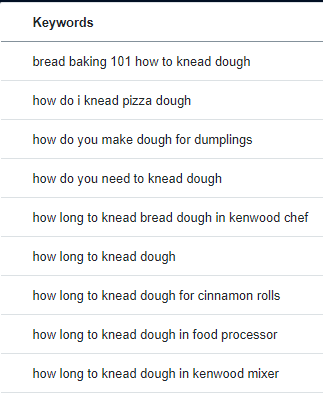 Once you identify your keywords, you'll want to incorporate them as you write your blog post. Don't overuse them in your post, though, because it will lead to keyword stuffing.
3. Make content that's informative and high-quality
Next on our list of blog best practices for SMBs is to create informative and high-quality content.
Many businesses make the mistake of focusing on quantity over quality. If you put out 15 low-quality blog posts, you're not going to drive the results you would with two high-quality blog posts. People check out blog posts because they want to get valuable information, not fluff.
When you craft your content, focus on providing your audience with helpful information that answers their questions. For example, let's say you want to generate leads for your franchise business, create helpful content for your audience so you'll draw them to your website.
To help you identify the type of information you want to include in your blog post, look in the search results to see what's already ranking. It will help you identify the information your audience wants to find for that key term.
4. Publish content regularly
When talking about blog best practices for small businesses, you have to talk about publishing frequency.
If you want to drive traffic to your site continually, you need to create content frequently to keep traffic flowing to your site. Posting content regularly shows your audience that you're active, and you keep up-to-date with information in your industry.
Not to mention, creating blog posts on fresh topics creates avenues for new leads to discover your business. Additionally, if someone likes reading your blog posts, continual posting can keep them coming back to your blog and help you nurture those leads towards conversion.
So, how often should you create blog posts? There's no direct answer to how typically you should post content, as it can vary with your business, resources, and audience. Some companies can post once a week and see success, while others post once a day and see results. You'll need to figure out what's best for your business and your audience.
5. Use a content calendar
When you're posting content frequently, you need to keep track of when you're posting your content.
That's why using a content calendar is next on our list of blogging best practices. A content marketing calendar helps you identify when you'll create, edit, and publish your blog posts. This calendar is a great resource to help you identify gaps in your content process to integrate more blog posts into your plan.
Using a content calendar is one of the essential blog best practices for SMBs because it also helps you stay organized with your content process. It enables anyone on your team to know when content is created and when you plan to publish it.
When you create a content calendar, you only want to create a calendar for a month. You don't want to plan your content for the year, as things within your market change, and you need to be flexible.
6. Focus on evergreen content
Next on our list of best practices for blogging is focusing on evergreen content.
Evergreen content is content that is timeless — the information isn't based on trends or current events. This content can continually drive traffic months after it's published. You want to focus on evergreen content so that you can continually drive traffic over time.
People will move on from your content after the hype passes if you concentrate on sensationalized current events. Evergreen content is one of the most critical blogging best practices because it helps you create sustainable content that remains relevant as time passes.
Note: While evergreen content is sustainable over time, it still may need updating as information changes in your industry. Make sure you update this content to reflect the most accurate information to deliver the best experience for your audience.
7. Make text easy to read
One of the most critical best practices for blogging is making text easy to read.
User experience is fundamental to ensuring that site visitors stay on your blog post and continue reading it. One of the biggest mistakes companies make is writing long paragraphs of text on their blog posts. This setup causes users to feel overwhelmed and makes it difficult for them to find important information.
Many users skim your blog posts to find the information they need, so large paragraphs of text make it difficult to complete that task. Not to mention, if someone is looking at your blog post on mobile, the wall of text filling their tiny screen won't provide a positive experience.
When you craft your blog posts, you need to make the text easy to read, which means you must break your text up into paragraphs with two to three sentences. This small paragraph structure makes it easy for people, regardless of the device they use, to read and skim your posts. You can use bulleted lists, too, to make it easy to list information.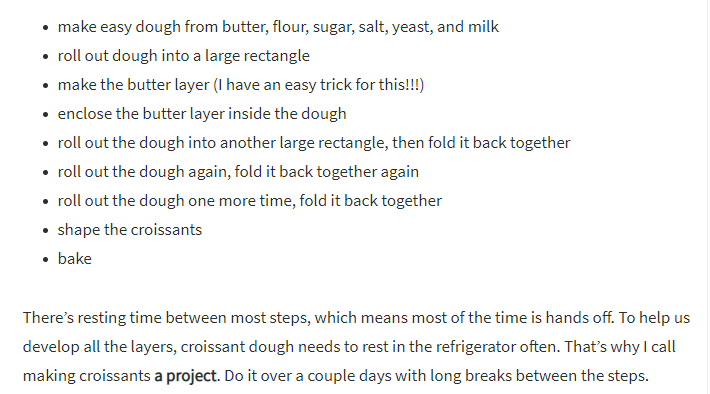 Additionally, you'll want to choose web-safe fonts for your site to ensure that people can read your information without straining their eyes.
8. Add visuals to your post
Next on our list of blog best practices for SMBs is to add visuals to your blog posts.
As we mentioned previously, the user experience is fundamental to keeping leads engaged on your blog. Part of that user experience is adding visuals to your blog. Like using small paragraphs of text, visuals help break up your blog content and provide relief for your audience's eyes as they read.
These visuals can also help enhance your text by illustrating a point you're trying to make. In this blog post about making a cake from scratch, the blogger includes multiple images to help create a better experience on their blog post.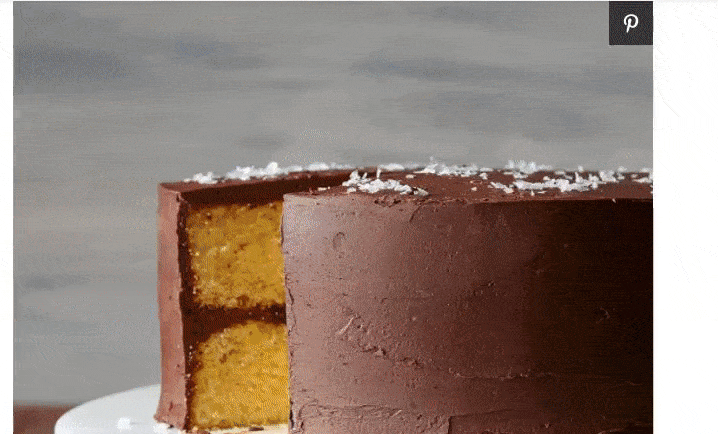 You can add numerous types of visuals to your blog post, including:
9. Share your content
The last item on our list, which relates to both blogging and social media best practices, is sharing your content.
When you craft your blog posts, you want as many people as possible to read them. While you can rely on people to find them in search results, you want to share your content in as many ways as possible. When you share your content, you drive more traffic to your site, which can help it rank better in search results.
You can share your content on social media platforms or in your latest email newsletter. Both options are a great way to help you reach more people with your content and drive them to your blog posts.
Get started with blogging for SMBs today
Now that you've got a list of blog best practices for SMBs, it's time to launch your blog!
But if you're feeling overwhelmed with getting started with blogging, WebFX is here to help. We have an expert team of copywriters that can help you craft compelling blog posts for your business. From setting up your blog to crafting your content, we can help you do it all.
Our team of experts knows how to drive results. In the past five years, we've driven over $3 billion in revenue and over 7.8 million leads. Ready to start driving more qualified leads with your blogging efforts?
Contact us online or call us today at 888-601-5359 to speak with a strategist about our blogging services!
How is your website's SEO?
Use our free tool to get your score calculated in under 60 seconds.
Get posts by email
Join 200,000 marketing managers and subscribe to Revenue Weekly!
"*" indicates required fields
WebFX Careers
Join our mission to provide industry-leading digital marketing services to businesses around the globe - all while building your personal knowledge and growing as an individual.