Social media platforms create an excellent opportunity for your business to build an audience, earn loyal customers, and reach current clientele — but you'll only be able to do so with successful social media campaign planning.
Just like your last big vacation, a lot of preparation goes into a successful social media campaign. Between social media ads, audience targeting, and content creation, planning a social media campaign is paramount to your success on platforms like Facebook, Twitter, or Instagram.
If you're ready to jumpstart your social media campaign plan, WebFX can help. Keep reading to learn more about social media campaign planning, optimizing your social campaign, or contact us today to learn more about how we can help your business thrive on social.
BONUS READING: 14 Hot Takes About Social Media Etiquette
Planning a social media campaign: Your social media campaign planning template
So, you've decided to learn how to do social media marketing — so what's next?
If you want to create a social media campaign that drives incredible results, the planning is just as important as the strategy. Below, we've created a social media campaign planning template that will help you build the bedrock of your social campaign.
1. Establish social media goals
When it comes to social media campaign planning, the first step is to establish your company's social media goals. The goals you decide on at the start will act as a guiding light throughout your campaign and influence the strategies you use to accomplish them.
A few popular social media goals include:
Improve brand awareness
Increase website traffic
Generate new leads
Build an online community
Improve online customer service
2. Analyze your current campaign
The second step in your social media campaign planning template is to analyze your current campaign.
You should ask yourself questions like:
Do I have a posting schedule for my social content? You should!
Do I post often to my social platforms? You should!
Do I have an updated profile on every platform? You should!
Do I leave messages unread in my direct message inbox? You shouldn't!
Do I run ads on my social platforms? You should consider it!
If you want to learn more about the ins and outs of a successful social campaign, you can check out our social media resources or give us a call at 888-601-5359 to chat!
3. Analyze your competition
To succeed at social media campaign planning, you'll want to analyze your competition since they'll play a big role in your social media campaign plan. But what does analyzing your competition have to do with your social media campaign planning template?
Your competition shares the same audience as you and offers similar products and services — which is why they're your competitor. That said, you can learn a lot from their social media accounts.
Analyze your competition by paying attention to:
What kind of content they post
How they interact with users
How often they post
What platforms they use
The answers to these questions can inform your strategy by giving you an idea of how your target audience responds to social media activity — what kind of content they like, what platforms they frequent, and what they expect to see from businesses like yours.
Keep in mind that you should never directly copy a competitor's social media content, but you can use them to inspire your own strategy.
4. Audit your current content
You should also take time while planning your social media campaign to audit your current content.
Take a look at things like:
What kind of content you post, and how your followers respond. If you're not getting any engagement on your social posts, it's probably time to switch up your content strategy.
The quality of the content you post. Are you taking a few minutes to write up a piece and posting it just to post? Be sure that you have a strategy behind the content you post to drive the best possible results.
How often you post content. Based on how often competitors post and follower feedback, determine if you're posting often enough for maximum results.
Asking yourself these questions will allow you to make changes to your campaign to make it more successful than ever.
Not happy with your social media engagement?
We've got just the blog post for you.
Read the Blog Post & Watch the Video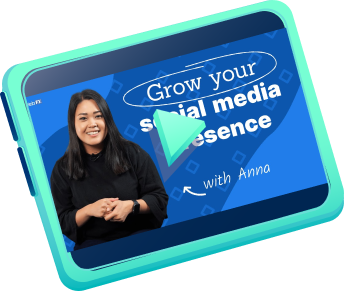 5. Determine the content formats you want to focus on
Next in your social media campaign planning, you'll want to determine which kinds of content formats you'll want to concentrate on moving forward. You should use your goals to help influence this decision.
Check out the table below to see which kinds of content you should post based on specific goals.
| Goal | Content Format |
| --- | --- |
| Increasing website traffic | Links to website |
| Increasing brand awareness | Photos, videos, and graphics about your company culture and brand |
| Increasing revenue and sales | Social media ads |
| Becoming an industry leader | Informational content about industry topics |
| Increasing customer interaction | Interactive content like polls and surveys |
Even with specific goals in mind, you should still monitor your content to see what performs the best.
While your goal might be to increase website traffic, you may realize your audience doesn't respond well to website links. If that's the case, change the format to encourage users to click! There's likely a workaround to ensure you reach your goals while still posting content your audience wants to see.
6. Construct a target persona
Additionally, in your social media campaign plan, you'll want to construct a target persona. A target persona is a fictitious being that represents your target audience. When you create one, it'll allow you to keep your target audience in mind when developing and posting content.
For example, let's say you're in the business of workforce management software. If most of your customers are oil and gas companies, you can create a target persona representing these businesses. When planning content for your pages, think of this persona and the content that would be useful for them.
7. Research industry trends and topics
To appeal to your target persona, research industry trends and topics to see what your target audience wants to read. Are they interested in learning about related products, watching how-to videos, or reading about the history of your industry?
Paying close attention to trending topics will help you cultivate content that appeals to your target audience.
8. Construct a content plan, write, and schedule
After deciding what kind of content will help you reach your goals, constructing a target persona, and researching industry trends, the next item on this social media campaign planning template is constructing a content plan.
By now, you should know what kind of content you need for your social media campaign, so it's time to start producing! Whether you create your content in-house or need a social media marketing agency like WebFX, you'll need to make a plan for said content.
That's where a social media content calendar comes in. After laying out your content, you'll want to consider how often you'll need to post based on follower trends. Then, start scheduling your social media posts.
You can use a social media scheduling tool to help you. Not only will this step ensure you post consistently, but it'll also take out the guesswork of when you should post each week.
9. Optimize your social profiles
If you want your social media campaign to bear fruit, you'll want to optimize your social profiles.
Even though every platform operates a little differently, you'll want to consider the same things for each:
Provide a high-quality profile picture. As a business, you should consider making your profile picture your logo to improve brand awareness.
Provide a high-quality cover photo (where applicable). Some social media platforms provide a cover photo, and if yours does, you'll want to choose one that speaks to your business.
Provide correct contact information (where applicable). If the social platform asks for contact information, like a phone number, email address, or physical address — make sure it's accurate and consistent across platforms.
Provide "about" information. The more info you can give your visitors, the better. Strive to provide a robust "about" section so that users can get to know you.
Keeping these things in mind when optimizing your social profile will help your audience see the best version of your business.
10. Consider running social media ads
Social media ads allow you to advertise to your target audience within their social media feeds.
Although not every social platform offers advertising options, the following do:
Each platform is different and offers its own ads that show up in different locations within the platform. However, most run on a pay-per-click model, which means you'll only pay for an ad when a user clicks it.
Ads are a great way to get users to visit your website — and more importantly — a great way to sell more of your products. This is especially true because 50% of Gen Z and 42% of millennials think social media is the most relevant ad channel.
11. Don't forget to engage with your audience
Engaging with your audience is one of the most critical parts of a social media campaign plan since it builds your brand's community online. Not only that but engaging with your audience will show them that you care and that you want to be a part of the conversation.
You should engage both in the comments of your posts and in your direct messages.
12. Analyze your content after the first month
Analyzing your content is one of the biggest parts of social media campaign planning since it helps you plan for the months ahead. Without analysis, your social campaigns are a dead end. Looking at key metrics will help you understand which strategies work and which ones you can omit next time around.
For example, you should pay attention to things like:
Engagement rates (look at likes, shares, comments, etc.)
Link clicks
Pageviews
Page likes
Post reach
Most social media platforms have analytics platforms baked in, like Facebook Insights.
13. Adjust your campaign based on first report
After analyzing your previous campaign, you'll want to adjust your efforts based on the results. For example, you may realize that your ads didn't get many clicks, which would lead you to change up the ad copy or the visuals.
You might also realize that your posts don't get much engagement, which might lead you to try new captions. If you're unsatisfied with your social media performance, WebFX is always here to help. Just call us at 888-601-5359!
74% of people use social media when making a purchasing decision.
Make their decision easy with a stellar social media presence. See how your brand can level up by requesting a no-obligation proposal today.
One of our experts will be in touch within 24 hours!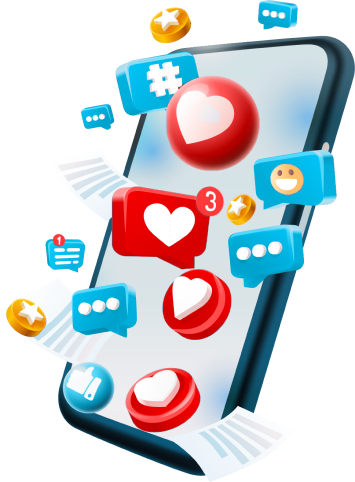 Social media campaign planning got you in a rut? WebFX can help.
If you're overwhelmed by planning your social media campaign, WebFX is here for you!
We've been in the marketing industry for more than two decades, and our 500+ in-house marketers are experts at their craft. We can help tick every box on your social media campaign planning template and ensure that you drive the results you're looking for with social media marketing services.
To learn more, contact us online, or give us a call at 888-601-5359!
Get posts by email
Join 200,000 marketing managers and subscribe to Revenue Weekly!
"*" indicates required fields
WebFX Careers
Join our mission to provide industry-leading digital marketing services to businesses around the globe - all while building your personal knowledge and growing as an individual.