Digital advertising involves many time-consuming tasks, like ad bidding and purchasing. That's why demand-side platforms (DSPs) are a popular alternative to streamlining advertising campaign management for many businesses.
On this page, we'll dive into the ins and outs of DSPs and answer some common questions, including:
So, keep reading to get all your questions answered!
And if you want to streamline your digital advertising campaign to save time and resources for your company, WebFX can help!
WebFX is an industry-leading programmatic advertising agency specializing in implementing and managing effective advertising campaigns that drive sales and revenue for businesses just like yours.
Contact us online or chat directly with one of our strategists by calling 888-601-5359 to learn more about how our programmatic advertising services can take your business to new heights!
We foster and form long-term partnerships so that your business has long-term results.
Over 90% of WebFX clients continue partnering with us into year 2 of their campaign.
Hear from Our Happy Customers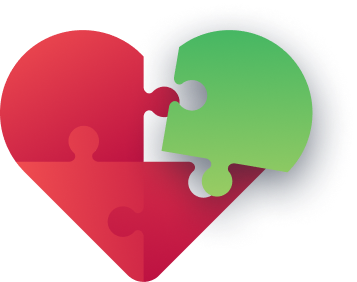 What are demand-side platforms?
Demand-side platforms, or DSPs, are programmatic tools or software that advertisers and ad agencies use to purchase ad space. With DSPs, you can buy a variety of advertisements, including search, social, and video ads, to promote your products and services.
How do demand-side platforms work?
So, how do demand-side platforms work? DSPs help you automate your ad purchasing process. Instead of manually bidding and purchasing ads, a DSP can help you do it all with little effort on your part.
Demand-side platforms also help you manage your ad campaigns across multiple networks instead of just one, like Google Ads. DSPs usually include a variety of tools that can help you manage, optimize, and track your campaigns.
When you use a DSP, you'll first select your target audience and upload the ad you want to publish. Publishers will then make their ad inventories available on the DSP through ad exchanges and supply-side platforms (SSPs).
Next, the platforms offer an ad impression to the DSP. The DSP will then decide to bid on the ad impression based on its relevancy and audience targeting criteria. You'll then bid against other advertisers for the ad impression in real-time.
With a successful bid, your DSP will purchase the ad impression, and your ad will display on the publisher's website.
Why use demand-side platforms?
DSPs make your digital advertising experience easier and more cost-effective. You can use a DSP to control, track, and manage multiple ad campaigns in a single dashboard.
For example, you can manage your Facebook ads and Google ads all in one place. Without a DSP, you would need to control and track these ads in two separate platforms.
With demand-side platforms you can advertise on multiple channels and platforms with ease. You can also measure your results to view which campaigns drive the best results for your company. As a result, you can improve your ad campaigns to earn a higher return on investment (ROI).
Top demand-side platforms to use in 2023
Now that you know the answer to the question "what are demand-side platforms", you might be wondering which DSPs are the best to invest in for your business. Fortunately, we've got you covered.
Here are the top four demand-side platforms to use in 2023:
1. Adobe Advertising Cloud
Price: Custom
Adobe is a tech giant, which is why it's not surprising that the Adobe Advertising Cloud is one of the top demand-side platforms in 2023. With Adobe Advertising Cloud, you can easily manage and track your advertising campaigns all in one place.
Features
Here are some of the main features of Adobe Advertising Cloud:
Automated private ad inventory management
On-demand ad inventory from over 100 networks, publishers, TV broadcasters, and more
Search, social, audio, video advertisements
Advanced audience targeting features
And much more
2. MediaMath
Price: Custom
MediaMath is another excellent DSP platform that enables you to run advertising campaigns across multiple networks and channels with little effort on your part.
MediaMath uses advanced artificial intelligence (AI) to streamline your ad purchasing and management to save you time and resources in the long run.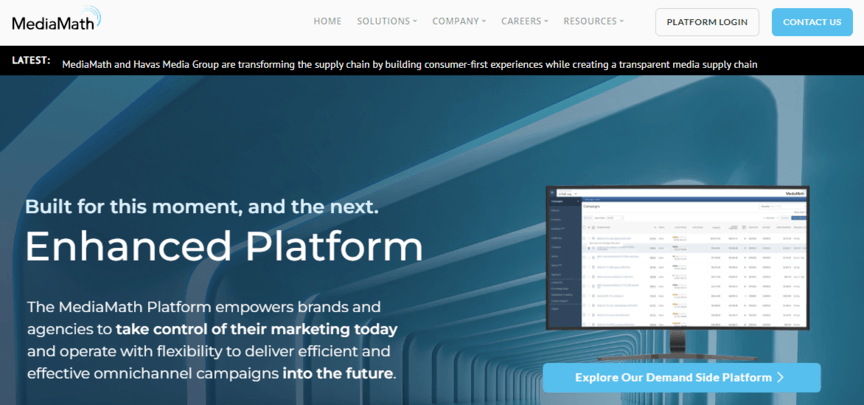 Features
Check out some main features of MediaMath below:
Dynamic budget allocation to streamline your ad purchasing
In-depth reports and analysis of your campaign results
Audience segmentation and targeting options
Advertisements available for purchase from thousands of advertisers and networks
And more
3. Google Display and Video 360
Price: Custom
Next on our list of top demand-side platforms is Google Display and Video 360. Google Display and Video 360 is a premium, paid Google ad management tool that seamlessly integrates your advertising strategies and campaigns into one platform for easy access and management.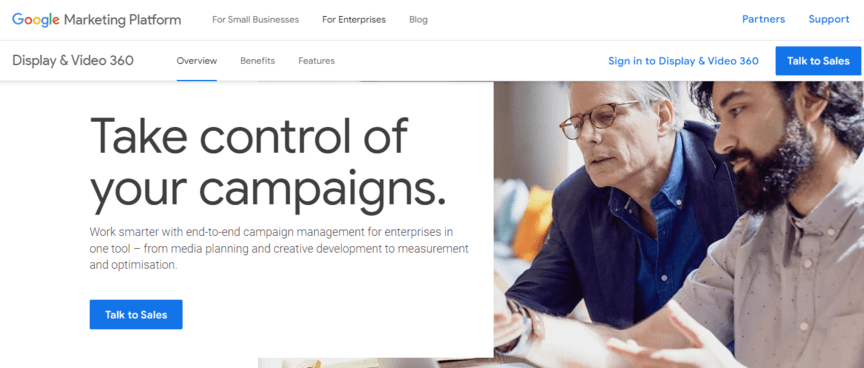 With Google Display and Video 360, you can completely automate your advertising processes. That means you can focus on your other business tasks and still achieve incredible results to boost the success of your company.
Features
Here are some of the main features of Google Display and Video 360:
Media planning workspace to explore ad inventory and publishers across multiple ad types
Reach forecasting to plan your campaigns based on predicted reach and frequency for your audience and budget
Automated bidding process powered by machine learning algorithms designed to drive the best results for your company
Enterprise data solutions for managing and tracking large-scale campaigns and data
And much more
4. Simpli.fi
Price: Custom
Simpli.fi is another excellent DSP that enables you to streamline your campaign management, target your ideal customers, and receive detailed reports to track your campaign results.
From implementing effective advertisements on over-the-top (OTT) platforms like YouTube or Hulu to attention-grabbing display ads, Simpli.fi can help you do it all. If you want to reach your target audience across multiple channels, look no further than Simpli.fi.
Features
Check out some main features of Simpli.fi below:
Choose from a variety of ad types, such as OTT, social media, display, video, and more
Manage all of your advertising channels, such as radio and print, all in one tool
Centralized media planning and buying features
Streamlined project management software to easily measure the success of your campaigns
And more
Learn more about demand-side platforms with WebFX
Do you want to learn more about DSPs and programmatic advertising? WebFX can help!
At WebFX, we have a team of over 500 digital marketing experts who know how to implement revenue-driving advertising campaigns for clients. In fact, in just the past few years, we've helped clients drive over $3 billion in revenue.
And we love to share our knowledge with businesses just like yours.
Sign up to our newsletter, Revenue Weekly, to get top-tier programmatic advertising advice and tips sent straight to your inbox from our award-winning experts for free!
WebFX Careers
Join our mission to provide industry-leading digital marketing services to businesses around the globe - all while building your personal knowledge and growing as an individual.