4 Best OTT Platforms of 2023 to Reach Your Audience
Looking to reach (and convert) your target audience with over-the-top (OTT) advertising, but unsure which OTT platforms to use? Keep reading to learn about the best OTT platforms, which include YouTube, Hulu, Facebook Watch, and TikTok!
Video streaming services make it easy for individuals and families to watch their favorite movies, videos, and TV shows whenever they want.
As the number of households that use cable television steadily declines, the popularity of these streaming services continues to increase. That's why advertising on OTT platforms is essential to reach your target audience.
But what are OTT platforms and what are the best OTT platforms to advertise on? If these questions are currently on your mind, we've got you covered. Just keep reading to learn more!
Bonus: Do you want to get the latest digital marketing and advertising advice sent straight to your inbox? Then sign up for our newsletter, Revenue Weekly! Our subscribers get access to the latest digital advertising trends and tips straight from our award-winning experts!
What are OTT platforms?
Over-the-top (OTT) platforms are free or paid platforms that use the Internet to stream videos, movies, and TV shows to a user's device, which can include a smartphone, tablet, or smart TV. Examples of OTT platforms include YouTube, Hulu, Netflix, Peacock, and Disney+.
The 4 most popular OTT platforms to promote your business
So, what are the best OTT platforms you can use to promote your business and build your brand awareness? Choosing the best OTT advertising platform that suits your business can be challenging.
But it doesn't have to be with our handy list of the most popular OTT platforms you can use to create engaging ads for your target audience.
Check out some of the best OTT advertising platforms below:
1. Facebook Watch
Facebook Watch is a great advertising opportunity for any business. Alongside the social media giant's sponsored newsfeed display ads, you can also use Facebook Watch to create sponsored video ads.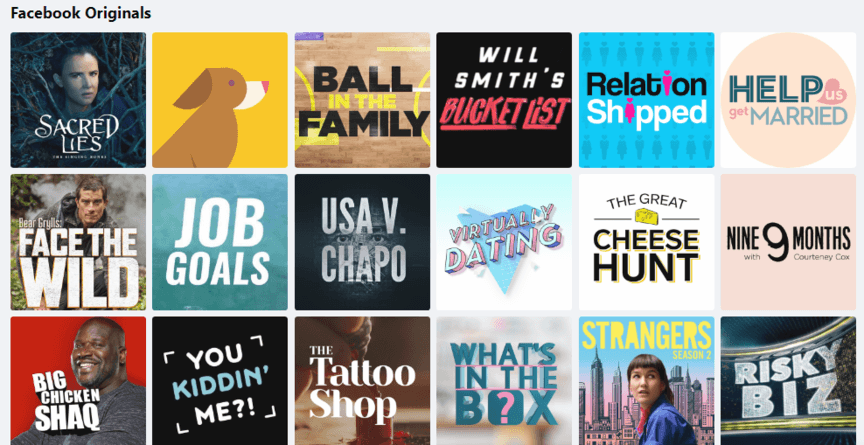 Facebook Watch enables users to browse and watch original shows, live streams, and popular videos in entertainment, sports, and much more. With more than five billion active users on social media platforms like Facebook, Facebook Watch is an excellent OTT platform that can help you reach more members of your target audience.
With Facebook Watch, you can create different types of video advertisements, including:
In-stream video ads: In-stream video ads are advertisements in other video content on Facebook Watch. Usually, the first 15 seconds of your ad will play and then the user can decide to either continue watching your ad or skip to the video.
Newsfeed video ads: When you use Facebook newsfeed video ads, your ad will display in users' newsfeeds as they scroll through their updates.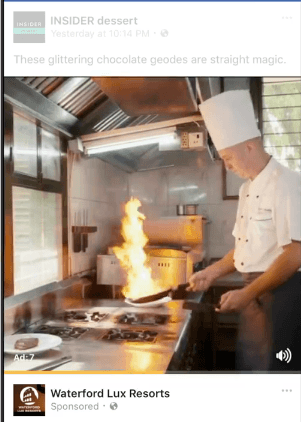 Plus, Facebook Watch offers plenty of audience targeting features that ensure your ads reach users interested in your products and services.
For example, you can target specific users based on their:
If you're looking for a popular OTT advertising platform that enables you to create targeted advertisements to reach your ideal customers on social media, then using Facebook Watch could be a perfect option for your business.
2. YouTube
Did you know there are more than two billion active users on YouTube worldwide? With OTT statistics like that, promoting your brand on YouTube is a must.
YouTube is one of the most popular free video streaming platforms in the world, making it one of the best OTT platforms. YouTube enables both content creators and businesses to earn a profit from video and display advertisements on the platform.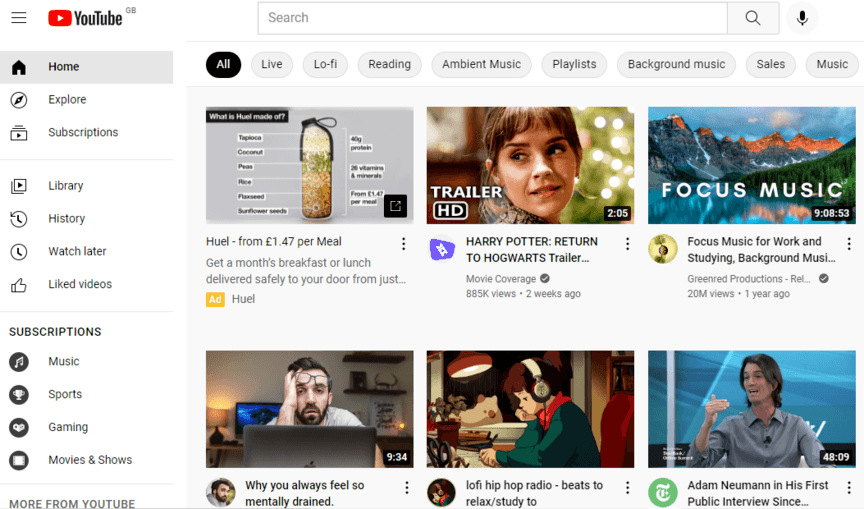 That's because more than 40% of global shoppers purchase products and services they discover on YouTube. So if you're not currently investing in YouTube advertisements, you're missing out on valuable leads and sales for your business.
YouTube offers several advertising options for your business, including:
Display: Instead of displaying in a video, YouTube display ads appear on the right side of a video, above the video suggestion list. With display ads, users can find essential information about your business, such as your phone number and website address, without disrupting their video.
Overlay: YouTube overlay ads are pop-up advertisements that appear at the bottom of a video. Overlay ads enable you to create text ads with images instead of videos to encourage users to click on your ad. As a result, these ads are an excellent way to drive more traffic to your website.
Skippable video ads: Skippable video ads are one of the most popular advertising options on YouTube. These ads can play before, during, or after a video, and users can choose to skip these ads and go straight to their video after about five seconds.
Non-skippable video ads: Non-skippable video ads usually play for 15 to 20 seconds, and users can't skip them. As a result, non-skippable video ads demand users' attention, so you can communicate essential information about your business.
Bumper ads: Bumper ads are like non-skippable video ads. However, instead of playing for 20 seconds, bumper ads generally last for about six seconds. Bumper ads are a great way to share a quick promotion with your target audience.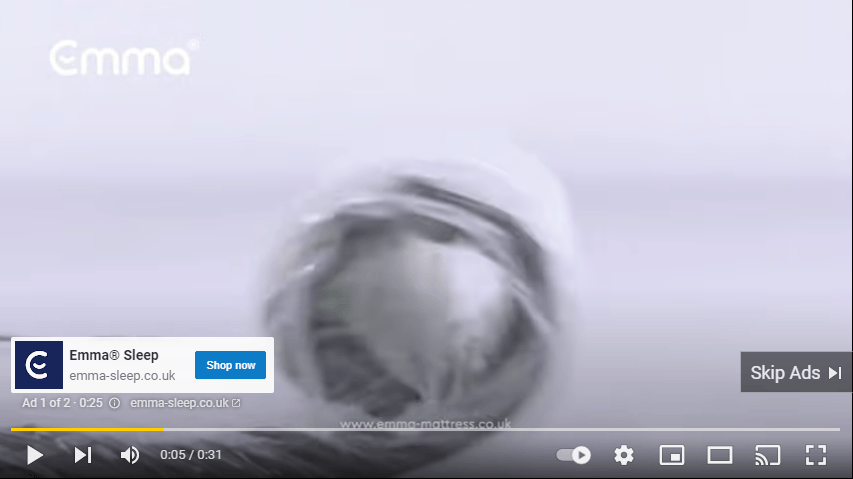 With tons of advertising options, YouTube is one of the best OTT platforms. This platform can help you increase your online visibility and brand awareness by reaching your ideal consumers as they watch their favorite videos.
3. Hulu
Next on our list of popular OTT platforms is Hulu. Hulu is a TV streaming service that allows users to watch live and on-demand TV shows and movies on Internet-connected devices.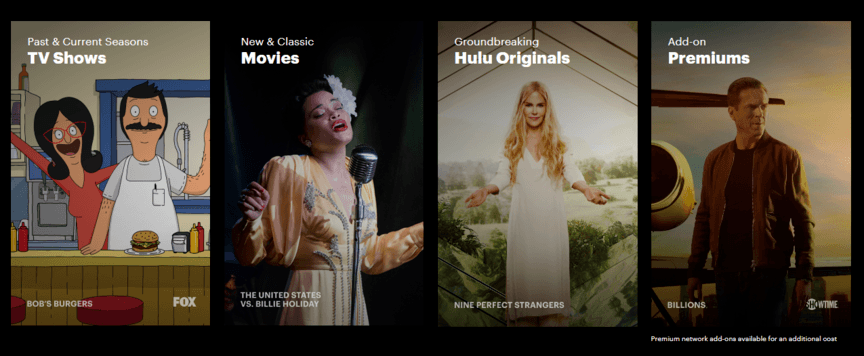 With over 92 million active users with the ad-supported subscription, Hulu is one of the best OTT platforms to start promoting your business. Hulu enables you to reach the users that are most likely to purchase your products and services when they watch their favorite TV shows and movies.
For example, you can target users based on their:
Demographics, like age and gender
Interests
Purchase history
Location, such as their state, city, or zip code
And more
With Hulu, you can also create various types of ads, such as:
Commercial video ads: Hulu's commercial video ads enable you to display a long-form video advertisement during a scheduled commercial break in a show or movie.
Pause ads: Pause ads appear on the user's screen when they press pause on their video. With pause ads, you can create a non-disruptive ad experience for your audience while still providing essential information about your products and services.
Binge ads: Users love to binge shows on streaming services. With Hulu's binge ads, you can create more relevant video advertisements during users' binge sessions. Binge ads usually include phrases such as "Enjoy one more episode with [product or service]" or "Boost your binge experience with [product or service]."
Interactive living room ads: Interactive living room ads provide your audience with an interactive and engaging experience. Viewers can click through your interactive ad to explore your promotion and view your latest products and services. As a result, interactive living room ads can grab users' attention and keep them engaged to continue to learn more about your business.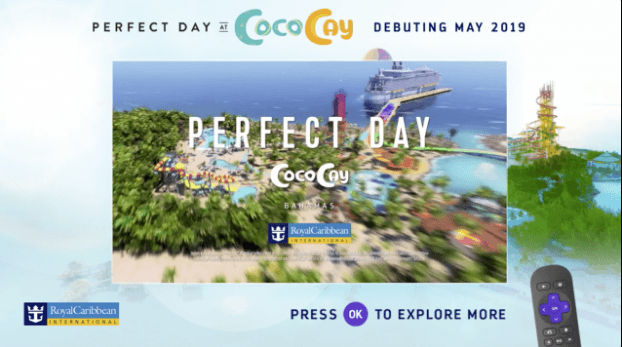 If you want to reach more members of your audience on one of the most popular OTT advertising platforms, then Hulu is an excellent choice for your business.
4. TikTok
TikTok is full of thousands of videos for users to enjoy countless hours of entertainment, which is why it's on our list of the best OTT platforms.
With over one billion active users, TikTok is another excellent advertising platform that can help you create targeted ads that engage your audience and encourage them to convert into paying customers.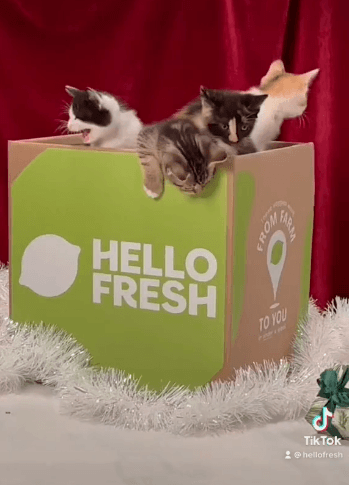 With TikTok, you can create various types of advertisements, including:
Image ads: Create ads that feature an attention-grabbing image and text that appear in users' newsfeeds as they scroll through videos.
Video ads: Create an engaging video that promotes your products and services with TikTok's video ads. They can play for five to 60 seconds in a user's "for you" feed.
Carousel ads: Similar to image ads, carousel ads run in TikTok's news feed apps and can contain up to ten images that users can swipe through to explore multiple products and promotional messages.
TopView ads: TopView ads enable you to display a video advertisement that appears as a full-screen takeover for five to 60 seconds when a user opens the TikTok app.
If you're ready to start promoting your brand on an OTT platform that's only growing in popularity, then advertising on TikTok is a must.
Time to Level Up Your Sales
Our long list of services helps you grow every aspect of your business with marketing strategies that are proven to increase bottom-line metrics like revenue and conversions.
In the past 5 years, we've managed more than 12.9 MILLION transactions across our client base.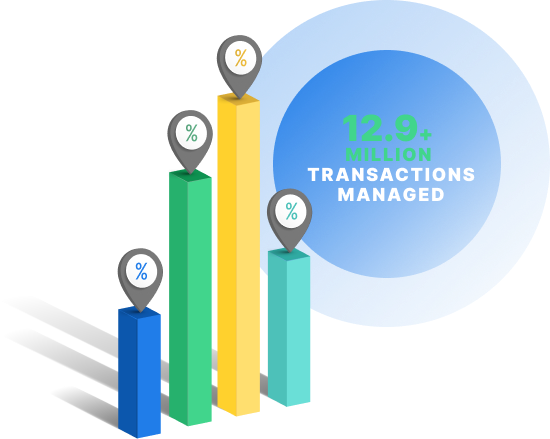 FAQs about OTT platforms
Browse our FAQ to learn more about OTT platforms:
Can you advertise on OTT platforms?
Many OTT platforms also enable businesses to pay for digital advertisements to promote their products and services to users who stream videos on the platform.
With the right advertising strategy for your business, you can use OTT platforms to expand your reach and promote your business to more members of your target audience to boost your sales and revenue.
What is OTT advertising?
So, what is OTT advertising anyway? OTT advertising stands for over-the-top advertising. It's the practice of promoting your business through advertisements on video streaming services and platforms. With OTT advertising, you create ads that display when users watch streamed content.
This form of advertising enables you to promote your brand on popular OTT platforms, like YouTube, Vimeo, Tubi, and Netflix.
Where do OTT ads appear?
With OTT advertising, you can create attention-grabbing video advertisements that play before, after, or during the user's selected video. OTT platforms also enable you to create display ads with images and text that appear throughout the platform.
Expand your reach by advertising on the best OTT platforms with WebFX
Do you want to promote your business on OTT advertising platforms, but aren't sure how to get started? That's where WebFX can help.
WebFX is an industry-leading digital advertising agency that has a team of over 500 award-winning advertising experts. Our team will take the time to get to know your business to develop personalized advertising strategies that will help you achieve your goals.
Plus, we can identify the best OTT platforms that enable you to reach the consumers who will provide the most value for your business. We've helped clients drive over $3 billion in revenue with our advertising campaigns, and we can help your business achieve incredible results too.
Get ahead of your competitors today with top OTT advertising services from WebFX. Speak with one of our strategists by calling 888-601-5359 or contact us online to learn more about how we can help grow your company.