Think about the last time you purchased a product or service online. Did you come across a paid advertisement and feel convinced enough to buy it? Probably not!
Instead, you might have researched the company or the product online. You probably browsed several product reviews and customer testimonials before deciding to purchase. And you're not alone — 92% of Americans read online reviews before making a purchase.
Shoppers generally harbor skepticism regarding outbound marketing, so inbound marketing strategies like the flywheel principle are becoming increasingly popular. Keep reading to learn more about how flywheel marketing differs from funnel marketing and why it's vital for your online marketing strategy.
And if you want to get more tips and tricks for marketing your business online, join 190,000 smart marketers by subscribing to Revenue Weekly!
For digital marketing advice on the regular, subscribe to the email that more than 190,000 other marketers trust: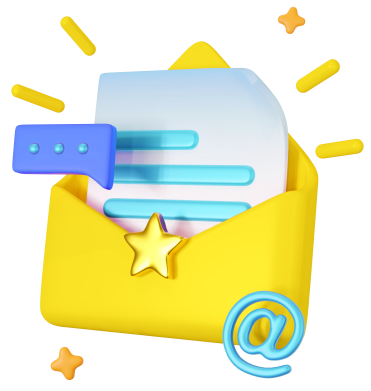 What is flywheel marketing?
Flywheel marketing is an inbound marketing strategy that places customers at the center of your marketing efforts. Your customers then become the momentum or mechanical energy that drives your business forward.
The marketing flywheel has three spokes:
Attract: Attract leads with engaging, helpful content.
Engage: Engage and nurture your leads to foster trust and convert them into customers.
Delight: Delight your customers by continuing to market products of interest to them.
Flywheel marketing vs. sales funnel marketing: What's the difference?
If your company uses a sales funnel to guide prospects towards conversion, you may wonder why you should consider using the flywheel. While the flywheel and sales funnel approaches focus on moving people from prospect to customer, the procedure differs significantly.
With the sales funnel, you focus on moving people down through the funnel to the different stages. As they move through these stages, they often move on to dealing with other members of your team. They may go from talking to the customer service team in one stage to talking to a sales representative in another.
So, why is this system problematic?
With the sales funnel, there are typically four stages (from top to bottom):
Awareness
Interest
Consideration
Action
Many people move between these stages as they decide who's the best fit for them. The path to the bottom is not linear –– many people hop between stages before ultimately making their decision. As it currently stands, the sales funnel doesn't accurately represent the customer journey.
Additionally, the sales funnel doesn't account for loyal customers. While some sales funnels include "Loyalty" as a fifth stage, there is no dedicated pathway for creating a cycle of repeat customers.
That's where the flywheel differs.
With the flywheel, the customer is at the center of the model. This model focuses on taking prospects from strangers to promoters. It follows the cycle people take going from prospect to customer but using that momentum to create new customers and prospects from current, loyal customers.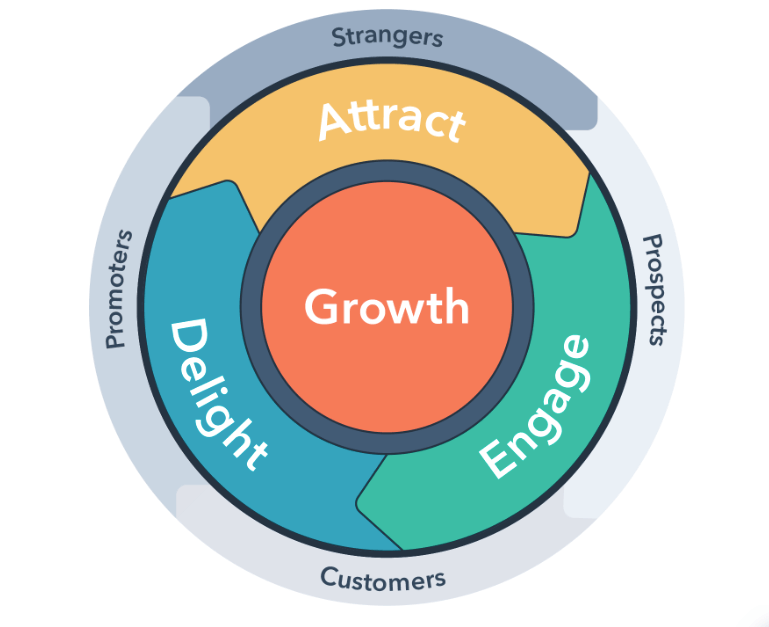 This customer-focused model focuses on customer happiness and sees those customers as a useful channel for helping spark growth.
Essentially, this model promotes a continuous growth cycle and focuses on loyal customers.
Why should you use flywheel marketing?
Not sure why you should use the flywheel marketing model? Here's why you'll want to consider it over your traditional sales funnel:
1. It helps you earn more qualified leads
With flywheel marketing, the customer or client is at the center of focus. Every marketing action you take focuses on delivering the best experience for them, so they'll refer others to your business.
When leads think about purchasing a product or service, they often refer to friends and family members about their experience with a company. When you put your customer at the center and focus on delivering the best experience, they're more likely to refer you to their friends and family.
As a result, you earn more qualified leads for your business.
2. It helps build interaction with your entire team at once
As we mentioned earlier, a significant drawback of the sales funnel is that people interact with different entities of your company at different stages. They may interact with customer service in one stage, sales in another and marketing in another. And when they're bouncing between stages, it can create a confusing experience.
With the flywheel model, all team members interact with the prospect at every part of the cycle. It creates a more cohesive experience that pushes people through the cycle.
3. It helps you maintain loyal customers
As we mentioned earlier, the flywheel marketing setup helps you maintain loyal customers. Retaining loyal customers is critical because it costs less to keep loyal customers than to obtain new ones. If you think about it, these prospects already showed interest in your business by purchasing your products!
The traditional sales funnel doesn't account for maintaining loyal customers, leading you to spend more money trying to continually earn new customers. With the flywheel marketing setup, you focus on earning new customers and maintaining the current ones.
This process leads to higher retention, which increases your return on investment (ROI) for your marketing strategies.
Partner with WebFX to leverage flywheel marketing
Flywheel marketing is the future of inbound marketing. As a forward-thinking flywheel marketing agency, WebFX can help you level up your inbound marketing technique.
We specialize in comprehensive digital marketing solutions — from social media marketing to content marketing and beyond. We'll help you leverage customer delight to drive your business forward.
Reach out today to get a quote, or call one of our strategists at 888-601-5359 to learn more!