In this video, Bo from the WebFX Internet Marketing team will tell you all about how to market your services online, so you can earn more leads and revenue.
Transcript: Hello, fellow service providers! Ready to learn how to market your service business online? I'm going to cover some of our favorite digital marketing strategies here at WebFX, so you can start increasing your leads, customers, and revenue — just as we have with our own marketing efforts. First, you should probably know the most common tactics you can use to promote your business online. After that, I'll dive into some more specific strategies, so you don't want to skip out on me now.
5 common service business marketing strategies
These five core strategies have been around for a while, but they're still very relevant to your marketing.
When you want to learn something new or get an answer, where do you turn? Probably a search engine like Google. In fact, one study found that organic search—which is what we call unpaid traffic from search engines—makes up over half of all traffic to websites. SEO aims to help websites show up in search results for relevant queries so they can capture a portion of that web traffic.
A great SEO goal for your service business marketing is to get on the first page of search results when people are looking for specific services or researching topics related to your services. Your content marketing strategy plays a big part in this, and I'll elaborate more on that in a bit.
Ugh, ads. Am I right? No. I'm not right. When you do your research and create a campaign targeting the right audience, you can see increases in brand awareness, leads, phone calls, or any other metric you've decided to hit. Digital advertising can include text-based ads, video ads, and even image or graphics-based ads.
You'll see paid ads across the web, including on social media, in search engines, in your email, and on other websites. As a service business, you likely have access to Google's Local Services ads, which aim to help you show up when people are looking for services you offer. You can learn more about Local Services ads (and if you qualify for them) in our video on that topic.
Informative, thoughtful content can help you foster long-lasting relationships with potential customers. It can establish you as a leader in your industry, meaning more people will trust your business to get the job done. And you need content to show up in the search results. Your content marketing strategy may include blog posts, downloadable guides, videos, infographics, podcasts, books, or any other form of information presented online.
You don't need to be on every social media platform, but you should be on the ones your target audience uses. Social media marketing ties in with your content marketing strategy in that you can take what you've created and publish it on Facebook, LinkedIn, or whatever you use to get more exposure for your brand. Social media is free unless you're running social media ads. But even then the cost is whatever you want it to be. What I mean by that is you can set a budget that works for you across your social accounts and adjust as needed when you're advertising your services on social media. So if your service business gets a lot of customers from non-paid channels during the summer but needs some extra promotion in the winter, you can adjust your ad spend to work with your business operations.
Investing in great web design matters a lot. Did you hear me say "great web design?" Yeah, Having a website is good, but the actual website has to be great. What do I mean by great? For one, it actually has to work, meaning no error pages, no broken buttons, and no weird layout. Your website needs to look good, too.
And trying to navigate your site shouldn't make people want to flip a table. For service business marketing, your website should also have a way (or multiple ways) for people to contact you. So those were five of the best marketing strategies for service businesses. But I'm not done yet. I have three tips for how you can use those strategies to see significant results for your service business.
3 tips for how to market a service business online
1. Create content for people in all purchase stages
In a dream scenario, someone lands on your website, looks at your homepage, and decides to contact you for your services. But most people don't have a straightforward journey like that. They land on one website, decide they need more info, then go to another. And then they disappear for a week, only to come back looking for more information.
Maybe, just maybe, they sign up for a newsletter or fill out a contact form. We like to talk about marketing funnels, in which you move people from the awareness stage at the top of the funnel to the purchase and retention stages all the way at the bottom. Creating content for each stage of the funnel can help nurture leads so that they choose you when they're ready for your services. Say you're an electrician and one of my wall outlets stopped working. I open up a search engine, type "why isn't my outlet working," and see a bunch of informational articles. One of the SEO-optimized pieces of content you wrote appears at the top.
After reading your blog post, I decide I should hire a professional so I don't electrocute myself. Now I'm in the next stage of the funnel, and I'm considering my options. I'm budget-conscious, so I go back to the search engine and type "cost of electrician services." Another one of your pages shows up at the top. I click it, read, and I'm thinking about giving you a call.
I just need that final push. On your website, you have testimonials and reviews from many satisfied customers. I check those out and finally decide to give you a call and become a customer. As you've seen, research is an important part of the buying process. And again, not every customer journey happens as quickly as the one in the example I just outlined. People can take months to fill out a contact form, and then they might not make a final decision for an even longer period of time. If your services focus on business-to-business (B2B) companies, whoever is doing the research likely has to have their decision approved by their higher-ups, and they may be looking for a long-term partnership. But when the decision-maker is ready, you'll have the information they need to be certain your business is "The One" for them.
A hole in your marketing funnel will drain your sales.
Learn how to patch it with our free tool.
Fix Your Marketing Funnel

2. Be transparent about your services
If you tell people what you'll do with their investment, they'll feel much more comfortable giving it to you. Create content that explains your services in detail. Answer any common questions you hear from existing customers. Address pain points you've recognized through your work. And please, please, cut out the industry jargon.
Keep your explanations as simple and uncomplicated as possible. You can also visually show people what you do on the job. If you go on service calls, make a video showing what that's like. Put together a series of photos of your team at work. Let your audience virtually meet your team through your website content, social media posts, and your other content marketing efforts.
3. Directly engage with your audience
Marketing a company online is all about relationships, so use your strategy to start building them. Try to engage with the people who have taken the time to send you an email or give you a call. The whole point of learning how to market a service business online is to grow your business, and responding to legitimate inquiries is just a great way to do that. If you're on third-party platforms that include reviews, respond to both good and bad reviews. Show that you care and actually want to hear what your customers say. Definitely don't blow up at someone who shares a negative review.
You might want to. Trust me, I know. But the consequences aren't worth the instant relief of a snarky response. Check your messages on social media, and if you get too many, consider setting up a chatbot. And now…you can't forget about responding to comments.
Again, you may get good and bad feedback. Just breathe and stay calm, or hire a digital marketing agency to be calm for you. Either way, don't let your audience feel ignored.
Using all of the strategies I've explained, you're sure to do some of the best marketing for your service business
If you liked this video, give us a big thumbs up and smash that subscribe button. Or, you can just click it.
We post videos every Monday. Yup. Every Monday.
Join the 5,000 marketers who get their marketing knowledge from WebFX videos.
Subscribe Now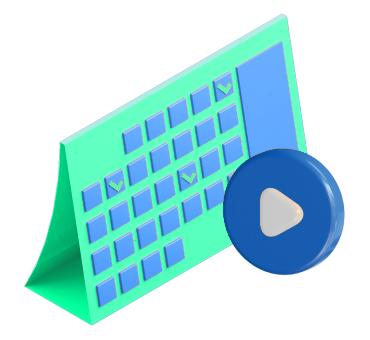 And for more digital marketing insights delivered to your inbox,
subscribe to our Revenue Weekly email newsletter
.
Thanks for joining me today!
WebFX Careers
Join our mission to provide industry-leading digital marketing services to businesses around the globe - all while building your personal knowledge and growing as an individual.