YouTube Analytics is YouTube's data reporting tool that lets creators track their channel performance. The Analytics platform can help you identify new areas of opportunity for your company's video strategy and fix any areas that need updates. It can be a bit daunting at first if you don't have experience using analytics software, but we have a breakdown of the most important elements to get you started.
We post videos every Monday. Yup. Every Monday.
Join the 5,000 marketers who get their marketing knowledge from WebFX videos.

Subscribe Now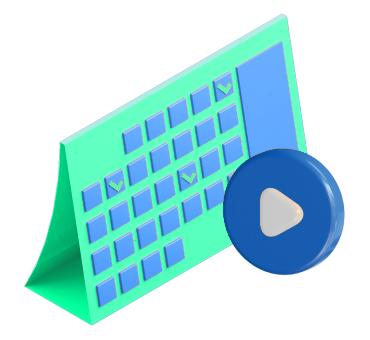 How to access YouTube Analytics
If you have a YouTube channel, you can access the YouTube Analytics dashboard from YouTube Studio. When you're in YouTube Studio, go to the Analytics tab of your channel dashboard.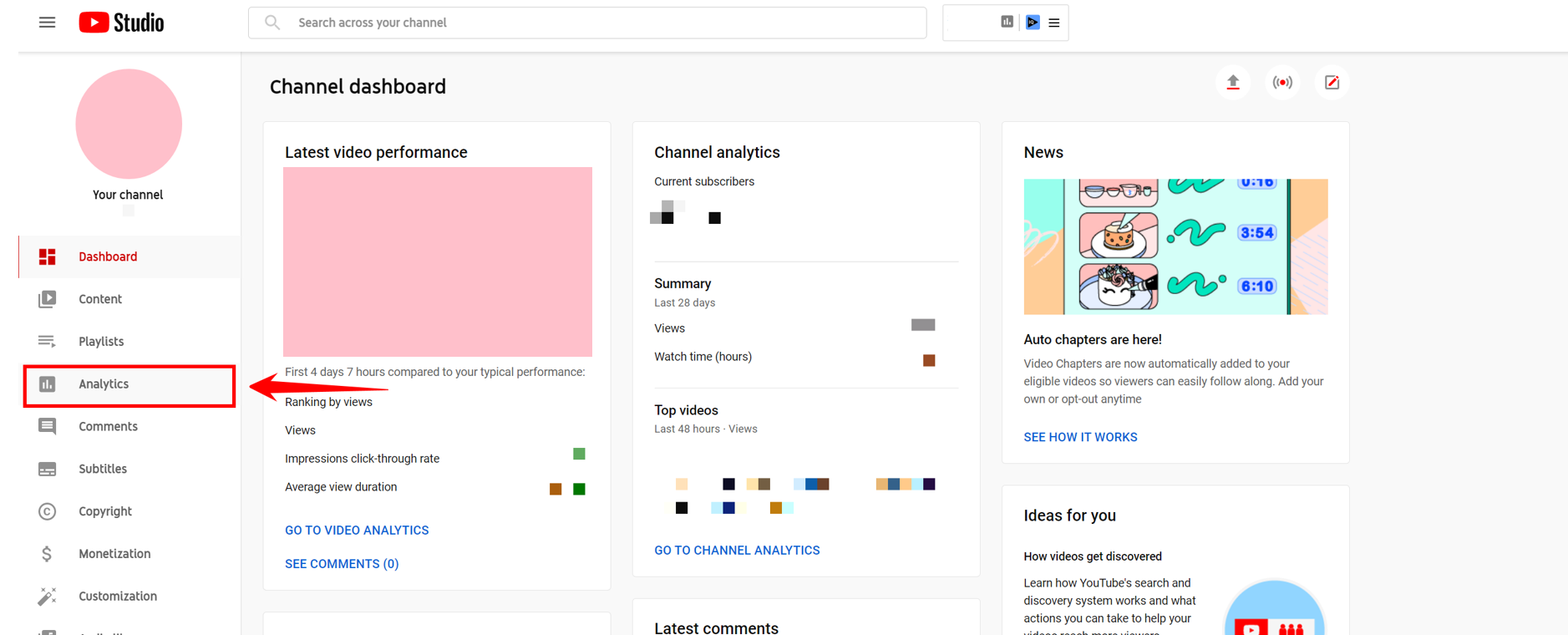 In the analytics section of your dashboard, you'll first see a general overview of your channel, including your top videos, live viewer data, and your latest video's performance.
For more detailed metrics, you can either select "Advanced Mode" in the main dashboard or "See More" in the channel overview box.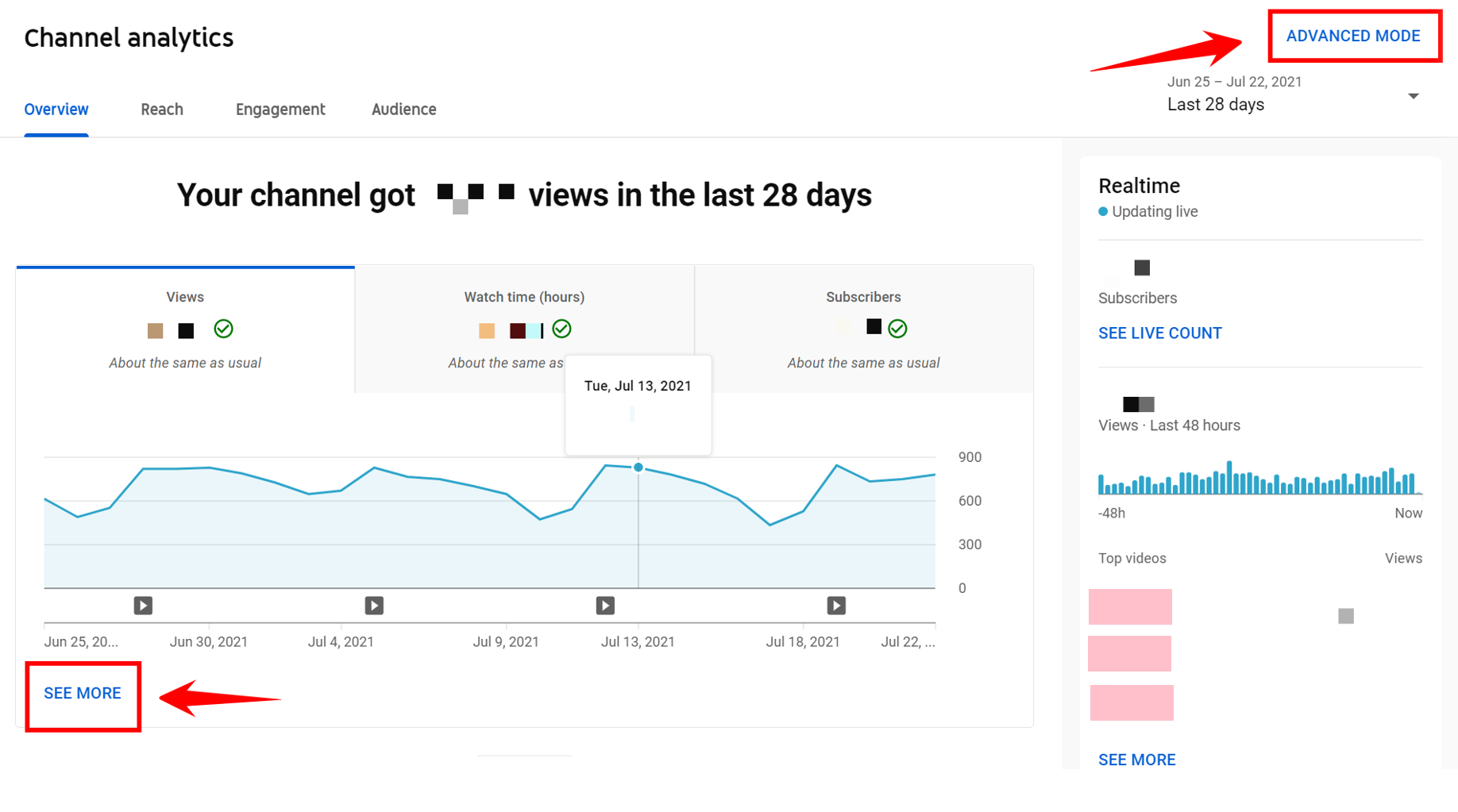 Clicking either of those links will take you to a more detailed version of YouTube Analytics. In advanced mode, you can view your channel data as either a line graph or a bar chart.

You can use the drop-down boxes to see different pieces of data, including channel views, video click-through rate, impressions, subscribers per video, and more.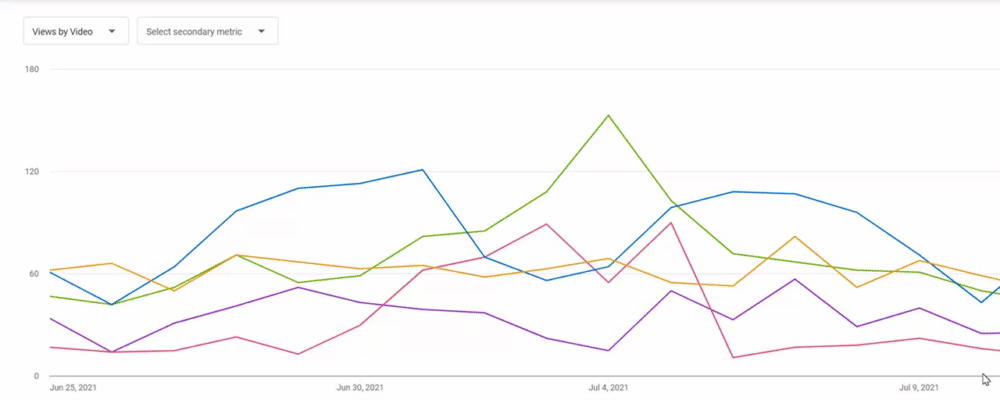 Below the graph, you can see your chosen metrics, separated by video.

YouTube Analytics provides you with important pieces of data for your strategy, but some are more important than others. Now that you know how to navigate the dashboard, we'll dive into four important metrics you should pay attention to when reviewing your YouTube channel analytics.
4 important metrics in YouTube Analytics
You can gather detailed data about your channel and individual video performance through Advanced Mode in YouTube Analytics. While looking at your video views is a good indication of each video's popularity, pairing the view count with other metrics can give you a better idea of whether your content works for your audience.
1. Impressions click-through rate
Impressions click-through rate (CTR) tells you the percentage of people who clicked on your video when they saw the thumbnail. The number of impressions is mainly counted on YouTube and does not include people who viewed your thumbnail on other platforms (like your own website). According to a survey from Databox, the average YouTube CTR sits at about 4-5%. You can view CTR for all of your videos using the YouTube Analytics Advanced Mode.

If your CTR is lower than expected, try:
Changing your video's thumbnail

Updating your video's title
Making your thumbnail pop in the search results or using power words in your title can draw more people to your video. Just make sure your thumbnail and title accurately reflect the content of your video.
2. Average percentage viewed
Average percentage viewed takes your view count to the next level. This number tells you how much of your video people are watching on average. A higher percentage means your videos are keeping people interested, which will ultimately help your content appear for an increased number of relevant YouTube searches. Many sources disagree on what number represents a good percentage viewed. Consider getting a baseline average for your channel, which you can find using the Advanced Mode of your YouTube Analytics dashboard.

You can pair this metric with YouTube's audience retention chart to see where people drop off.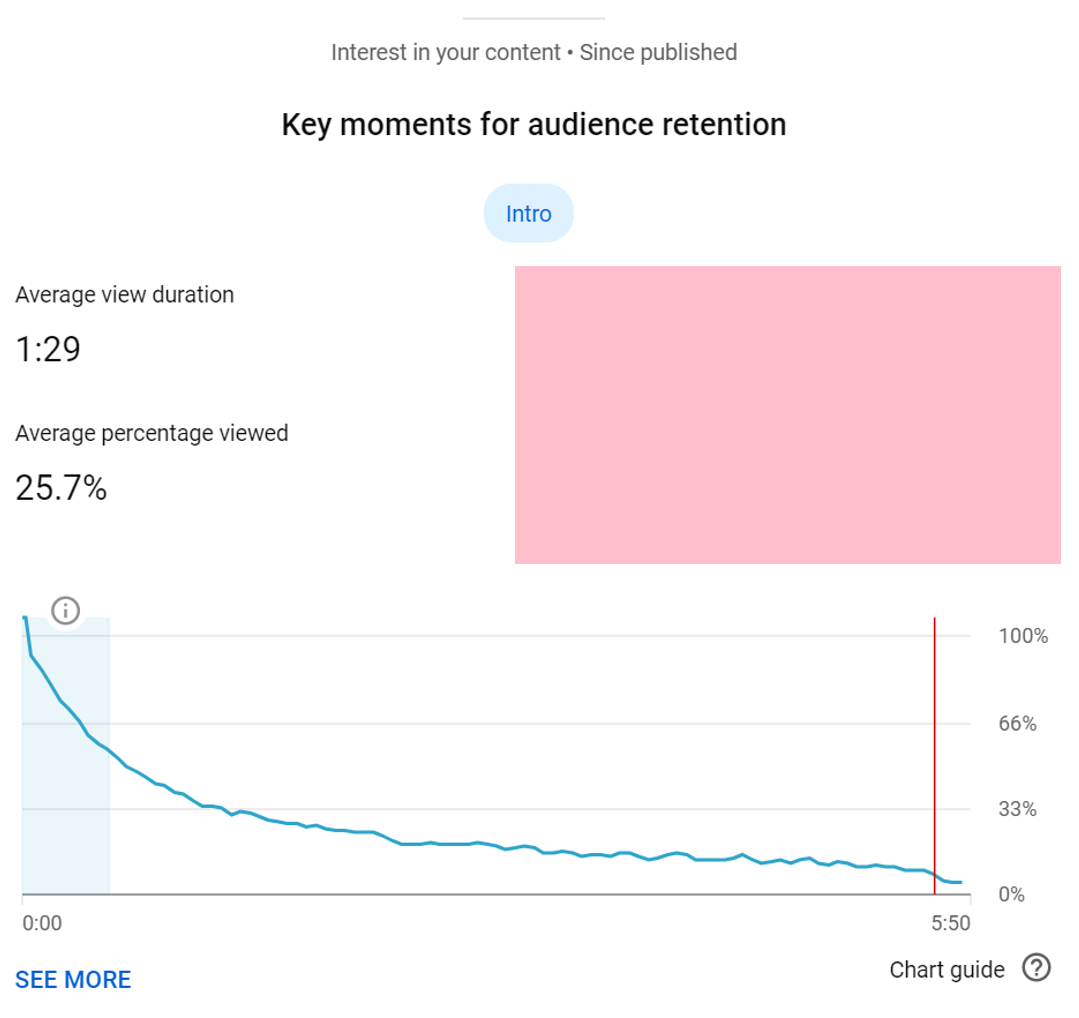 When you know where your channel stands, you can figure out how to build on your current performance. One reason people may not be sticking around is that your video metadata (i.e.
your title, description, and thumbnail) do not completely represent the content of your video. If you find that to be the case, make some adjustments and measure your progress.
3. Traffic source
Knowing where your audience is watching your videos can help you figure out how to optimize them best. You can access the traffic source report for your channel through YouTube Analytics advanced mode. Select "Traffic source" to see an overview of where people are finding and watching your videos.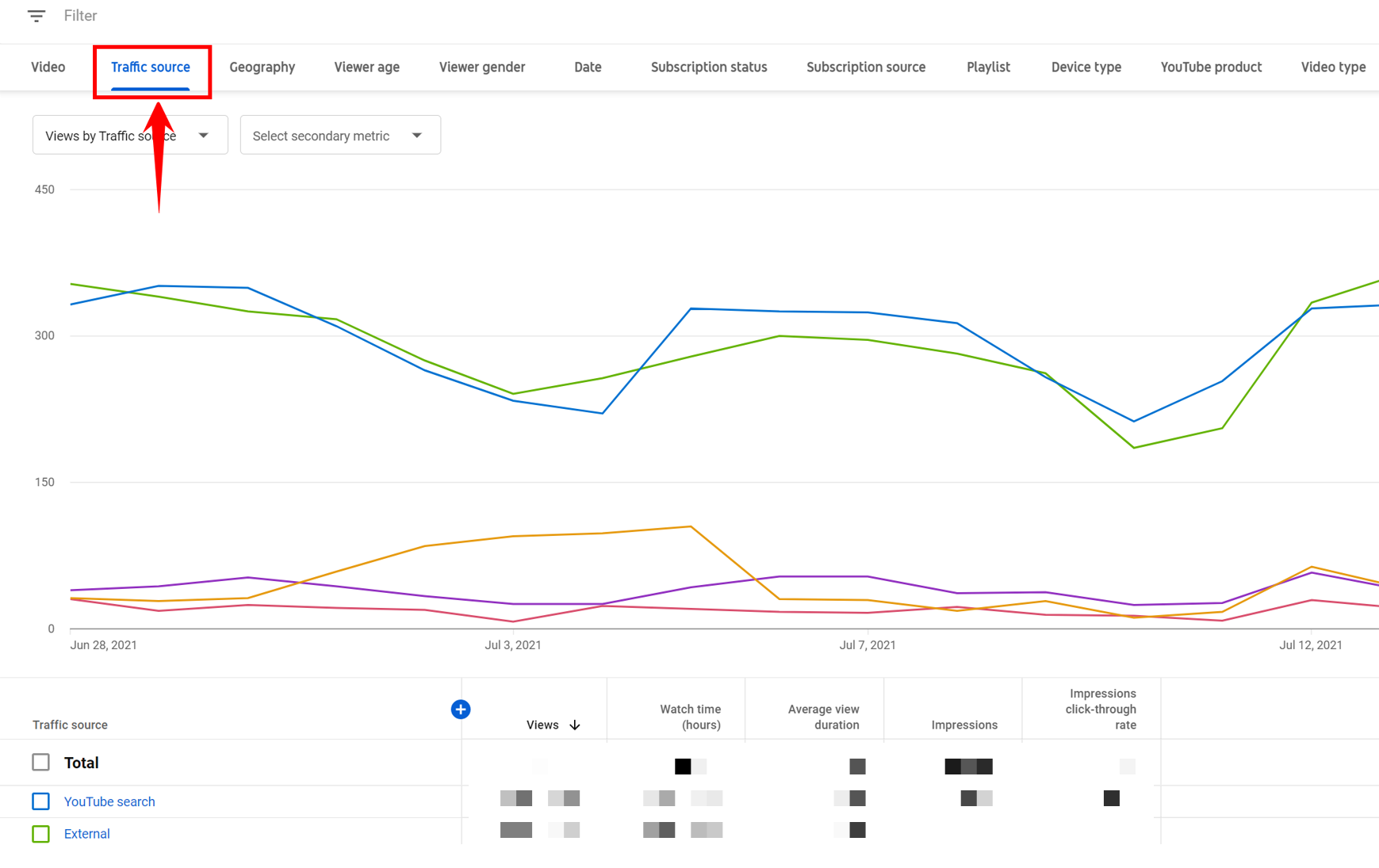 You can click through the different sources that appear to see more details. If you want to view popular keywords people use to find your videos, for example, you can click the "YouTube search" option.

You can also view traffic sources for each individual video by opening up that video's analytics either in advanced mode or in the standard dashboard.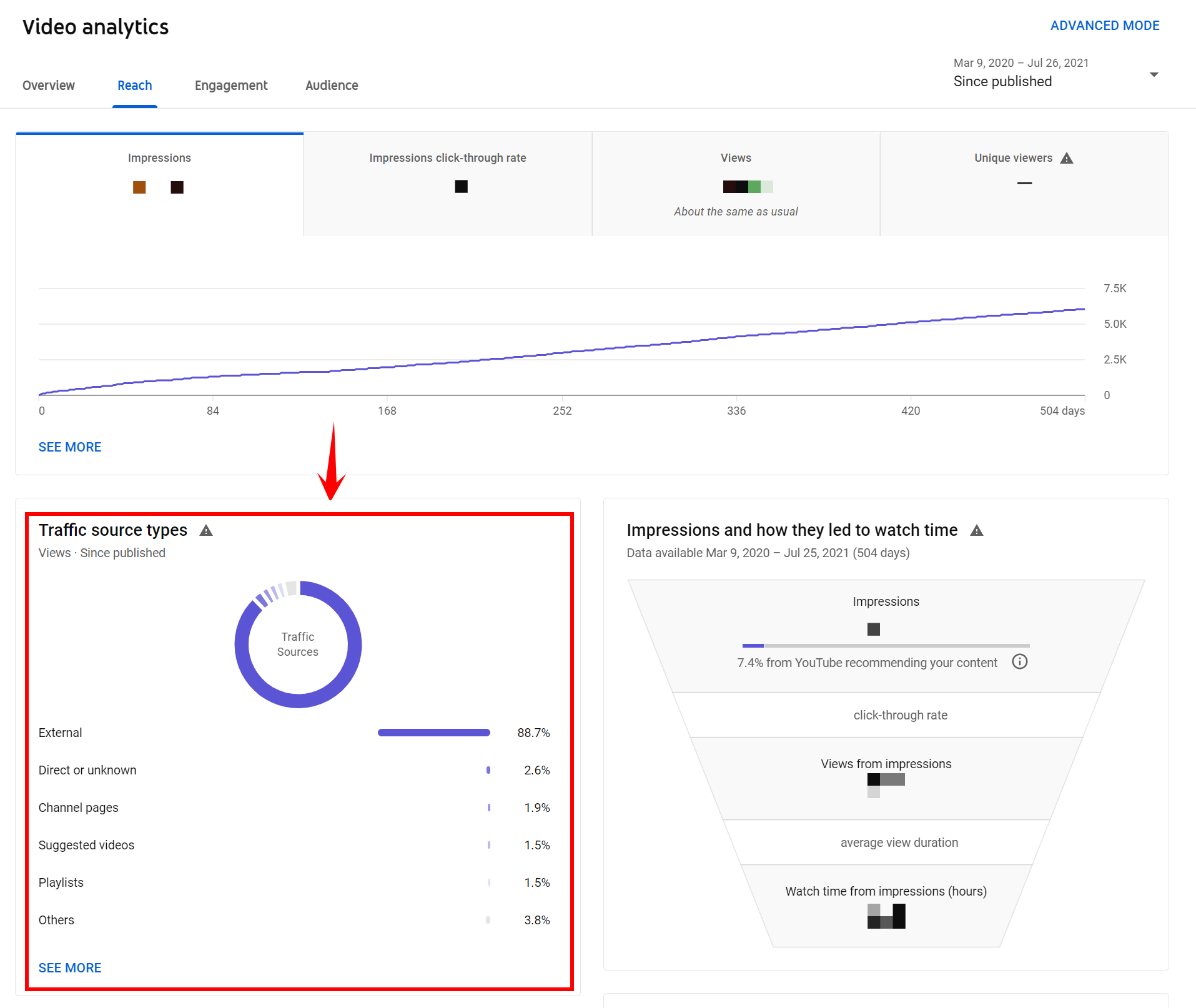 If you notice a lot of views coming from videos embedded on your website, it might be a good idea to promote more of them there.
If your YouTube search presence isn't as strong as you'd like, take some time to optimize your videos and your channel. Additionally, don't hesitate to share your videos on social media, in your email marketing strategy, or anywhere else you can reach your audience online.
4. Subscribers
When someone subscribes to your YouTube channel, that usually means they enjoyed your content and they want to come back for more. If your channel is just starting out, don't be frustrated by a lack of subscribers. It takes time to build an audience, and not everyone hits it big immediately. If the content you create is interesting, helpful, and high-quality, people will keep coming back. You can view a live count of your subscribers when you first open your YouTube Analytics dashboard.

In Advanced Mode, you can see a breakdown of how many subscribers each video brings to your channel.

You can learn where most of your subscribers come from by clicking the "Subscription source" tab in Advanced Mode.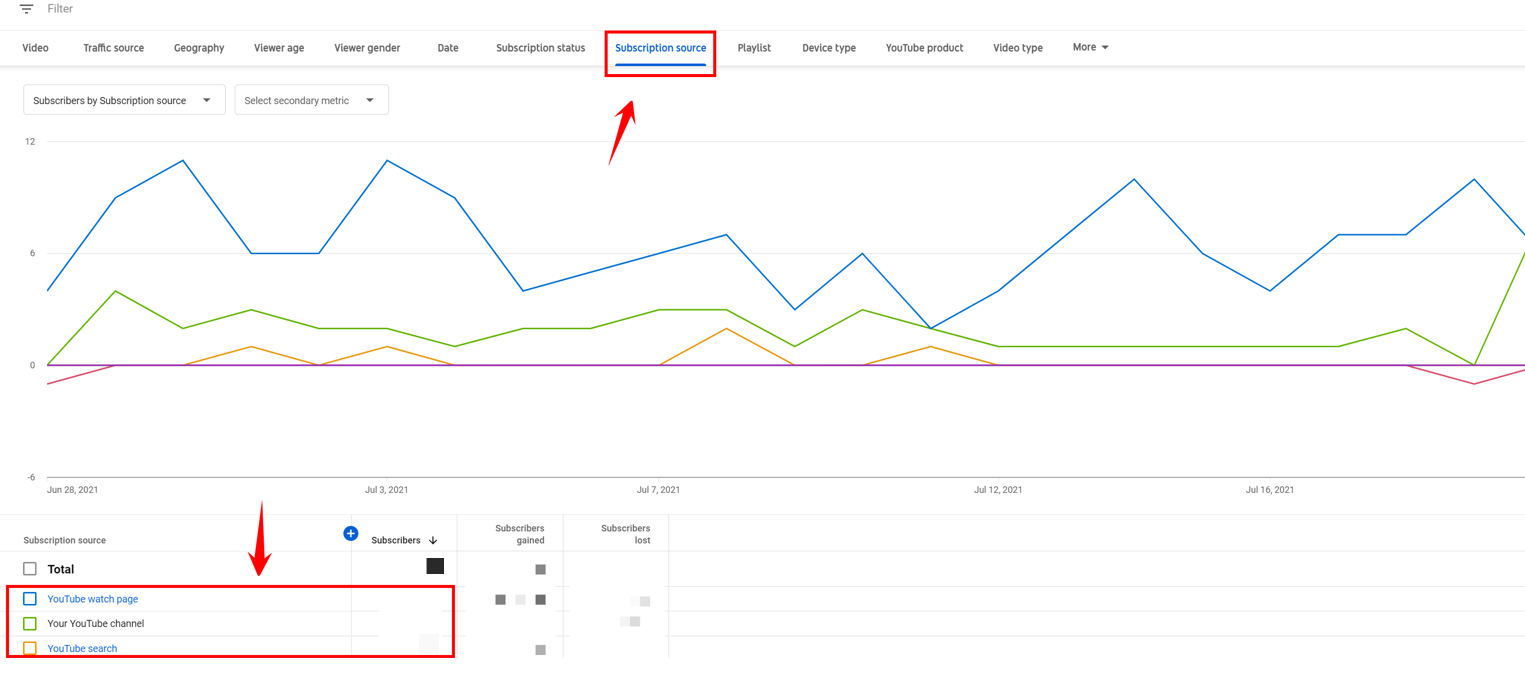 If you notice certain videos drive the most subscribers, try to figure out why. Did you try anything different?
Did you include an introduction? Is the music more upbeat? Take your findings and apply them when you're making new videos. All four of these YouTube Analytics metrics can help you see the bigger picture of how well your strategy is working. Don't be afraid to explore your YouTube Analytics dashboard and read more about other YouTube Analytics metrics. You have a lot of information available to you on YouTube that will help you become a more successful content creator.
Connect with the YouTube Analytics masters at WebFX!
If you're looking for a team of content creators to help with your video marketing strategy, don't hesitate to reach out to us at WebFX! We'd be happy to discuss how you can use YouTube to grow your business.
How is your website's SEO?
Use our free tool to get your score calculated in under 60 seconds.
Get posts by email
Join 200,000 marketing managers and subscribe to Revenue Weekly!
"*" indicates required fields
WebFX Careers
Join our mission to provide industry-leading digital marketing services to businesses around the globe - all while building your personal knowledge and growing as an individual.