On-page SEO is a magic bullet in the world of marketing. Not only does it help improve your page for readers, but it also helps improve your page for Google — landing you higher rankings in results pages. But what on-page SEO strategies do you need to implement to see results?
Our on-page SEO checklist will outline the most important strategies that help you rank highly on Google. We'll also talk about the basics and answer questions like:
Why is on-page SEO important?
What's the difference between on-page and off-page SEO?
So, if you're ready to get started, keep reading for our complete on-page SEO checklist for 2023! If you'd like to speak directly with an on-page SEO specialist, feel free to give us a call at 888-601-5359!
Bonus Reading: How to Improve On-Page SEO
On-page SEO checklist precursor
Before we get to our 2023 on-page SEO checklist, let's first talk about the basics.
What is on-page SEO?
On-page SEO is any site optimization that takes place on your website. These strategies are ones that you can control.
We'll talk more about specific on-page SEO strategies later, but for now, it's important to understand that on-page SEO is made up of strategies that take place directly on your website.
Why is on-page SEO important?
On-page SEO factors are paramount to a successful online presence. In short, these strategies work together to make your site more appealing to Google, which leads to increased search engine rankings, more website traffic, and more leads and sales. Without taking on-page SEO steps, your website likely won't show up in search engines — making it difficult for your audience to even find you online.
What's the difference between on-page SEO and off-page SEO?
As we mentioned earlier, on-page SEO strategies are those that take place on your website.
At this point, you're probably wondering what kind of SEO strategies take place off your website, and the short answer would be off-page SEO. These strategies are more out of your control and include strategies like:
Influencer marketing
Social media marketing
Link building
Off-page strategies are equally important since they help you build links to your website — helping you to build domain authority and trust.
Bonus reading: On-page SEO checker
Our all-inclusive 2023 on-page SEO checklist
It's time to dive into our on-page SEO checklist for 2023. Keep in mind that you'll see the best results when you use every item on our checklist!
1. Create a lot of content, often
If you believe that content is overrated, you couldn't be more wrong. Consider this — Google ranks content from websites in industries from around the world. These websites, however, couldn't rank if it wasn't for their website content.
In order to show up on Google, you must provide a variety of content to users via your website. If you want to appeal to a range of users with a variety of search intents, you have to create content that targets different keywords. One of the best ways to do this is to create content regularly and keep your site fresh with new pages.
You can write content about:
Your industry
Industry news
New products or services
Your employees
Your facility
And when it comes to content, written isn't the only kind. Users love content in different, digestible formats, so consider implementing things like videos and infographics in your content to keep it exciting.
2. Optimize for target keywords
Keywords are relevant in just about every area of your content. You'll want to put in the time to do keyword research so that you can gain insight into what terms your key audience searches for. Using tools like KeywordsFX can help you gain insight into similar terms, questions that users ask based on that term, and even different modifiers of that keyword.
Using a keyword tool ensures that you cover all your bases and target every variation that users search. You should consider using longtail keywords, or keywords that are more like phrases, to ensure that you target specific, high-return customers. Here's where you'll want to use the high-value keywords that you find:
Your content (specifically within the first 100 words): Using your keywords in your content helps Google determine if your pages are relevant to a user's search.
Your header tags: Including your keywords in your headers helps inform Google about your page.
Your meta descriptions: Although including keywords in your meta descriptions won't affect your ranking, Google does bold important keywords in meta descriptions.

Your images: Adding keywords to your image alt text helps Googles understand images since it can't read images like human eyes can. Naming your image with a keyword (that is relevant to the image, of course), will also help you rank on Google image search. A bonus!
3. Build internal links
Internal linking is a crucial on-page SEO factor. It provides a lot of benefits and as a strategy, adding them is not difficult. With internal linking, you link to another page on your site within a piece of content.
If you can imagine, this creates a spider web for Google and makes it a lot easier for search engines to crawl and index your pages. For example, Bass Pro Shops' blog talks about every outdoor topic under the sun. In their blog post about the best places to fish in Texas, they create internal links throughout the blog that take users back to the ecommerce side of their site by recommending different lures and baits.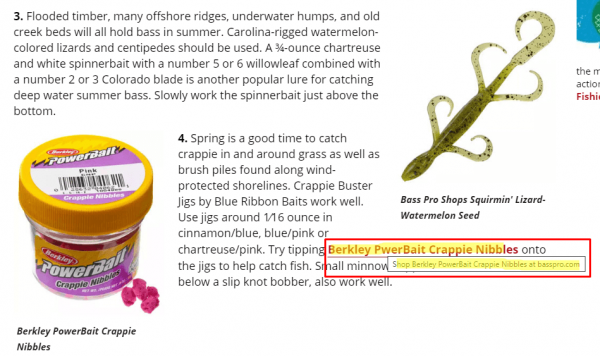 Using internal links also helps to keep site visitors on your site for longer and encourages them to visit more than one page.
This process can decrease bounce rate and increase dwell time — two important analytics metrics.
4. Use external links, too
A lot of businesses think that adding links to an external source is bad for their own website — simply because it leads users away. However, using high-quality, high-authority sites as external links in your content shows Google that your content is well-researched and trustworthy. For example, if you're in the restaurant industry and talking about the best way to make a specific dish, you could benefit from linking to a high-quality website like FoodNetwork.com.
Of course, you want to refrain from linking out to a competitor or any site that isn't trustworthy.
5. Make sure you have lightning-fast page speed
Page speed is one of the most important on-page SEO factors since it greatly affects how long users will stay on your site. The ideal load time for pages on your website is between two and five seconds, but you'll start to see a higher bounce rate if your pages take longer than just two seconds to load. Consider the fact that Google wants to provide users with the best possible resources for their search — and think about the way that page speed affects a user's experience.
If a page takes too long to load, they'll likely become frustrated and bounce from a page. To ensure that your pages load quickly to provide great user experience, you should start by running your website through a tool like Google's PageSpeed Insights.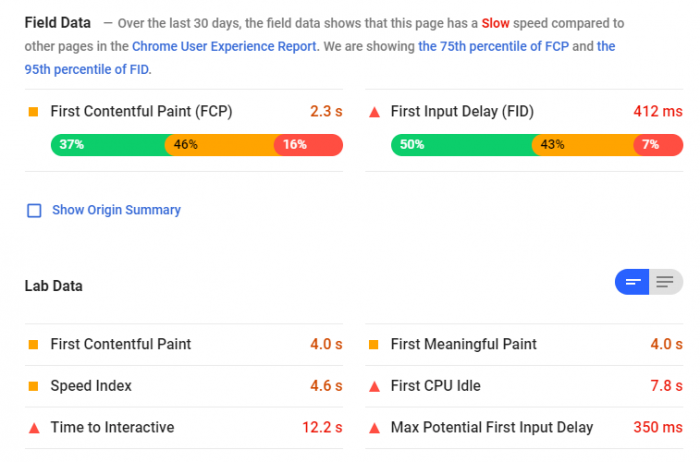 The tool will give you an overall score, and help you understand the data that it pulled regarding your site and how fast it loads. From there, you can determine if you're satisfied with your page speed or if you want to improve it.
If you want to improve it, try:
Compressing images using a tool like Kraken
Minifying your code
Using browser caching
Removing render-blocking JavaScript
Limiting your number of redirects
Bonus Reading: Check Out Our Blog Post on Page Speed and How to Improve It
6. Make your site mobile-friendly
There are tons of reasons to make your site mobile-friendly, but we'll give you these few important stats to show you why:
If your site isn't mobile-friendly, there has never been a better time to add it to your on-page SEO checklist.
Bonus Read: Why Using a Mobile SEO Checker is Crucial
Especially since Google rolled out its mobile-first index in July 2019. This update means that Google considers mobile versions of websites when crawling and indexing — so if your mobile version isn't up to par, you might see less than desirable rankings. Not only that, but with so many users accessing the internet from their smartphones, it's crucial to provide them with a stellar experience, even if they're not using a desktop. When your site is mobile-friendly, it will:
Provide a navigation bar that displays properly on all devices
Provide forms that are accessible and easy to complete on all devices
Provide call-to-action buttons that are easy to click on all devices
Provide content and images that properly fill every screen
Provide a zoom-free experience
Looking for an all-in-one SEO audit tool? You've found it.
SEO Checker provides data on key metrics to give you:
Complete SEO score

Content Grade

Site Speed Analysis

and more.
On-page SEO services from WebFX
If you're overwhelmed by the items on our on-page SEO checklist, fear not! WebFX is a full-service digital marketing agency that offers a variety of on-page SEO services (and off-page SEO services) — including but not limited to the checklist items on this page. We can help you rank highly for the keywords that mean the most to your industry, increase your website traffic, and increase your revenue year over year.
We've already driven amazing results for our previous clients — and you could be next! Contact us online for a free quote, or give us a call at 888-601-5359!
How is your website's SEO?
Use our free tool to get your score calculated in under 60 seconds.
WebFX Careers
Join our mission to provide industry-leading digital marketing services to businesses around the globe - all while building your personal knowledge and growing as an individual.