Do Outbound Links Affect SEO?
The Internet is full of links that connect websites and specific pages. Chances are, you probably have pages on your website that link out to other relevant content on the web.
But do these outbound links affect how your website ranks in search engine results?
On this page, we'll take a look at outbound links, what they are, how you can use them, and how they impact your search engine optimization (SEO) efforts. If you'd like to speak with a specialist about SEO or outbound links, you can contact us at 888-601-5359.
What are outbound links?
Outbound links, also called external links, direct visitors from pages on your website to other sites on the Internet. Unlike inbound links, which send visitors to other pages on your website, outbound links send visitors to entirely different sites.
If another website links to you, it is considered an outbound link. At the same time, if you link to another website, it is also an outbound link.
Typically, external links pass more value than internal links. This is because search engines believe that what other people say about you is more important than what you say about yourself. In other words, if more websites link to your site, you will appear to be a more credible source.
External links are also harder to manipulate, so they are one of the best ways for search engines to determine the popularity and relevance of a particular website or page.
There are two kinds of outbound links: nofollow and dofollow. Dofollow links pass on ranking power from your website to the target page, while nofollow links do not. In other words, nofollow links tell search engines not to follow links.
All links are automatically dofollow by default. To create a nofollow link, you need to add the rel="nofollow" tag inside your code.
By default, links look like this:
<a href="http://www.webfx.com">Email marketing</a>
Nofollow links include the rel="nofollow" attribute, and they look like this:
<a href="http://www.webfx.com rel="nofollow">Email marketing</a>
Later, we'll take a look at when you should use nofollow tags when creating outbound links.
Why are outbound links important?
Here are several reasons why you should include outbound links on your website.
Heightens popularity
Search engines, like Google, aim to show searchers the most relevant results for their search queries. And external links are a great metric for determining the popularity of a given web page. The more links a page receives from other sources, the more popular it appears.
This sends positive signals to search engines and can boost a page's rank in search results, meaning that more searchers will click and view the content.
Increases relevance
Links also provide important clues about the relevance of a page, and this is extremely helpful for search engines. Ultimately, search engines want users to find the information they are looking for, and when you include links to helpful content, you are doing them a great service.
In addition, the anchor text used in the links is usually a good indicator of the content on the target page or website. For example, if you are linking to a page about cat food, you wouldn't make your anchor text say "dog toys for sale."
The target and source page, as well as the domain contained in a link also provide helpful hints to search engines about the relevancy of a particular page. Since links point to related content, search engines can better establish knowledge hubs on the Internet that they can use to verify the importance of a page or website.
In other words, linking out to relevant content helps search engines understand your niche, and it can increase trust in your website.
Improves reputation
Outbound links can also impact the reputation of your site.
If you link out to spammy sites, it will reflect negatively on your own website. The minute someone clicks on a link to a spam site, they will remember that you sent them there, and they will likely associate your website with the spam content. This is why link farms and reciprocal link schemes are such a bad idea and lead to penalties.
Sites with zero outbound links are dead ends, and they people typically don't like dead ends. This can make your website appear to be unhelpful and inferior, which can negatively impact your rankings in search results.
Not including any outbound links on your website is like reading a research report with no bibliography. People will wonder where you are getting the information and if it's coming from a high authority source.
On the other hand, including outbound links to relevant, high authority sources can boost your reputation and help you appear as a more authoritative source.
Boosts value
No matter how great your website is, it will never contain all the relevant information someone might be looking for about a specific topic.
By linking out to other helpful content, you can increase the value your website provides to visitors and make their experience more rewarding.
Ultimately, if people know that you publish and link to quality content, they will want to keep coming back for more. And they will consider your site to be a more valuable source of information on the web.
Encourages backlinks
In addition, when you link out to other credible sources on the web, they will be more likely to link to your site. And it signals to other people that you want to participate in the web's natural linking environment.
Including links to relevant content is a great way to build incentives for bloggers, journalists, and website owners to engage with your site and link to your content. This not only improves the perceived authority of your site, it can also boost your rankings in search results and help more people discover and interact with your business.
Time to Level Up Your Sales
Our long list of services helps you grow every aspect of your business with marketing strategies that are proven to increase bottom-line metrics like revenue and conversions.
In the past 5 years, we've managed more than 12.9 MILLION transactions across our client base.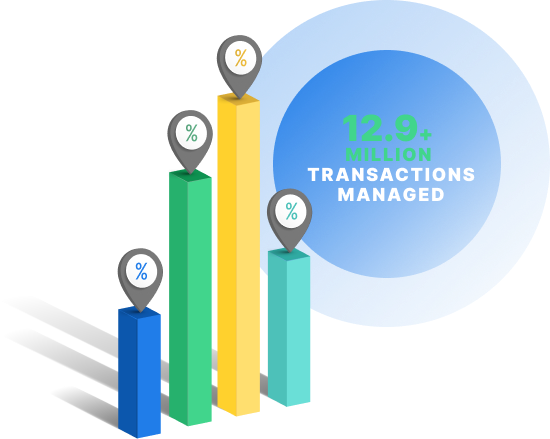 Do outbound links affect SEO?
Earning links to your website from other authority sources is an important ranking factor, and it can help you show up higher in search results for keywords and phrases related to your business.
In fact, SEO experts agree that external links are the most important source of ranking power because search engines view them as third-party votes for your website.
But do outbound links on your own website impact SEO?
A recent study conducted by marketing firm Reboot showed a positive correlation between a page's outbound links and its rankings in search results. Reboot hypothesized that Google can determine the authority of a page or website based on the sources it links to.
For the experiment, the firm created 10 new websites, each targeting the same keyword. However, only half of the websites included links to high authority sources. All the sites contained similar content and tag structure, though it was different enough to avoid duplicate content penalties.
Reboot then monitored and recorded keyword search results over a five-month period. Each of the pages that contained outbound links ranked higher than pages with no outbound links, and Reboot concluded that relevant, outgoing links to authority websites positively impact search rankings.
Though Reboot took as many uncontrolled variables as possible, there are still some unanswered questions. For example, does linking to higher authority sources boost rankings more than linking to a lower authority source? What about follow vs. nofollow links?
While there are still some unanswered questions, this study seems to show that including outbound links to high authority sites can help your SEO efforts. At the very least, it won't hurt your SEO, so if you're hesitant to link out to other sites, just consider these results.
Outbound linking best practices
Next, we'll take a look at some outbound linking tips that can help your website get the most out of your SEO strategy.
Use descriptive anchor text
Anchor text is the underlined, highlighted text that you can click to follow a link to another page.
When creating an outbound link, you should use descriptive keywords in the anchor text. You don't want to use the same keyword every time or you will run the risk of triggering spam detectors.
However, you want to use clear text that describes the topic or keywords contained on the target page. This will improve usability for both users and search engines.
Look for natural linking opportunities
Creating a resources page with lots of outbound links is generally not a good idea because the links are not natural for readers.
Instead, look for opportunities to include relevant, outbound links directly in your content. For example, if you're writing about a particular marketing tool, why not include a link to it? This is helpful for users and can help support your pages.
You can include outbound links naturally on your pages to explain technical references and provide additional points of view. In addition, you can link to authority resources that contain more helpful information on a particular topic or help to further clarify a point.
You can also include links to statistics and studies that support your articles.
Google started issuing penalties to websites that contained unnatural or irrelevant outbound links. Believing that the unnatural links were an attempt to artificially boost other website's rankings, Google applied a "manual spam action" to the offending websites.
Webmasters were directed to either remove the questionable links or add nofollow tags to each one.
Avoid too many outbound links
While outbound links are definitely valuable, too many outbound links can annoy website visitors.
If you're going to include external links on your pages, you need to make sure that they are helpful and relevant for your readers.
Including links in your copy basically says to readers, "Hey! Stop what you're reading, and click here!"
So you need to be careful about including too many outbound links to avoid distracting readers and sending people away from your website.
When should make outbound links nofollow?
Now, let's take a look at some times when it's appropriate to use nofollow links.
Generally, you should use nofollow links any time you don't want to pass on ranking power, also called link juice, to the page or website a link targets. Using nofollow links, you can instruct search engines not to count links to pages as "votes" in favor of the other page or website. In other words, the nofollow tag prevents credit from being passed to other websites linked to from your site.
Here are a few examples of when it's appropriate to use nofollow links.
Comments
If you allow people to comment on your site, you can expect them to link drop. This means that they will include links to their website in order to receive link juice.
However, you might not want to endorse their site. Using the nofollow attribute, you can prevent search engines from following the links and passing value to the commenter's site.
User-generated content
Similarly, if you allow people to contribute content to your site, they can include links to their websites in order to receive link juice from your site. You can use nofollow links to prevent your site from passing credit to other sites you don't necessarily want to endorse.
Paid links
You might have links on your website to partner websites or sponsored content.
If you want to avoid passing credit via links people buy on your site, simply use a nofollow link. This will help you avoid appearing suspicious to Google, and it can prevent you from encountering unwanted penalties.
Embeds
If you add widgets or infographics to your website from other sources and don't necessarily want to advocate for the content, you can make the links nofollow.
Basically, you can use nofollow links any time you link to other sites and want to avoid endorsing them.
Looking for an all-in-one SEO audit tool? You've found it.
SEO Checker provides data on key metrics to give you:
Complete SEO score

Content Grade

Site Speed Analysis

and more.
Learn more
Interested in learning more about how outbound links impact SEO?
WebFX is a full-service Internet marketing company. We work with hundreds of businesses across the United States, and we understand what it takes to drive results for your company.
Contact WebFX today to talk with a strategist, and check out our comprehensive SEO plans and pricing. We're excited to work with you!
How Is Your Website's SEO?
Use our free tool to get your score calculated in under 60 seconds.