Do you like what you see on your Instagram feed? According to Instagram's algorithm, you should — since the posts that you see revolve around five elements that are unique to each user. But how does the Instagram algorithm work? On this page, we'll talk about how the Instagram algorithm works and the six factors that it uses to deliver your content.
While you're reading, don't forget that WebFX can help you market your business on Instagram and beyond!
Instagram algorithm explained
In 2020, Instagram saw its fair share of complaints in terms of the content it delivered to users. Some users complained that the content they saw was outdated — and to that, Instagram replied with an algorithm update. So, what's up with Instagram's algorithm? The algorithm bases rankings, or the order in which you see content, on five basic pillars:
Interest
Relationship
Timeliness
Frequency
Following
Keep reading to learn more about how the Instagram algorithm works.
How does the Instagram algorithm work? The 6 pillars of Instagram content
Algorithms often change — for example, Google updates its algorithm multiple times per year. But how does Instagram determine what content to deliver?
Instagram algorithm pillar one: Interest
Of course, the content that Instagram serves you is heavily based on interest — that is, the kinds of content and accounts that you interact with traditionally. But what does "interact" mean? Before we can really talk about the interest pillar of the Instagram algorithm, we'll have to flesh out what's included under the umbrella of post interactions. Here are some common interactions:
Posts you've liked
Posts you've commented on
Posts you've shared
Posts you've been tagged in
People you've been tagged by
People you've been tagged with
All these interactions prove your interest in accounts, users, and subject matter, and the Instagram algorithm takes them into account when choosing what content to deliver to you.
What this pillar means to marketers
If you're marketing your business on Instagram, there are a few ways you can use this algorithm element to your advantage.
Create engaging posts that encourage users to like, comment, and share
Encourage users to tag their friends in the comments of your posts
Post content often to give users more opportunities to interact with and show interest in your posts
74% of people use social media when making a purchasing decision.
Make their decision easy with a stellar social media presence. See how your brand can level up by requesting a no-obligation proposal today.
One of our experts will be in touch within 24 hours!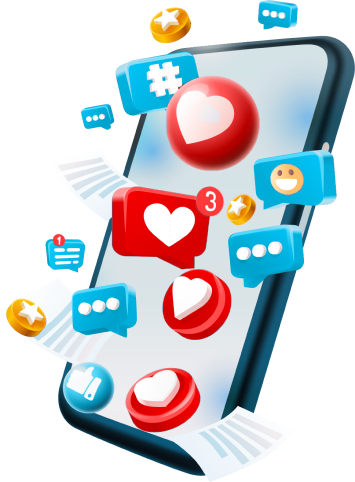 Instagram algorithm pillar two: Relationship
When you follow accounts on Instagram, they likely fall into one of two buckets — accounts that you really enjoy, and accounts that you don't enjoy as much. For example, accounts that you really enjoy might be your best friends, your hip Instagram mom, groups you're a part of, etc. Accounts that you don't enjoy as much might be the fifth-place winner of American Idol in 2012 that you had a crush on, clothing brands, etc. This information might not seem important, and you might struggle to think about what accounts mean the most to you — but that's why Instagram does it for you. Instagram's algorithm looks at the users you interact with most to develop a clear picture of who you've got the strongest relationship with — and therefore, whose content you want to see most often. Instagram uses info like who you search for and who you message to determine how close you are with them, serves you their content, and then monitors how you interact with it. Through trial and error, Instagram eventually learns who you're closest with, and what content they should serve you.
What this pillar means to marketers
As you market your business on Instagram, it can be difficult to build a close relationship with your customers, but it is possible. Here are some tips to help you build close relationships with your followers:
Encourage them to DM you with any questions or issues they might have
Create posts that encourage users to interact
Instagram algorithm pillar three: Timeliness
When it comes to Instagram's algorithm, the platform places a lot of emphasis on timeliness. As something that users complained about in the past, Instagram has revised this part of its algorithm to ensure that users see fresh posts. This update means it's highly unlikely that you'll see a post weeks, or even days ago. Instagram's goal is to ensure that you always see the most up-to-date content in your feed — and that you don't miss the opportunity to be the first like on your best friend's engagement post.
What this pillar means to marketers
Since Instagram likes to serve users with fresh, timely content, consider these tips:
Determine when your audience uses Instagram, and post your content then. Consider your audience that lives in different time zones and post content to match their peak usage times.
Post often to give followers more content to interact with
Instagram algorithm pillar four: Frequency
How often do you open the Instagram app? Did you know that your usage frequency plays a part in what you see in your feed? If you feel the need to pop into Instagram every hour, or more, your posts will naturally show up in more chronological order than if you were to use the app less frequently. That's thanks to the timeliness pillar of the Instagram algorithm. Since the app wants to show you only the freshest posts, the more often you scroll, the more your content will be ordered by time stamp. If you use your app once a week, your feed will be a combination of the relationship, and interest pillars rather than the most recent content in chronological order.
What this pillar means to marketers
As an Instagram marketer, you can't do much when it comes to the frequency pillar. Some users naturally use the app more, while others use it less frequently. Even if you could encourage users to open the app more frequently, there are too many other algorithm items in play to ensure that your posts would float to the top. It's better to focus on the algorithm pillars that you can use to your advantage rather than this one.
Instagram algorithm pillar five: Following
If you're an Instagram user that follows thousands of accounts, chances are you're always going to see fresh content. On the other hand, if you follow fewer accounts, you might see repeat content in your feed. It goes without saying that if you want to see more content, follow more accounts.
What this pillar means to marketers
Like the previous pillar, there isn't too much you can do about how many users your audience follows. That said, it's better to focus on the pillars that you can use to your advantage.
Not happy with your social media engagement?
We've got just the blog post for you.
Read the Blog Post & Watch the Video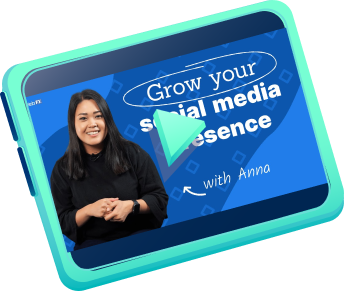 Do you want to use Instagram's algorithm to your advantage?
If you're a marketer that wants to make the most of your Instagram marketing campaign, WebFX can help. We're a top Instagram marketing agency that understands the ever-changing algorithm behind each major social media network. We can help you get your company in front of more interested customers based on Instagram's algorithm in addition to helping you set up Instagram ads to take your presence to the next level. Interested in marketing on other social media platforms? We can also create killer marketing campaigns on:
To speak with a social media specialist, contact us online for a free quote, or give us a call at 888-601-5359.
WebFX Careers
Join our mission to provide industry-leading digital marketing services to businesses around the globe - all while building your personal knowledge and growing as an individual.