8 Instagram Marketing Tips for B2B Companies
If you work in the B2B industry, Instagram is probably not the first platform you think about using to promote your business. However, B2B companies around the world are increasing brand awareness and engagement with the right mix of Instagram strategies. Instagram is a powerful place to humanize your brand, nurture relationships with existing clients, and reach an entirely new audience.
If you're curious about starting an Instagram campaign for your B2B company, you're probably already ahead of your competition.
The potential on Instagram for B2B businesses is largely untapped. There are over 200 million Instagram users who visit at least one business profile every day. Your business could be one of them.
But, what works for your business on other social accounts — like LinkedIn, Twitter, and Facebook —might not work for you on Instagram. So, it's important to know how to use the strengths of Instagram to your advantage. If you want to dive in and learn how to create an Instagram campaign for your B2B business, read on!
74% of people use social media when making a purchasing decision.
Make their decision easy with a stellar social media presence. See how your brand can level up by requesting a no-obligation proposal today.
One of our experts will be in touch within 24 hours!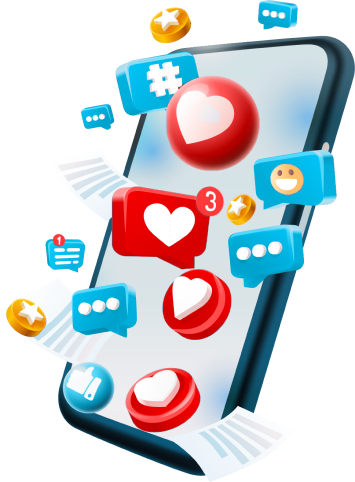 Why Instagram for B2B Companies?
Think your audience isn't on Instagram?
As of December 2021, Instagram has over 2000 million active monthly users. This means that at least a portion of your target audience is likely on Instagram. While some people go to social media to stay connected to family and friends, there's also a place for relationships between people and businesses.
People seek out what businesses are doing on Instagram, as 80% of Instagram users are following a business. As a visual platform, Instagram provides the opportunity for brands to showcase their personality, humanity, and connection to their audience. At the core of every successful social media presence is an intentional strategy.
B2B businesses should have a strategy for each social network, and the below tips can help you shape a successful campaign specifically for Instagram.
8 tips for marketing your B2B Business on Instagram
1. Use hashtags to reach new audiences
Using hashtags on Instagram is one of the best ways to increase the exposure of your content with relevant audiences. It's hard to imagine the Instagram platform without them. B2B companies should use a mix of branded and non-branded hashtags.
Research suggests that 11 hashtags is the optimal number to use on an Instagram post. Branded hashtags encourage people to use them when they are posting about your business. They can also categorize your content if you have several business divisions, product lines, or services.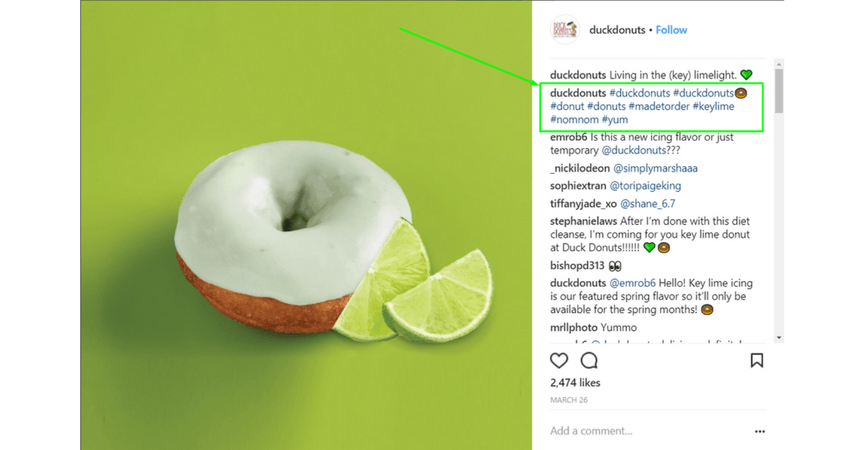 Non-branded hashtags will connect your content to broader topics on Instagram and provide more opportunity for exposure to new audiences. In March 2018, Instagram added features so that hashtags appear as links in profile bios. Take advantage of that space!
Use your main company hashtag in your Instagram bio to promote use of the hashtag with your audience.
2. Define your brand in your Instagram bio
The Instagram bio should be a big focus for B2B companies. Think of your Instagram bio as the first impression of your brand—like a miniature version of your about page on your website. Make the most of the 150-character limit and consider including these things in your Instagram bio:
Tagline or slogan
A succinct description of what you do
Your mission
Branded hashtag
Any emojis that show your brand personality

Don't worry about including contact information or directions. Save the space and include that information in the areas dedicated to it when you create or convert your profile into a Business Profile.
3. Showcase your office space and company culture
If you've got a sweet office space or work in a trendy location, these can be great resources for content to share on Instagram. This if often a great place to start for B2B brands — take photos of your space, office location, meeting rooms, etc. Don't be afraid to showcase your company culture to humanize your brand, too.
Is your team getting lunch catered this week or going on a company retreat? Share that with your followers. People love a peek behind-the-scenes.
4. Get employees involved to boost recruitment efforts
If you're actively looking for new employees, there's no better place than Instagram to show what your team is up to each day! It's likely that prospective employees, especially those that are really interested in the position and your company, are going to be looking at all your social accounts to get a better understanding of what you do and who you are. Try experimenting with an "Employee of the Week" or "Team of the Week" to highlight your employees' personalities and responsibilities.
Get employees involved with a weekly Instagram takeover once a month. Have the employee take over the account, first by introducing themselves and then highlighting their favorite parts of their job, the perks of working at your company, etc. If an employee is doing the takeover for a week, I'd recommend they post 4-5 times with their post as their introduction.
Read: B2B Marketing Ideas You Can Employ
5. Use user-generated content (UGC) to involve your audience
By promoting your branded hashtag in your bio and on all your Instagram posts, your audience will start using it. User-generated content (UGC) from your audience is a win-win. It's content that you didn't have to create and shows your relationship with an actual customer.
Additionally, UGC can be a powerful way to increase the credibility of your B2B company. While most people won't mind the re-post since they're using your hashtag in the first place, it's recommended to ask permission to post it. Simply comment on their post asking if they'd mind if you shared their photo!
6. Promote your events, trade shows, etc.
Many B2B companies attend several events and trade shows throughout the year to promote their business to new customers. Bring your marketing efforts full circle and promote your attendance at these events on Instagram.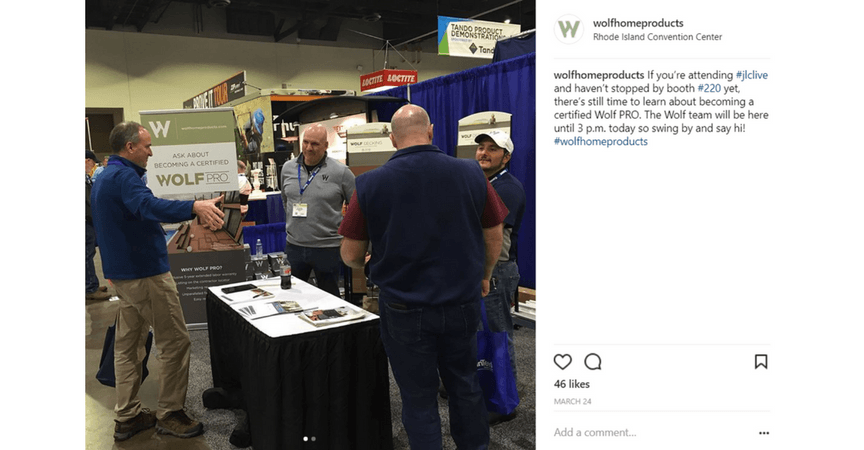 Generate maximum awareness for your posts with these tips:
Tag the event organizer and/or sponsors in your caption.
Research the event-specific hashtag and use it
Tag the location of the event in your post
If it's a longer event or trade show, consider incorporating an Instagram takeover to showcase all the activity of your employees and event attendees. Event organizers love to see participants engaging with them on social media. If you make the effort to get their attention with mentions and hashtags, it will pay off!
P.S. Instagram is also a great tactic for virtual trade show marketing!
7. Use Instagram Stories to stand out, increase exposure, and gain feedback from users
Instagram Stories have gained a lot of popularity since Instagram introduced the feature in August of 2016. As of March 2018, there are 300+ million users daily using Instagram stories. They are only visible for 24 hours and offer unique stickers, GIFs, and filters. They provide another great opportunity for B2B companies to showcase their personality on Instagram.
Many of the campaigns and strategies mentioned above can be used with the feature. You can use location tagging and hashtags, but there are some other capabilities that are unique to Instagram Stories only, such as polls and highlights. Instagram users can include an interactive poll in their Instagram Story photo.
While you can analyze your Instagram performance with Instagram Analytics, holding a poll can be a great way to ask users what they want to see on your Instagram account, and you can shift your strategy according to the response. Instagram allows you to save your Stories in Instagram Story Highlights. When a story is saved here, it remains there until you remove it.
If you were to implement the strategies mentioned above on Instagram Stories, a few highlight categories could include: The Office, Culture, Employee Takeovers, Events.
8. Use paid campaigns to target your ideal audience
Paid Instagram campaigns are a great way to complement your organic efforts on the platform. Using paid strategies can support your fan growth and engagement. Instagram ad objectives include: brand awareness, reach, traffic, app installs, engagement, video views, conversions, and lead generation.
The options for paid campaigns are virtually endless. Consider using a paid campaign to promote a new product launch, recruit for a specific position, promote content downloads such as e-books or whitepapers, etc. Once you identify the goal of your campaign, you can choose the objective that best aligns with your main goal.
WebFX can manage your B2B Instagram marketing campaign
Instagram is a channel that many B2B companies are using to support their business growth.
Knowing how to use the channel to its maximum potential can be overwhelming. WebFX has experience in providing unique organic and paid Instagram marketing campaigns for B2B companies in a variety of industries. Not only that, but we offer a wide variety of Instagram marketing services. To learn how a social media specialist can drive success for your business on Instagram, you can contact us online or call 888-601-5359 to chat more about how our B2B digital marketing agency can help you grow!
Karley is a Social Media Analyst who loves volleyball, yoga, & donuts. Follow her on Twitter

@icekarleyr

.

WebFX is a full-service marketing agency with 1000+ client reviews and a 4.9-star rating on Clutch! Find out how our expert team and revenue-accelerating tech can drive results for you! Learn more
Twitter and Facebook Status Generator
Finding engaging social media content for your business can be difficult. Use our tool to quickly find ideas and post directly to your page.
Give Me an Idea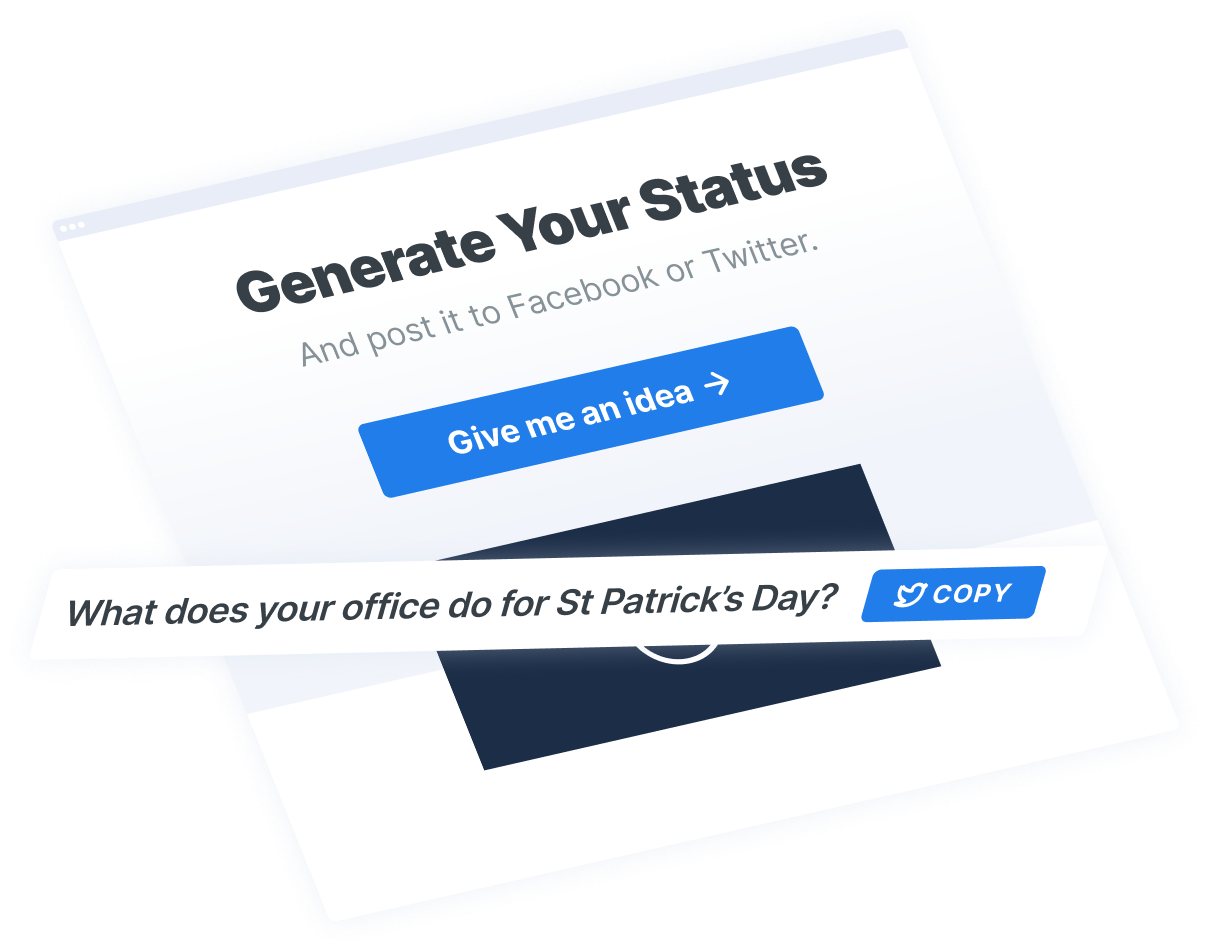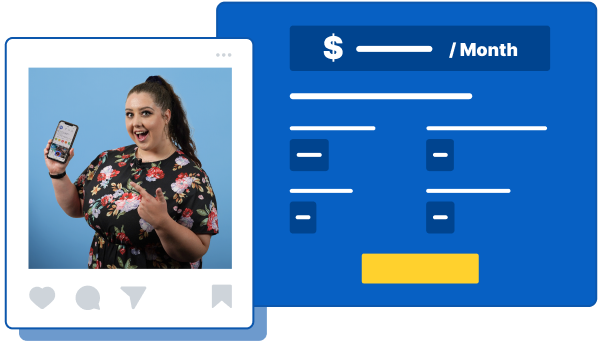 Twitter and Facebook Status Generator
Finding engaging social media content for your business can be difficult. Use our tool to quickly find ideas and post directly to your page.
Give Me an Idea