When you think of content marketing, you may think of traditional text content like blogs, guides, and articles, but do you think about creating videos for your content marketing strategy?
Videos turbocharge the effectiveness of your digital content — and they help you grow your customer base, build relationships, and convert more customers. Just by putting a video on a landing page, you can increase conversion rates by 80%.
Keep reading to learn all about the awesome benefits of using video in your content marketing strategy — and check out our video marketing services to get started.

Why use video for content marketing?
To start, let's look at some statistics that show the importance of video for content marketing.
The ultimate goal of content marketing is to educate site visitors, encourage them to learn more about your business, and help drive leads and conversions. Adding video to your content marketing helps you achieve those goals and earn better business results.

How to use video content at every stage of the purchase funnel
As mentioned above, video marketing helps you connect with customers at every stage of the marketing funnel.
Let's take a look at the types of videos you'll want to create for every phase of the funnel.
TOFU video content
At the top of the funnel (TOFU), your goal should be to educate people about your brand, products, and services. If you're selling a product, you want to come off as an authority on whatever you're selling.
If you have an awesome company culture, you can show it off in a video.
Tell people how great your company is, and back up your claim by showing it in the video content you publish.
Educational videos

give consumers an understanding of an industry topic.

This is an opportunity for you to show off how much you know in your industry and establish yourself as an industry leader. In this first TOFU example video, Adobe Creative Cloud uses an educational video on YouTube to teach people how to be vloggers and also slips in information about one of their products.
Event videos

show people what goes on at your company.

These videos are great ways to introduce consumers to your brand, your knowledge, and your values. In this TOFU example below, Apple shares one of its many tech events on its YouTube channel.
MOFU video content
If you're targeting consumers in the middle of the content marketing funnel, you want them to consider your company for whatever buying decision they're making.
Now you should show off what you offer, and tell people the benefits of purchasing from you.
Product or service demo videos

allow you to show users what you offer. You can highlight something new and talk up the benefits of the awesome features. You may or may not be familiar with the ShamWow commercials, but this video really shows off the product.
How-to videos

also let

you showcase something you offer. In these videos, you'll give a step-by-step tutorial for a certain topic, usually in regards to a common how-to question people ask online. In the example below, Serta uses a how-to video to show potential customers how easy it is to set up a base for their mattress.
BOFU video content
At the bottom of the funnel, consumers have their wallets ready. They want to be your customers, and all you need to do is give them a little push.
Here is when you'll build on the trust between the consumer and your brand.
Customer testimonial videos are a great way of capturing the relationships you have with your customers. If someone sees that a current customer is satisfied with their purchase, they're more likely to trust that your company is offering a great experience and more likely to complete their purchase.

Check out this customer testimonial video from Glassdoor.
Employee testimonial videos

are great if your goal is to recruit. Just like customer testimonials highlight the value of your product or service, employee testimonials have current employees explaining why your company is the best place to work.

In this employee testimonial from Motorola Solutions, people working at the company talk about why they love the company and their jobs, helping potential applicants decide to apply.
How do you know what types of video content marketing your audience wants to see?
Before you create your content marketing video, it's so important to try to figure out if it's something your audience wants to watch.
There are several free ways to discover what your audience wants to see from you.
1. Browse social media to discover video topics for content marketing
If you have a social media account for your business, look at what your followers are commenting on and engaging with on social platforms.
Are they asking about how to use one of your products? Do they want to know what's new in your industry?
Pay attention to the comments to uncover what people want to know.
2. Sift through forums to find questions you can answer in your content marketing videos
One forum you can use for research is Quora. On Quora, people ask questions about different topics hoping to get an answer.
You can search for different topics, and look for trends in the questions people are asking about your topic. You can use the questions as a launchpad for your videos.
Say people are asking about the best security systems for their homes, and you run a home security company with a variety of options. You might want to consider making a video going over all of the different plans you have and how they fit different people's needs.
If you're still looking for more of what people are talking about, Reddit is another great place to look.
On Reddit, people have discussions on different subreddits about a variety of topics. This is a great place to see what discussions are occurring around a subject area you know well.
3. Research keywords for your content marketing video
You don't need a bunch of expensive tools to dive into basic keyword research.
Type your topic into Google or YouTube and see what the autofill suggestions are for your topic.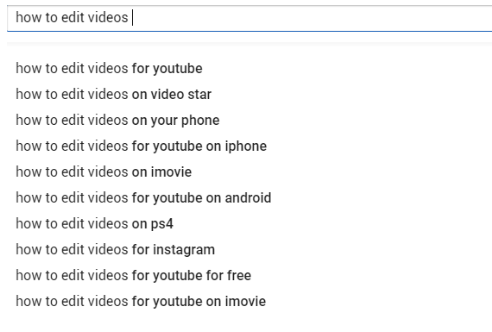 With an easy search, you can expand the list of keywords and topics for your videos.
If you're looking for free keyword tools, options like Keywords Everywhere and Keyword Tool are great free resources for helping you compile a list of related keywords.
It's important to note that people sometimes search for videos differently than non-video content. Searching for keywords with YouTube and using Keyword Tool's YouTube keyword search are great ways to enhance your content marketing video research.

4. Check out competitors' content marketing videos
Take some time to see what your competitors and industry leaders are creating on the topic you're researching.
Watch other people's content marketing videos and read other people's content to get an idea of what you can do to stand out.
If certain videos show up first in your search, they likely satisfy the user's search with their content. But don't just copy what someone else is doing.
Use this research as a way to see what gaps you can fill with your content.
If someone made a short video explaining what to use to build a table, you'll want to take that a step further with an in-depth tutorial. Create video content that satisfies the user's search intent but is unique enough to separate you from everyone else.
Get started with video in your content marketing strategy!
You've done your research, and now you're prepared to shoot your video.
Whether you're using your smartphone or a video camera, always keep in mind that your video should be made for your audience.
Share your video where you think people will be most likely to see it. Posting your creation on your website is important, but also sharing it on social media will help you create conversations and begin to build relationships with your audience.
If you want to learn more about how to improve your content marketing strategy with video, we can help.
Check out our professional video production services to see how our online marketing company can help you include video in your content marketing strategy today!
WebFX Careers
Join our mission to provide industry-leading digital marketing services to businesses around the globe - all while building your personal knowledge and growing as an individual.