Is Content Replacing Sales?
The Internet is one of the most powerful tools for attracting and converting clients for businesses in any industry. You can use your company's website to publish original content, inform potential customers about what you have to offer, and possibly convince them to work with you.
Most companies are well aware of this, and use content as a large part of their marketing strategies. It can answer common questions about their products, provide examples of client successes, and explain how others can benefit from becoming customers…
But isn't that the job of a salesperson?
In light of the recent shift towards content marketing, some companies are finding themselves questioning whether online content is gradually replacing their sales teams. But fortunately for sales professionals, the answer is no.
Content marketing and sales teams serve distinct functions within every organization, but with the right strategy, they can work together to achieve great results. On this page, we'll discuss how the two are different, as well as how your business can use them both to attract new clients.
What content marketing does
The primary goal of content marketing is to attract potential customers to your site and answer their questions. Your business can do this by determining what kinds of information your buyers look for when researching their options, then creating content with that information.
The majority of consumers research products and services online before making purchases. In fact, the average customer today is 70% into their buying decision prior to interacting with a salesperson.
This means that if you want potential customers to choose you over your competitors, you need to provide plenty of informational content online. This content can take the form of blog posts, articles, visuals, downloads, and any other format that will help potential customers understand what you have to offer.
After you create your content, you'll need to optimize it for search engines. This means choosing the keywords and phrases your potential customers use when researching your business, and incorporating them throughout your copy.
When search engine users see your content as a result, they'll read through it and see if it provides the information they were looking for. If it does, they may choose to learn more about your business and what it has to offer.
Then, once they're sure that your business is capable of meeting their needs, they'll reach out to your sales team.
WebFX is a partner businesses trust.
Hear from HydroWorx, who saw a 236% increase in organic sessions with WebFX services.
Watch the Video Testimonial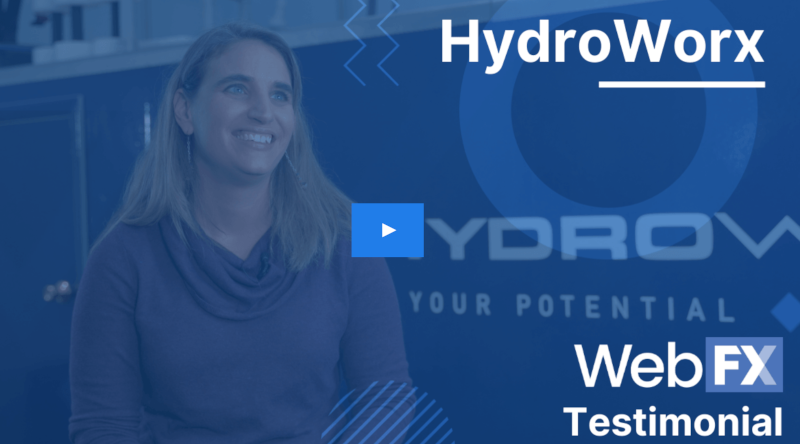 What a sales team does
No matter how well-written and informative your content may be, there's ultimately no substitution for face-to-face interaction when it comes to sales.
Your sales team can meet with individual leads and ask about their needs and concerns. They can provide answers that are tailored to each specific person, and connect with them on a more personal level.
During these meetings, your sales team should also provide detailed information about how your product or service can benefit the client. Unlike the content on your site, this shouldn't involve any generalizations.
Instead, they can give customized plans and pricing for the business's industry, audience, and needs. In contrast to your site content, which typically explains what you can do for any business, this information should explain what you can do for their business specifically.
This is more personal than even the best page on your site, and ultimately more effective for driving sales.
How your content marketing and sales team can work together
Given the above information, it's clear that your content marketing and sales teams have a great opportunity to work together. Well-written content can help attract and inform qualified leads, and a well-trained sales team can work with those leads to convert them into clients.
In fact, strong content can often be what bridges the gap between online research and an in-person meeting. As a potential customer learns more about your business, they'll determine whether they want to consider working with you.
And if they do, they'll reach out to you on their own—no cold calling required.
When a lead who contacted you as a result of reading your content meets with your sales team, you can be sure that they're open to the idea of becoming a customer. After all, they've already done their research and know what you have to offer—they're just looking for the exact details they need to make their decision.
And when your sales team provides them, your business acquires a new client.
Want to create content that works with your sales team?
Ideally, your content marketing and sales teams should work together to attract new leads and convert them into paying customers. However, that can be easier said than done if you don't have the in-house resources to research your audience's needs and write high-quality pages to address them.
If you're ready to create content that generates qualified leads for your sales team, WebFX can help. We have years of experience writing and publishing content for our clients in a variety of industries, and we can do the same for you. Contact us today to speak with a strategist!