On this page, we'll provide you with all the information you need about GlobalSpec. We'll also provide you with some alternative options, so you can make the best decision possible for your business.
WebFX is a full-service digital marketing company that can help increase your exposure online to reach more qualified leads. We offer SEO, PPC, social media marketing, and content marketing services, and more.
Our company has more than 1020 testimonials from satisfied clients, and we can't wait for you to be next! Call us today at 888-601-5359 or contact us online!
Check Out These Engineering Industry Statistics
What is GlobalSpec's Engineering360?
GlobalSpec, a technology services company, was founded in 1996 by John Schneiter and Thomas Brownell.
This company provides a search engine for engineering and industrial products. In addition, the site indexes millions of parts from different manufacturers.
To break it down, GlobalSpec only contains information about engineering and technology. You won't find anything about medicine, plumbing, or anything that doesn't fall under those categories. This site is specifically designed for the engineering and technology industries.
GlobalSpec is currently owned by IEEE, and they transformed GlobalSpec into GlobalSpec Engineering360.
Now, as GlobalSpec Engineering360, it provides a wider array of services. These services include:
Content and industry market news and analysis
More than 122 million parts in their products and suppliers section
A standards directory to access metadata and abstracts from 1.6 million documents
A reference library containing over 95 million engineering documents
An established engineering community containing blogs, forums, and other materials
Engineering360 has more than 8 million engineers and technical professionals subscribed to their site. With 94% of these people being decision makers, this platform is a tempting option to obtain qualified leads.

Hear What It's Like to Work With WebFX!

"We had been looking for a new SEO firm responsible for industrial companies and we found the right one with WebFX. We have had nothing but great experiences so far and don't expect anything to change moving forward."
Boiler Installation
How does Engineering360 Work?
Global Spec's platform offers numerous options for reaching potential clients.
1. Newsletter advertising
Engineering360 has more than 70 industry specific newsletters. You can choose which newsletters you want to advertise in to reach customers. This enables you to reach a specific portion of your target market.
These newsletters are hyper-targeted. They are designed to reach certain people within the engineering and technology field, and more than 60% of subscribers read them once they receive them.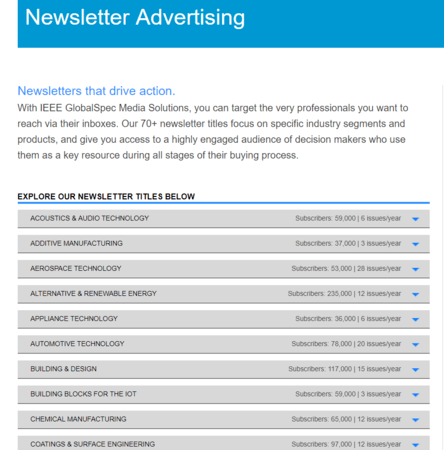 2. Display advertising
GlobalSpec's Engineering360 offers display advertising on their own website and a handful of related sites. There are numerous types of advertisements your business can utilize.
Slider advertisements: These appear at the bottom of a visitor's browser.
Welcome advertisements: These ads display the first time someone visits the main sections of Engineering360.com.
Product announcement spotlight sponsorship: These appear on the products and supplies main page.
Premium editorial units: These are advertisements that appear with featured videos and white papers in the news and analysis section.
These are all the available options your business can use through Global Spec's platform. You will need to figure out which type of advertisement works best for your business.
3. Online webinars
Engineering360 features many webinars on their site. One option available to your business is to host a webinar. The most attractive part of this opportunity is that GlobalSpec manages everything for you.
They bring in qualified attendees to watch your webinar. Engineering360 promotes your webinar to entice people to attend. When people attend, Engineering360 keeps track of the attendance and those who register for the webinar.
On the day of your webinar, they will do a live rehearsal to make sure the platform is functioning and operating properly. When the webinar is over, Engineering360 gives you a copy of the final presentation.
The only thing you need to do in this entire process is create your webinar. You'll need to come up with the topic of your webinar and the format, but GlobalSpec does the rest.
4. Targeted email campaigns
If you want to reach specific people using Engineering360, you can use their targeted email campaigns. This allows you to send emails to registered users on their site.
GlobalSpec also allows you to evaluate the performance of your emails. You can measure things like deliverability and open rates. And you can also see when people click on your emails or unsubscribe.
As an additional bonus, Engineering360 offers a co-branded template for your emails, so you don't need to spend time creating one.
5. Searchable product catalogs
GlobalSpec offers 65,000 different product catalogs. These catalogs offer you an opportunity to reach clients. You can place your products in these catalogs to get others to buy them.
Searchable product catalogs connect people to your company profile, website, articles, blogs, and more. Potential customers can see the products you offer and decide to buy them.
6. Customized sponsored content
This customized content is a chance for you to share your industry experience. Your article can be featured among other popular editorial content. This is known as industry-specific sponsorship.
Your sponsored content will also be a part of the news and analysis section. This enables you to gain more exposure and reach your target audience.
If you don't have any content or aren't creating any, Engineering360 offers engineering briefs. They develop the content for you and publish it on their site.
Is Engineering360 worth it?
There are many positive aspects of Global Spec's Engineering360 that make it enticing. It is a specialized industry platform that enables you to connect and advertise to people directly in your market. It is a hub where you can garner new leads.
They also offer numerous types of diverse advertising tools to reach these leads. It is a relatively well-rounded platform that enables you to reach qualified leads.
There are drawbacks, however. One of the biggest drawbacks is the pricing. This service doesn't offer transparent pricing. Since there is no indication, you could run into costs that are steeper than you thought.
It is also a specialized site. Despite having 8 million users, some of the people you are trying to reach may not be on that site. You may miss out on potential clients by only relying on Engineering360.
Are there alternatives to Engineering360?
Yes! Engineering360 isn't the only option you have to reach potential clients.
In fact, one of the best ways to reach potential leads is search engine optimization (SEO).
Search engine optimization (SEO)
SEO is the process of boosting your business' website to the top page of search results. By being on the first page of results, people can find your business easier. They are more likely to visit your site when you are on the first page because 75% of searchers don't look past the first page.
This method brings results, and it can help you increase traffic, leads, and conversions. It is a great way to drive potential leads to your site.
Pay-per-click (PPC) advertisements
Aside from organic traffic, you can use paid ads to boost traffic to your site and leads. With pay-per-click (PPC) ads, you can bring in more qualified leads that are interested in your business.
PPC ads are paid advertisements at the top of the search results on Google. Like SEO, your advertisements are triggered by keywords that users search. This method works on a bidding system. You set the amount you want to pay per click. This is your maximum bid.
Your maximum bid, along with some other factors, determine your placement.
You control the budget of your PPC campaign. You'll never incur costs above your set budget. Many companies like this method because they can control their budget better.
There are many other available methods of advertising at your disposal. You can use email marketing, social media, and content marketing to draw users into your site. Unlike Engineering360, you aren't limited in your marketing plan when you utilize other methods.
Let WebFX help you gain qualified leads
While sites like Global Spec's Engineering360 offer great opportunities for your business, you can get even more with the help of a marketing company. As a full-service digital marketing company, we offer many services to help people connect with your business.
Our team of 500+ experts is dedicated to your campaign. We'll create a unique plan to help your business reach qualified leads. You won't get a cookie-cutter plan because we know no two businesses are alike.
You won't need to worry about being in the dark with pricing. Our transparent pricing provides you with all the information you need to decide what is best for your business.
Learn more
If you want to learn more about how WebFX can take your business to new heights, contact us today to speak with a specialist!
We look forward to working with you!
Earn a 20% greater ROI with WebFX