If you're familiar with Internet marketing, you've probably heard of conversion rate optimization, or CRO, and how business owners use it to turn more website visitors into paying customers.
However, you might be wondering how CRO is different for B2B companies than for businesses that sell products directly on their sites. If so, you've come to the right place.
Call 888-601-5359 to speak with a strategist about CRO services from WebFX, or keep reading for a few tips you can use to improve your online conversion rate.
What is CRO?
CRO stands for conversion rate optimization, and it is the process of optimizing elements of your website and online content in order to convert more customers.
There are several CRO strategies you can use to get the most out of your web presence, and CRO will help you determine which elements of your website are attracting customers and which areas you can improve to increase traffic and sales.
Why is CRO important for B2B Companies?
Watch the video and then keep reading to learn about the importance of conversion rate optimization for businesses.
At first, you might think that CRO is only important for B2C companies. But if you're a B2B company, CRO can be just as effective at helping you earn more revenue by increasing conversions on your website, landing pages, and emails.
B2B companies' success depends on capturing and converting new leads, and for many B2B companies, missed opportunities are magnified. No matter the size of your company, if you aren't able to convert leads, it can damage your profit margins.
In addition, B2B clients have a longer sales cycle and rarely convert on their first site visit. So enhancing B2B conversions requires a solid understanding of usability analysis and conversion opportunities.
CRO impacts how visitors interact with your website and perceive your brand, and it can help your B2B company maximize your return on investment with your Internet marketing efforts by generating more leads and sales with the same amount of traffic. You can also apply CRO to multiple channels and marketing materials, such as your website and email content.
If you're looking to enhance your website and gain a leg up against the competition, CRO is a great option.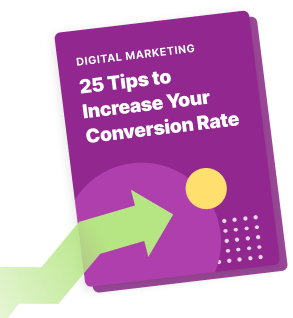 25 Free Tips to
Double Your Leads
without having to double your traffic. Learn how to increase your website conversion rate today!
Get My Free Guide
CRO strategies for B2B companies
In order to successfully use CRO to improve your site design and content, you first need to clearly define your goals.
For example, are you looking to improve the conversion rate on a specific page or for a certain service? Do you want to reduce bounce rates or direct users' attention to a particular element on your website?
Understanding the answers to these questions can help you set up tests that lead to the site improvements you really need for more conversions.
Once you've established your overall goals for CRO and CRO plan, there are several different CRO strategies you can implement to improve conversion rates.
A/B Testing
A/B testing is a powerful tool for gauging audience preferences, and it allows you to test out various elements of your website, email campaigns, and social media posts to determine which versions earn you more conversions.
Then, when you determine a winner, it's easy to implement changes that can drastically improve your conversion rates.
Let's take a look at an example of how using A/B testing is helpful for improving conversion rates.
Say you're redesigning a landing page, and you have several different calls to action you think could convince visitors to fill out a contact form. If you're not sure which version to implement, you can perform an A/B test to see which one resonates the most with your target audience.
Perhaps an in-depth explanation leads to more contact form submissions, or a briefer, more succinct version leads to more sales – but you won't know which unless you run a test.
Performing A/B tests on your online content can help you make minor tweaks that lead to big improvements in the number of conversions on your website.
Sites like Unbounce allow you to schedule and monitor A/B tests to analyze elements of your website and determine which versions produce the most conversions.
A/B tests are also useful when it comes to designing embedded forms, and they can help you determine whether certain fields should be pre-filled. You can also add or remove site elements to see if users interact differently on your site.
When conducting A/B tests, be sure to focus on one element at a time for the most accurate results. After all, if you test 5 elements at one time and see positive results, you won't know for sure which one is responsible.
Heatmaps
Heatmaps are visual representations of data that allow you to monitor user interactions and behavior on your site. In other words, heatmaps allow you to record what people do with their mouse on your website and display that data in a visually appealing way.
When using heatmaps, it's important that you have a large enough sample size before you make decisions based on the results. You should also look at different devices separately in order to make the most informed decisions. Generally, 2000-3000 page views per design screen and device is a good number.
Heatmaps will help you determine how users read pages on your website, and you can use that data to determine which elements draw the most attention and increase user engagement.
However, it's important to remember that people might look at page elements they don't hover over with their mouse. And they might hover over elements that don't result in conversions.
That being said, heatmaps are a great starting point for conversion research, and they are useful at a high level for distinguishing problem areas on your website. For example, if you have large photo on your website that gets a lot of clicks, but isn't a link, you might consider making it one.
Using heatmaps, you can start to identify potential tweaks you can make to website elements to generate more attention from site visitors. Just be sure that you don't rely entirely on heatmaps for your conversion research. Instead, you can supplement heatmaps with other CRO strategies to help you make the most informed decisions and convert the most people.
User surveys
You can also reach out to website visitors to find out which elements they like on your website and which elements you can improve for a better user experience.
When conducting user surveys, try make your questions as specific and targeted as possible. You can even segment site visitors based on various characteristics and demographics. This will help you to uncover the most helpful insights that can lead to more conversions and sales.
The information you gather from user surveys will help you write better website content, improve your messaging, and optimize features to better resonate with visitors. Heatmaps help you see what visitors are doing on your site, and surveys will help you develop hypotheses about why they take certain actions.
You can also combine user surveys with other strategies, like heatmaps, in order to make the most informed decisions.
Tap into web analytics
Web analytics can help you gain valuable information about your website's performance, and monitoring certain metrics like traffic and conversion can help you better understand your visitors.
There are a number of web analytics tools your B2B company can use, but the best place to start is Google Analytics. It's one of the most in-depth analytics sources available, and it's completely free to use.
By monitoring how your visitors find and interact with your site, you can determine how specific elements and channels impact conversion and how you improve current practices to reach and convert more customers.
Test website forms
You can also test out the forms on your website to see whether or not they lead to conversions.
For example, should you make your forms short and sweet with only one or two fields? Or is it better to use multiple step forms?
Test your forms to determine the optimal number of steps and required fields. This will help you to create forms that resonate with your audience and make it as easy as possible for them to take desired actions on your website. You can also create and test various layouts and formats to determine which forms lead to the most conversions.
In addition, be sure to mark required fields with an asterisk so that users know what information they need to enter in order to move forward with filling out a form.
Optimize your CTAs
This point may sound obvious, but if your B2B company wants to convert more customers, you need to make sure that your website features clear, concise calls to action (CTAs) that grab the attention of site visitors and encourage them to take the next step.
Your CTAs need to be highly visible to users, and you need to carefully consider the size, color, and placement of your CTA buttons in order to attract and convert the most customers.
If you want website visitors to take a particular action on your site, you need to use your CTAs to let them know. It's also important that you make your CTA buttons stand out from surrounding website content. This can help you maximize conversion rates and revenue for your company.
Invest in email marketing software
Email marketing software can help you analyze and improve the performance of your emails. It can also help you analyze key metrics such as open and click-through-rates.
At WebFX, we developed our own email software, EmailMarketingFX, that includes built in features that allow you to track your emails and refine your marketing strategy. You can also schedule A/B tests that allow you to analyze various elements of your emails, such as subject line and content, to determine which versions of your emails result in the most clicks and conversions.
We also provide custom reports with data that helps you uncover audience preferences and trends to streamline your email strategy and reach more customers for your B2B business.
Improve your website's load time
Website load time is a major factor when it comes to page abandonment, and studies show that delays as short as one second can result in a 7% decrease in conversions. Additionally, 40% of people will abandon your website if it takes more than 3 seconds to load.
If your website takes too long to load, users will waste no time navigating away from your website, and they may even give their business to a competitor. In addition, slow-loading pages can negatively affect your rankings in search engines as well.
If you've never looked into your site speed, it's time to take advantage of Google's free tools and resources for measuring and improving it.
Another way to improve your website's load time is to make sure your images are sized appropriately. Your pictures should be no larger than 1000 pixels wide in order to ensure optimal rendering time.
By improving your website's load time, you can keep people on your pages for longer periods of time, which can ultimately result in more conversions.
Redesign your landing pages
Many first time customers are hesitant to convert, so increasing the number of landing pages on your website can improve your chances of converting new customers.
You may also need to redesign your landing pages, based on data gathered from website analysis, heatmaps, and user surveys. This can include simple tweaks, such as improving the aesthetic of your landing pages or including clearer, more streamlined CTAs that increase conversion rates.
B2B decision makers are extremely busy people, and you need to be able to clearly and concisely demonstrate why your product is useful and how it will solve their problems. By presenting this information on your landing pages, you can increase conversion rates and increase sales for your company.
CRO plans from WebFX
WebFX is a leader in the Internet marketing field, and our CRO experts will work with you to design and implement a custom plan that will help you reach your conversion goals.
You can check out our plans online and select an option that works for your business. Don't see an option that works for you? We'll work with you to create and implement a custom CRO solution that will help your business attract and convert more customers, leading to increased revenue for your company.
Want to learn more?
Interested in finding out more about how CRO can help your B2B company?
Contact WebFX to learn more about our custom plans. We work with hundreds of companies across the United States, and we'll work with you to create custom CRO solutions designed to help you reach and convert more customers.
Earn a 20% greater ROI with WebFX