How to Create a Practical CRO Plan in 3 Simple Steps
Less than 25% of businesses are satisfied with their conversion rates.
Companies that make conversion rate optimization (CRO) part of their digital marketing strategies, however, can earn more conversions and revenue.
In fact, creating a CRO plan can boost conversions by 50% — an astounding increase for any company and market.
Conversion rate optimization can have such a big impact on your business, so it's an important strategy for driving results.
Watch our video for answers to some common CRO questions, and then keep reading to learn so much more.

How can your business create a CRO plan and achieve similar results?
Use this how-to guide for developing a practical CRO program.
If you're looking for professional help when it comes to conversion rate optimization, connect with our award-winning team at WebFX. With our decades of industry know-how, advanced artificial intelligence tech, and five-star client ratings, we're the trusted choice for businesses across the globe.
Call us at 888-601-5359 or contact us online to learn more today!
3 steps for creating a successful CRO program
When it comes to creating a successful CRO program, your business must know the following:
What brings people to your website
What stops people from converting
What pushes people to convert
Defining each of these factors serves as the foundation for any CRO plan. When you understand what factors influence your target audience's actions, you can test and improve the most influential features on your site to skyrocket conversions and achieve a good conversion rate.
1. Find what brings people to your website
If you're attracting people to your site, you're doing something right.
To build a smart and successful CRO plan, however, you need to understand why. Does your website, for example, rank well in search results, thanks to your search engine optimization (SEO) efforts? Or, do your pay-per-click (PPC) ads and their snappy copy drive most of your site traffic?
You need to find out why, and the following steps can help you discover the answer:
Audit your online marketing strategies
Why audit my online marketing strategies? Taking an in-depth look at your digital marketing plan can help you assess the performance of each strategy, as well as determine its impact on your traffic and target audience.
How do I audit my online marketing strategies? Reviewing your online marketing strategies can take several different forms. You may look at the traffic, revenue, or brand awareness generated, for example, or assess other metrics to determine the success of your approach.
First, you want to compile and audit all your digital marketing strategies, from SEO to PPC.
Then, you need to assess their performance. You can access all this information through free web analytics tools like Google Analytics and Google Ads, as well as paid ones like Ahrefs, SEMrush, and more.
Overall, you want to look at the channels that drive the most traffic to your site.
If your advertising efforts, for example, generate a significant amount of traffic, you can look at your ad campaigns, ad groups, landing pages, and more. Based on these elements, you can determine who your audience is and what, from a service to a piece of copy, motivates them to visit your site.
As a part of this step, you also want to assess your buying funnel for different channels.
Do most users, for example, arrive on a service or product page? Or, do they find your business through an informational blog post or guide? You also want to discover where users go after arriving on your website, which you can uncover with Google Analytics.
Outline your buyer persona
Why do buyer personas matter? A buyer persona matters because it can provide an overview of what matters to an audience, from what they need to what they look for in a product or service. Understanding your audience is critical because you want to make optimizations that motivate them.
How do I generate a buyer persona? You can compile a buyer persona with a few strategies, including surveys, client interviews, sales team feedback, and more. In some cases, you can also pull from existing marketing data, like your ad campaigns, to gather demographic information about your target audience.

Next, you want to outline your buyer persona.
A buyer persona offers your team a concrete idea of who your ideal shopper or business buyer is, which can make writing ad copy, brainstorming marketing ideas, and generating CRO plans easier. Remember, though, your buyer persona is a persona — it's not an actual, real-life client.
That's why not all clients will meet your buyer persona. Most, however, will.
A few ways that your team can build a buyer persona include:
Asking your sales team for information about recent leads, shoppers, or existing customers
Interviewing your most valuable or ideal clients about why they chose your business
Updating your website with a survey for select visitors
Sending your clients or customers a mailed or emailed survey
Once you conduct all your interviews or receive all your data, you can start reviewing it and looking for similarities. Then, you can use a free marketing persona generator to create your persona and share it with team members working on your CRO plan.
List your ideal buyer's wants
Why do a buyer persona's wants matter? What your ideal buyer or shopper wants matters for a few reasons. First, it can motivate them to visit your website (and eventually convert). Second, it can provide actionable data for not only your marketing and advertising team but also your CRO program.
How do I know what a buyer wants? The design of your surveys, as well as interview questions, will determine whether you discover what a buyer wants. You need to ask the right questions. Instead of asking, "Why did you choose our product?" ask, "What were you looking for in accounting software?"
Based on your surveys and interviews, you should have a general understanding of what your target audience wants. Depending on the audit of your digital marketing strategy, you may even notice differences across channels.
For example, someone that discovered your company via social media may have wanted an eco-friendly business or product. In comparison, someone that found you via paid search may have needed a company that provided free shipping.
You should see trends, though.
These trends or similarities can help you narrow in on the real motivators for people visiting your website. Your paid ads, for example, included headlines that mentioned your free shipping, while your social media ads featured descriptions that highlighted the eco-friendly manufacturing of your goods.
For easy reference, list all your findings in Google Sheets or a Microsoft Excel document.
Once you have this data, you can move onto the next step of building your CRO plan.
2. Uncover what stops your audience from converting
Now that your company knows what brings people to your website, you need to discover what prevents them from converting. You may already have some insight into this step, depending on your survey questions.
If not, you can use your site's analytics to pinpoint some potential causes for a low conversion rate.
Once you uncover the pain points that force your audience to leave empty-handed, you can move forward your CRO program. You can list, for example, the design elements or copy features, that need tested and in what priority.
Get started on finding those pain points, though, with these two steps:
Analyze your website's funnel
Why does my website's funnel matter? Your buying funnel matters because it shows how people interact with your website. When you understand how users enter, leave, and interact with your site, you can uncover critical points that can make-or-break a sale.
How do I analyze my website's funnel? You can analyze your website funnel with a free tool like Google Analytics. The Funnel Visualization report or Goal Flow report, for instance, can provide your team with a visual for how users move throughout your site.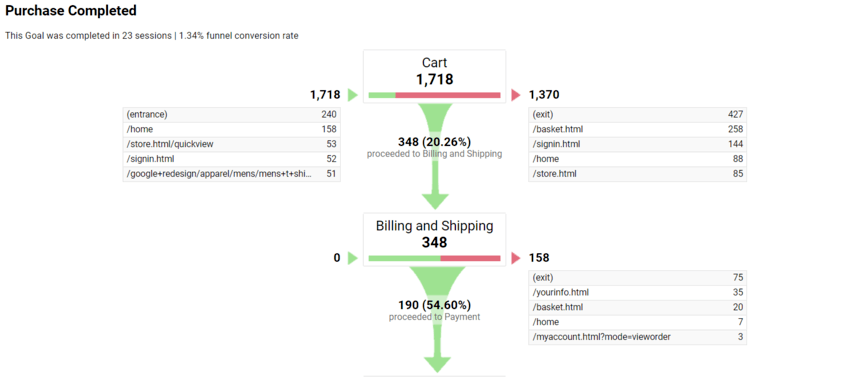 When you analyze your website's funnel, you can discover where users leave. You can also get accurate data on your buyer cycle. For example, your audience may take an average of 28 days to convert, while another company's audience may require only 10 days.
As a part of your funnel analysis, you want to look at how people move throughout your site.
If 1000 users arrive on your service page, for instance, and only 10 moves to your contact page, your CRO program may want to look at that page. Or, if 50 users arrive on a product page and 25 add it to their cart, but only five complete their purchase, you may have found a CRO project.
With Google Analytics, you can access all this information with ease.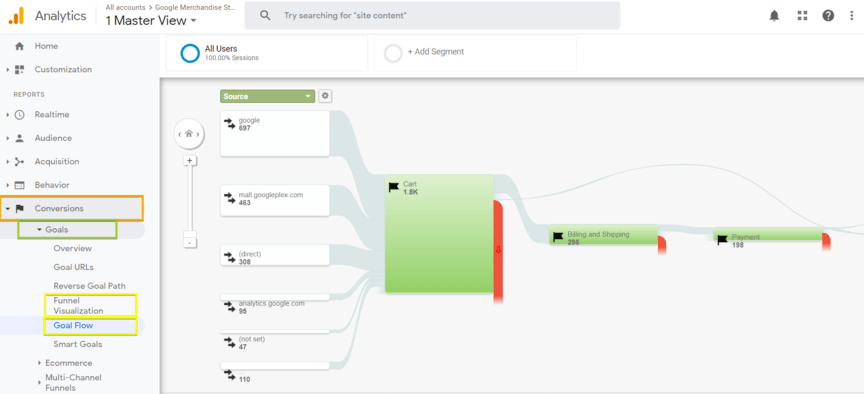 Just follow these steps:
Log in to Google Analytics
Click "Conversions"
Select "Goals"
Choose "Funnel Visualization" or "Goal Flow"
Once you have either of these reports, you can begin compiling a list of pages that your CRO program could target. These are pages that impact the user experience and stop users from converting. You may not know what prevents conversions on these pages, but you know that something does.
Spot your top-performing page drop-off points
Why do drop-off points matter? A drop-off point matters in any CRO program because they indicate a jump-off point for users. Once users reach a specific section, they leave your website and cost your company a lead or sale, which is why CRO plans will usually target pages that experience mass exoduses.
How do I find drop-off points? You can find a drop-off point on any page of your website with a heatmap tool, like Hotjar or Crazy Egg. These programs can tell your team where users leave on your page, which can help you spot problem areas.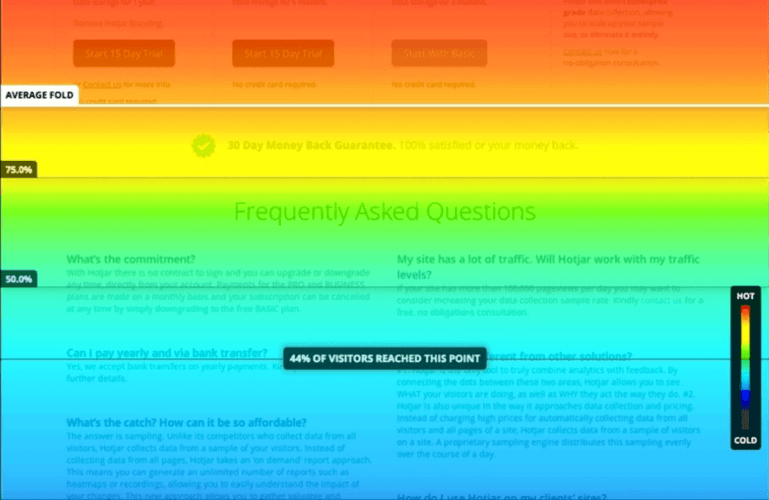 In most cases, this step is one of the easiest when it comes to building a CRO plan.
You've done the hard work of researching your audience and marketing strategies, and now you can use helpful (and free) tools to assess how your ideal buyers or shoppers behave on your site. This data coordinates with your research to help you build an effective CRO program for your business.
With a free tool like Hotjar, your team can start assessing user behavior on different pages.

If you use the free version of Hotjar, keep in mind that you can only log so many page views a day. For the most accurate data, you want a substantial number of pageviews. If you're basing decisions off the actions of 100 users versus 1000, it can harm your CRO efforts.
Using a small sample size, like 100, can give your team a distorted view of your audience and what they want. A larger sample size, like 1000, provides more perspective on what users want. While 100 users may respond well to a change, the remaining 900 may react negatively to it.
That's why your business needs a large sample size before making a decision.
Once you setup Hotjar on your site, you can start gathering and reviewing your data.
Expect a percentage of your page visitors to leave your page at some point. In most cases, you want users to go at the end of the page or a call-to-action (CTA). What you want to look for when building your CRO plan, however, is for a stark point where most users leave when they shouldn't.
When you find those points, note them and add them to your plan outline.
3. Discover what pushes your audience to convert
Now that your team knows what brings your audience to your site and what pushes them away, you can start looking for what drives them to purchase your product, contact your company, or even visit your team in-store.
This step builds off your previous work towards creating a CRO program, and includes using:
Surveys
Heatmap testing tools
Interviews
While you can interview past and current clients about their online shopping experience, you'll find the most benefit in connecting with shoppers or business buyers in real-time. A pop-up survey, for example, can help you receive immediate insight into why someone is about to purchase your product.
Refining your CRO program with user feedback can take time. It's invaluable, though.
Instead of guessing that the unique selling points (USPs) of your product motivates users to purchase, you may learn that the integration of your payment system with Amazon or PayPal made it easy for someone to shop with you.
These details can provide valuable information that informs your CRO plan.
Based on user surveys, for example, you learn that audience members want a fast experience. They know what they want from your company. All they need is a quick checkout experience that saves time by eliminating common check-out pain points.
Passing on these user wants and needs to low-performing pages can turn your conversion rates around.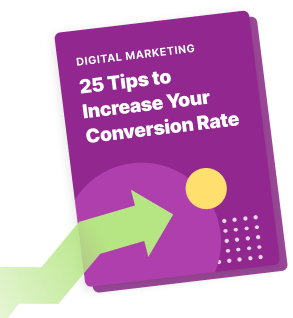 25 Free Tips to
Double Your Leads
without having to double your traffic. Learn how to increase your website conversion rate today!
Get My Free Guide
Optimize your conversion rate process with the skill of a CRO agency
Creating a CRO plan is the first step in launching a successful CRO program.
In addition to researching your audience, compiling your site's pain points, and uncovering your unique selling points, you also have to plan and implement your strategy. While it offers an immense payoff, CRO requires time that your team may not have available.
Luckily, a skilled CRO agency like WebFX can help.
As your agency and partner, we provide a custom CRO plan, launch your CRO program, and manage it for you. This turnkey approach allows your company to reap all the benefits of CRO without committing the time or resources to it.
View our CRO pricing and plans and then contact us online or call us at 888-601-5359 to see how our CRO services can help you earn more!
Earn a 20% greater ROI with WebFX