Content Marketing Ideas for B2B Companies
Businesses that sell to other businesses regularly say the same thing: "We're having trouble coming up with content marketing ideas because our customers aren't people—they're organizations!" However, this line of thought doesn't take the whole picture into consideration.
Behind every company logo is a group of individuals. And who makes the decision to buy? The people within the company. So even if your organization is 100% B2B, you can still use content to inform and persuade the decision-makers at other businesses.
Get your content up and running, get inspiration for your posts with our three steps content tool kit
Still, coming up with content marketing ideas for B2B businesses can be a bit of a challenge. To help you get started, here are a few tried and true methods:
93% of WebFX customers are extremely satisfied with their digital marketing results.
"Working with WebFX, everything is very organized and strategic. We're only a year into our partnership, and our expectations have definitely been met."
View More Client Testimonials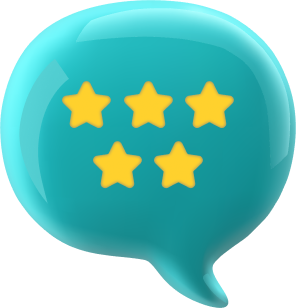 #1: Create purely informational content
Setting yourself up as an expert requires that you pass along information to your prospects for free. This information doesn't need to be limited to your products, though. Instead of providing specifications or advantages of your specific offerings, provide actionable content that will genuinely help your potential customers.
For example, if your business sells security systems to contractors or construction companies, you shouldn't just offer information about the specific systems you want them to buy. Create informative content about the benefits of security systems in general, and let them decide on their own if they are interested in learning more about what you have to offer.
#2: Highlight case studies
Unless your company just opened its doors, you hopefully have some happy customers who will gladly help you with your content marketing by giving you permission to highlight them in a case study. For an added boost, include images and videos. This will showcase your products or services in action, and give your prospects a reason to trust your organization above your competitors.
#3: Answer questions
Does your sales team seem to get the same questions over and over? Are they questions that could be answered with an article, a video or screenshots?
Common inquiries are a rich resource for your content writing, because the more questions you can answer, the better chance you have of showing your customers that you understand their needs. This is why FAQ pages are so popular on sites across almost every industry.
#4: Offer templates
If you offer a service to other businesses, you may want to help them make the best use of your services by giving away free templates related to your industry. These will assist your prospects, and you'll become a valuable resource to them. Over time, they'll use your templates and be reminded of your business every time they do.
#5: Highlight press
Did you get mentioned in a trade publication? Were you interviewed by a local reporter? Make sure you create content about these exciting experiences. They really do matter to your prospective clients! It's much easier for someone to feel comfortable buying from your organization if they've seen positive reviews and press from sources outside your company.
#6: Host webinars
Although they used to be cost-prohibitive to all but large corporations, webinars are now an accessible strategy for businesses of all sizes. Free webinars allow you to educate your prospects, and they also provide you with other content, because you can use the transcripts afterwards to create article pages, blog posts, and free downloads.
#7: Offer online assessments
Needs assessments are to businesses as polls are to consumers. If an individual fills out a needs assessment online, they've taken the first step in connecting your businesses. With these tools, you can collect valuable information and reach out to further discuss the results of the assessment.
In fact, you could even set up a needs assessment that specifically involves them providing contact information in order to get their results. This ensures that you have a correct email address on file to match their company profile.
#8: Spotlight new products and services
Have you recently added new products or services to your offerings? Have you tweaked an older product or service? Content can be created around this, and can take the form of blog posts, articles, press releases, social media posts or videos.
Even small changes are worthy of content if they make your products more attractive to potential customers, especially if you have data to back up why you made them. This shows that you care about your customers and want your products to be as useful as possible.
#9: Feature trend analyses
Trends are always a hot topic in every field, and if you can deliver information on upcoming trends based on your company's expertise, you can position yourself as an industry leader. However, it's important to remember that trend analyses should include hard facts and data—not simply your opinions. You need to be able to back up your predictions, and you definitely don't want to appear biased towards your own offerings.
#10: Showcase your employees
When was the last time you featured an employee in your content marketing? It's likely been a while, unless this is a standard part of your marketing plan.
Not only will this put another face to your company, but it will give you the opportunity to provide a specific example of talent and expertise. After all, you no doubt have employees with fascinating backgrounds and experiences. Why not give them some kudos?
#11: Give back to your community
Many businesses make it a priority to give back to their communities. And while this clearly holds value on its own, it also presents a great opportunity for content.
You don't have to pat yourself on the back, but write about the key organizations and movements you support. For instance, if you give out a local scholarship to a deserving high school senior, that's a terrific, feel-good piece of content just waiting to be written!
These are only 11 ideas out of many, and the possibilities for B2B content marketing are anything but dry! Be creative, and remind yourself that content for businesses doesn't have to be difficult to conceive or create.
If you don't have the time or resources to execute an effective content strategy on your own, don't hesitate to contact us! Our talented team of copywriters and PR professionals can help you create and publish the right contact to attract traffic and generate leads for your business.