As a dermatologist, you're one of more than 7,800 practices in the United States. To beat out these competing practices and attract more new patients, pay-per-click advertising, or PPC, is one of your best options.
Dermatology PPC is a cost-effective advertising model, because it allows you to choose exactly how much you pay for each visitor to your site and how much of your budget you're willing to spend. The results are easy to track, which means that over time, you'll be able to construct the most effective ads.
If you're interested in learning more about how PPC can help your dermatology practice reach your goals, keep reading. On this page, we'll talk about how PPC campaigns work, why they're great for dermatologists, and how you can get started with one today.
For more dermatology marketing ideas, subscribe to our email newsletters.
Why do dermatology practices need PPC?
PPC reaches users as they're actively searching for the services you provide.
These campaigns also allow you to track the success of your ads so that you can improve them and create more effective ads for your practice. With traditional marketing channels, it's impossible to know or understand how recipients interact with them, or if they ended up in the trash.

Not to mention, on average, businesses using Google Ads for their ads make two dollars in revenue for every dollar they spend. That's double the return!
Even if users don't click on your ad, seeing the name of your practice in the top search results will increase your brand awareness. So although a user may not be ready to contact you the first time they see your ad, they'll be more likely to recall your practice when they do if your ads always show up for certain keywords that they search.

Hear What It's Like to Work With WebFX!

"WebFX has completely transformed my practice. With their support, I have expanded my practice significantly and grown exponentially. I could not have expanded to this degree, nor this quickly had it not been for the incredible efforts provided by WebFX and my team."
Healthcare
How does PPC for dermatologists work?
PPC is an ad model that allows you to advertise your dermatology practice to your most qualified online users. In fact, targeting is one of the qualities that makes PPC ads so effective.
Unlike traditional marketing tactics like newspapers or print ads, PPC ads meet users where they're already looking: Search engines.
In order to target users, you'll have to start with keyword research, which is the process of finding the keywords that mean the most to potential patients.
Then, you can target those keywords that users are searching within your PPC ads.
PPC works on a bidding system in which you bid on high-performing keywords. For example, if you wanted to target the keyword "laser acne removal in [your city]," you would bid against other dermatology practices that also want an ad for that keyword.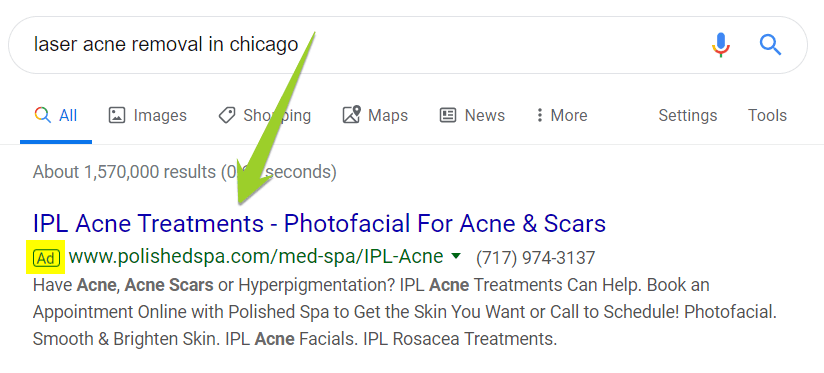 Your bid is the amount of money that you're willing to pay when an ad is clicked. You won't have to pay a cent even when users only see your ad but don't click. This is part of the reason why PPC is such a cost-effective advertising model.
If you win the bid for the keyword you want to target, your ad will display when users search for that keyword, and they'll have the option to click it.
When a user clicks on your ad, they'll be taken to a landing page, or a place on your website that provides a call-to-action in the form of a contact form or phone number button.
The overall goal is to get users to click your ad and become a patient, and by following the steps below, you'll be able to do just that.
If you need help creating the most effective landing pages for your dermatology practice, WebFX can help!
How can WebFX help with dermatology advertising?
If you're looking to invest in dermatology advertising with the assistance of a professional PPC agency like WebFX, there are several benefits. From saving time to improving results, it's a smart decision to work with a dedicated PPC agency.
A few examples of how WebFX can help your dermatology PPC campaign include providing:
Custom ad strategy
Return-on-investment (ROI) tracking software
Dedicated account manager
Routine reporting
Strategic bid management
And more
If you'd like to learn more about how our award-winning team can support yours, contact us online!
How to start a dermatology PPC campaign
There are a lot of moving parts when it comes to a dermatology PPC campaign, but below, we'll outline some of the most important.
1. Keyword research
Keyword research is the first step in any PPC campaign. Without it, you won't be able to target the keywords that mean the most to your potential patients.
Keyword research is the process of finding out what potential patients are searching online, as well as the average cost-per-click (CPC), monthly search volume, and competition level for each keyword.
There are a handful of free tools that can help you find all of this information, like KeywordsFX, keywordtool.io, and Keywords Everywhere.
You can use the first two tools to brainstorm variations of keywords that you are already targeting, and then upload them to Keywords Everywhere to see the CPC, search volume, and competition.

After you've decided which keywords will benefit your dermatology practice the most, it's time to build your campaign.
2. Create high-converting landing pages
As we mentioned earlier, landing pages are where users are directed after they click on your ad. There are a few things you should remember when creating your landing pages.
They should always reflect what was promoted in the ad. For example, if you have an ad that is offering a free skin check, your landing page should be the next step in scheduling an appointment – like filling out a contact form.
If the landing page doesn't match the ad, users could become frustrated and navigate away from your page.
You should always remember to create your landing pages with little to no navigation. If you provide a way for users to exit your page, they might – but if you don't provide navigation, they'll have no choice but to fill out your contact form.
3. Set up your Google Ads account
Google Ads is a user-friendly platform that allows you to set up your PPC ads.
It allows you to set your target keywords, select how much you'll bid for each, set up your landing pages, and design your ads.
It also has a built-in analytics platform that you can use to track how often your ads are clicked and how they're performing.
4. Track your campaign
It's crucial that you track the success of your ads. If you don't, your ads won't be as effective as they could be with regular testing and analysis.
You can A/B test your ads, which involves changing an element of your ad and displaying two different versions to users. In doing so, you'll be able to see which variation is more effective in generating clicks and conversions.
After a few rounds of A/B testing different elements of your ad, you'll end up with the ad that gets the best possible results.
You should also use the analytics platform in Google Ads to keep track of how your ads are performing as a whole.
Get started with dermatology advertising
We are a full-service digital marketing agency, and our team is made up of experts in SEO, PPC, copywriting, and more.
Contact us today to talk to a specialist and receive a free quote!
Earn a 20% greater ROI with WebFX