Your nutrition or dietician practice can't thrive without clients. Though you may have plenty now, you need to attract more so you can continue to share your expertise in dieting and proper nutrition with your clients for years to come! Luckily, you can do just that with lead generation for nutritionists and dieticians!
If you're ready, you can contact us online or call us at 888-601-5359 to learn more about our lead generation services or read on to learn about six lead generation tips for nutritionists and dieticians.
37% of marketers say that generating high-quality leads was one of their biggest challenges.
We want to decrease that percentage.
WebFX can help you generate high-quality leads with a customized marketing strategy.
Learn More About Lead Generation Services
1. Optimize your site for SEO
One of the first places people are going to turn to when looking for a nutritionist or dietician is the Internet. Make yourself easy to find on search engines through search engine optimization (SEO). SEO is the process of improving your website so it ranks higher on search engines like Google, improving your business' visibility and accessibility.
A few ways you can optimize your website for SEO include:
Keyword usage: Keywords are the words or phrases that are most relevant to your content. By integrating keywords and phrases into your content, you can rank higher on search engine results pages (SERPs) when a user searches that exact keyword.
Improve title tags and meta descriptions: Ensure your title tags and meta descriptions accurately reflect what your content is about so it shows up on the right SERPs and entices users to click on it. Don't be afraid to use those keywords in there too!
Make your site mobile-friendly: People aren't always making Google searches from a computer. Make sure your website has a responsive web design so it's navigable for users viewing it on mobile devices like phones and tablets.
2. Invest in paid search ads
Improve your site's visibility on SERPs even more by investing in paid search advertising. Paid search ads are great for lead generation for nutritionists and dieticians because they make it so your website is one of the first links users see when they land on related SERPs.
Paid search ads are ideal for businesses seeking to generate new leads because they appear at the top of the search results list with the label "Ads." This is considered prime real estate on search engines because Ads earn 45% of page clicks from users on SERPs.
Paid search ads are a type of pay-per-click (PPC) ad, meaning businesses only pay for the ad whenever a user clicks on it.
The ad positioning is based on a bidding system. If you submit one of the highest bids for a keyword and earn a high Ad Rank and Quality Score, you could receive a better spot on SERPs. , you'll pay the bid amount each time your ad is clicked.
3. Maintain a consistent social media presence
Social media is one of the best lead generation and digital marketing strategies for nutritionists and dieticians because you can reach a huge audience and directly connect with them through comments, replies, tagging, and direct messages.
People want to follow accounts that consistently deliver quality content, so improve your lead generation by maintaining an active presence on social media. Your clients aren't going to see a reason to follow and interact with your account if you rarely post anything. On the other hand, if you post too much, they'll opt to unfollow you too.
The key to post frequency on social media is to find that "sweet spot." You want to post enough that your clients and followers are aware of your presence, but not enough that they're annoyed. Consistent posting on your social media pages will help you earn and retain leads on social media.
4. Use paid social media ads
In addition to posting frequently, another essential strategy for lead generation for nutritionists and dieticians is investing in paid social media ads. With paid social media ads, you can increase your visibility on social media to reach more clients outside the reach of your regular posts.
Paid social media ads give you the opportunity to target specific audiences and customize your campaigns to reach new leads. Platforms like Facebook, Instagram, and TikTok offer different paid advertising options, so you can choose the format that works best for your campaign.
Take a look at some of the different paid ad opportunities these three social media platforms have to offer:
Facebook: With Facebook, you choose between image, video, and carousel ads to promote your practices' services.
Instagram: Similarly, Instagram also offers image, video, and carousel ads. Additionally, the platform offers ads on Instagram Stories.
TikTok: This platform is strictly for videos, so your ad options consist of where exactly users see your ads. You can have your ads show up in users' feeds or show up immediately when someone opens the app.
5. Content marketing
Content marketing is one of the most valuable lead generation tips for nutritionists and dieticians that we can offer because with it, you can provide your audiences with the information they're looking for.
Content marketing involves creating content like articles, blogs, newsletters, or online guides to attract and engage audiences. Ultimately, the goal is to convince your audience to become a client once they interact with your content.
Content marketing can make you look like an authoritative source in your industry when you create and distribute valuable content that is insightful and helpful to others on the Internet (not to mention that it helps your SEO, too!).
With content marketing, you can prove yourself a credible source of industry information, improving your value and credibility to your audiences. You'll make a positive impression in their minds that can lead to them becoming a client or even recommending you to someone they know is looking for your services.
6. Use clear CTAs
Calls to action (CTAs) urge your audiences to take a specific action. Ideally, they compel audiences to become clients or at least take one step closer to becoming clients.
Add CTAs to any piece of content you create, like:
Website pages
Blog posts
Social media posts
Emails
Ads
CTAs should plainly tell users what to do next once they're finished looking at a piece of content you created.
For example, at the end of an informative blog post, you might want to add something like "Learn more about [topic] here!" This way, you direct the user to another piece of content on your site rather than leaving it altogether. The longer you keep users on your site, the better your chance of getting them to become clients.
93% of WebFX customers are extremely satisfied with their digital marketing results.
"Working with WebFX, everything is very organized and strategic. We're only a year into our partnership, and our expectations have definitely been met."
View More Client Testimonials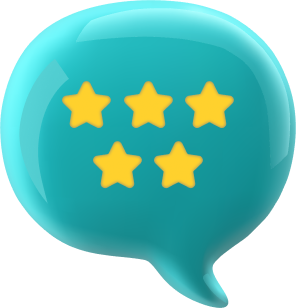 WebFX knows lead generation for nutritionists and dieticians
Lead generation for nutritionists and dieticians doesn't have to be complicated. WebFX has experience in lead generation for health and wellness companies, and we're ready to help you attract new clients looking for your diet and nutrition expertise!
Ready to get to work? Contact us online or call us at 888-601-5359 to speak with a strategist today!
Earn a 20% greater ROI with WebFX