In an industry that provides healthcare services to women throughout their lives, it's important to make your practice visible online.
There are many strategies to that you can use to market your OB/GYN practice and to ensure that potential patients can find your services.
Call 888-601-5359 to speak with a strategist about digital marketing plans from WebFX, or keep reading to learn more about how you can use online channels to help your practice grow.
Our digital marketing campaigns impact the metrics that improve your bottom line.
See More Results

WebFX has driven the following results for clients:

$3 billion
In client revenue

7.8 million
Leads for our clients

5.2 million
Client phone calls
Create a thriving practice with OB/GYN marketing
Attracting new patients, as well as keeping existing ones, depends on digital marketing. At WebFX, we offer your practice the services, skill, and team you need to use OB/GYN marketing to grow and create a thriving practice.
Learn more about our digital marketing services (and how they can help you) now:
Hear What It's Like to Work With WebFX!

"WebFX has completely transformed my practice. With their support, I have expanded my practice significantly and grown exponentially. I could not have expanded to this degree, nor this quickly had it not been for the incredible efforts provided by WebFX and my team."
Healthcare
SEO
Reach patients when they need you with search engine optimization (SEO). Appear at the top of search results on places like Google and start booking new patients with our SEO services.
PPC
Drive phone calls, appointments, and more with paid ads targeted to your location and audience. Advertise on search results and trusted websites with our powerful pay-per-click (PPC) advertising services.
Content Marketing
Build lasting relationships with patients with original and thoughtful blog posts, articles, and guides. Plus, get content promoted and optimized for SEO with our services!
Email Marketing
Keep patients coming back with emails that go beyond appointment reminders. Share updates, articles, and more with our email marketing services to keep patients engaged.
Social Media
Engage and educate current and future patients with social media posts and advertisements that build brand awareness, generate patient loyalty, and more with our social media services.
Web Design
Make learning about your practice easy with a fast, intuitive, and welcoming website. Use our web design services and get a custom site that captures your brand.
Why choose WebFX for OB/GYN marketing?
When it comes to OB/GYN marketing, WebFX is a top choice because we:
Provide a complete marketing team
Partnering with WebFX gives your practice a whole marketing team that includes:
Marketers
Advertisers
Web designers
Copywriters
Web developers
Graphic designers
You don't have to worry about finding someone to write your next blog post or update your website. Our team handles it for you, working as an extension of your practice. With WebFX, you have a turnkey solution to all your marketing needs.
Deliver real, impactful results
Even though we've helped our clients earn more than 7.8 million leads and more than $3 billion in revenue in the past five years, we understand that success goes beyond numbers. It includes what your practice accomplishes because of OB/GYN marketing.
That's why we measure our success by your successes.
For example, our digital marketing services and strategies have helped our clients:
Hire new team members
Open new locations
Offer new products or services
And more
When you partner with WebFX, you can count on us to help your practice achieve those kinds of results.
Create custom OB/GYN marketing strategies
A copy-and-paste approach to marketing an OB/GYN practice doesn't work. While all practices can benefit from specific strategies, like SEO or PPC, a custom plan is what powers the success of that strategy.
That's why we custom-build all our approaches to your practice. Your dedicated WebFX account manager talks with your team, learning about your practice, goals, and challenges to create a campaign that targets your goals and challenges.
This approach is one reason why our client recommendation score is 488% higher than the average.
Learn more about why WebFX is a trusted choice by contacting us online or calling us at 888-601-5359!
How can OB/GYN practices use digital marketing?
There are many strategies that allow you to market your practice online and target your most valuable customers.
Search engine optimization (SEO) for OB practices
The best way to attract potential patients to your OB/GYN website is SEO.
SEO, or search engine optimization, is the practice of improving your website so that it ranks highly in search engine results pages. It includes keyword research, HTML code improvement and content creation.
Content marketing for OB practices
Content marketing is extremely important to your Internet marketing campaign because it involves creating the information that allows you to emerge as an industry leader and a knowledgeable practice. Plus, you can easily share your website content on social media channels.
When you create content for your OB/GYN practice, you should write with your audience in mind. You should aim to create content that is unique and informative in order to drive traffic to your website.
Content ranges from short blog posts to long form articles and should use keywords that are important in your industry.
Email marketing for OB practices
Email marketing is a great way to stay at the forefront of your potential patients' minds.
The best way to use emails to market your OB/GYN practice is to send monthly newsletters to inform current and potential patients about news regarding your practice, new staff members, or useful industry news.
You could also send health pamphlets that inform recipients about why OB/GYN care is important to their health and a timeline of when they should be seen.
Why does OB/GYN online marketing matter?
There are many reasons that you should market your practice online. Here are a few of the most important:
Reach
Every month, Google sees somewhere between 30.3 and 70.8 thousand searches for the phrase "OB/GYN near me."
This means that if you fail to market your practice online, you could miss out on a huge pool of patients that are searching for your services.
Not to mention, many people use search engines to look up health issues that your practice addresses. Last year, 72% of Internet users said they looked for health information online – and if you can provide these users with the information they're looking for, there's a greater chance they'll feel comfortable contacting you.
Convenience
When patients are looking for a healthcare provider, they turn to search engines. Google typically returns search results in less than a second, making it extremely easy for them to research their options.
When you market your practice online, it's also convenient for potential clients to get to know your practice before deciding to commit.
Users can see essential information like your location, hours of operation, contact information, and other details about your practice.
Relationship building
With the use of social media marketing, you can create relationships with your current and potential patients.
On platforms such as Facebook and Twitter, you can interact with users through posts, comments, and direct messaging. Responding to messages and comments quickly allows you to show current and potential patients that you care, and can make them more comfortable with the idea of booking an appointment.
Good agencies have more than 50 testimonials.
Great agencies have more than 100 testimonials.
WebFX has over 1000+ glowing client testimonials.
See What Makes Us Stand out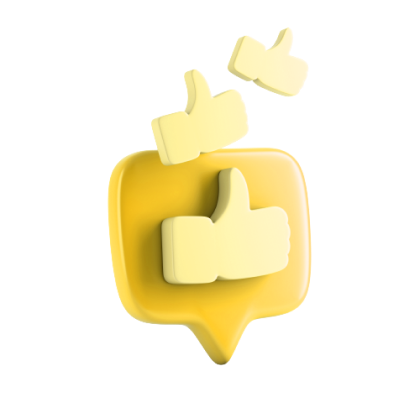 Get started with OB/GYN marketing
Our professional team of Internet marketers can create the perfect strategy to attract more traffic to your OB/GYN website and ultimately, more patients to your practice.
Contact us today for a free quote!
Earn a 20% greater ROI with WebFX