Are you a telehealth provider that wants to let more people know about your services?
If you answered yes, it's time to invest in digital marketing for telehealth!
Digital marketing strategies enable you to reach more users, inform them about your services, nurture them into becoming patients for your practice.
Want to learn about the strategies you can use to reach these patients? On this page, we'll provide you with the top four strategies for telehealth providers looking to gain more patients!
If you want to learn more about what digital marketing holds for your telehealth practice, contact us online or call us today at 888-601-5359 to speak with a strategist!
1. Invest in building an inviting and professional website
If you want to know how to market telemedicine services or telehealth services, start by investing in your website. Your website is the heart of every digital marketing method you invest in for your practice. Whether it's a paid advertising campaign or an email campaign, a professional website is at the center of it all.
Your patients will likely get their first impression from your site, so it should be professional, organized, and informational. Site visitors want to feel like they can trust your practice to deliver proper care, and if you have an outdated or disorganized website, your audience won't feel comfortable using your services.
So, it's critical that you invest in updating your website's design so your audience will want to use your telehealth services.
Your website should have a modern design with intuitive navigation that makes your site functional and easy for users to browse.
Additionally, you'll need to establish a style guide. A style guide provides guidelines for how every aspect of your site should look, so every page is consistent. This style guide will establish your:
Color scheme
Typography
Image style
Logo
And more
You'll want to have a style guide so that, no matter who works on your site, your site will look consistent across the board. For example, if you choose a web design company to design your site, and later hire a different agency or freelancer for upkeep.
If you don't feel comfortable redesigning your site, or you don't have the time, you can always invest in website redesign services, so you can focus on helping your patients.

Hear What It's Like to Work With WebFX!

"WebFX gets it done! They've done a great job working with our changing vision and goals, and their turnaround times are wonderful. All staff are professional, timely, and friendly."
Healthcare
2. Use search engine optimization (SEO) to attract more traffic to your website
When you invest in Internet marketing for telehealth, you'll want to add search engine optimization (SEO) to your marketing plan. SEO is a strategy that enables you to boost your website's ranking in search results to drive traffic to your page.
To get started with SEO, you need to:
These are just a few SEO tactics that will help you get started with optimizing your ranking.
Curious to see how SEO fits with your budget and business? Get your free SEO quote today!
3. Create paid ads for leads ready to choose a telehealth provider
As you develop your telemedicine marketing campaign, you'll want to invest in strategies that enable you to reach patients that are ready to choose a provider. One of the most important strategies for digital marketing for telehealth is pay-per-click (PPC) advertising.
PPC ads appear at the top of the search results, above organic listings.

These paid advertisements help you drive more qualified traffic to your website. With 46% of page clicks going to the top three PPC ads, you don't want to miss an opportunity to drive valuable traffic to your page.
To set up a PPC ad, follow these steps:
Determine your budget: First, you must determine how much you want to spend on PPC ads. Generally, it's good to set a range so you can adjust your budget depending upon cost-per-click (CPC) for your ads.
Create your ad content: Generate the ad you want to run with PPC. You'll need to create a landing page tailored to your ad content. So, for example, if your ad focuses on psychological services, your landing page should only provide information on your psych services and not other services.
Choose your target keyword: Like SEO, you'll want to focus on long-tail keywords to attract patients to your practice. Long-tail keywords also have a lower CPC, which means you'll get more clicks for your budget.
Bid for ad placement: When you conduct keyword research, many keyword research tools will show you data for the average CPC for the keyword. You can use that information to help you set your bid amount. Your bid amount is flexible and can change as needed.
Get your placement: With your bid amount and quality score, you'll get your ad placement. Your quality score composes of factors like click-through rate (CTR) and ad relevancy. A high quality score will allow you to get better placement over a high bid.
Launch your ad: Once you have your placement, you'll launch your ad and start driving traffic to your site!
If you're looking to drive more qualified leads with telehealth marketing, invest in PPC ads to help you reach more qualified leads for your practice.
4. Create content to establish yourself as an authority
An important part of Internet marketing for telehealth is creating content. As we mentioned earlier, content plays a pivotal role in helping you improve your SEO. Not only does it improve SEO and traffic on your page, but it also helps you establish yourself as an authority.
With content creation, you share your knowledge and expertise with your audience.
Content is extremely versatile, coming in numerous formats, including:
Podcasts
Ebooks
And more
When you develop your content marketing strategy in your telehealth marketing plan, you'll want to use a variety of these formats to keep your content fresh and interesting.
You'll also need to generate a list of topics to cover with your content. You'll want to stick to industry-relevant topics to ensure you drive the right traffic to your page.
One way to think of content topics is to think about common questions people ask regarding telehealth. Some common questions might include:
What is telehealth?
What services can you get from telehealth?
How does telehealth work?
What conditions get treated through telehealth?
These might be common questions you hear from patients, so they could potentially be a great topic for your content. It would enable you to provide these users with all the information they want to know about a telehealth topic.
Once you have a list of topics, you can start searching them on Google to see what comes up. You can see what other companies wrote to help you shape your content. Additionally, you can use the "People Also Ask" section to generate ideas for subsections in your content.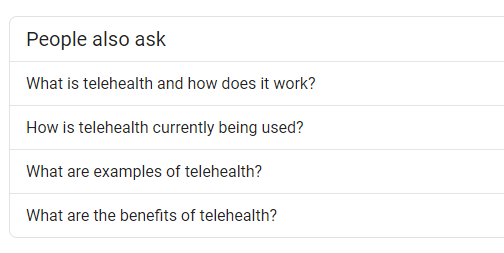 As you create content, don't forget to research and integrate relevant keywords so you can rank in appropriate search results!
Overall, content marketing is one of the best marketing ideas for telemedicine and telehealth practices. It will help you establish yourself as a knowledgeable authority and drive traffic to your site that's looking for information about telehealth.
Invest in digital marketing for telehealth today
If you want to drive more patients to your telehealth services, you need to invest in Internet marketing for telehealth. Digital marketing services will help you attract more people to your services and get them to partner with you for their healthcare needs.
When you're busy running your telehealth practice, you might not have the time to dedicate to building an Internet marketing strategy. That's where WebFX can step in and help.
We're a full-service digital marketing company that provides everything your telehealth practice needs, including:
And more!
When you partner with us, you're partnering with a company that knows how to drive results.
Not to mention, we've got 1000+ glowing client testimonials that attest to the awesome results we drive for them when they invest in our Internet marketing services!
So what are you waiting for? Contact us online or call us today at 888-601-5359 to speak with a strategist about our digital marketing services!
Earn a 20% greater ROI with WebFX