When someone notices a suspicious-looking spot on their skin, where's the first place they go? Today, the answer isn't always a doctor – in many cases, it's search engines like Google.
They type a description of their skin condition and any other symptoms, read through the first few results, and come up with a (possibly overblown) self-diagnosis. Fortunately, the next step is usually choosing doctor to offer a professional opinion. That's where Internet marketing comes in.
If your dermatology practice has an effective online marketing campaign, patients will be able to find you easily when they need your services. In fact, they may even arrive on your site during the research process.
This makes the Internet one of the best places to market your dermatology practice, because it's where your potential patients are already looking. Building a dermatology marketing strategy around digital channels lets you target the right audience and build trust in your practice.
Call 888-601-5359 to speak with a strategist about how WebFX can help your practice grow with a custom digital marketing strategy, or keep reading to learn how dermatologist marketing (and our digital marketing services) can grow your center.
Thrive with dermatology marketing
With dermatology marketing, your practice can thrive, attracting new patients and building lasting relationships with existing ones. As your partner, WebFX can help you maximize the benefits of digital marketing for dermatologists.
A few of the advantages that come with our dermatology Internet marketing services include:
Grow your dermatology practice
Like any medical practice, you want to grow. You want to help more patients in your area and provide them with the level of care they need and desire. With a digital marketing strategy specific to dermatologists, you can accomplish this goal.
At WebFX, we feature an experienced team of more than 200 online marketers, many with first-hand experience in medical marketing. They can build a custom strategy for your practice and help you grow your practice.
Just in the past five years, they've helped our clients' businesses earn more than 4.6 million leads.
Attract your preferred dermatology cases
The field of dermatology encompasses a range of specializations, from acne to hair loss. Even if your practice provides 360-degree care, you probably have an area of focus that you study in-depth and get excited about treating.
With digital marketing strategies like search engine optimization (SEO) and pay-per-click (PPC) advertising, you can reach patients looking for a dermatologist that specializes in a specific area, like treating chronic acne.
At WebFX, we amplify the results of these strategies by creating a custom dermatology marketing plan for your center. This strategy considers your goals, competitors, and audience, which helps grow your practice.
Become your area's top dermatologist
Your dermatology practice may compete with several dermatologists in your area, making it a competitive field. If you want to maintain and grow your practice, you need a digital marketing strategy for attracting new patients and retaining current ones.
With a range of online marketing strategies available, from geofencing advertising (which lets you target competitor locations) to content marketing (which helps you reach potential patients researching skin issues and treatment), you can compete with any competitor in your area.
Our client-exclusive software, MarketingCloudFX, also provides you with unparalleled insight into your competitors. You can view competitors that look at your dermatology practice's website, as well as understand how a competitor excels online.
At WebFX, we can help you leverage this data for a result-driving dermatology marketing campaign.
Increase your number of referrals
Patient referrals can help your practice grow fast. With online marketing, you can earn more patient referrals, like by improving your reputation management, email marketing efforts, and presence in search results.
All these strategies can bring your practice top-of-mind to referring physicians.
As your dermatology marketing partner, WebFX can help you develop, launch, and manage a campaign that reaches these valuable audience members. We'll also ensure that every strategy follows industry regulations and best practices as a medical professional.
Hear What It's Like to Work With WebFX!

"WebFX has completely transformed my practice. With their support, I have expanded my practice significantly and grown exponentially. I could not have expanded to this degree, nor this quickly had it not been for the incredible efforts provided by WebFX and my team."
Healthcare
5 dermatology marketing strategies that work
Your practice can choose from a suite of dermatology marketing ideas and strategies. Which ones offer your center the most benefit, though? At WebFX, we have more than 20 years of digital marketing experience, and we've found the following techniques to deliver consistent results.
If you're curious about other marketing strategies for dermatologists, browse our complete list of online marketing services and online advertising services. You can also contact us online or call us at 888-601-5359 to chat with an experienced strategist.
How to build a better dermatology marketing strategy
Create a professional website
The cornerstone of any online marketing plan is a professional-looking website. Often, your website will be the first impression of your practice a user gets. It's where they'll go to learn more about you, form their opinion of you, and if they're impressed, locate your contact information.
A website that looks polished and operates in a user-friendly way will lead people to trust your practice, which is key in the medical field.
To ensure that your site looks great and functions well no matter how users access it, build it using responsive design . A responsive site will adjust to any device and screen size, meaning that visitors will get the same experience whether they visit on a computer, smartphone, tablet, or other device.
Your website also serves as a reliable place to publish original content and other key information. You should also place your contact information in the footer of each page, so that it's easy for visitors to get in touch.
Offer helpful resources
One of the best ways to connect with potential patients is offering helpful information, and the easiest way to do this is by starting a blog. Blogging has a number of benefits for any business, and dermatology practices are no exception.
In fact, blogging just once or twice per month generates 70% more online leads than not blogging at all, and publishing new posts 15 times per month can result in 500% more traffic.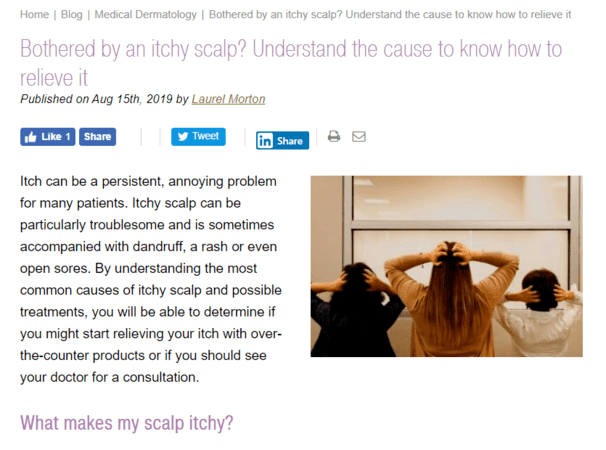 Of course, you don't need to commit to writing 15 posts every month – but you can still use your blog to offer people expert advice and create content that readers find valuable. For example, as a dermatology practice, you might write posts about skin care tips, how to recognize common skin conditions, or what to consider when buying sunscreen.
Creating this kind of content will lead people to view your site as a useful resource, which will lead them to return to it in the future. They'll also begin to see you as a credible authority in your field.
Then, when it comes time for them to schedule an appointment with a dermatologist, they'll already trust you and see you as a knowledgeable professional.
Optimize for search engines
93% of Internet users begin their sessions with a visit to a search engine and 73% of search engine users don't look past the first page of results. This means that your dermatology practice needs to rank well for searches related to your services.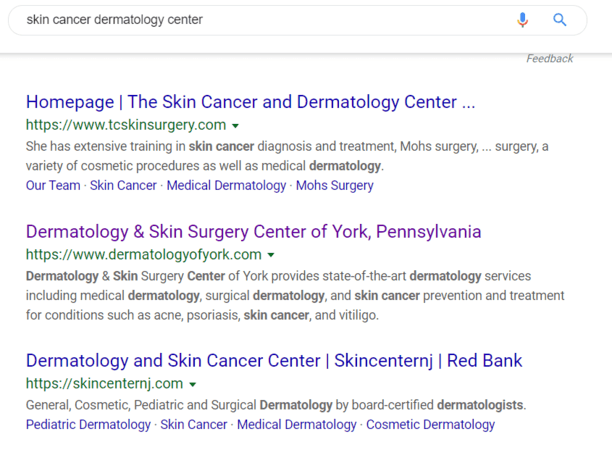 You can use search engine optimization , or SEO, to improve your rankings and attract more potential patients to your site. This involves including keywords and phrases on your pages that people search to find dermatologists, as well as creating sitemaps, improving user experience, and earning links from other websites.
Engage with your audience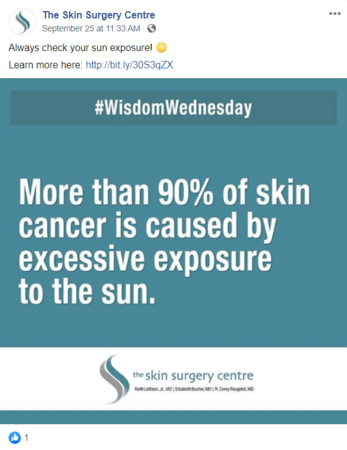 Unlike traditional marketing channels like billboards and TV, the Internet allows for two-way interaction between advertisers and customers. This enables you to build relationships with potential patients, which builds trust and encourages them to one day make an appointment.
One of the best ways to do this is with social media marketing. Today, 2.3 billion people use social media – so your target audience is almost guaranteed to be there.
Posting regular, useful content on social media can help you gain followers, and sharing links to your latest blog posts and other articles can help drive traffic to your site.
When users comment on your posts, be sure to respond quickly and professionally. If they mention your business in a positive light, thank them. If they post a complaint, publicly offer to speak with them to resolve the problem. This shows that you care about your patients, which can go a long way in building trust with those who see it.
Write compelling calls to action
Calls to action are one of the most important aspects of any Internet marketing campaign, and should be integrated into all of your online content. They should encourage users to take specific steps, and can be involved in all parts of the sales funnel.
For example, at the end of your blog posts, you could ask readers to subscribe to your newsletter for regular updates from your practice. You could also include buttons that encourage visitors to download a resource, make an appointment, or anything else that gets them a step closer to becoming a patient.
When optimized correctly, your calls to action can transform your website into a valuable lead generation tool.
Create your dermatology marketing plan with WebFX
If you're ready to start using online channels to reach new patients, WebFX can help. Our team has years of experience creating custom Internet marketing strategies for clients in a variety of industries, including healthcare.
Earn a 20% greater ROI with WebFX