Although there are many channels available for marketing a business, marketers today increasingly turn to digital marketing over traditional tactics.
These new marketing channels offer many potential benefits to businesses of all kinds, including those in the healthcare field. So if you're not yet using digital strategies for your fertility clinic, call 888-601-5359 to speak with a strategist, or keep reading to learn more about how digital channels can help you reach your marketing goals.
Inbound vs. outbound marketing
Marketers now often use the term "outbound marketing" for more traditional advertising methods like billboards, TV ads, and promotional direct mail materials, because they work by sending mass messages out to a large audience – whether they're interested or not.
"Inbound marketing," on the other hand, involves marketing in a way that allows potential customers to find you while they're actively looking for information. You can do this with online strategies like content marketing, social media, search engine optimization (SEO), and pay-per-click (PPC) advertising.

These newer strategies allow businesses to more effectively target the right people. Unlike with traditional marketing, customers and companies can engage in two-way conversations, which allows them to build relationships.
It's easy for customers today to ignore traditional ads today by changing channels, skipping commercials, or just streaming content online. But people don't ignore inbound marketing.
In fact, they seek it out and willfully engage with it. For these reasons and more, inbound often leads to a higher return on investment.

Hear What It's Like to Work With WebFX!

"WebFX has completely transformed my practice. With their support, I have expanded my practice significantly and grown exponentially. I could not have expanded to this degree, nor this quickly had it not been for the incredible efforts provided by WebFX and my team."
Healthcare
How fertility clinics can use digital marketing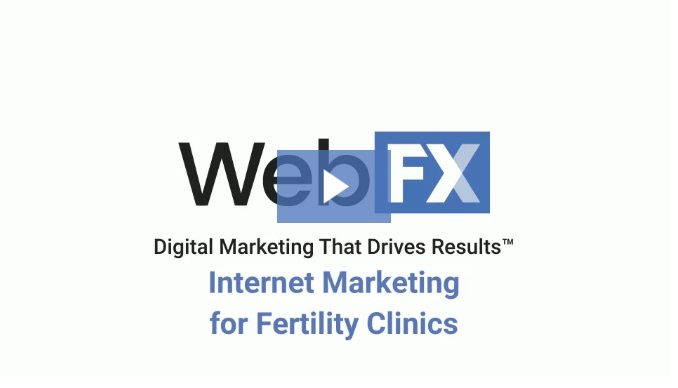 Digital marketing used to be associated with businesses like tech companies, clothing brands, and fast food restaurants. But today, people search for almost everything they need online – meaning that any organization can benefit from online marketing.
That includes medical practices, and it's especially true for those that deal with sensitive and highly personal issues like fertility clinics. Many people begin their search for information about fertility online, so if you want to reach these searchers and show them how you can help, your practice needs to be online, too.
There are a few different ways you can go about reaching this goal.
Search engine optimization (SEO) for fertility clinics
93% of the time, Internet users start their browsing sessions on a search engine like Google. This means that if you want to reach users who are searching for information about fertility clinics in your area, your site needs to appear in the results.
You can do this by using search engine optimization, or SEO.
There are many elements that affect your ability to rank well in search engine results, but one of the biggest is incorporating the keywords and phrases your potential patients search throughout the pages on your site.
This helps search engines understand what your pages are about, and helps them deliver your site as a result for relevant searches.
SEO also involves improving the overall experience your site provides for visitors, as well as earning links from other trustworthy websites.
Content marketing for fertility clinics
Another important part of Digital marketing is creating original content like blog posts, videos, articles, and graphics. This goes hand in hand with SEO, since this content is often what will rank in search engine results.
When users search for information and arrive at a page that provides it, they'll be more likely to want to learn more about your clinic. Likewise, when you offer content related to fertility issues that gives them actionable advice and useful information, you can build a reputation for being helpful, knowledgeable, and trustworthy.
People are more likely to book at appointment somewhere that has these qualities, and it can also help build trust in your services.
Social media marketing for fertility clinics
Your Digital marketing strategy can also include social media platforms like Facebook, Twitter, Instagram, and LinkedIn. Create accounts on sites that your potential patients may use, then share content that's relevant to your clinic's services.

This helps you share information about fertility, and it also allows you to establish relationships with your followers. People are much more likely to become patients if they feel they already know a company well.
Social media is a perfect place to engage with people, especially if you share posts that encourage interaction by asking questions or for users to share their opinions or experiences. Then, when your followers comment or respond, you can engage in conversation.
Many users also leave reviews on social media platforms, and this can also be an advantage to your clinic. Responding to both positive and negative online reviews shows your followers that you care.
By thanking commenters for positive feedback, you show that you're accessible. And by quickly addressing issues that pop up in negative reviews shows, you show that you're committed to helping your patients – and that you aren't trying to hide anything.
Beyond these options, you can also run paid social media advertisements to expand your online presence and reach new users.
Web design for fertility clinics
Your clinic's website will often provide people with their first impression, so it should have a professional, well-crafted appearance.
Your site should be easy to navigate, and provide a great user experience – and this holds true no matter how a user accesses your site. Internet users today access websites using desktop computers, laptops, smartphones, tablets, and more – and your site needs to display and function well on all of them.
This means that you absolutely need responsive design. So if your site isn't designed to be responsive, this is a step you'll want to take as soon as possible.
Lead generation for fertility clinics
The end goal of your digital marketing strategy is to convert leads into patients. When people show interest in your facility, they become a lead.
Then, through additional marketing efforts, you can help them learn more until they're ready to make an appointment.
To boost leads and conversion rates, ensure that each of your marketing materials includes a call to action (CTA). CTAs are requests for the user to do something specific, like sign up for an email newsletter or book an appointment.
In order to keep track of all of your leads and customer interactions, you may also want to use a customer relationship management or lead management system. Keeping tabs on all of your leads will allow you to more effectively convert them into patients.
Other considerations
The health care field is held to different standards than other industries, and this is important to keep in mind with any marketing strategy.
So, as you create online campaigns, make sure that they are compliant with all relevant requirements and guidelines from the Society for Assisted Reproductive Technology (SART) and the Health Insurance Portability and Accountability Act of 1996 (HIPAA).
Digital marketing services for your fertility clinic from WebFX
Using the Internet for fertility clinic marketing can help you reach the right audience, show them that you're a trustworthy healthcare provider, and make them comfortable booking an appointment.
Because many people look for information on fertility and related services online, it's important to establish an online presence and digital marketing plan to reach them.
If you're ready to start using digital strategies to grow your fertility clinic, WebFX can help. Contact us today for a free quote!
Earn a 20% greater ROI with WebFX