A successful medical practice is built on communication.
Patients have all kinds of questions about symptoms, diseases, and conditions, whether they're suffering from them or not. Many turn to their doctors to provide those answers, so a channel that enables this level of communication—like social media—is essential to their marketing and communication strategies.
Social media requires a great deal of time and effort.
If you want to use social media marketing for doctors, you need to be active, regularly post new content, and interact with patients and other followers. But with the dedication, it can be a great way to reach new patients and ensure greater loyalty among existing patients.
Call 888-601-5359 to speak with a strategist about social media plans from WebFX, or keep reading to learn more about the role of social media for doctor offices and how it can support your overall marketing strategy.
What is social media marketing for doctors?
Social media marketing for doctors helps physicians improve their online presence across social media and even search results. With social media marketing and advertising, doctors can attract new patients, engage current ones, and build a trusted reputation for quality care.

Hear What It's Like to Work With WebFX!

"WebFX has completely transformed my practice. With their support, I have expanded my practice significantly and grown exponentially. I could not have expanded to this degree, nor this quickly had it not been for the incredible efforts provided by WebFX and my team."
Healthcare
Why use social media marketing for doctors?
People like to get information about health and medicine online, and social media is a popular channel for reading and sharing the latest news stories. When you regularly share such news stories on social media—or even write your own articles—you build a following that turns your practice into a source of expert advice.
Social media marketing for doctors is also valuable for sharing advice with more than one patient at a time. Of course, you can't discuss your patients' individual issues in public, but you can lend your insights to a larger audience.
For instance, if several patients share a common condition, you can post content or start a discussion about that condition. You might also comment on the news story of the day. Instead of fielding endless calls about how to avoid the flu that's been going around, share your advice with all your patients in one post.
Social media for doctor offices is a great way to stay in touch with your patients. Keep reading to find out how this continued engagement will help build up your practice.
How does social media marketing help doctors and medical practices?
Your practice is built on good relationships. Social media marketing for doctors makes it possible to not only establish these relationships, but strengthen them. Here are some of the ways it does this:
Increased visibility
How big is social media? One of the smallest sites, Pinterest, has 100 million users. Facebook, the largest, has 1 billion. When you're active on social media, your potential audience is larger than you could ever reach with a traditional marketing strategy.
Greater engagement
Social media may be one of the most effective channels for creating a dialogue with followers. You can post a story or comment and encourage other people to respond. They may ask questions that you answer. Or you can read what your followers are talking about regarding health and medicine and get a better sense of what people want from their doctors.
Higher authority
As you converse with followers on social media, you're still establishing your expertise and credibility. Every time you answer a question, share relevant content, and present new information, your practice looks more and more like a trusted source of medical care.
74% of people use social media when making a purchasing decision.
Make their decision easy with a stellar social media presence. See how your brand can level up by requesting a no-obligation proposal today.
One of our experts will be in touch within 24 hours!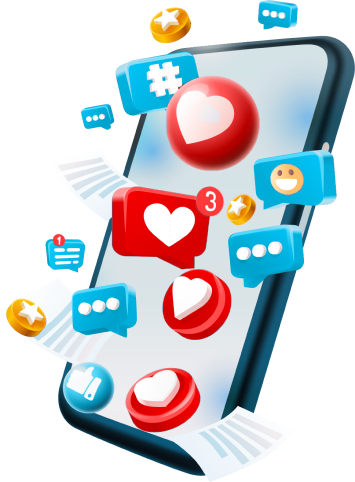 3 social media marketing strategies for doctors
An effective social media strategy requires you to stay in touch with current and prospective patients by presenting them with relevant, valuable expertise. It's an ongoing process, so you need to dedicate ample time and effort if you're going to reap the benefits. Here's what you need to do to help your social media marketing strategy succeed:
1. Promote your accounts
A growing number of patients are using online channels to manage their healthcare, but that doesn't mean they're going to immediately start following you on Facebook or Twitter. They may not even know you're on social media. Let them know by placing your social media handles on all of your marketing materials.
Add follow buttons to your website, enabling visitors to start following you on whatever channels they prefer. Include these same links at the end of every email. Don't forget your brochure, appointment reminder cards, and other print pieces. As the visibility of your social media profile increases, so will your network.
2. Share valuable content
Social media has become a popular channel for asking for—and offering—advice on healthcare. By sharing content that addresses patients' questions and medical needs, you can take back the responsibility of helping people take care of themselves.
Ideally, you're sharing content created by your practice, including blogs and interactive tools. However, it's fine to share content from other sources, such as health magazines, medical journals, and health segments from the news. If you're running low on ideas, consider initiating a social event, such as a webinar or an online Q&A session. Whatever you can do to engage patients will boost your social profile—and, ultimately, your practice.
3. Monitor your pages regularly
One of the biggest challenges for any medical practice is finding the time to keep the business running. Social media isn't something you do in your free time—you have to constantly post new content or respond to followers. As a medical professional, you're likely too busy to do it all by yourself, so make sure someone in your office is doing it on a regular basis.
The job can be done by one person in a small practice or a few people in a larger setting. This person will be responsible for curating content, posting comments and replies, and measuring social media activity. He or she should know enough about social media to handle all of these responsibilities. If no one in your practice fits the bill—or if you don't want to take time away from their normal responsibilities—consider hiring a social media management agency to do the job.
Our digital marketing campaigns impact the metrics that improve your bottom line.
See More Results

WebFX has driven the following results for clients:

$3 billion
In client revenue

7.8 million
Leads for our clients

5.2 million
Client phone calls
Get started with social media for your doctor's office
Patients want to develop a good relationship with their doctors. Social media can help you build these relationships with all of your patients and even prospective patients, but only with a solid strategy in place.
If you'd like to start using social media for your practice but aren't sure how, feel free to contact us! Our experienced social media managers have years of experience creating and managing strategies across a variety of platforms, and they can do the same for you.
Earn a 20% greater ROI with WebFX