If there was a marketing method that allowed you to set a custom budget, get immediate results, update it whenever you wanted, and view real-time data about its performance, would you want to invest in it?
If you answered yes, then you're in the right place.
Pay-per-click (PPC) advertising is a way for your business to advertise at the top of search results and reach more patients looking for your practice. Telehealth advertising lets you set a budget that works for your practice and monitor your results as soon as you launch your campaign.
Ready to hear more? Keep reading to get information like:
Why you should use PPC for telehealth
How to set up PPC for telehealth
Tips for running a successful healthcare PPC campaign
If you need help launching your PPC campaign, contact us online or call us today at 888-601-5359 to speak with a strategist to find out how — after generating over 7.8 million leads for our clients in the past five years — we can help you generate leads with your PPC ads!
Why use PPC for telehealth?
So, why should you invest in paid advertising for telemedicine?
Let's look at three impactful reasons you should consider adding PPC to your marketing plan:
1. PPC puts you at the top of the search results
When you invest in PPC, you help your business appear at the top of search results. It's valuable to show up at the top of search results because it enables you to increase brand recognition and generate high-value leads.
Having a PPC ad at the top of search results puts your brand first. When users search for telemedicine services, they'll see your practice at the top of the search results. Even if they don't click on your ad, they'll get exposed to your practice.
Brand exposure helps drive leads back to your practice. While someone may not click the first time around, they will remember your brand and turn back to it later. PPC ads help you build brand familiarity with potential patients.
Additionally, this top positioning enables you to generate more clicks, with 46% of clicks going to the top three paid ads in search results. As a result, telemedicine advertising can help your practice drive more traffic to your page.
2. PPC enables you to attract more patients
In addition to clicks, PPC ads help you attract more patients that are likely to invest in your telehealth services. PPC visitors are 50% more likely to convert than organic visitors, which means PPC visitors have a higher chance of becoming patients.
When you run a PPC ad, you reach people who are ready to find the right telehealth practice for their needs. By putting yourself at the top of search results, you make people more likely to choose your organization, as you'll be the first relevant listing they see.
3. PPC can show results immediately
When you invest money in a marketing campaign, you want to know that it's working. Some strategies take time to generate results, but with PPC, you don't have to wait.
As soon as you launch a PPC campaign, you can monitor your ad's performance to see if you're generating results. The ability to see immediate results means you can make quick changes to improve your ad campaign's results.
While you can launch a PPC campaign and see results immediately, the strategy will generally reach peak performance after three months. If you work with a PPC agency, like WebFX, they can help your business get the best return on investment (ROI) from this telemedicine advertising strategy.
WebFX is a partner businesses trust.
Hear from HydroWorx, who saw a 236% increase in organic sessions with WebFX services.
Watch the Video Testimonial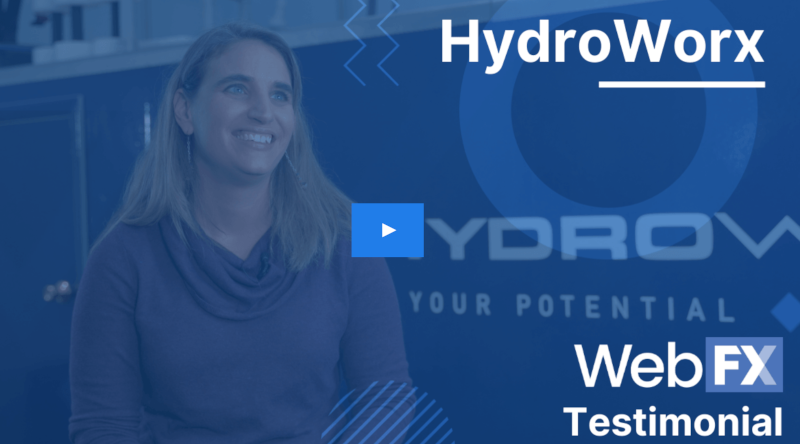 Hear What It's Like to Work With WebFX!

"WebFX gets it done! They've done a great job working with our changing vision and goals, and their turnaround times are wonderful. All staff are professional, timely, and friendly."
Healthcare
How to set up PPC for telehealth
If you're ready to dive into running PPC ads for telehealth, check out these five steps for getting started!
1. Choose your keywords
The first step in healthcare PPC advertising is choosing keywords for your ads. Keywords trigger your ad to appear in search results, so if you want to appear in front of the right patients, you need to choose relevant keywords.
To find relevant terms for your ad, conduct keyword research. Keyword research helps you find key terms you can use and target on ad networks like Google Ads. Use a tool like KeywordsFX to help you find relevant terms.
When you conduct keyword research, focus on long-tail keywords. Long-tail keywords, which contain three or more words, are better for PPC ads because they drive more relevant leads and keep your cost-per-click (CPC) low.
2. Determine your budget
Once you select your keywords, you'll want to determine how much you want to spend on your PPC campaign. Since PPC has no budget requirements, you have the flexibility to decide how much you want to spend on PPC campaigns.
So, how much should you invest?
The average small to mid-sized business (SMB) spends between $9,000 – $10,000 per month on PPC. This average amount gives you a good idea of where to start with your budgeting. You can also look at the average cost of platforms like Google Ads and Facebook to determine your ad spend.
Once you determine how much you want to spend, you can set your bid amount.
3. Bid for ad placement
PPC ads operate on a bidding system, where you bid for your ad's placement. You'll set your maximum bid, which is how much you're willing to spend each time someone clicks on your ad.
When you conduct keyword research, many keyword research tools, like Google Keyword Planner, will provide you with information on the average CPC for a keyword. This information will help you set an appropriate bid amount for your ad.
4. Create relevant ad copy
Once you have your bid amount, you'll create your ad copy.
Two components make up your ad copy:
The first part is what users see in the search results.

When you create this ad copy, you want to ensure that it's relevant to the search intent of your keywords. So, if you're running a PPC ad for the keyword "psychology telehealth services," you want to ensure that your ad copy focuses solely on your psychology services.
The second part of your ad copy is your landing page.
Your landing page is where you provide the breadth of your information. You want to ensure that your landing pages contain relevant information for your ads.
So in the case of the landing page for "psychology telehealth services," your landing page would only provide information about psychology services. The page shouldn't detail all the services you offer but remain focused on the service mentioned.
5. Launch your ad
Once you have your bid and ad copy, you'll launch your ad to get your placement and start driving valuable leads for your telehealth practice.
3 tips for running a successful healthcare PPC campaign
If you're ready to launch your PPC campaign, check out these three quick tips for creating a successful healthcare PPC campaign:
1. Use ad extensions to provide more information
Ad extensions are a great addition to your PPC ad.
When you do telemedicine paid advertising, you want to entice clients to click on your ads by providing relevant information. Since you're limited on how much you can include in your ad, ad extensions allow you to add additional information.

You can add numerous ad extensions, including:
Location extensions
Site link extensions
Call extensions
Callout extensions
And more
This additional information can persuade more potential patients to click on your ad.
2. Integrate negative keywords to only appear in relevant searches
When you conduct keyword research and look for relevant keywords, you may think that's enough to ensure you only attract clients interested in your services. The reality, however, is that there can be additions to keywords that can lead to less relevant clients finding your ad.
Here's an example.
Let's say you're running an ad for "telehealth services." You're a family practice, so your focus is on general medicine. You run an ad to try and attract new patients.
You find, however, that an abundance of people click on your ad when searching "psychology telehealth services," even though you don't offer psychology services.
So, instead of continuing to obtain these leads that don't covert, you can set them as negative keywords. When you set negative keywords, you ensure your ads don't appear when people search terms that include your core keyword but aren't relevant.
3. Create a custom landing page to keep leads focused
If you want to turn visitors into patients, you need to create custom landing pages. Many practices make the mistake of using an existing page on their site as the landing page. While this solution is easy, it's not the most effective.
To get the most out of your PPC campaign, create custom landing pages for your ads. Custom landing pages let you focus solely on the information relevant to your ad. So, if you advertised psychology telehealth services, your custom landing page would focus exclusively on those services.
A custom landing page provides a better experience for patients.
They get all the information they need in one place and don't have to look around to find it. It makes these leads more likely to choose your telehealth facility because they learn everything they need to before making a purchase decision.
Get started with PPC for telehealth today
If you want to attract more clients and turn them into patients, PPC for telehealth is the answer. With telehealth advertising, you can reach more people looking for your services and provide them with the information they need.
Too busy running your practice to dedicate time to a PPC campaign? We can lend you a hand.
With over a decade of experience, we know how to generate PPC campaigns that drive results for our clients. Already, we've managed more than 650 campaigns, helping our clients attract more than 7.8 million leads in the past five years.
Want to find out why we have over 1020 glowing testimonials about the work we do? Contact us online or call us today at 888-601-5359 to speak with a strategist about our custom PPC campaign plans.
Earn a 20% greater ROI with WebFX