How often do you search for something and find a few paid search results at the top of the page? These results are paid-per-click (PPC) ads, and they're an excellent digital marketing strategy for companies looking to increase their online visibility.
As an equipment rental company, you might have a well-designed website and want to generate more traffic to it. PPC for equipment rentals is one of the best ways to get your site seen by more members of your target audiences and, ultimately, drive more conversions.
Interested in leveraging this strategy to grow your business? Keep reading to learn:
Or, if you'd like to go ahead and speak to a strategist about how we'll leverage custom, results-driving PPC campaigns for your equipment rental company, call us at 888-601-5359 or contact us online today!
Meet WebFX:
Your world-class, tech-enabled marketing agency with over 1.6 million hours of combined expertise.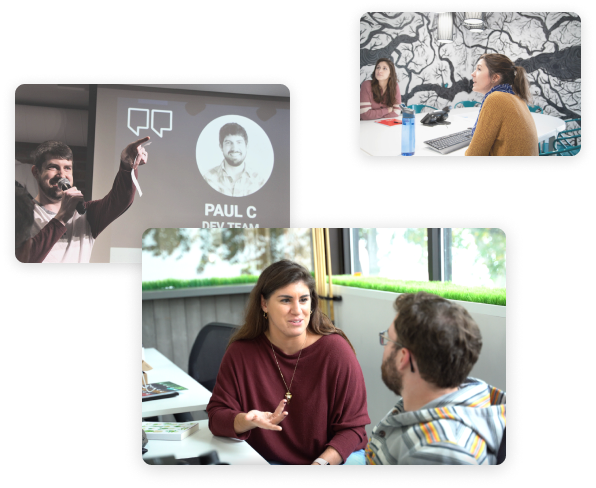 What is PPC for equipment rentals?
PPC, or search engine marketing, is a digital marketing strategy in which you pay for placement in search results. While SEO for equipment rentals helps your site land higher in the organic search results without paying for the resulting site visitors, PPC enables you to dominate the search results more quickly.
What's the difference between an organic and paid search result? Search engines denote the paid search results as ads and place them at the top or bottom of the page.

With equipment rental PPC, you still benefit from appearing in the search results for relevant keywords, but you pay for the clicks your ad receives. Still, many companies use PPC alongside SEO to dominate the search results, or they use PPC to rank for keywords they aren't ranking for organically.
Benefits of PPC for equipment rental companies
PPC for equipment rental companies carries many benefits. You might consider adding this tactic to your digital marketing strategy if you want:
Quick results
While it can take a few months to see the actual results of your PPC campaign, PPC is one of the faster-performing digital marketing tactics. Compared to SEO, you can see results in a fraction of the time.
Why? Because you don't have to wait on search engines to index and rank your pages. Because you pay for your placement, your site might end up on the search results within a few days.
However, most strategic campaigns will need to run for a few weeks or months to obtain the data required to optimize their ads for the best results.
Easily adjustable ads
If your ads don't generate the results you're hoping for, you can easily adjust them. Any robust PPC strategy for equipment rentals continually measures and optimizes your campaigns to drive the best results.
You can test different versions of your ad copy, landing page, and more to create the most effective ad for your equipment rental business.
Niche targeting
As an equipment rental company, you might have a niche target audience. You could target construction workers and contractors, or you might want to reach commercial construction managers specifically.
Because of its robust targeting capabilities, you can show your PPC ads to the searchers most valuable to your company.
Strategic placement in the search results
Many searches show PPC ads at the top of the results, above the organic results. This placement means your equipment rental website could be the first one people see when searching for related keywords.

This prime placement could be fruitful even if your site already ranks organically. But PPC placement is especially noteworthy if you want to appear high in the search results for competitive organic keywords.
Our PPC services for equipment rentals
Ready to take advantage of these many benefits? We offer PPC services for equipment rentals, including advertising on Google and Bing. Our services also include geofencing and remarketing ads to help you reach a more targeted niche of customers.
When you partner with us, you'll receive a dedicated account manager who acts as your point of contact for our team of PPC experts. If you already use equipment rental PPC, we'll audit your campaign and establish a strategic approach customized to your company.
If you haven't started a PPC strategy yet, no problem! Our team will gain a thorough understanding of your company, industry, and goals to create a customized campaign for you.
PPC best practices for equipment rental companies
Any robust PPC campaign requires a complete setup and follow-through. PPC ads might run immediately, but a strong PPC strategy is an ongoing process. When you partner with us for PPC for your equipment rental company, we'll follow these PPC best practices to ensure your campaign achieves the best results:
1. Start with research
To create an effective PPC campaign, you must understand the industry, competition, and target audience. Our PPC services for equipment rentals leverage MarketingCloudFX, an AI-powered data solution that provides competitor intelligence to start your campaigns off strong.
Alongside MarketingCloudFX, our PPC experts will research up to 1000 keywords for you to target. The right keyword strategy ensures your PPC ads appear for searchers looking to rent equipment like yours.
For example, you might want to reach searchers looking for "long-term excavator rentals." Our experts will research these keywords to determine the most strategic options for your PPC campaigns.
2. Create and test ad copy
Once we've determined which keywords you want to target, our expert ad copywriters will create your PPC copy. But we won't stop at the creation — we'll test the ads to determine which messaging strategy drives the best results.
3. Continually measure and optimize your ads
By now, your PPC campaign has begun. We're running your ads and collecting real-time data about their performance. Instead of sitting back and waiting to see how they perform, we'll actively analyze the data we collect to optimize your ads continually.
The PPC advertising landscape changes rapidly as the competition shifts and strategies adjust. If you want to land in one of the first paid search positions, you'll need to adjust your plan, too.
Let's say your PPC ads targeting "long-term excavator rentals" aren't performing as well as you hoped. Our experts will analyze the ad's elements and other campaign settings, such as your bids and account settings, to determine the optimal setup for your company.
4. Manage your bids
When you run a PPC campaign, you set a bid for the amount you're willing to pay per click. The bid amount and ad quality determine whether search engines show your ad over the competition. As a result, you need a strategic bid that matches your budget and gives you a competitive edge.
As the competition adjusts its strategies, the optimal bid amount changes, too. That's why we'll continually track your campaign's performance and the competition to adjust your bid accordingly.
5. Optimize your account settings
At this point, you understand how critical it is to measure and optimize your ads and bids. To do so effectively, you must set up your account for analysis.
In Google Ads, your account includes ads and ad groups. We'll organize these groups strategically to facilitate the PPC optimization process.
The right ad groups will depend on your PPC goals and the breadth of keywords you want to target. But you'll want enough ad groups to make meaningful comparisons between ads without overwhelming yourself with too many groups to manage.
For example, you might have an ad group for all PPC ads targeting excavators, another for forklifts, and another for skid steers.
Organizing your ads will make it easier for you to differentiate between topics. What works for advertising an excavator might not work for forklifts, so keeping them separate will help you strategize accordingly.
Generate more leads with our PPC services for equipment rentals
Now that you know how our PPC process will generate results for your equipment rental company, are you ready to partner with our experts to boost your strategy?
PPC for equipment rentals is a complex, time-consuming process, and we know how much time it takes for you to run your business and keep your equipment in pristine condition. Let us handle the PPC for you so you can generate more equipment rental leads without investing time you don't have.
When you partner with us, you'll benefit from our 500+ experts and 25+ years of experience. We've generated over 7.8 million leads and $3 billion in revenue for our clients, and we're ready to do the same for you.
Want to grow your equipment rental business? Call us at 888-601-5359 or request a free proposal online to learn how our PPC services will drive results for your equipment rental company!
Earn a 20% greater ROI with WebFX