3 Tips for Creating Unbounce Landing Pages That Drive Results
If you want to maximize the success of your digital marketing campaigns, you need the right tools. Unbounce is a great tool for building stellar landing pages that drive leads and conversions for your business.
On this page, we'll discuss the basics of Unbounce and three tips to help you create more effective landing pages. If your landing pages need a refresh, give us a call today at 888-601-5359 to speak with a strategist.
Good agencies have more than 50 testimonials.
Great agencies have more than 100 testimonials.
WebFX has over 1000+ glowing client testimonials.
See What Makes Us Stand out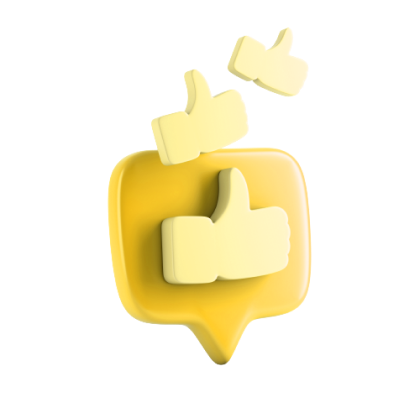 What is Unbounce?
Unbounce is a landing page building site that allows you to create and test custom landing pages.
These landing pages help you earn more leads and conversions for your business. With Unbounce, you have complete creative control, and it's a cost-effective resource for helping you reach more customers and boost conversion rates.

What are landing pages?
If we're going to talk about Unbounce, we need to cover the basics of landing pages. Landing pages are pages where visitors "land" after clicking a link in a digital marketing campaign. For example, if you run a paid ad campaign, you might encourage people to click a link that directs them to a landing page with more information about a specific product or service.
Landing pages are used for numerous digital marketing methods including social media, email marketing, and pay-per-click (PPC) advertising. They are clearly focused on one idea and include a sign-up call to action (CTA) to receive more information or make a purchase.
Creating a great landing page is especially important for PPC because when you have a great landing page, you will improve your Google Ads quality score. A high quality score means that you can have a lower maximum bid, so you'll pay less each time someone clicks on your ad.
Landing pages are flexible. You don't need to alter your site to create a landing page. These pages are completely independent of your site, which makes it an easy option for your business.
By investing in a great landing page, you'll get better ad placement and flexibility. You will reach more valuable leads that you can turn into conversions for your business.
What features are included with Unbounce?
Unbounce offers great features for your business to help you create effective landing pages. They have over 100 conversion-focused templates. These templates are designed to help your business guide your audience towards completing an action or converting.
This service also offers industry-specific templates. Every industry has unique customers and a specific way to reach these customers. Unbounce offers templates that help cater to your industry to create more effective campaigns.
When you use Unbounce, you can create multiple landing pages in minutes. Unbounce allows you to duplicate pages and adjust them to have the same design send a similar message. This makes it easy to create multiple landing pages for products or services while keeping your branding specific.
Unbounce allows you to drag and drop to build your landing pages. This makes it easy and convenient for your business to build your multiple versions of your landing page.
Once you create your landing pages, you can conduct A/B testing to figure out which version of your landing is most effective. This is a great feature because it allows you to put out the landing page that works best for your campaign.
Another great feature of Unbounce is that all your landing pages are encrypted. Your audience will feel more comfortable visiting your pages because they are encrypted.
Unbounce landing pages enable you to connect to other programs. You can connect to programs like WordPress or your selected email marketing service. This makes it easy for you to connect your landing pages with other mediums.
These landing pages are mobile-friendly, too. You don't need to worry about adapting your page. Unbounce makes your pages mobile-friendly to ensure a positive experience for your mobile ad visitors.
37% of marketers say that generating high-quality leads was one of their biggest challenges.
We want to decrease that percentage.
WebFX can help you generate high-quality leads with a customized marketing strategy.
Learn More About Lead Generation Services
3 tips for creating effective landing pages
Unbounce landing pages will allow you to reach more valuable leads for your business. Here are a few tips to create more effective landing pages for your business.
1. Keep it clean and simple
When you create landing pages, it's important that you keep them simple and clean. The goal of these pages is to get your audience to act. If your page is too cluttered, your audience may lose sight of your page's purpose.
You don't want to overwhelm your audience with text. It is important to be thorough, but you don't want your page to be cluttered and filled with text. This will deter people from using it because they won't be interested in reading an abundance of text.
To keep it simple, think about the information that is most important for your audience. If they found your product or service for the first time, what do they absolutely need to know? This is the information you want to include on your page.
With this information, you will keep your page clean by breaking the text down into bullet points so that your audience can digest the information quicker and easier.
By using Unbounce, you will organize your page and keep it simple with a clean layout. Utilizing templates to drag and drop items will help you figure out their best placement on your page.
When you keep your landing page clean and simple, you create a more effective page. More leads will act on your page, which will lead to positive results for your business.
2. Use visual elements
Important elements to Unbounce pages are visuals. When users come across your page, they don't want to see a page filled with text. They want to see interesting elements that capture their attention and encourage them to stay on the page.
Visual elements help attract your audience. The most popular visual element is photos, which can enhance the subject of your page and make it visually appealing to your audience. The images you use should be relevant to your landing page.
Another great option is video. Videos are extremely effective for earning conversions. In fact, a video on your landing page can increase your conversion rate up to 80%! It's a very effective tool to help you create more engaging landing pages.
Having the appropriate media on your landing page will help you capture your audience's attention and get them to convert. Try using visual elements on Unbounce to grab your target audience's attention.
3. Integrate a clear CTA
The goal of these pages is to earn sign-ups, downloads, or conversions. So, when you create a landing page, you want your audience to act.
To ensure this will happen, you need to integrate a call-to-action (CTA) button.
Many people don't know how to take the next step after reading all the information. CTAs are important because they guide users on how to take the next steps.
CTAs need to be clear. If you just say, "Sign up," you may not get your audience interested because they won't know about the free offer. Be specific and tell people what will happen if they act.
Design a CTA that is clear and correlates with your campaign's goals. Use a CTA like "Sign up to receive your free offer!" When you have a clear CTA, your audience will take more interest in your landing page and complete the action.
Unbounce makes it easy for you to integrate the right CTA into your landing pages. You can test different CTAs to see which ones will garner a better response. Use this site to create landing pages that are more effective for your audience.
Time to Level Up Your Sales
Our long list of services helps you grow every aspect of your business with marketing strategies that are proven to increase bottom-line metrics like revenue and conversions.
In the past 5 years, we've managed more than 12.9 MILLION transactions across our client base.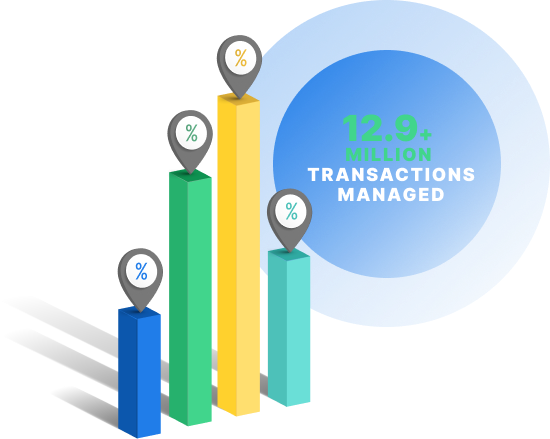 Bounce into better landing pages with WebFX
Your landing pages have a direct impact on your campaign's success. Creating great landing pages will get your audience to act. At WebFX, we know how to create landing pages that are effective for your audience.
We're a full-service digital marketing company that specializes in customized landing pages. When you partner with us, you get a team of 500+ experts with 25 years of knowledge and experience creating successful landing pages. Our award-winning team of designers and internet marketers will help you create landing pages that resonate with your audience.
It's important that you partner with a landing page expert that will drive results. Our team at WebFX has driven over $3 billion in sales and over 7.8 million leads for our clients. When you partner with us, you will feel confident that you are working with a knowledgeable team that knows how to drive results.
If you don't believe us, check out what our clients are saying! We have over 1000 client testimonials from a variety of industries. Take a look to see if you'd like to partner with a landing page expert like WebFX!
Start achieving results today
Our team at WebFX will help you create landing pages that earn more leads and conversions for your business. If you're ready to start reaping these benefits, contact us online or call us today at 888-601-5359 to speak with a strategist.
We look forward to helping your business reach new heights!