Top 3 Internet Marketing Methods for Deck Builders
Internet marketing is one of the most valuable ways to reach new leads for your deck building company. There are many digital marketing methods you can use, so how do you know which strategies are right for you?
On this page, we'll share the top three Internet marketing methods for your business.
If you need help creating an Internet marketing plan that works for your business, call us today at 888-601-5359 to speak with a strategist.
Let's get started!
Our experience in more than
154 industries
ensures cutting-edge, niche marketing strategies that drive real results for your business.
See What Industries We've Worked In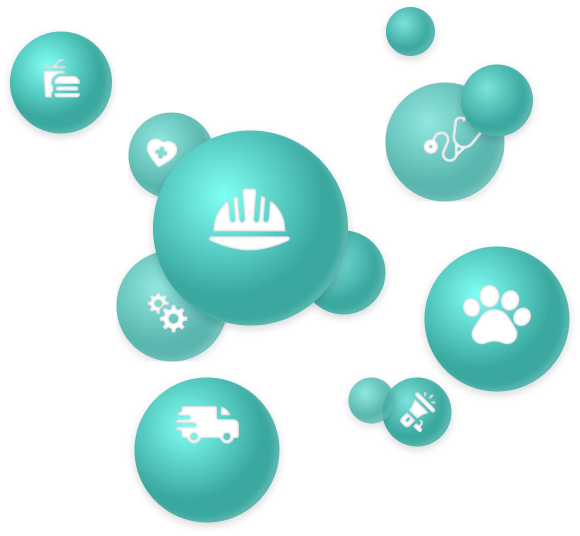 1. Use search engine optimization (SEO) to boost your website traffic
Search engine optimization (SEO) allows you to optimize your website, so it ranks higher in search results related to your deck building company. When your website ranks at the top of search results, more people will be able to find and contact you. Ultimately, you'll earn more customers and revenue.
To get started with SEO, you'll need to conduct keyword research to determine the keywords people search online to find deck building companies like yours. Keyword integration will help Google understand the context of your page and rank you higher in appropriate search results.
Using tools like KeywordsFX and Keyword Tool, you can uncover the most valuable keywords for your business. Then, you can incorporate those keywords in key places on your site like your title tags, headings, and site content.
There are other parts of SEO that you can focus on to improve your ranking. Content creation is one way to help your deck building business improve your SEO ranking.
Content plays a fundamental role in helping you obtain valuable leads and improving time spent on your site. You can create content based on questions your audience asks. When you create the content, you'll attract leads to your page who are looking for the answers.
You can deliver this information through various formats. This includes videos, blogs, infographics and ebooks. The important part is that you provide your audience with information that is valuable to them.
When you partner with a marketing firm like WebFX, you'll get a team that's dedicated to your business. We even provide services and tools for you so that you can identify your competitors' content and create better content that outperforms it!
In addition to content creation, you'll also want to clean up technical elements of your site. It's important that you comb through your site and clean up code. It will help your site rank better in the search results.
Another important technical element is page speed. Page speed is crucial to the user's experience on your site because it affects how quickly they can access information. If your site loads too slowly, you risk losing leads who don't want to wait for it to load.
By checking your page speed, you can improve your site's load time. It may require things like optimizing images or enabling browser caching to help things load quicker. This is a great way to improve your site's SEO ranking.
2. Invest in pay-per-click (PPC) advertising to reach more valuable leads
Pay-per-click (PPC) advertising is another great method for deck builders. These paid ads allow your business to reach valuable leads. PPC ads appear at the top of the search results, and they are tagged with the word "ad" to indicate paid content.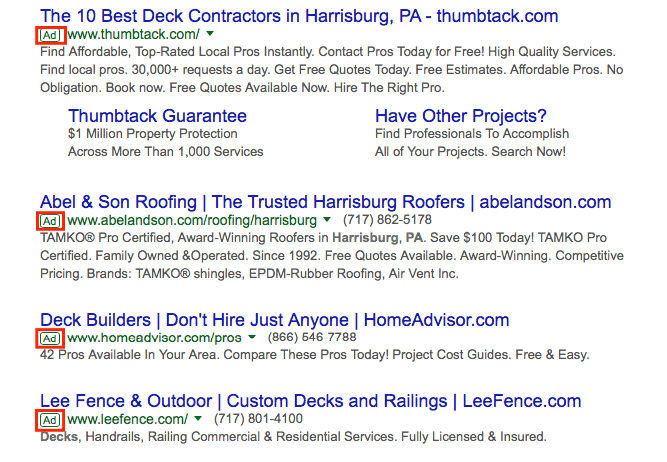 With PPC, you can select the keywords and phrases you want to trigger your ads. The goal is to appear in the search results for keywords your audience searches that are related to your deck building business.
Once you have your keywords selected, you'll bid for your ad's placement. Google ranks ads based on factors like your maximum bid and quality score.
Your maximum bid is the amount you are willing to pay each time someone clicks on your ad. Through keyword research, you'll get an idea of the keyword's worth, which will help you set an appropriate bid amount. Your quality score, which is based on things like ad relevancy and keyword selection, will help determine how your ad ranks compared to the competition.
One of the best things about PPC is that from the moment you launch your campaign, you can monitor the results. You see how well your campaign is performing and can actively make changes to improve it.
With PPC, you will have complete control over your campaign. You control how your ad looks, and your deck building business sets the budget that works best for you.
The best part about PPC is that you only pay when people click on your ad. You don't pay for impressions. This means that you are attracting leads that are interested in deck builders and want to find the right one for them.
Another benefit of PPC is that you'll reach more qualified leads since it targets people who are searching online for keywords related to your business. In fact, 65% of all high-intent searches result in clicking on a PPC ad. These are leads that know what they want and need to find the right business for them.
3. Connect with potential customers on social media
Social media marketing is a great method to build a personal connection with target customers. With social media marketing, you can connect with valuable leads and develop relationships that encourage them to convert.
There are numerous social media sites you can use to reach these leads. Some examples include Facebook, Twitter, Instagram, and LinkedIn.
To get started, you'll need to research which social platforms your target audience frequents most. If you need additional help deciding which platform is best for your business, call WebFX to discuss your options! We have hundreds of online resources that can help you with your social media campaign.
Once you have your platforms selected, you'll start posting content. The type of content you can post will depend upon the platform. Some platforms offer numerous options, while others are more restricted.
For instance, platforms like Facebook and Twitter give deck builders numerous options for content. You can post photos, videos, infographics, links to content, and polls. It makes it easy to vary your content and keep your audience interested.
Platforms like Instagram pair well with other social media sites. They focus on sharing photos and videos. It may require some creativity to keep your marketing content fresh, but it's well worth the effort since it is an extremely popular platform.
In addition, you can use paid social ads to reach even more customers. Each social media platform has their own paid advertising program, and most platforms offer advanced targeting options, so you can hone in on your target audience.
With social media, you can give people an inside look at your company. If they have questions, they can interact on your social pages, and you can provide them with the information they need to take the next step.
Our digital marketing campaigns impact the metrics that improve your bottom line.
See More Results

WebFX has driven the following results for clients:

$3 billion
In client revenue

7.8 million
Leads for our clients

5.2 million
Client phone calls
WebFX will help you create an Internet marketing plan that drives results
As the digital world continues to evolve and grow, your business needs to adapt to find the latest ways to reach leads. An Internet marketing plan is a valuable asset to your business. At WebFX, we have more than 25 years of experience creating Internet marketing plans that drive results.
We're a full-service digital marketing company that offers numerous Internet marketing services to help your business grow. Our team of 450+ experts are dedicated to your campaign. We'll bring our knowledge and expertise to help you create a campaign that works for your deck building business.
If you're looking for a company that drives results, look no further than WebFX. To date, we've driven over $3 billion in sales and over 7.8 million leads for our clients.
Don't believe us? Just ask our clients! We have over 863 client testimonials from a variety of industries that attest to the great work we do for them!
Get started today!
If you're ready to create an Internet marketing plan that drives results, contact us online or call us today at 888-601-5359 to speak with a strategist.
We look forward to helping your business grow!