You're probably already aware of how pervasive social media is in today's world. But did you know that the average user spends 33% of their Internet time on social media? With that kind of audience, social media is easily one of the best spots to market your business.
You might not think social media is a good strategy for a commercial refrigeration company like yours, since you're marketing to businesses rather than consumers. But you're still trying to reach individual people at those businesses, and social media is a great place to find them.
How can you get the best results from refrigeration social media marketing, though? We'll explore several answers to that question below, so read on to learn more about how to optimize social media for refrigeration companies.
Then consider partnering with WebFX — the agency with over a decade of social media experience — for our expert social media services. Just call 888-601-5359 or contact us online to get started!
Growing your social presence with WebFX is a walk in the park.
"WebFX allows growing your social media platforms to be stress-free! They are knowledgeable and adapt to your company needs!"
Learn More About Our Social Media Services

7 ways to optimize social media for commercial refrigeration companies
Social media involves more than posting content to your account if you want to be successful with this strategy. Here are seven ways to boost the quality of your refrigeration company social media marketing!
1. Choose the right platforms
Before you start marketing on social media, you must decide which platforms you want to use. You can stick with just one social media network or several, but whatever you do, aim to choose the platforms where your target audience is.
Some of the best social media platforms to market on include:
Learn more about the major social media platforms in this video!
Spend some time researching the demographics of each major social media platform and compare them to the demographics of your audience. Whichever platform(s) match up closest with your needs, that's where you should market.
2. Interact with your audience
Social media is all about being — well, social. If you go on Twitter every day to make a post advertising your products, but you never directly interact with anyone in your audience, you're completely missing out on the main benefit of social media.
Instead of broadcasting information to your audience like a one-way radio, try to communicate with people. When people mention you, comment on their posts. When they leave comments on your page, respond. And when they ask you questions, answer them.
As a result, your audience will feel heard and appreciated, increasing their loyalty to your brand.
3. Post testimonials
You'll probably use a lot of your marketing to talk about all the positive qualities of your business, as well you should. But users will always take what you say about yourself with a grain of salt. When your customers are the ones talking you up, though, it's a different story.
Hearing customers raving about your business can build confidence in new prospects. That's why you can benefit from posting testimonials on your refrigeration company social media page. That way, users can see for themselves just how happy your customers are with your products.
The result is that you'll have a much easier time convincing people to buy from you.
4. Run contests and promotions
If there's one way to get people interested in something, it's to offer them the chance to win a prize. That's exactly why contests are such a handy tool for your refrigeration social media marketing. You can hold them on your page occasionally to attract new prospects.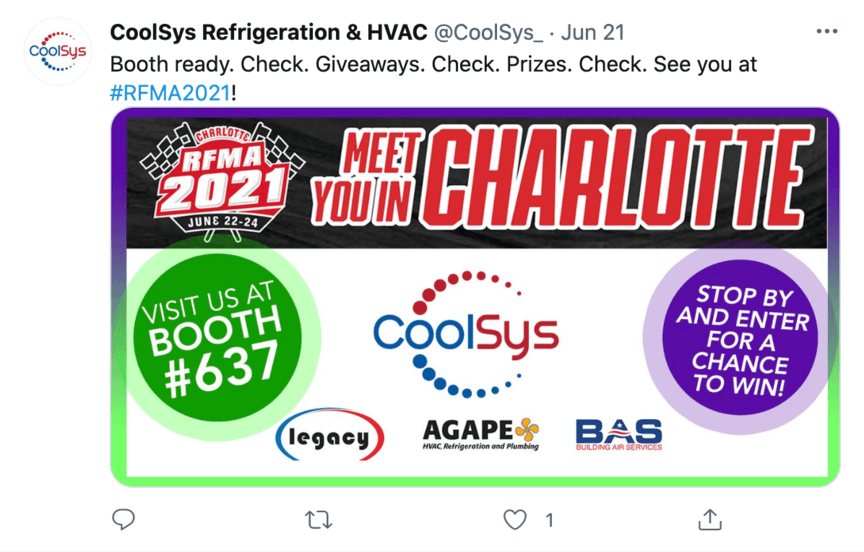 The scope of your contests can vary. You can offer prizes like small gift baskets or discounts on your products. As for the content setup, you can have participants doing anything from enter their name into a drawing to engage in some sort of activity, like a game.
However you set it up, you can significantly increase up interest in your business with contests and promotions.
5. Engage with your local community
Unless you're a particularly large company, odds are you're limited to a specific geographical area. It might be a single city or a few neighboring counties. Wherever it is, a good tactic is to play into that location.
On your refrigeration social media — as well as in your other online marketing — you promote your activity in your local community. Many businesses prefer to partner with other small or medium-sized businesses in their area rather than far-away corporations.
Mention your location throughout your social media marketing, and maybe post about local events from time to time to reinforce your community engagement.
6. Schedule your posts
When it comes to social media for refrigeration, consistency is key. You need to post on a regular schedule or people will disengage from your page — people will lose interest if you post three times in one week, but then wait two months before posting again.
To that end, you can benefit from creating a social media calendar, which you can do via a social media management platform like Buffer or Hootsuite. With a calendar, you can craft posts in advance and then schedule them to go live at specific times.
The result is that you'll post on a consistent schedule, even during weeks when you're too busy to craft a new post each day.
7. Run paid social media ads
Not all your refrigeration company social media content has to be organic. Most social media platforms also allow you to run paid ads from your account, which appear right in users' social media feeds.
You can target your social media ads toward specific demographics such as age and location, helping you reach the most relevant possible audience. On some platforms, you can also target people who visited specific pages on your website.
Paid ads are an excellent way to reach people who haven't yet discovered your business, and draw them to your page or your website and turn them into customers.
74% of people use social media when making a purchasing decision.
Make their decision easy with a stellar social media presence. See how your brand can level up by requesting a no-obligation proposal today.
One of our experts will be in touch within 24 hours!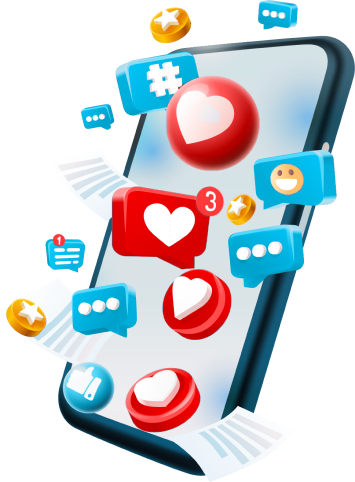 WebFX can optimize social media for commercial refrigeration companies
Ready to start boosting the quality of your social campaigns? WebFX can help! With over 1020 client testimonials, we're the agency businesses trust to drive revenue through their marketing. We know social media for refrigeration companies, and we'd love to show you firsthand.
With our social media services, you'll get help implementing all the tips listed above and more. You'll also be assigned a dedicated account representative to keep in contact with you on every aspect of your campaigns.
To get started with us, just call 888-601-5359 or contact us online today!
Earn a 20% greater ROI with WebFX