No matter who your refrigeration company's biggest potential clients are, you need to market to them. Food companies, pharmacies, government agencies — these customers can't buy from you without you first persuading them to do so.
That's why you need a website for your business. Your website is at the center of your marketing web, the place to which all your other strategies lead. Your website where users will convert and generate revenue for your business.
But that will only happen if your website is designed in a functional and appealing way. So, how can you make it that way? What does it take to optimize your commercial refrigeration web design?
We'll answer that question with a list of tips below, so read on for more information. Then partner with WebFX — the agency with over 1020 client testimonials — to get help putting those tips into action with our web design services. Just call 888-601-5359 or contact us online to get started!
7 commercial refrigeration web design tips
Your refrigeration company web design is vital to the success of your marketing, so you'll want to ensure your website is visually pleasing and function smoothly.
Here are seven ways you can boost the quality of your commercial refrigeration web design!
1. Create an intuitive navigation setup
One of the first things to do when you create your website is to make it easily navigable, so users can find the information they need. You should aim to make it as easy as possible for users to find their way around.
For starters, include a navigation bar at the top of your site that groups pages into organized sections. That way, if users want to go look at your list of available products, they can click on your "Products" tab and find what they want there.
You can also use breadcrumb navigation to help users see where they are on your site at any given time.
2. Brand yourself through your visual design
Something to keep in mind throughout the entire commercial refrigeration web design process is branding. Your site's visual design should reflect your company's unique brand so that it stands out in users' minds — otherwise, they'll forget it or confuse it with other websites.
To help yourself stand out, choose a color scheme and font that reflect your brand. For example, you might rely heavily on shades of blue and white to convey the cold temperatures of your products.
You should also show your brand through the style of language you use — do you want to sound high-end? Laid-back? Professional? Whatever it is, show that through your word choice.
3. Improve your page load speeds
When you visit a website, you expect it to load quickly — and so do your potential customers. If users must sit and wait for five seconds without the page pulling up, many of them will click away. In fact, 83% of users expect pages to load in three seconds or less.
To avoid driving away traffic, do everything you can to ensure that your pages are loading quickly. You can use Google's PageSpeed Insights tool to check how fast your pages currently load. Then, to help them load faster, you can follow best practices like:
Caching web pages
Compressing images
Minifying code
When you follow these best practices, your pages will load faster, leading to happier users and higher revenue.
4. Implement responsive design
There was a time when people only visited websites on computers, but in today's world, that's not the case. Over 50% of all Internet traffic comes from mobile devices, which is why Google ranks sites based on their mobile format.
That means that if you want to rank in Google and retain traffic on your site, your site must be mobile-friendly. The best way to do that is to implement responsive design, where the structure of your pages adjusts to fit the screen where they appear.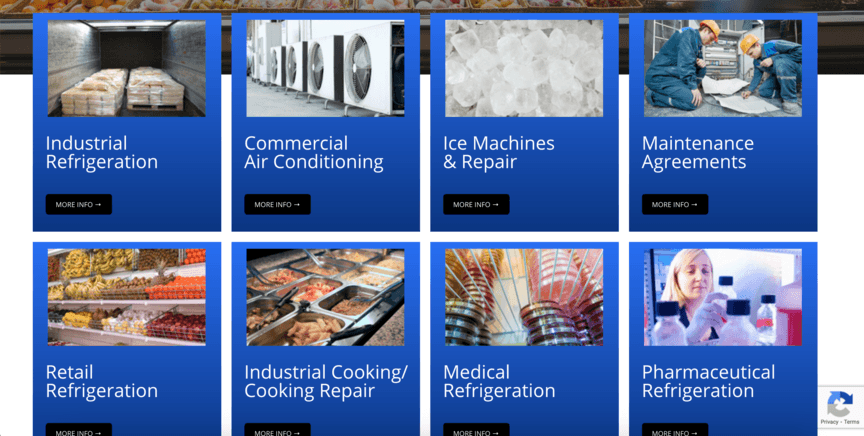 The result is that users will see an appealing, functional version of your site no matter what type of device they use to visit it.
5. Craft compelling web content
Your website might have the perfect design and outstanding technical structure, but it will go to waste if there's no information about your products, business, and industry.
That's where content creation can help.
You can use various types of content to attract traffic. Written content — like blog posts — is always a good idea, as it gives you the opportunity to integrate keywords that can help you rank in Google. You can also use multimedia like videos.
Whatever format your content takes, be sure it provides users with useful information about your industry.
6. Use HTTPS
Another key component of refrigeration company web design is security. You don't want users to worry about hackers stealing their information when they visit your site. That's why it's critical for you to use HTTPS.
HTTPS is the secure alternative to HTTP that protects site visitors' sensitive information. It's particularly important if you have an online store, since users will need to submit their financial information.
Furthermore, Google penalizes sites in rankings that don't use HTTPS. Without it, your site will not only deter users who have privacy concerns, it will also prevent many people from finding you in the first place.
7. Track web traffic analytics
If traffic isn't flowing to your website, you won't obtain new customers for your refrigeration business. For that reason, you need to keep a close eye on your website analytics.
Google Analytics is a great tool for doing this. You can view how much traffic is coming in, where it's coming from, and how long people stay on your pages.
Viewing traffic metrics will help you see how your site performs. Low traffic indicates that you may need to do more to improve your Google rankings. You may also find one page is driving traffic, but another one isn't — from there you can see what you can do to improve the low-performing page.
Whatever the case, always keep your analytics in mind as you continue to change and optimize your refrigeration website.
Good agencies have more than 50 testimonials.
Great agencies have more than 100 testimonials.
WebFX has over 1000+ glowing client testimonials.
See What Makes Us Stand out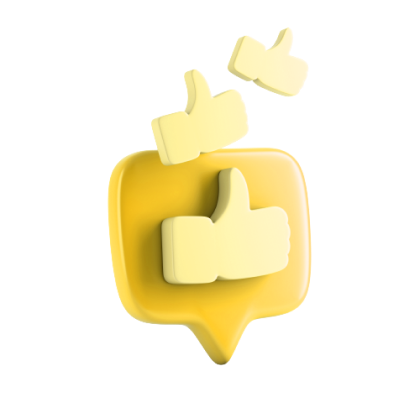 WebFX knows web design for commercial refrigeration companies
Need some help bringing your site up to par with your expectations? WebFX can give you a hand! We've been designing websites for over 25 years, so we know exactly what it takes to optimize your refrigeration company web design.
With our web design services, you'll get help implementing all the tips listed above and more. You'll even receive a dedicated account representative to keep you informed of all we do for you.
To get started with us, just give us a call at 888-601-5359 or contact us online today!
Earn a 20% greater ROI with WebFX